5 reasons to buy the 2019 Audi A6
1. Tons of creature comforts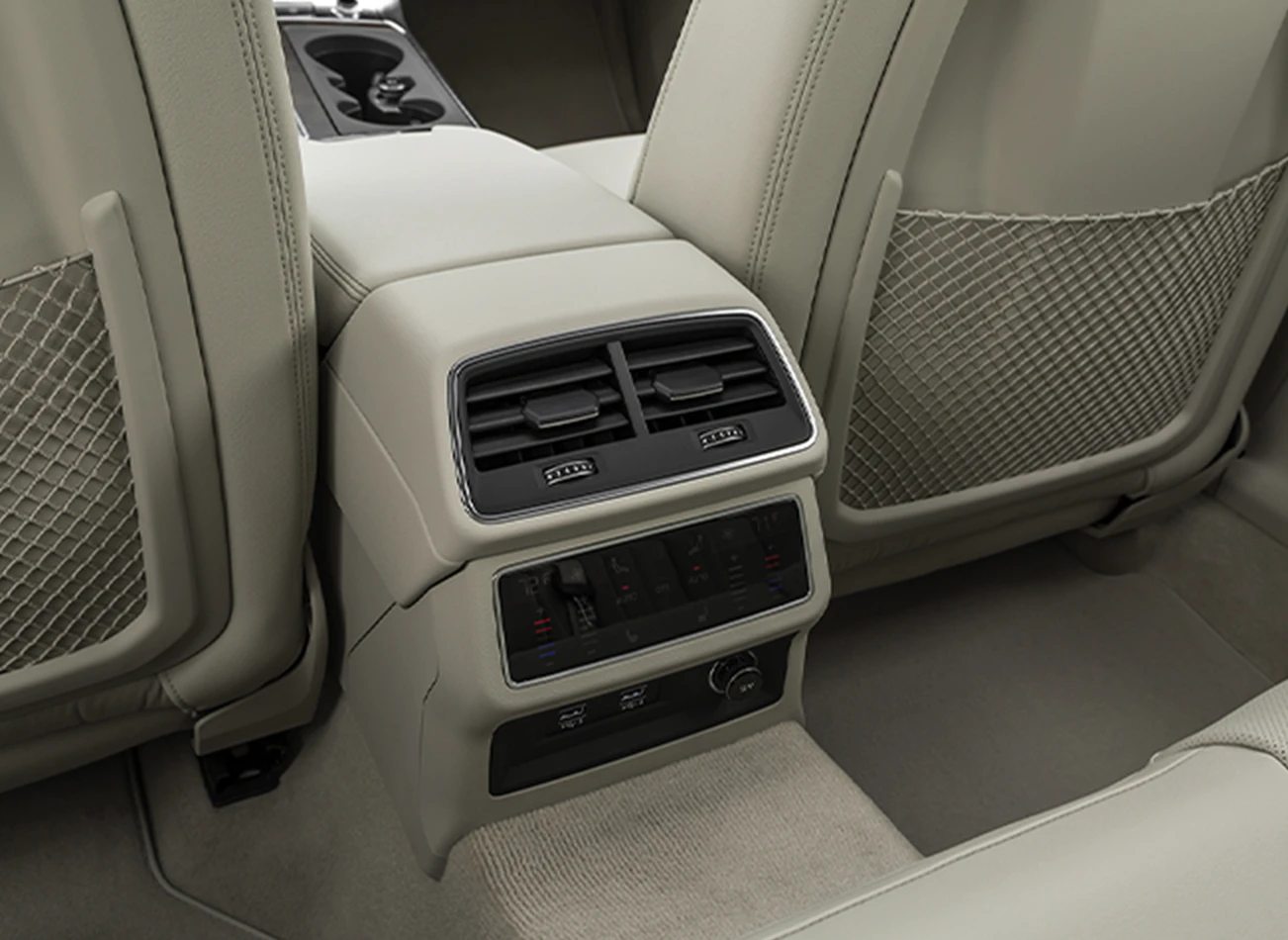 The 2019 Audi A6 boasts lots of cushy benefits, including a luxurious cabin with leather upholstery even on the base (Premium) trim. The front seats are heated as standard and are eight-way power-adjustable. And there's plenty of legroom and headroom (37.4 inches and 38.1 inches, respectively) for your back-seat passengers, meaning kids and adults can relax in comfort. With the trim-topping Prestige, the front seats are also ventilated and are 12-way power-adjustable.
2. Lots of standard features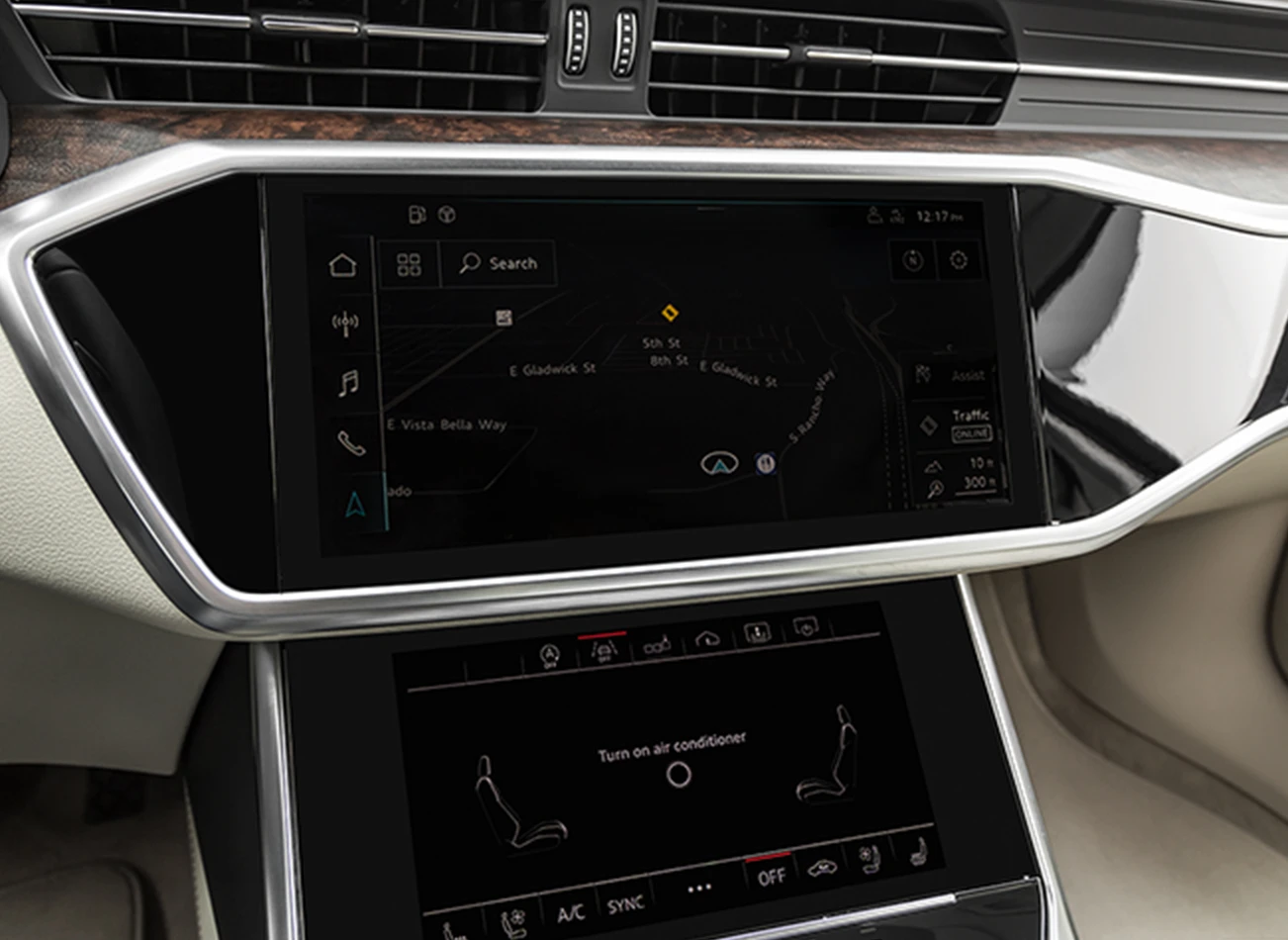 In addition to the physical comfort of the high-end, roomy interior of the 2019 Audi A6, there are plenty of features to make your drives as enjoyable as possible. You'll love the panoramic sunroof for sunny days and road trips, in addition to features like standard navigation, Bluetooth® connectivity, Android Auto™ and Apple CarPlay® integration, and a 10-speaker stereo (16-speaker stereo on the Premium Plus and Prestige trims).
3. Available V6 engine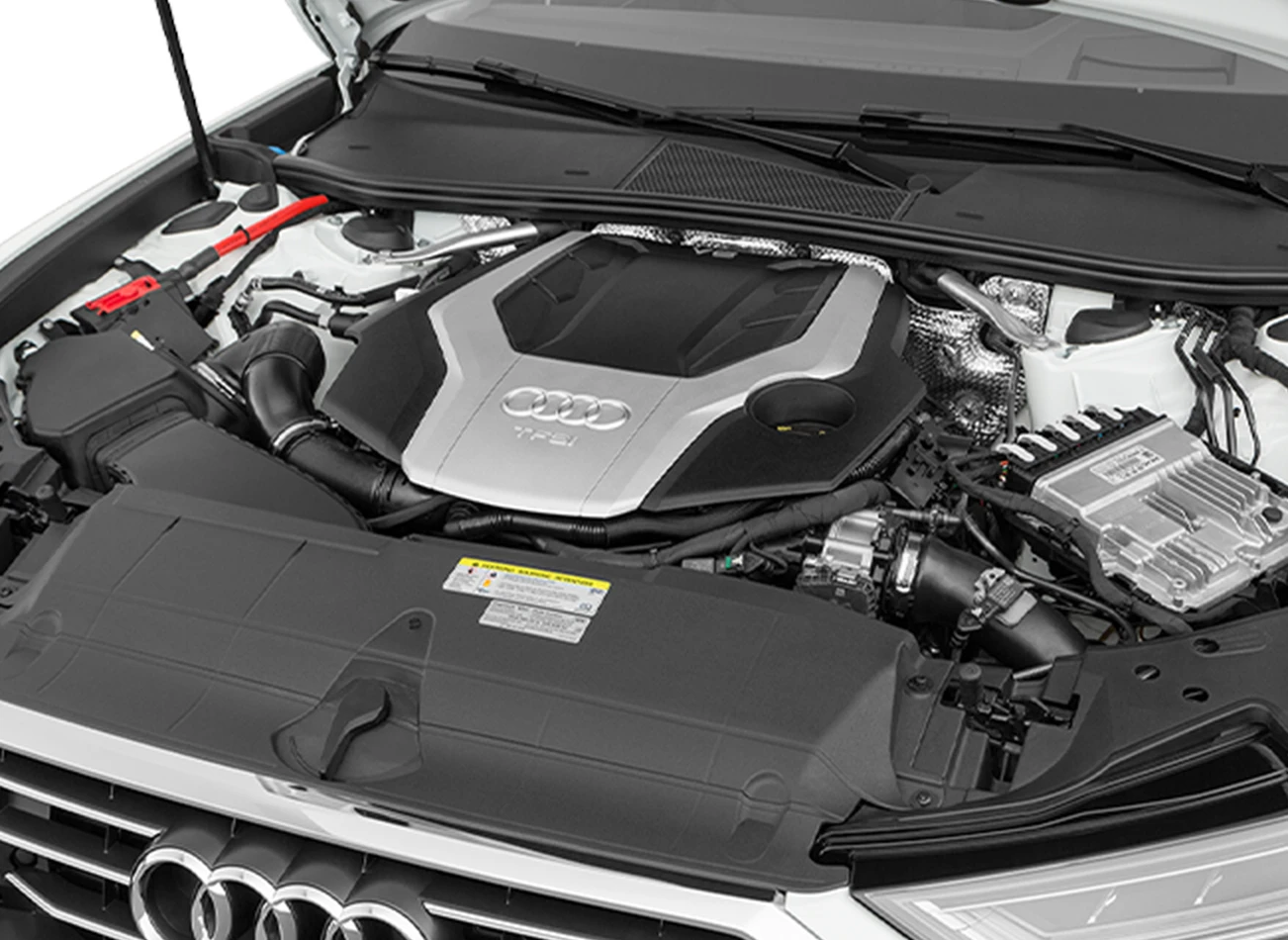 The Audi A6 received a full redesign for 2019, and that includes the engine. The V6 engine option got a small horsepower boost in 2018. For 2019, the two lower trims come with a 248-hp, turbocharged four-cylinder engine, but look for the Prestige trim if a powerful 335-hp, turbocharged V6 is more your style.
4. Standard all-wheel drive
For 2019 models, the Audi A6 comes with Quattro® all-wheel drive as standard. The major advantage of this is increased torque because all four wheels are driving, not just the front two. So there's enhanced grip, designed to get you out of sticky situations—like wet or icy roads, or even off-road—with ease. Also, all-wheel drive can help you accelerate better, providing added power.
5. Plenty of driver aids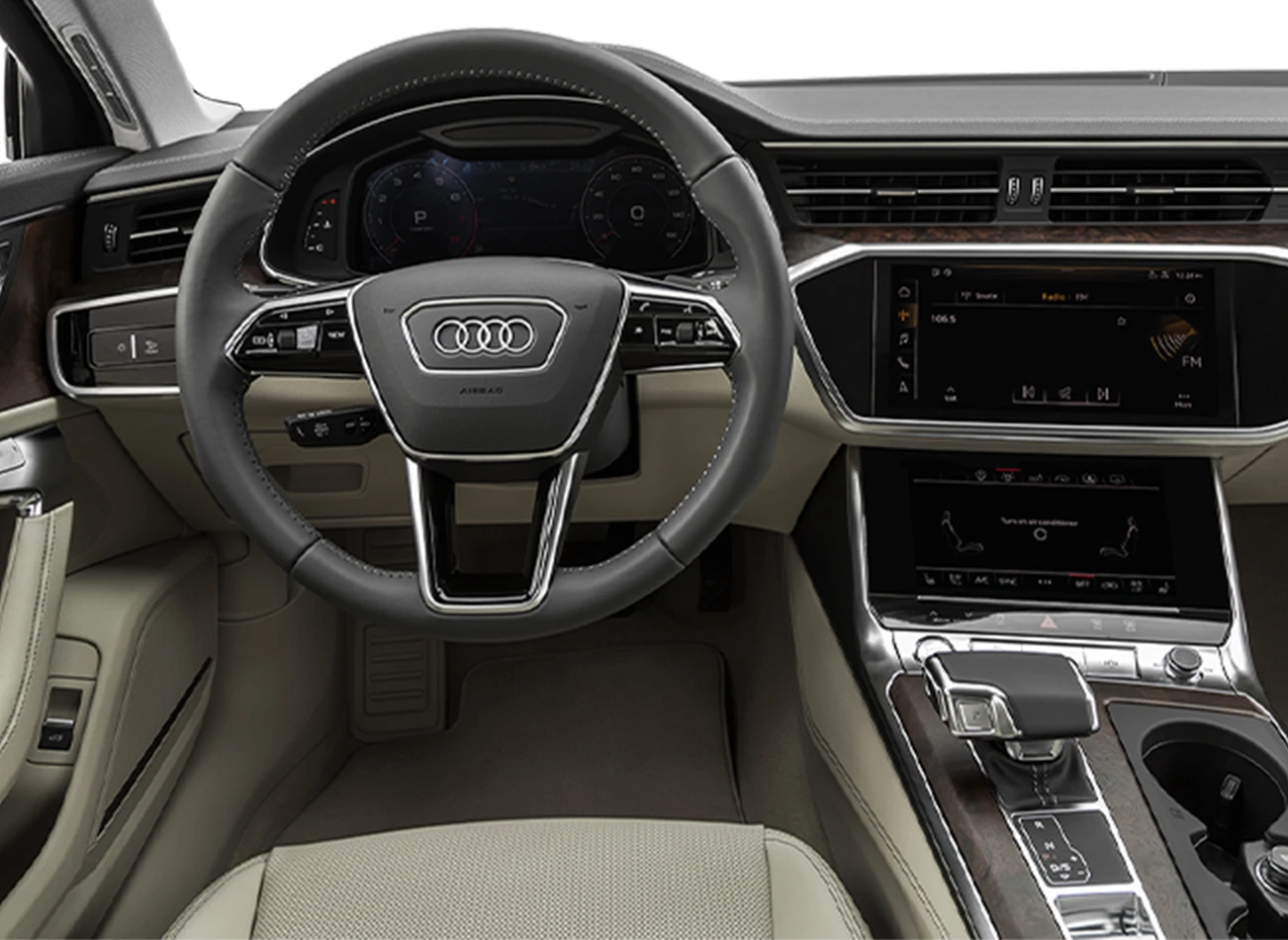 All 2019 Audi A6 models come with a standard suite of driver aids, including a rearview camera, parking sensors at the front and rear, forward collision warning, pedestrian detection, automatic emergency braking, and more. Get even more features with available options like a surround-view parking camera system, traffic sign recognition, and blind-spot monitoring.
RepairPal gave the Audi A6 an overall reliability rating of 3 out of 5 stars, which RepairPal describes as Above Average. This rating ranks Audi A6 22nd out of 54 among Luxury Fullsize Cars.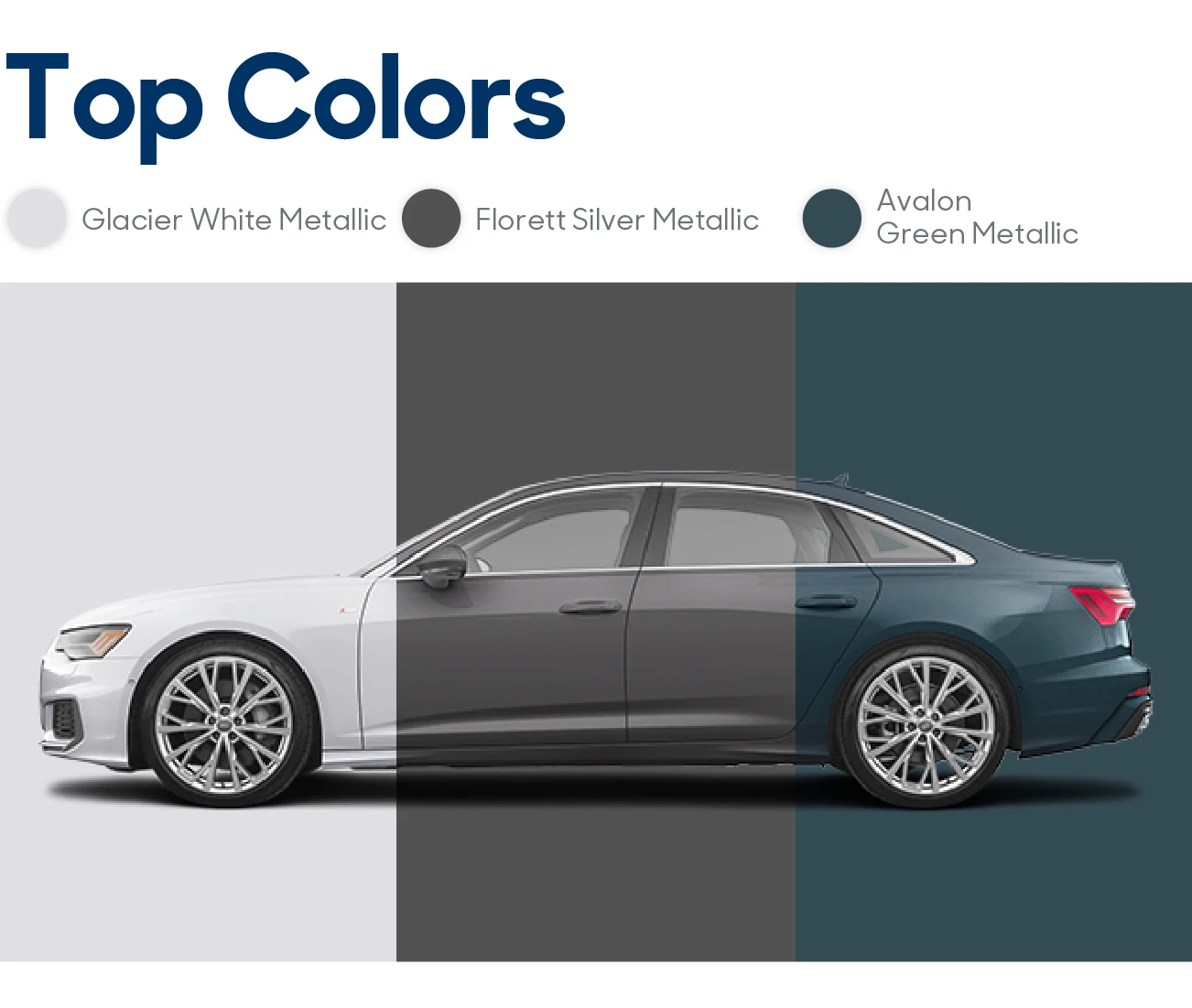 Exterior colors:
Interior colors:
Interior details
The inside of the 2019 Audi A6 is just as appealing as the outside. There are three or four interior color options, depending on the trim, and the dashboard boasts a slick, timeless design. With standard leather seating, the upholstery is soft and comfortable—ideal for long commutes or road trips with your crew. The center console puts everything you need within easy reach, and headroom and legroom are abundant. There are 41.3 inches of legroom and 38 inches of headroom in the front; the back has 37.4 inches of legroom and 38.1 inches of headroom.
Child seat details
The 2019 Audi A6 has five seats and can fit three children's car seats in the back, though the middle space has been narrowed for the 2019 model, which could limit seating options. The outboard seats have tether and lower anchors, while the middle seat has just tether anchors.
NHTSA Safety Ratings
The 2019 Audi A6 received an overall 5/5 by the National Highway Traffic Safety Administration (NHTSA). Find out more about this rating and how NHTSA's 5-Star Safety Ratings program evaluates the crash protection and rollover safety of new vehicles.
Keep in mind that certain vehicles may have unrepaired safety recalls. Click here to look up a specific vehicle.
Frontal Barrier Crash Rating Test: A head-on collision between two similar vehicles traveling at 35 mph.
Overall: 4/5
Side Barrier Crash Rating Test: A vehicle standing in an intersection sustains driver-side impact from a vehicle moving at 38.5 mph.
Overall: 5/5
Side Pole Crash Rating Test: A vehicle slides sideways at 20 mph and impacts a tree or telephone pole.
Overall: 5/5
Performance
Premium and Premium Plus models of the 2019 Audi A6 come with a 2.0L four-cylinder turbocharged engine as standard, with the option of a 3.0L turbocharged V6 engine. The Prestige trim comes with the V6 as standard. Automatic transmission and AWD are standard on every model of the 2019 Audi A6. The 2.0L engine gets an EPA-estimated 27 mpg combined, and the 3.0L engine gets an EPA-estimated 25 mpg combined.
Emissions
According to EPA estimates, the 2019 Audi A6's tailpipe greenhouse gas emissions are 329 grams per mile with the 2.0L engine, and 360 grams per mile with the 3.0L engine. These estimates are based on a brand-new model. Visit fueleconomy.gov for more details.
Year comparisons
2011-2014 Audi A6 (Third Generation)
Like the more recent models, this generation of Audi A6 offered a choice between a turbocharged four-cylinder or a V6 engine. All-wheel drive became available for the base model in 2013. That same year also ushered in the S6—the performance-oriented version of the A6. Additionally, a stop-start system was introduced for the S6 and the 3.0L Prestige trim.
2014-2018 Audi A6 (Fourth Generation)
The fourth generation of the Audi A6 was updated for an even more appealing exterior design, including new lights and grille for a more powerful look. 2014 also brought the option of a more powerful 310-hp, V6 engine, while the lush interiors remained basically the same. Front and rear parking sensors were introduced as options for the base model, and as standard for the Prestige trim.
2018-Present Audi A6 (Fifth Generation)
The Audi A6 was revamped again for its fifth generation. Heated leather seats became standard features, and the base trim came with a sunroof. Both the 2.0L and 3.0L engines were given a horsepower boost for this generation (to 252 hp and 340 hp, respectively), and the interiors were tweaked to boost the luxury and sportiness this vehicle exudes.