1. Impressive towing capacity
The 2021 Toyota Tundra can haul pretty much anything you like, from horse trailers and campers to utility trailers and boats. The standard tow package on the SR5 and Limited models with the V8 engine pulls an estimated 10,100 lbs. with an available payload up to an estimated 1,730 lbs., when properly equipped.
This makes it the perfect vehicle if you're tackling remodeling projects, are a construction industry professional, or have a crew of adventure seekers.
2. Twelve color options
If a head-turning vehicle is on your wish list, the color palette offered for the 2021 Toyota Tundra won't disappoint. In addition to standard black, red and white options, you'll also have a few uncommon hues to pursue including the gray-tinted Calvary Blue, the vibrant Voodoo Blue, the shimmery Wind Chill Pearl, and the rich brown Smoked Mesquite. Love the military? Perhaps the classic Army Green will catch your eye! Color availability varies per trim so keep an eye out for your favorite.
3. Additional driving control
Handling a big vehicle is made simple with the driving control features found in the 2021 Toyota Tundra. The standard 4WD and active traction control make it easier to manage snowy weather, limited-access gravel roads, or rocky trail adventures. You'll hear the automatic limited-slip differential lock into place and distribute power where it's most needed to keep you moving forward in all weather and terrain.
4. Modern tech conveniences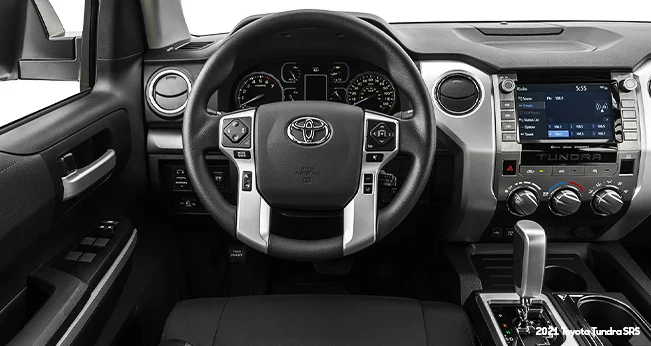 If you love playing with the latest connectivity and online assistants, the 2021 Toyota Tundra is ready to sync with your favorite tech, from Apple to Android services. The eight-inch touchscreen display can fire up the navigation system, your favorite podcast, music playlist, or digital assistant (like Alexa, Siri, or Cortana) to start an app on your connected SmartPhone.
This convenient tech helps makes long journeys as entertaining as possible for you and your passengers.
5. Ample seating for family and friends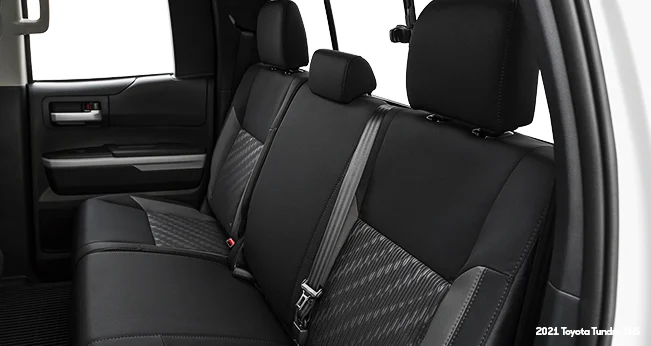 The base model SR5 Tundra seats up to six people, while the Limited and Platinum editions make room for five. So, go ahead and ask the neighbor to join you on your next outing. Or, let the kids bring a friend along to family pizza night. For those who enjoy spending weekends hiking or taking the dog along, the backseat can easily accommodate a canine companion.