1. The convenience of three-row seating
It cannot be understated just how convenient three-row seating is in a small SUV like the 2020 Volkswagen Tiguan. A rarity among similar-sized vehicles, the three-row seating arrangement is not just available but standard on the 2020 Tiguan with front-wheel drive—models with all-wheel drive sport two-row seating as standard, though there is still the option of available third-row seating. And that third row means there's space for up to seven passengers and their belongings inside this roomy little SUV.
2. Small on the outside, big on the inside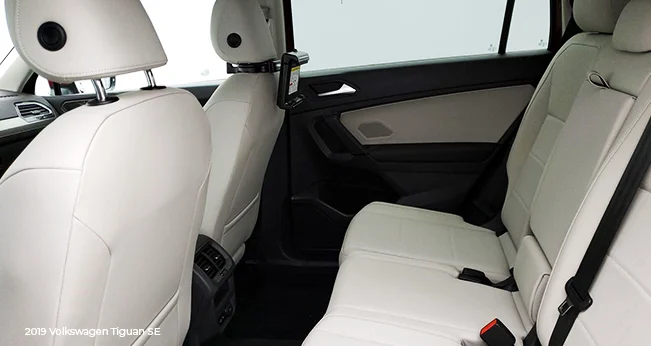 For a vehicle of this size, you can still expect plenty of space. A total of 123.2 cubic feet of passenger volume across those three rows of seats means even those in the smaller third row have more than enough room to sit comfortably. Additionally, 12 cubic feet of cargo volume in the standard configuration is plenty for things like groceries. But, if you need just a bit more space for luggage and other belongings, just fold those rear seats down and you get over three times the cargo volume—up to 37.6 cubic feet. Whether you prefer two extra seats or 25 cubic feet of extra cargo space, the 2020 Volkswagen Tiguan is not only roomy on the inside but flexible with how you can use that space, too.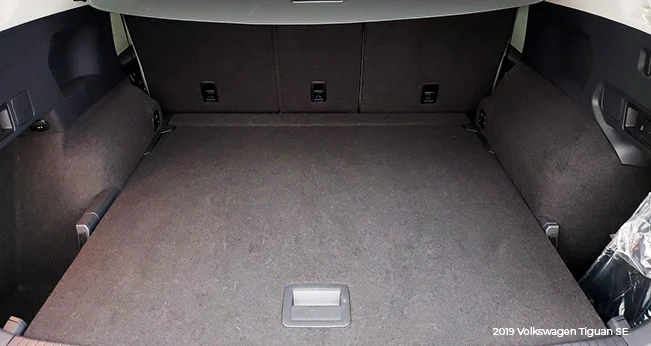 3. Plenty of features even from standard
No need to worry about missing out on certain features—the 2020 Volkswagen Tiguan provides you with plenty, even from the base S model. From standard, you get a 6.5-inch touchscreen display, Android Auto and Apple CarPlay compatibility, and forward-collision warning. On the SE model, you can expect features like dual-zone climate control, keyless entry, and heated front seats, as well as the R-Line Black exterior-styling package. Then on the range-topping SEL (and SEL R-Line) trims, you get full leather upholstery, panoramic sunroof, a powered rear liftgate, and a nine-speaker Fender® sound system. No matter what trim level you go for, the 2020 Volkswagen Tiguan has everything you need to make your time driving this vehicle as comfortable and enjoyable as possible.
4. Intuitive & easy-to-use tech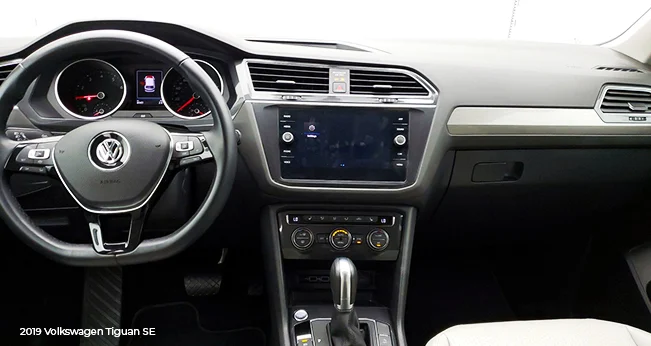 It's one thing for a vehicle to offer tons of tech and equipment but another for that same tech to be easy to use. Thankfully, the 2020 Volkswagen Tiguan manages to do both very well. On the base model, you get a 6.5-inch touchscreen display to access in-car entertainment and tech, which goes up to an eight-inch touchscreen on the SE trim. Additionally, Android Auto and Apple CarPlay integration is seamless and included on the base model and upwards.
5. All-wheel drive available on any trim level
Being an SUV, you might expect the 2020 Volkswagen Tiguan to offer the option of all-wheel drive for better handling and roadholding. And indeed that is the case—the 2020 Tiguan goes a step further by offering all-wheel drive at any trim level, not just top trims and configurations. And if you miss the standard third row of seating you lose when going with all-wheel drive, rear third-row seating is still available as an option!