Ask the Expert: Everything You Want to Know About the Jeep Wrangler
---
PUBLISHED FRIDAY, MAY 28, 2021
Dive into one of the most capable off-road SUVs around.
With thousands of vehicles in our inventory, we're here to help make car research easier for you. We've partnered with car-review experts from Edmunds to weigh in on what matters most, whether you're looking to buy or sell a car.
The Jeep Wrangler is an SUV with a purpose. Jeep designed it to be the most capable off-road vehicle you can buy and it has the heritage to prove it. Jeep SUVs have roots going all the way back to the 1940s with vehicles including the CJ and the Willys Jeep. The newest Wranglers have many of the same styling cues and attitude, but everything else about the vehicle has gotten much more capable and modern.
Edmunds expert Travis Langness gives you the details on the latest Wranglers and his take on what to look for when shopping at CarMax.
What do I need to know about the Jeep Wrangler?
This article focuses on the 2018 Wrangler, the first model year for the latest fourth-generation Wrangler. You might see this generation referred to as the "JL." JL is Jeep's own designation for the vehicle, and use of the term is commonplace with Jeep enthusiasts too.
Here's one thing that might trip you up: Not all 2018 Wranglers are fourth-gens. Jeep sold the third- and fourth-generation models side by side for the 2018 model year. The earlier third-generation model has a JK designation. Compared to the JK, the JL is a little bigger and comes with more amenities. These two Wranglers look similar, but you can spot a JL by its fancier-looking headlights and running lights mounted in the front fender flares.
The 2018 Jeep Wrangler JL is available as a two-door and a four-door. Jeep calls the four-door the Unlimited. Both are available with a removable roof, which can be either a soft top or a multi-panel hardtop. You can also remove the Wrangler's doors for an even more alfresco driving experience.
What engines does the Wrangler come with?
The standard engine for the 2018 Wrangler is a 3.6-liter V6 that makes 285 horsepower and 260 lb-ft of torque. It comes paired to either a six-speed manual transmission or an eight-speed automatic. There is also an available turbocharged 2.0-liter four-cylinder engine good for 270 hp and 295 lb-ft. It only comes with the automatic transmission.
You can also get a diesel-powered V6 starting with the 2020 Wrangler. It makes 260 hp and 442 lb-ft of torque.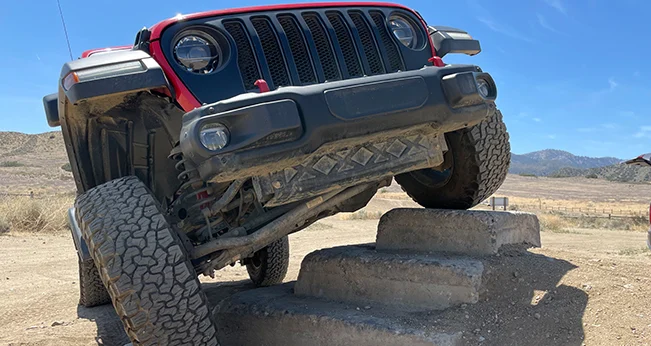 All Wranglers come with four-wheel drive and low-range gearing. The low-range gearing can be used when driving off-road and at low speeds to increase the vehicle's ability to power up and over rocks, ruts, and hills.
What's the Wrangler like to drive?
The Wrangler is an off-road champ. It can more easily drive over rugged terrain than most other SUVs because of its high ride height and big tires. It also has short front and rear overhangs, so there's less chance you'll scrape up the bottom of the Wrangler's nose or back end when off-roading. The Rubicon trim has additional features to further enhance the Wrangler's off-road capabilities.
On the road, it's a different story. Compared to other SUVs, the Wrangler is not nearly as comfortable. You'll feel almost every road imperfection in the cabin, for example, and the fabric top lets in a lot of wind noise on the highway. The hard top isn't much better.
The dedication to off-road capability also compromises on-road steering and handling. The steering can feel vague on the highway, so you'll often need to make a lot of tiny adjustments to keep going straight in your lane. On long road trips, it can be exhausting to drive. The Wrangler's big tires and flexible suspension also mean a considerable amount of body roll during corners.
Now, for the good stuff. Even the standard V6 engine is powerful. It doesn't sound great when you mash the gas for an overtake on the highway, but the power is there to get this SUV moving without too much concern. It's also smooth at low speeds when you're off-roading, making it easier to get up slippery hillsides or across treacherous obstacles. 
Travis' take: The Wrangler is a great choice if you're off-roading on a regular basis. It's also fun to drive on the street in its own sort of rough-and-tumble sort of way. But the compromises made to handling, steering, and on-road comfort are significant. Just know what you're getting yourself into before buying a Wrangler, that's all. 
How is the Wrangler's storage?
The Wrangler is boxy on the outside and relatively boxy on the inside too. Alas, that doesn't translate to an abundance of interior space. The Wrangler has a pretty narrow body, which means large and wide items will be a tight squeeze. The four-door Wrangler Unlimited is longer than the two-door and therefore has more cargo space in back.
In a 2018 Wrangler JL Unlimited, there is 31.7 cubic feet of cargo space behind the rear seats. That's more than enough for groceries or a few small suitcases. Fold the rear seats down and you get a total of 72.4 cubes. That's a decent amount of space and it'll certainly fit large loads from your local hardware store, but to put things in perspective, a Honda CR-V, which is smaller overall, can hold up to 75.8 cubic feet - so the Wrangler isn't your best bet if you're a heavy packer.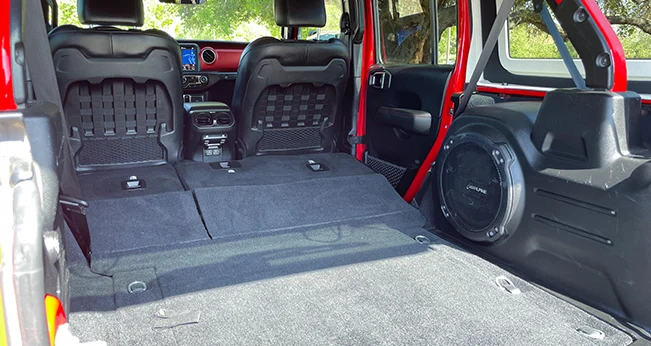 Upfront, there's a limited amount of storage for small items. The Wrangler is designed with the potential to remove the doors for off-roading, which means in-door cupholders are out of the question. There are small netted pockets for the doors, but they don't hold much. The center console is rather slim and the cupholders are small as well, but they do just fine with an average-size water bottle. There is a nice dashtop tray where you can store smaller items like a wallet or garage-door remote, but they may slide around a bit.
Travis' take: Even in the larger four-door Wrangler, storage is minimal. Sure, the cabin is tall and you can stack lots of luggage in the back if you need to, but overall cargo space doesn't match the room in rivals or even SUVs that are a class smaller than the Wrangler. Don't bring a lot of small items with you upfront either because the center console is narrow and the door pockets are pretty tiny.
What's the Wrangler's interior like?
The Wrangler's buttons and knobs are large, well-labeled, and easy to reach. This ergonomically friendly setup is especially helpful if you're new to the Wrangler or Jeeps in general. Those same buttons and knobs all feel well built and robust. If the Wrangler is meant to spend much of its time off-road, then the panels, seats, and switchgear will all need to withstand serious abuse, and it feels as though they definitely can.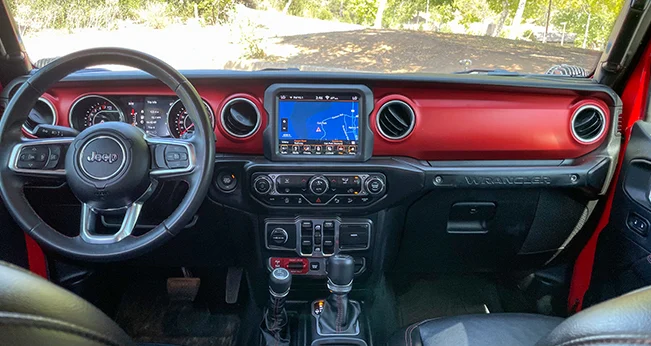 Getting in and out of the Wrangler is a bit more difficult than the average SUV because of its high step-in height and narrow door openings. Thankfully once you're inside the Wrangler, there's plenty of headroom and legroom. You'll feel pretty close to your passengers because of the Wrangler's narrow layout, though, and fitting three adults in the back seat will be difficult.
Travis' take: The JL is nicer inside than any previous Wrangler. It feels sturdy and tough—the way a Wrangler should—but it also feels high-quality. Sure, there are no perforated leather seats or diamond-stitched patterns, but that's not what I want from an off-roader anyway. I like the Wrangler's interior quite a bit, even if it's not as high-end as the cabins of some similarly priced SUVs. It matches the rugged Jeep character you're looking for without feeling cheap.
How is the Wrangler's tech?
On 2018 JL Wranglers, three infotainment touchscreens are available: a 5-inch screen, a 7-inch screen, and an 8.4-inch screen. While the two smaller screens get the job done, we recommend looking for the largest of the three—the 8.4-inch touchscreen. It boasts crisp graphics, easy-to-read fonts, and a helpful menu interface. Both the 7- and 8.4-inch screens offer Apple CarPlay® and Android Auto® compatibility, which allows you to easily display many of your smartphone's features and apps right on the screen.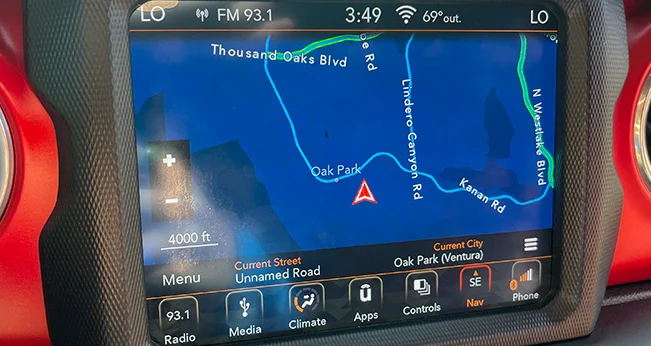 Missing in the Wrangler, however, is a bounty of high-tech driver aids. You might find a 2018 Wrangler with a few basic aids, such as blind-spot monitoring and parking sensors. Starting with the 2019 model, Jeep began offering an optional package that bundled traffic-adaptive cruise control (it can maintain a driver-set distance between the Wrangler and the vehicle in front) and forward collision mitigation (it can warn you of an impending collision and apply the brakes in certain scenarios). 
Travis' take: The Wrangler probably isn't for you if you're tech-savvy and you want the latest driver aids. But there are some cool features that are special to the Wrangler. Want to disconnect the front stabilizer bar with the push of a button and give the Jeep more wheel articulation for off-roading? The Wrangler Rubicon does that. And, really, who needs lane-keeping assist out on a dirt trail anyway?
What other SUVs should I consider?
There's a limited set of competitors if you're looking for an off-road-focused SUV. The Toyota 4Runner is at the top of the list. You don't get a removable roof or removable doors like you do with the Jeep, but in return the 4Runner has a more civilized on-road demeanor. The same could be said of Jeep's Cherokee or Grand Cherokee. These are crossover SUVs, so they're not quite as rugged as the Wrangler, but they still offer above-average off-road capability.
Travis' take: While it's not entirely in a class of its own, the Wrangler is a pretty special SUV. Sure, the resurrected Ford Bronco is on the horizon, and there are lots of off-road capable pickup trucks that you can buy. But if you like the Wrangler's spirit, there's really nothing else quite like it.
If I decide on a Wrangler, which one should I buy?
There are four main trim levels for 2018: Sport, Sport S, Sahara, and Rubicon. The Sport and Sport S are, unsurprisingly, bare bones. They offer plenty of off-road capability, but they're thin on creature comforts. As such, consider getting the Sahara or the Rubicon. They offer better interior quality and more standard features. Of these two, the Rubicon is the specialized version that's best for off-roading while the Sahara has additional technology and comfort-related features.
Travis' take: The Sahara and Rubicon trim levels are the best way to get the most equipment for your Jeep, but there are some stand-alone options on other trims that help close the gap. If you can find a lower trim level that has one of the larger touchscreens, power windows, and any other equipment you're looking for, I say go for it. Other desirable features to look out for include heated seats, leather upholstery, and a premium Alpine sound system.
Travis Langness is an automotive reviews editor for Edmunds.com. As a life-long car-and-truck enthusiast, Travis has a deep passion for cars. Through instrumented testing, off-roading, epic road trips and local commuting, the Edmunds team tests and writes about new and used vehicles to help car shoppers make informed decisions.