Ask the Expert: Everything You Want to Know About the 2019 Toyota RAV4
---
PUBLISHED TUESDAY, DECEMBER 29, 2020
With thousands of vehicles in our inventory, we're here to help make car research easier for you. We've partnered with car-review experts from Edmunds to weigh in on what matters most when you're looking to buy a car.
***
The Toyota RAV4 first appeared in the 1990s as one of the originators of the crossover SUV style. In recent years, it has remained true to its roots as a comfortable car-based vehicle that can also haul an impressive amount of cargo. Yet Toyota has also made sure to give it more power and new technology features such as smartphone integration and advanced driver aids.
The RAV4's long history means there are many versions and models from which to choose. So how do you narrow it down? Edmunds' Ryan ZumMallen explores this champion of versatility to help you make the right choice.
What do I need to know about the Toyota RAV4?
The current, fifth-generation RAV4 is the newest version Toyota has produced. However, if you're looking for lower prices, the fourth-generation RAV4 that debuted in 2013 is also a great choice. Here's a breakdown of what kind of RAV4s you'll typically be able to find at CarMax:
2009-2012 RAV4: The third-generation RAV4 (it started in 2006) offers an optional third row of seats, plus an optional V6 engine in addition to its standard four-cylinder.

2013-2015 RAV4: These fourth-generation versions abandoned the V6 engine and rugged mounted spare tire of past models. They're more comfortable and quieter than the older RAV4s.

2016-2018 RAV4: Toyota revised the fourth-generation RAV4 for 2016, adding a bevy of upgraded features, such as a better infotainment system and a new SE trim with more refined handling. The RAV4 Hybrid also made its debut with the top estimated fuel economy for the class.

2019-2020 RAV4: The fifth-generation RAV4. This generation RAV4 has rugged-looking styling and more standard advanced driver safety aids. It also benefits from increased space for passengers and cargo, plus new, more off-road-oriented trim levels.
We'll focus on the fifth-generation RAV4, the most recent version, since you'll find many available at CarMax. The RAV4 comes in many trims. The base trim is known as the LE, while the XLE and the XLE Premium offer more standard features. The RAV4 Limited trim is top-of-the-line. Notable additions include a rugged-looking Adventure model and a more capable TRD Off-Road version (new for 2020).
Hybrid models also offer different versions for you to choose. In 2019, the hybrid lineup added the base LE and sporty XSE alongside the XLE and the fully-loaded Limited.
What's under the 2019 Toyota RAV4's hood?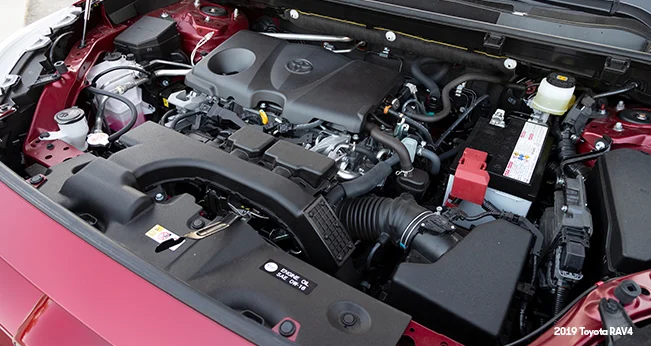 The base engine in 2019-2020 RAV4s is a four-cylinder that produces 203 horsepower. It comes paired with an eight-speed automatic transmission. Front-wheel drive is standard, and all-wheel drive is optional.
This engine gets an EPA-estimated fuel economy of 30 mpg in combined city/highway driving for front-wheel-drive models. With all-wheel drive, the EPA says to expect 27, 28, or 30 mpg combined depending on the specific RAV4 trim level.
Hybrid versions of the RAV4 also have a four-cylinder engine. But these vehicles add a battery pack and electric motor hybrid system to improve both power and estimated fuel economy. RAV4 Hybrids from 2019 and 2020 come with 219 horsepower and an EPA-estimated fuel economy of 40 mpg combined. All-wheel drive is standard on the RAV4 Hybrid.
Ryan's take:The RAV4's 203 horsepower sounds like plenty for a crossover of this size. However, the engine can be slow to respond when you push on the gas, making it feel like the RAV4 is less powerful than its spec sheet suggests. I prefer driving the RAV4 Hybrid. In Edmunds testing, we've found it's quicker to accelerate from 0 to 60 mph. As a bonus, you get higher EPA-estimated fuel economy with the RAV4 Hybrid, too.
How is the 2019 RAV4's storage?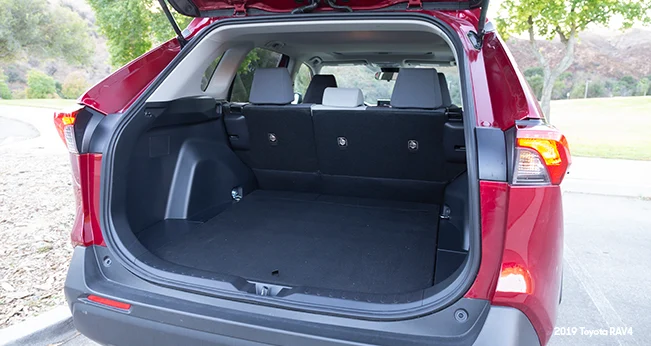 The RAV4 has a low-loading cargo floor. This is important because it can make hoisting large or heavy items through the rear hatch easier. It also comes with a 60/40-split second row of seats that can fold down flat, creating more room for whatever you need to transport. With the second row folded, the 2019-2020 RAV4 has a maximum cargo capacity of 69.8 cubic feet. The space is plenty for most bicycles, electronics, and boxed furniture.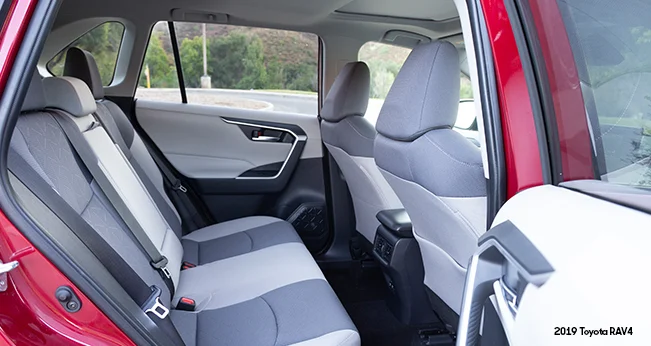 Planning to tow? The RAV4 has trailer sway control as a standard feature to improve its towing stability and increase your confidence on the road. Most 2019-2020 models are rated to tow up to 1,500 pounds when properly equipped. The one exception is the Adventure trim, which has a maximum towing capacity of 3,500 pounds.
Ryan's take:This is a competent crossover, fully capable of handling everyday needs and lots of weekend projects. The RAV4 is all about ease of use, and its straightforward approach — lots of space, low load floor — nails the basics. The regular RAV4's 1,500 pounds of capacity isn't a whole lot but might be enough to haul a very small trailer. The Adventure trim is the one to get if you think you'll use your RAV4 for towing. It has enough capacity to handle something a little bigger, such as a small boat or camping trailer.
What's the 2019 RAV4's interior like?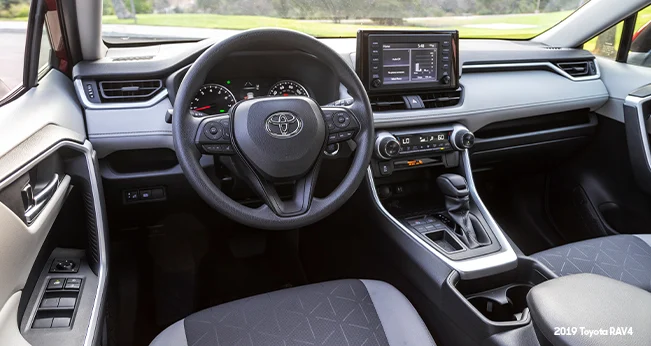 Toyota improved the interior for the fifth-generation 2019-2020 models. Space for passengers and small items is plentiful. We also like the easy-to-use controls and the improved level of quiet and refinement on the road compared to earlier RAV4s. You'll also find many locations to store small items, including a handy tray for front-row passengers to use. The base LE and XLE trims come with cloth upholstery. XLE Premium and higher trim levels use simulated leather upholstery.
The RAV4's cabin is roomy. The back seat has plenty of headroom and legroom, and two adults seated in the rear will likely be comfortable. The expansive rear seat space also makes it pretty easy to install child safety seats and get little kids in and out. One downside, however, is the front passenger seat's lack of adjustment range. As a result, long-distance drives might be uncomfortable for that passenger.
Ryan's take:The RAV4 cabin offers plenty of space and easy-to-use controls. The problem is that many competitors in this class also nail those basics and then raise the bar with more imaginative designs. A visually appealing interior goes a long way toward making you feel special, and unfortunately the RAV4 fails to deliver on that front.
How is the 2019 RAV4's tech?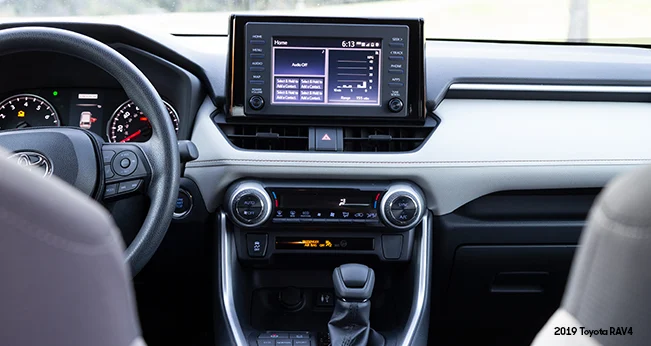 The fifth-generation 2019-2020 RAV4 has a standard suite of driver aids. It includes forward collision warning and automatic emergency braking (can warn you of an impending collision and apply the brakes in certain scenarios), lane keeping assist (can make minor steering corrections to help keep the vehicle centered in its lane), and traffic-adaptive cruise control (can maintain a driver-set distance between the RAV4 and the car in front). Optional on the LE and standard on everything else is blind-spot monitoring (can alert you about a vehicle that's in the next lane over and possibly in your blind spot)
The standard touchscreen is a 7-inch unit with Apple CarPlay® compatibility. On 2020 models, there is Android Auto™ as well. These systems allow you to display and operate select apps — such as those for text messaging, maps, and music — from your smartphone and display them on the touchscreen. They can help reduce distraction since you don't need to hold your phone to use it. For the Adventure and higher trims, Toyota adds an 8-inch screen. Standard on the Limited and optional on the Adventure and TRD Off-Road is an integrated navigation system and a premium JBL audio system.
Ryan's take:The appeal of driver assistance aids can vary from automaker to automaker. Some vehicle's systems feel as if they're not quite ready for prime time and can be annoying with slow responses or false alerts. But the adaptive cruise control in the RAV4 operates very smoothly and reduces driver fatigue over long distances. And its lane keeping assist is subtle yet effective — exactly how the system should work.
What's the 2019 RAV4 like to drive?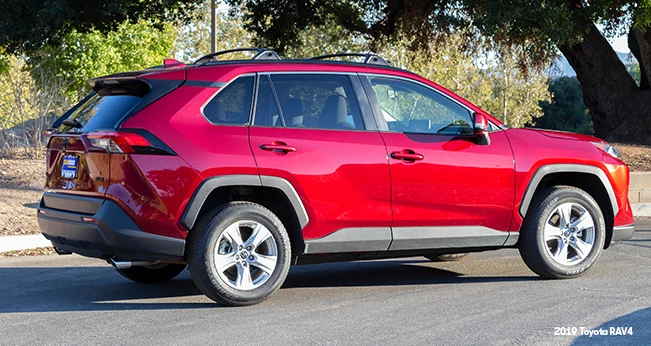 The four-cylinder engine used in 2019-2020 regular RAV4s provides enough power for you to merge onto freeways without too much trouble. But compared to some of the more powerful engines in rival crossover SUVs, it's not very exciting. The RAV4 Hybrid feels more lively and responds quicker to inputs.
The RAV4 is defined by its leisurely demeanor on the road; it has a pleasing balance between ride comfort and control. Wind and road noise is also kept out of the cabin, though the engine can sound coarse and not exactly pleasant when you mash the gas. Around turns, the steering and handling lack responsiveness, which creates a vague, foglike feeling when you're behind the wheel.
Ryan's take:The RAV4 is simply not very much fun to drive. But in many ways it's an ideal road-trip vehicle. The comfortable ride, spacious interior, and impressive estimated fuel economy aren't as sexy as big horsepower figures. But for a ski trip in the mountains or a two-day drive to some distant getaway, the RAV4 has a lot to offer.
What else should I consider?
The RAV4's archnemesis is the Honda CR-V. These two crossover SUVs are a close match when it comes to pricing, cargo storage, and standard features. The CR-V is a more comfortable and refined vehicle, with a powerful optional engine to boot. We also recommend looking closely at the Mazda CX-5. It has snazzy styling inside and out, plus the most rewarding driving experience you'll find in the class — though the ride may be a little firm for some tastes. The Subaru Forester is another crowd-pleaser thanks to its standard all-wheel drive and spacious cargo area.
Ryan's take:The CR-V is a superstar small crossover due to its attention to detail. It simply has fewer weaknesses than the RAV4. Beyond these two, the sheer number of choices means you should be able to find a model that meets your needs. The CX-5 and the Forester are big on personality, but there's also the Jeep Cherokee for off-roading and the Hyundai Tucson for top value. Shop around! There's lots to check out.
If I decide on a RAV4, which one should I buy?
The RAV4 XLE Premium offers a lot of advantages. It's a middle-level trim and should be a solid pick for value. It has a few more standard features that you'll likely enjoy, such as a power liftgate, simulated leather upholstery, and a sunroof. You'll also find higher-quality materials inside the cabin, including a leather-wrapped steering wheel. A power-adjustable driver's seat adds to the upscale experience.
Ryan's take:As much as I want to get behind the wheel of an Adventure or TRD Off-Road trim and hit the dirt, the features that will appeal to the vast majority of drivers come with the XLE Premium. Its standard equipment makes the RAV4 more comfortable and refined on the road, addressing our main issue with the lower trims. Plus, you might find some already equipped with additional features that were originally optional, such as heated front seats or the bigger 8-inch touchscreen with the JBL sound system.
Ryan ZumMallen has written automotive news and buying advice for nearly a decade. As an automotive reviews editor for Edmunds, ZumMallen examines trends in both the new and used markets with a focus on sporty, affordable cars, off-road trucks, and SUVs.