Ask the Expert: Everything You Want to Know About the Tesla Model Y
---
PUBLISHED FRIDAY, SEPTEMBER 3, 2021
With thousands of vehicles in our inventory, we're here to help make car research easier for you. We've partnered with car-review experts from Edmunds to weigh in on what matters most, whether you're looking to buy or sell a car.
***
Vehicle Reviewed:
2020 Tesla Model Y Performance
The Tesla Model Y has become an intriguing choice for SUV shoppers in the short time it's been on the market. As is the case with all other Tesla vehicles, it's powered by electricity rather than gasoline. It boasts impressive range, thrilling acceleration, and lots of space for people and cargo. But it also suffers from a few drawbacks that you'll want to know about before buying one.
Edmunds expert Travis Langness gives you the details on the 2020 Model Y and his take on what to look for when shopping at CarMax.
What do I need to know about the Tesla Model Y?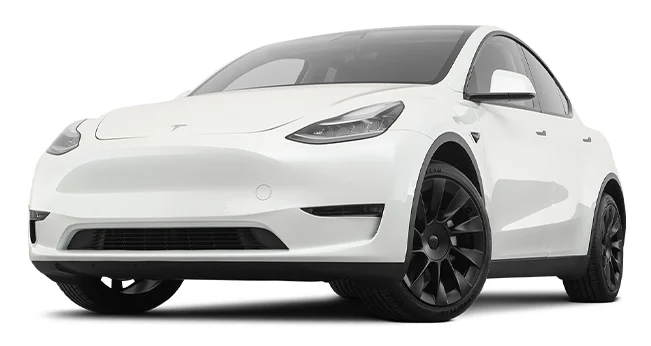 The Model Y is an electric SUV that debuted for the 2020 model year. It shares some mechanical similarities to the Model 3, which is Tesla's small sedan. It's smaller than the Model X SUV and has conventional rear doors instead of the Model X's gullwing-style doors. Most Model Ys are available with two rows of seating that can accommodate five passengers total, while some 2021 and newer models offer a third row of seating and can seat as many as seven passengers.
What does the Model Y offer for power and range?
There are two versions for the 2020 Model Y: Long Range and Performance. As you might surmise from their names, each offers different performance metrics. The 2020 Tesla Model Y Long Range model has an EPA estimate of 316 miles of range on a fully charged battery, while the 2020 Performance model with the optional 21-inch wheels drops down to an estimate of 291 miles of range. These are some of the best range estimates available in any EV. Both models come standard with all-wheel drive.
Unlike other automakers, Tesla doesn't provide horsepower numbers for its vehicles. Instead, it provides acceleration estimates. In the case of the 2020 Model Y Long Range model, Tesla says it can accelerate from zero to 60 mph in 4.8 seconds. That's impressively quick and similar to what you might expect from a gasoline-powered luxury sport SUV. Get the Model Y Performance model and that estimate drops to a rather outrageous 3.5 seconds.
Of course, you'll need to charge the Model Y eventually. Most Tesla owners have a 240-volt charging station installed in their garage. Plug in to recharge every night and you'll have plenty of range for your daily driving. Another Tesla advantage is its nationwide Supercharger network. These fast-charging stations are conveniently located and make it easy to recharge on long drives or road trips. The Model Y's navigation system can direct you to them along your route.
Travis' take: When it comes to range, prepare to be a bit underwhelmed. Every Tesla we've ever tested at Edmunds has failed to meet its EPA range estimate in our standardized real-world range evaluation. In our long-term test fleet, we own a Tesla Model Y Performance, and while the EPA rates it at 291 miles of range, we were only able to squeak out 263 miles. What's more, the EPA range estimates are maximum range. Tesla recommends you only charge to 90% for daily driving since charging to full on a regular basis can decrease battery life.

What's the Model Y like to drive?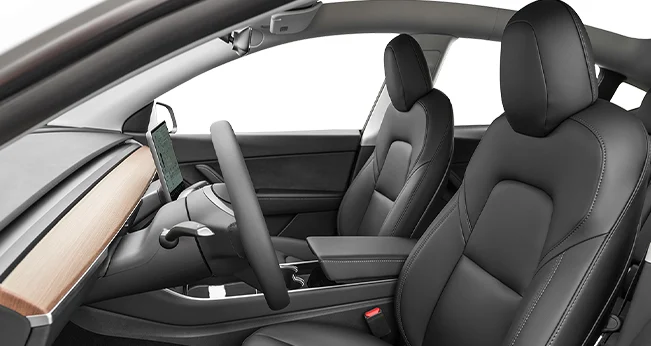 Your driving experience in a Model Y will depend quite a bit on the trim level you select. In the Performance model, lots of tiny road imperfections make their way into the cabin, unsettling the ride and making the Model Y feel more like a high-strung sports car than a luxury SUV. The Long Range model is much more comfortable. The ride quality is significantly better, and there isn't as much noise inside the cabin. It sacrifices a bit of speed, but it's still quick by any standard and it's much better to drive on a daily basis.
From behind the wheel, both models are fun to drive around town. Thanks to regenerative braking, the Model Y can be driven most of the time in city traffic using only one pedal: the accelerator. When you let off the accelerator pedal, the Model Y slows down and uses regenerative braking to recuperate some electricity.
Steering and handling are impressive in both trim levels. Even the Model Y Long Range has flat cornering and light steering. The low-mounted battery pack also helps give the Model Y a lower center of gravity than a traditional SUV.
Travis' take: Fast, fast, fast. The Performance version of the Model Y is quicker than any SUV has a right to be. It rockets away from a stop and it'll always impress your passengers. But the Model Y Long Range is the practical pick of the two. The lowered suspension and the bigger wheels on the Performance model combine for a too-rough ride quality.
How is the Model Y's storage?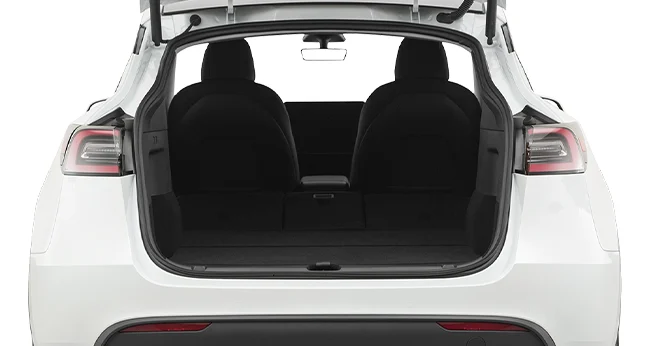 There's a lot of space in the back of the Tesla Model Y. Fold the rear seats down and you'll have up to 68 cubic feet of cargo space available. With the hatchback-style design, the wide opening in the back, and the seats that fold nearly flat, you'll be able to fit extra-large items or lots of suitcases. The Model Y's covered rear cargo bin is particularly useful for storing groceries or items you want to keep out of sight. There's also a good-sized small front trunk (or frunk) in front of the driver where the engine would normally go.
The Model Y has a suitable amount of small-item storage too. You can use the large center console to empty your pockets of items like smartphones and wallets; even some large purses can fit in the center console. Unfortunately, there isn't a great way to keep the contents of the console organized. A lack of dividers means things can shift around a bit while you're enthusiastically blazing around turns.
Travis' take: Frunks are awesome. Whether it's with a mid-engine supercar or an electric vehicle, it's such a cool feeling to have completely filled up your trunk and then remember, "Oh! I've got storage up front too!" Typically, I use the Model Y's frunk for small grocery runs—the kinds of trips where I'm only getting a few items.
What's the Model Y's interior like?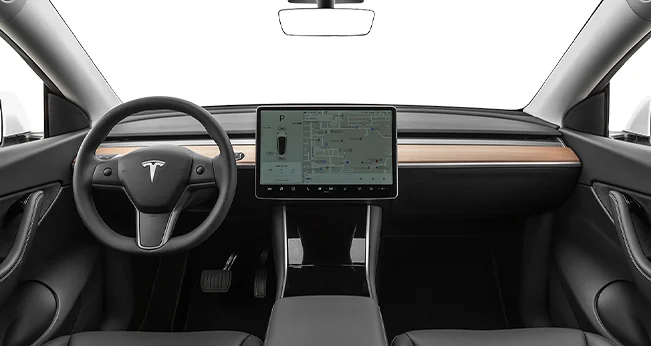 Tesla's interior design is very similar across all of its vehicles. The interior layout is minimalist. Depending on the model, it can even feel elegant. The minimalist design, however, comes at the expense of usability. Almost all of the Tesla's buttons and controls are located in the touchscreen, and several require digging down in the menus to find. The touchscreen is not easy to learn or easy to use, even after a bit of practice.
There are lots of soft-touch surfaces in the cabin, and the materials are relatively plush, but things seem a bit less special when you consider the Model Y's price. What's more, build quality doesn't match the aesthetics. Read online consumer reviews of the 2020 Model Y and you'll likely come across complaints about misaligned trim pieces and generally dubious workmanship.
Fit and finish issues aside, the Model Y's interior is spacious and easy to get in and out of. The doors open wide, and sliding into the driver's seat is easy. The sloping rear roof means you'll need to duck a bit to get into the back seat, but there's lots of rear legroom and plenty of foot room under the front seats. The driver has good forward and side visibility, but rear visibility is limited due to the small rear window.
Travis' take: The Model Y's interior is polarizing. Some people like the lack of buttons, but I never get used to it. Its form being prioritized over function. Using the steering-wheel rotary knobs to adjust the tilt-and-telescoping steering wheel? That's way too complicated in my book. Having to drill down in the touchscreen to adjust the air-conditioning vents? That's downright distracting. The poor build quality I've experienced in the Model Y is a turnoff too.
How is the Model Y's tech?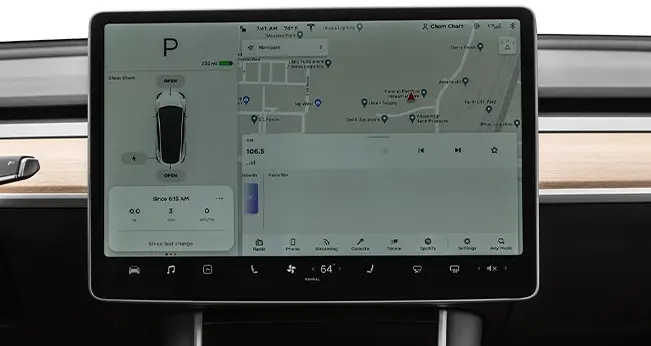 Almost all of the Tesla Model Y's controls route through the 15-inch center touchscreen. It has crisp graphics and it's a pleasure to look at, but it's missing some key features. Apple CarPlay® and Android Auto™, which are smartphone integration systems found on most newer vehicles, are not offered. You can only sync your phone for calls and audio via Bluetooth®. You can also try using voice controls in the Model Y, but their effectiveness is merely average. They accept a few simple commands well, but navigation addresses and phone commands seem particularly hard to process.
Then there's the issue of screen failures. During ownership, you might experience the screen going completely black and becoming unresponsive to commands. Sometimes, you can simply wait while the screen boots back up. Other times, the screen requires a manual reset using the buttons on the steering wheel. And, on a few occasions, the screen won't reboot without a complete cycle of the vehicle's power (turning it off, exiting, getting back in, and turning it on) or a visit to the local service center. Any of these scenarios would be frustrating in the best of circumstances, but when you consider that air conditioning, radio volume, side-mirror adjustments, and many more functions are controlled by the screen, it becomes an immobilizing inconvenience.
Driver aids that come standard on all Model Y's include adaptive cruise control, lane departure warning, blind-spot monitoring, and a 360-degree parking camera. These systems generally work well, but there's a bit of a problem with the naming. Tesla calls the system Autopilot, which is misleading. These driver aids cannot and do not drive the car for you. Keeping your hands on the wheel and your attention on the task of driving at all times are still just as necessary as they are in any other car. 
Travis' take: The Model Y's tech is a mixed bag. If you decide on purchasing a Tesla, it's important to remember that it can't drive itself. Stay alert, stay awake, and stay in the driver's seat. And that big, pretty, impressive screen? Every single Tesla I've ever tested (Model S, Model X, Model 3, Model Y) has had a catastrophic screen failure. Sometimes for minutes, sometimes for hours. Modern models are getting better when it comes to failure rates, but expect a black touchscreen to be a part of your ownership experience at least a few times.
What other SUVs/EVs should I consider?
While it's relatively new and we don't expect to see many on the used market this early, the Ford Mustang Mach-E SUV is one of our favorite EVs around. It has impressive performance for the money, a likable interior, and a useful amount of cargo space. Other luxury-level rivals to the Model Y include the Jaguar I-Pace SUV and the Audi e-tron SUV. But both have less range than the Tesla, however. If you're looking to save a bit of cash and still go electric, consider the Kia Niro EV or Hyundai Kona Electric.
Travis' take: It's pretty hard to compete with the Model Y's combination of performance and range, but when you consider the drawbacks, other EVs become much more appealing. The Audi e-tron would be my pick, but if you want something more nimble and city-friendly, the Kia Niro EV is surprisingly fun to drive and much more affordable.
If I decide on a Model Y, which one should I buy?
With only two trim levels, you aren't exactly spoiled for choice with the Model Y. Feel like going faster and don't mind the trade-off in comfort? Go with the Performance model. Prefer a smoother ride and longer distances between charge-ups? Go with the Long Range version.  
Travis Langness is an automotive reviews editor for Edmunds.com. As a lifelong car-and-truck enthusiast, Travis has a deep passion for cars. Through instrumented testing, off-roading, epic road trips, and local commuting, the Edmunds team tests and writes about new and used vehicles to help car shoppers make informed decisions.