Most Reliable Minivans for 2023
---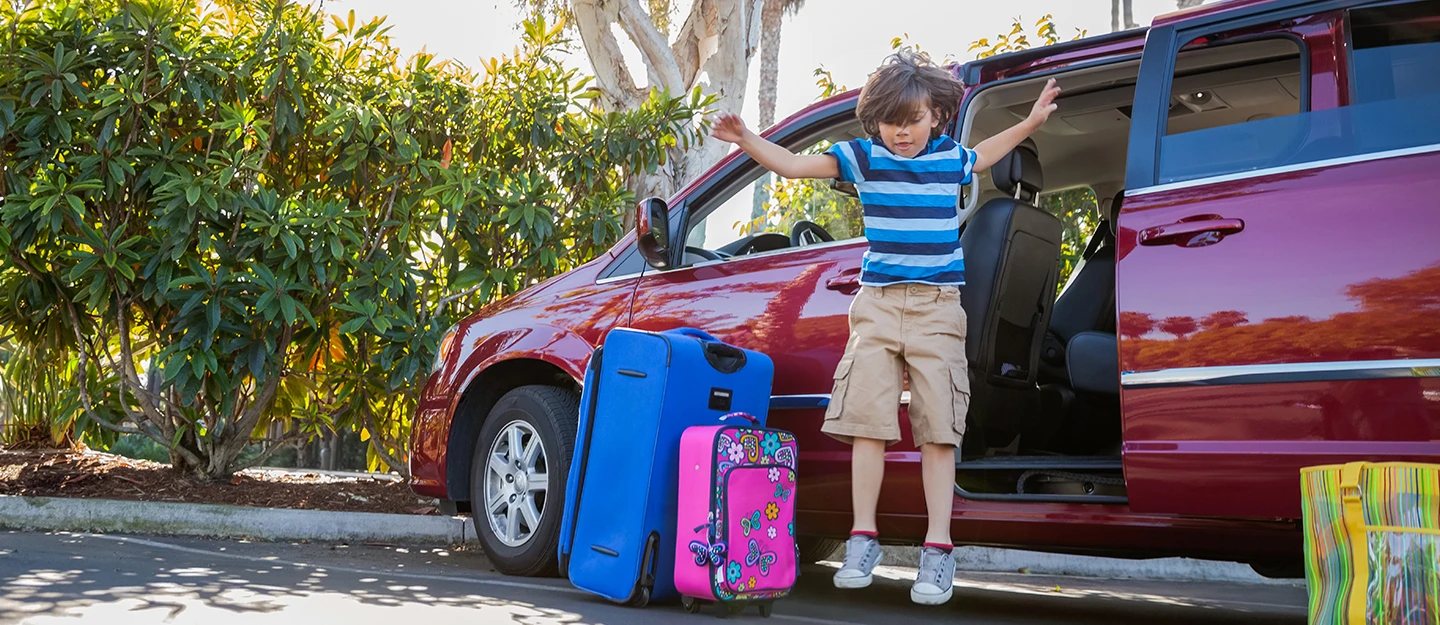 Plush practicality assured.
If versatility is non-negotiable, and you love to travel with your favorite people in comfort, it makes sense to drive a vehicle that has a work-hard-play-hard attitude to life's greatest journeys. If you carpool on weekdays and camp on weekends, a minivan will help you excel at both. What's not to love?
If you've just begun your search for a used minivan there are great options for every budget and plenty of features you'll fall in love with. Easy-open sliding doors and fold-flat seating will quickly become invaluable. Or how about the abundant storage you always dreamed of?
Whether you're searching for your first, or this is the latest in a long line, make it easy on yourself and start here. This list of the eight most reliable minivans for 2023 shoppers includes minivans with the highest reliability ratings from our partners at RepairPal.
Learn more about how we determine the most reliable minivans.
Most Reliable Minivans
Since its debut in 2017, the passenger-pleasing Chrysler Pacifica has been ticking all the right boxes for families on the move. All 2018-2022 Chrysler Pacifica are powered by a 287-hp, 3.6L V6 engine and paired with standard front-wheel drive and a nine-speed automatic transmission. A plug-in hybrid Pacifica is also available for the 2018-2022 model years, pairing the same 3.6L engine with dual onboard electric motors. If your daily driving duties consist of short regular trips, the 2019-2022 hybrid version offers an EPA-estimated 32 miles of electric-only power when fully charged before gas power kicks in.1
The 2018-2022 gasoline-only Pacifica (LX trim upwards) has Chrysler's Stow 'n Go® seating system across both rear rows, this folds seats seamlessly into the floor to reveal an impressive 140.5 cu-ft of space behind the front row, ideal for hauling holiday trees or antique fair finds. The 2018-2022 base trim is generously appointed with helpful features that keep everyone entertained, including a touchscreen infotainment system, Apple CarPlay® and Android Auto™ integration, and Bluetooth® connectivity.
Read more on RepairPal's breakdown of the cost, frequency, and severity of repairs on the Chrysler Pacifica.
The Kia Sedona offers family and friendship groups a spacious and comfortable experience. All 2016-2018 Sedona models are motivated by a 3.3L V6 engine that delivers 276 horsepower and 248 lb-ft of torque via a six-speed automatic transmission. The same engine pairs with an eight-speed automatic transmission for the 2019-2021 models.
Seating up to eight across three rows, the standard 2018-2021 configuration features second-row captain chairs and a split-fold third-row bench. Convenience and comfort are a top priority too with plenty of standard features on the 2018-2021 models that make journeys easier, including keyless entry, air-conditioning, and a rearview camera.
Read more on RepairPal's breakdown of the cost, frequency, and severity of repairs on the Kia Sedona.
With available all-wheel drive, seating for up to eight, and hauling capability, the Toyota Sienna minivan is a useful addition for active households. All 2018-2020 Sienna models run on a robust 296-hp, 3.5L V6 engine. From 2021, the Sienna switches to a hybrid powertrain, pairing a 2.5L inline-four gas engine with two onboard electric motors for a total of 245 hp.
Important journeys are no problem for the all-action Sienna; 2018-2020 third-generation models provide 39.1 cu-ft of fixed cargo storage behind the third row, expanding to a blockbuster 150 cu-ft with the rear row seating folded down. Passenger comforts for the 2018-2022 Sienna (fourth generation from 2021 onward) include standard tri-zone automatic climate control, abundant cup holders throughout, and the convenience of keyless entry for those hectic weekday mornings.
Read more on RepairPal's breakdown of the cost, frequency, and severity of repairs on the Toyota Sienna.
Plenty of heritage and family-friendly equipment means the 2017-2020 Dodge Grand Caravan should be on your radar if you're in need of a spacious, hard-working minivan. You'll get space for seven passengers across three rows, plus standard privacy glass and a rearview camera. The outside noise is well muted and thoughtful features are plentiful, such as the base trim's conversation mirror, and the SXT trim's power rear doors and liftgate.
All 2018-2020 Grand Caravan models have a 3.6L V6 engine setup delivering power to the front wheels via a six-speed automatic transmission. Nifty Stow 'n Go rear row seating is standard from the SE Plus trim upward. Its tumble-forward action in the second row creates an easy entry and exit for third-row passengers or you can whip them out of sight in seconds as both rear rows can also fold flat into the floor, revealing 140.3 cu-ft of cargo space to play with instead.
Read more on RepairPal's breakdown of the cost, frequency, and severity of repairs on the Dodge Grand Caravan.
The Honda Odyssey has been serving up minivan goodness for almost two decades, and its fifth-generation model (2018-present) remains a spacious hauler that families can grow with. All 2018-2023 models have a powerful 3.5L V6 engine that produces 280 horsepower and 262 lb-ft of torque. The Honda Sensing® suite of driver assistance features is standard from the EX-trim upward, too.
All fifth-generation models have seating for up to eight across three rows, four full sets of LATCH fixtures, and a smooth second-row Magic Seat® system that provides easy access to the third row. From 2019, the Odyssey Touring trim comes equipped with a rear-cabin camera monitoring system, allowing front-row passengers to referee the kids' games or squabbles fairly.
Read more on RepairPal's breakdown of the cost, frequency, and severity of repairs on the Honda Odyssey.
The wagon-like, seven-seat Ford Flex closed out its final year of production in 2019 but remains a solid option if you're seeking elevated visibility and edgy exterior styling. The 2016-2019 Flex has two engine options: a 287-hp 3.5L V6 base engine or a turbocharged 3.5L V6 with 365 horsepower and 350 lb-ft of torque. Both V6 engines can tow up to an estimated 4,500 lbs on 2016-2019 models when properly equipped.2
Large windows keep things light and airy, with seating that can be configured for six or seven. The Flex's minimalist boxy silhouette may be hard to ignore, but the stylized features don't end there. Front-hinge rear doors, privacy glass as standard, and some slick appearance package options ensure this classy transporter has consistent curb appeal (2016-2019 models).
Read more on RepairPal's breakdown of the cost, frequency, and severity of repairs on the Ford Flex.
This seven-seater has family-friendly features, the powertrain chops to haul and tow, and an upscale interior style. Motivated by a 3.5L V6 engine with Xtronic CVT® sending power to the front wheels, the 2015-2016 Nissan Quest has capability in spades. When properly equipped, it can tow up to an estimated 3,500 lbs, which makes the Quest about equal in comparison to similar vehicles.2
Features on the 2016 entry-level S trim Quest tend to be helpful rather than head-turning, but that's no bad thing since they include fold-flat capability for the second- and third-row seats, cruise control functionality, and two 12-volt DC power outlets. Higher trims add more convenience and luxury, such as power sliding rear doors and tri-zone automatic climate control (SV and above). Find a 2016 Quest kitted out with one of its four available packages (trim-dependent), and you could be enjoying an upgrade to leather upholstery, rear-row DVD entertainment, dual opening moonroof, or a Bose® premium audio system.
Read more on RepairPal's breakdown of the cost, frequency, and severity of repairs on the Nissan Quest.
How about treating your crew to a deluxe minivan? The seven-seat 2016 Chrysler Town & Country is a practical powerhouse with the heart of a luxury sedan, setting you up nicely for big adventures and classy daily drives.
Standard features are wildly impressive on all 2016 models. Relax into leather upholstered seats and let the power sliding doors and power liftgate take the strain at the end of a hectic day. Sure, you can trade up to the 2016 Town & Country's higher trims — they add passenger-pleasing entertainment features like premium audio (Limited Platinum) and rear-row entertainment screens (S and above) — but if they're not a must-have you'll enjoy the genuinely premium feel of the 2016 LX base model.
Read more on RepairPal's breakdown of the cost, frequency, and severity of repairs on the Chrysler Town & Country.
The multi-purpose minivan is a spacious and convenient way for family, friends, or coworkers to travel together as a group. If you've identified a favorite, why not check out our current inventory, or continue your minivan research with these related articles:
RepairPal Reliability Ratings
For this article we've pulled the top 8 most reliable minivans—in order—according to RepairPal rankings. RepairPal Reliability Ratings are based on the actual cost, frequency, and severity of unscheduled repairs and maintenance on make/model data for select 2006-2020 vehicles. The reliability of a specific vehicle may vary depending on its maintenance and driving history, model year, trim, and features. RepairPal Reliability Ratings are provided by RepairPal and CarMax is not responsible for their accuracy. These ratings and rankings are based on RepairPal Reliability data as of 3/21/2023. Learn more about RepairPal reliability ratings.
1
EPA-estimated 32-mile range based on 82 MPGe combined estimate (electric); additional EPA-estimated 520-mile extended range based on 30 MPG combined estimate (gas). Range figures are based on EPA estimates for when vehicle sold as new and assume a full battery charge and full tank of gas (if applicable). Range will vary based on things like battery age, vehicle condition and history, driving and charging habits, accessory use, and driving conditions. Battery capacity may decrease with time and use. See fueleconomy.gov for more info.
2
Various factors may impact towing capacity, including weight of passengers, cargo, and options/accessories.