Upgrading Makes and Models: Exploring People's Habits When Switching Cars
---
PUBLISHED THURSDAY, OCTOBER 28, 2021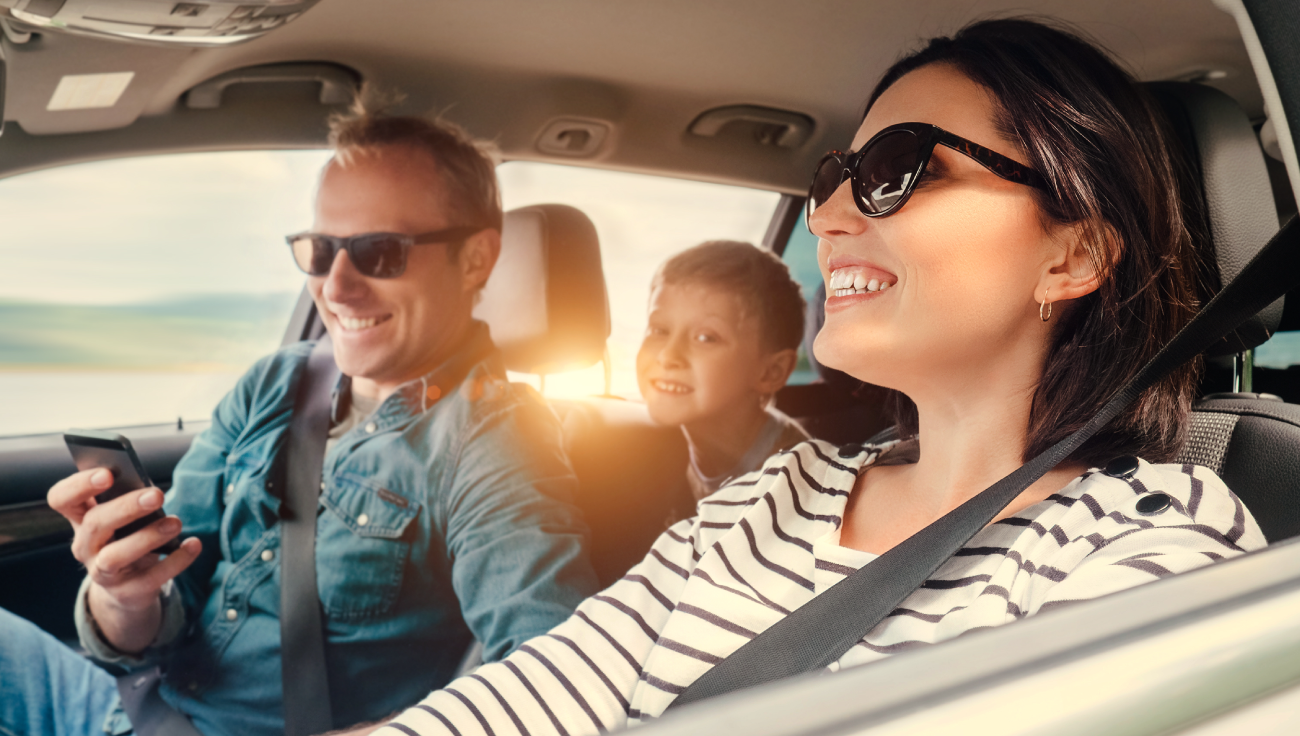 Highlights:
Lexus buyers are most loyal to the brand: 28.1% of consumers who sold a Lexus to CarMax in 2020 bought another Lexus – the highest of any of the makes we analyzed.

People who sold a Mitsubishi to CarMax were the most likely to switch to a different brand when buying a car. Nissan, Ford, and Chevrolet were among the top brands these consumers switched to.

4 in 10 luxury car owners switched to sports utility vehicles when trading in their car.
Buying a car is an exciting experience, as consumers have a large selection to choose from every time they make a purchase. One key decision buyers often face is whether to stick with the brand or model they know or try something different.
Using CarMax sales data from 2020, we analyzed the habits among people who sold their car to CarMax and purchased another vehicle at the same time. We looked at how often people purchased the same make when going from one vehicle to their next, which makes inspired the least amount of customer loyalty, and which vehicle classes were most popular. Read on to learn what insights we gleaned.
An Unbreakable Bond
First, we looked at the percentage of people who stayed with the same car make as the one they sold to CarMax.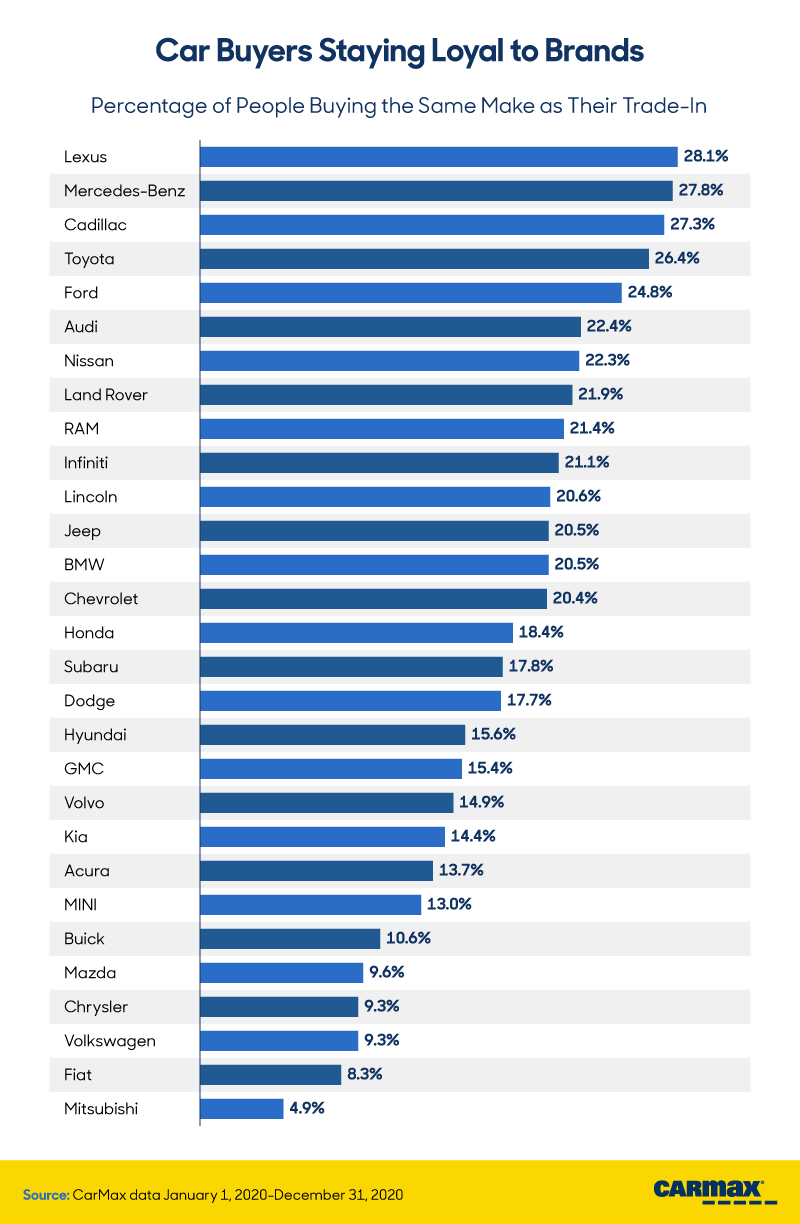 The most loyal customers were Lexus owners, as 28.1% of them bought another Lexus after selling their previous one. Mercedes-Benz was close behind with 27.8% of people purchasing another one after selling their old one. Cadillac rounded out the top three with 27.3% of owners remaining loyal to the brand. Interestingly, Lexus, Mercedes-Benz, and Cadillac are all considered luxury car brands, which could potentially be a factor in the loyalty they're shown.
However, according to our data, some car brands didn't receive the same purchasing habits from consumers as others. Only 4.9% of Mitsubishi drivers purchased another one upon selling their original. Fiat (8.3%) and Volkswagen (9.3%) also were among the brands with the fewest returning customers.
Out with the Old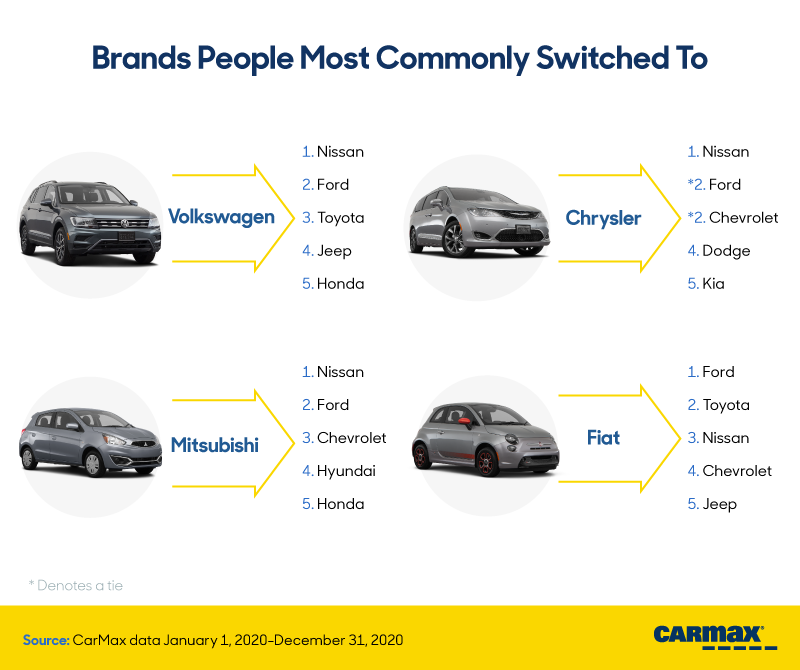 After discovering the makes customers were most likely to move away from when buying their next vehicle, we wanted to know which of the top 10 makes (based on overall sales) shoppers chose for their next purchase.
Volkswagen, Chrysler, and Mitsubishi owners were similar in their preferences for their next vehicle: All three makes saw the most customers switch to Nissan and Ford vehicles. Former Fiat owners, though, were most likely to opt for Ford and Toyota vehicles for their next car purchase.
Upgrading or Staying Put?
Once customers settle on a vehicle's make, it's time to decide on a model. We next looked at the difference between model years when people sold and bought cars at CarMax, as well as the models people were most likely to buy again.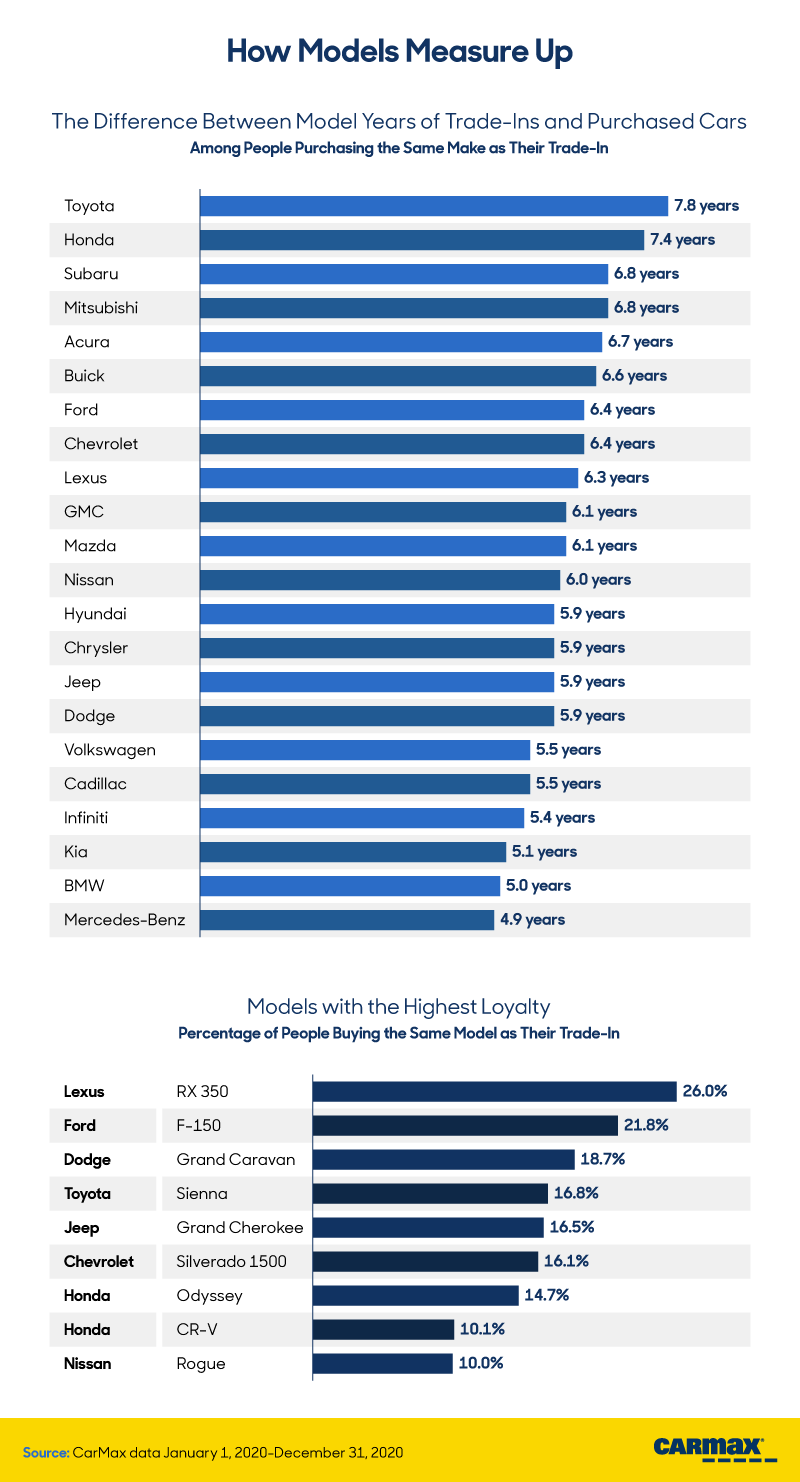 When purchasing a car, Toyota owners bought models that were 7.8 years newer than their previous one, on average. Honda owners also opted for a larger difference in model years, with an average difference of 7.4 years. The smallest change was seen in Mercedes-Benz owners, whose latest purchase was a model only 4.9 years newer than their former car. This could indicate that Mercedes-Benz owners want to get into newer models faster than other makes.
Regardless of the difference in model years, some people were happy to purchase the same model as their previous car when looking for their next car. The Lexus RX 350 was the most likely to have people coming back: 26% of people who traded in one bought another. The Ford F-150 was also popular, with 21.8% of people purchasing that model after selling their old one.
Making the Switch
Make and model aren't the only considerations when deciding on a car. Vehicle class can also play a role as people potentially look for a larger or smaller car to accommodate their changing needs.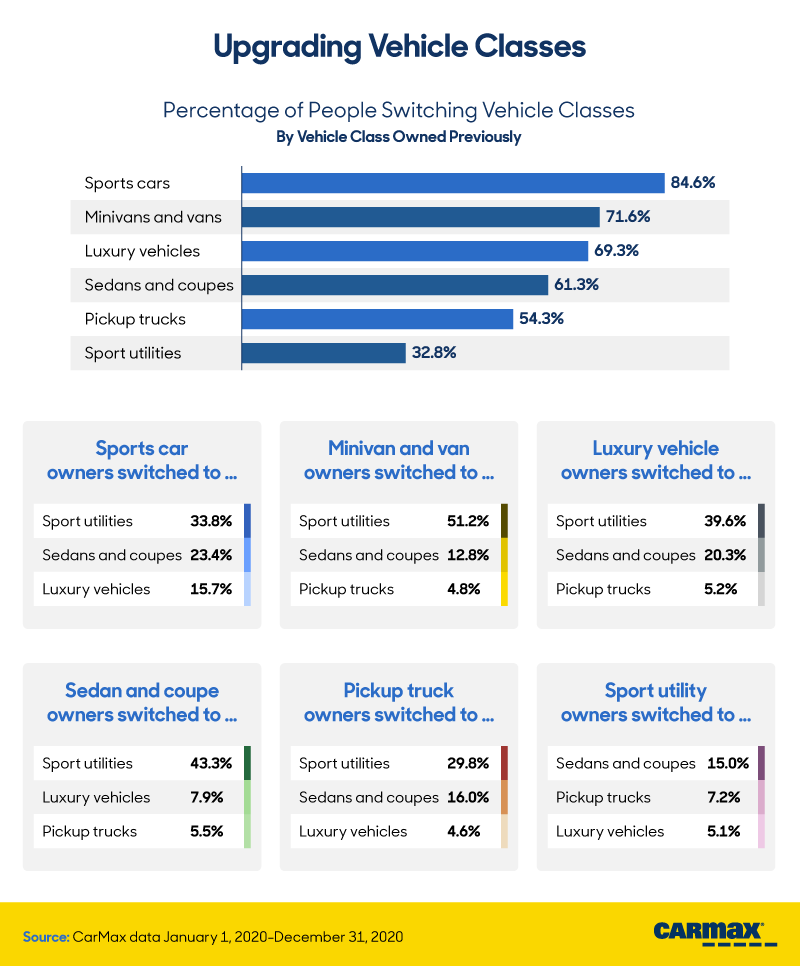 Sports car owners were the most likely to switch to a different vehicle class, as 84.6% of them opted for a different type upon selling their vehicle. On the other hand, sport utility vehicle (SUV) owners were least likely to make a switch, with only 32.8% opting for a different vehicle type. In fact, SUVs appeared to be the consensus choice among buyers, as they were the top choice when switching from all other vehicle types.
To Upgrade or Not?
A lot of thought goes into the car-selling and -buying process. People don't necessarily desire a change-up in make, model, or vehicle class – this was especially true for Lexus owners and SUV owners, who were both most likely to stay with what they knew. If a consumer were to switch brand allegiances, though, Nissan and Ford were the top two companies receiving new customers.
That said, every car has its benefits, and CarMax has vehicles in all shapes and sizes. Whether you're looking to sell your car, buy your next one, or both, check out CarMax.com to see how you can take advantage of comprehensive offerings.
Methodology
Using CarMax's sales data from 2020, we identified the transactions where people sold a car to CarMax and also purchased a vehicle from CarMax at the same time. To better understand the habits and preferences among people both selling and buying a car, we looked at this particular subset of overall sales.
For all data on makes and models, we focused our analysis on only those that had a significant number of sales to ensure outliers weren't skewing the data.
When looking at the car makes people were most likely to switch from when buying their next vehicle, we condensed our analysis to the top 10 switched-to brands based on overall sales.
We also looked at the model years of the people purchasing the same make as the car they sold. The differences represented in the project reflect only the years between the models, not the years between purchases of each vehicle.
CarMax classifies vehicles into the following vehicle classes:
Convertibles

Crossovers

Luxury vehicles

Minivans and vans

Pickup trucks

Sedans and coupes

Sport utilities

Sports cars

Wagons
When looking at vehicle classes, we focused our analysis on those with a significant number of sales to prevent outliers from skewing the data. Therefore, not all vehicle classes appear in our final visualizations of the data.
Limitations
CarMax has 224 stores nationwide, but there are a handful of states without a CarMax location. Additionally, the percentage of people both selling and buying cars with CarMax is a subset of total sales. The data presented in this project should therefore serve as an analysis of CarMax sales only and not broader commentary on people's preferences.
Fair Use Statement
Buying a car can be an overwhelming process, especially if you're unsure about whether you should stick to what you know or try a different make or model. If someone you know would benefit from the information in this project, you may share for any noncommercial reuse. We ask that you please link back here, so the entire project and its methodology can be reviewed. This also gives credit to the contributors who make this work possible.