1. Family friendly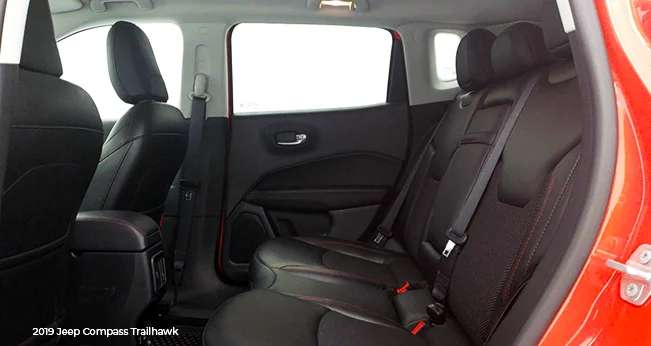 The 2019 Jeep Compass comfortably seats five. The materials that make up the interior are hardy. It's all about the fun, and the 2019 Jeep Compass delivers. This vehicle has storage cubbies stationed throughout for convenience. The front passenger seat even folds down so you can toss a few fishing poles across the right side of the vehicle while sitting on left.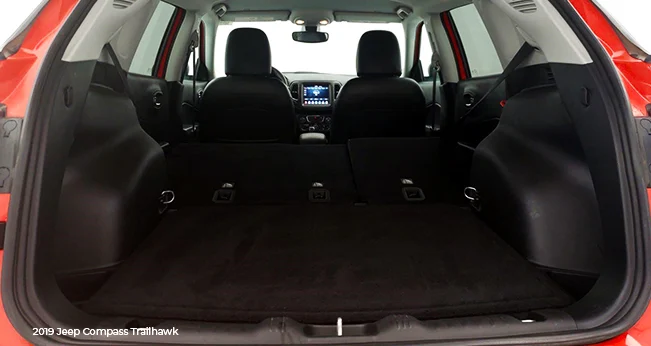 2. Available Beatsaudio™
The 2019 Compass comes standard with a fine audio system. However, if you love music, you'll want even more for your listening pleasure. A BeatsAudio™ sound system is an available option for your Compass, meant for serious audiophiles and casual listeners alike. Nine speakers and a 12-channel amplifier turn the joy up to 10 when it comes to riding down the road with this premium audio system add-on. If you have a 2019 Compass with a sunroof, open the top and let the neighbors hear the sound of your musical choices flying through the air behind you.
3. The Trailhawk trim
You can absolutely get a base model Compass and tackle some rough terrain, especially if you opt for the AWD. But the Compass Trailhawk takes it a step further into the wild. The 2019 Trailhawk is for drivers who prefer to forge a path rather than just sticking to the road. It includes the Selec-Terrain system, designed to help you adapt to climbing hills and mashing through tree stumps and debris. Additional underbelly protection is also available.
4. Technology touches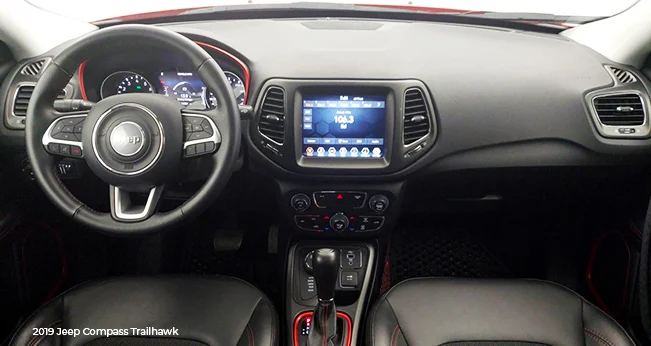 The 2019 Jeep Compass packs a great deal of technology into a small space. A lot of buyers will be interested in Jeep's Advanced Safety package. The driver assistance package offers forward collision warning with active braking. Meanwhile, lane-keep assist is designed to prevent you from drifting across the line while adaptive cruise control and available blind-spot monitors further boost your confidence on the interstate.
5. Stickshift option
A six-speed manual transmission is available on the 2019 Sport and Latitude trims. If you love the feeling of following the gearbox all the way up the chain, this option is for you. Driving stick will make you feel firmly in control and the Compass responds in kind. The 2019 Jeep Compass is a charming drive, and fans of manual transmissions will like the feeling of engagement, keeping the focus of the driver on the car itself.