5 reasons to buy the 2018 Nissan Leaf
1. Great range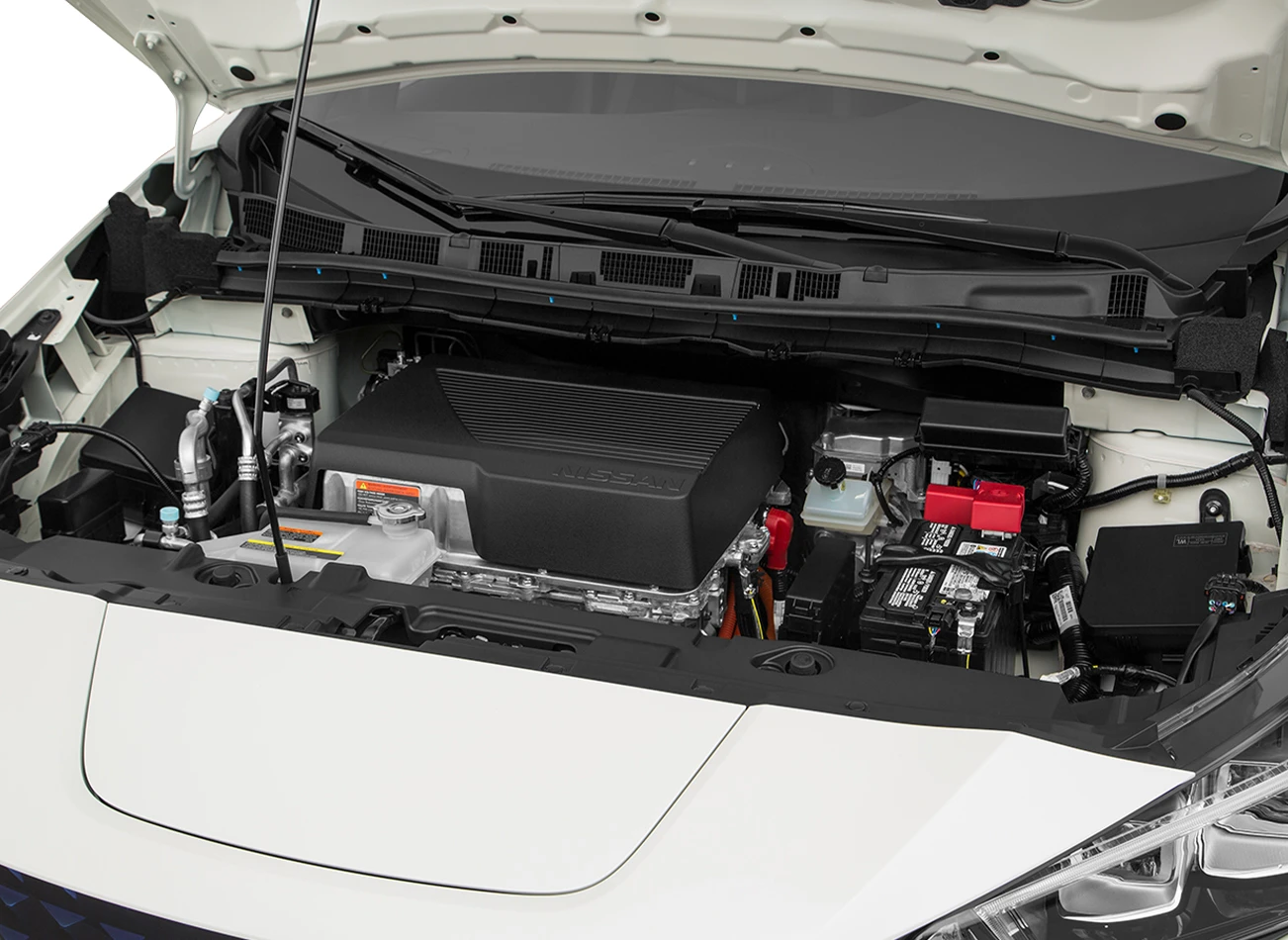 The 2018 Nissan Leaf has a 40kWh battery, which is a significant upgrade from previous generation models. The 2018 Leaf can go farther on a single charge, so you don't have to stop as often for charging. You'll get an EPA-estimated range of 151 miles on a full charge.
This makes the 2018 Nissan Leaf a great choice in the city as well as on the freeway.
2. One-pedal driving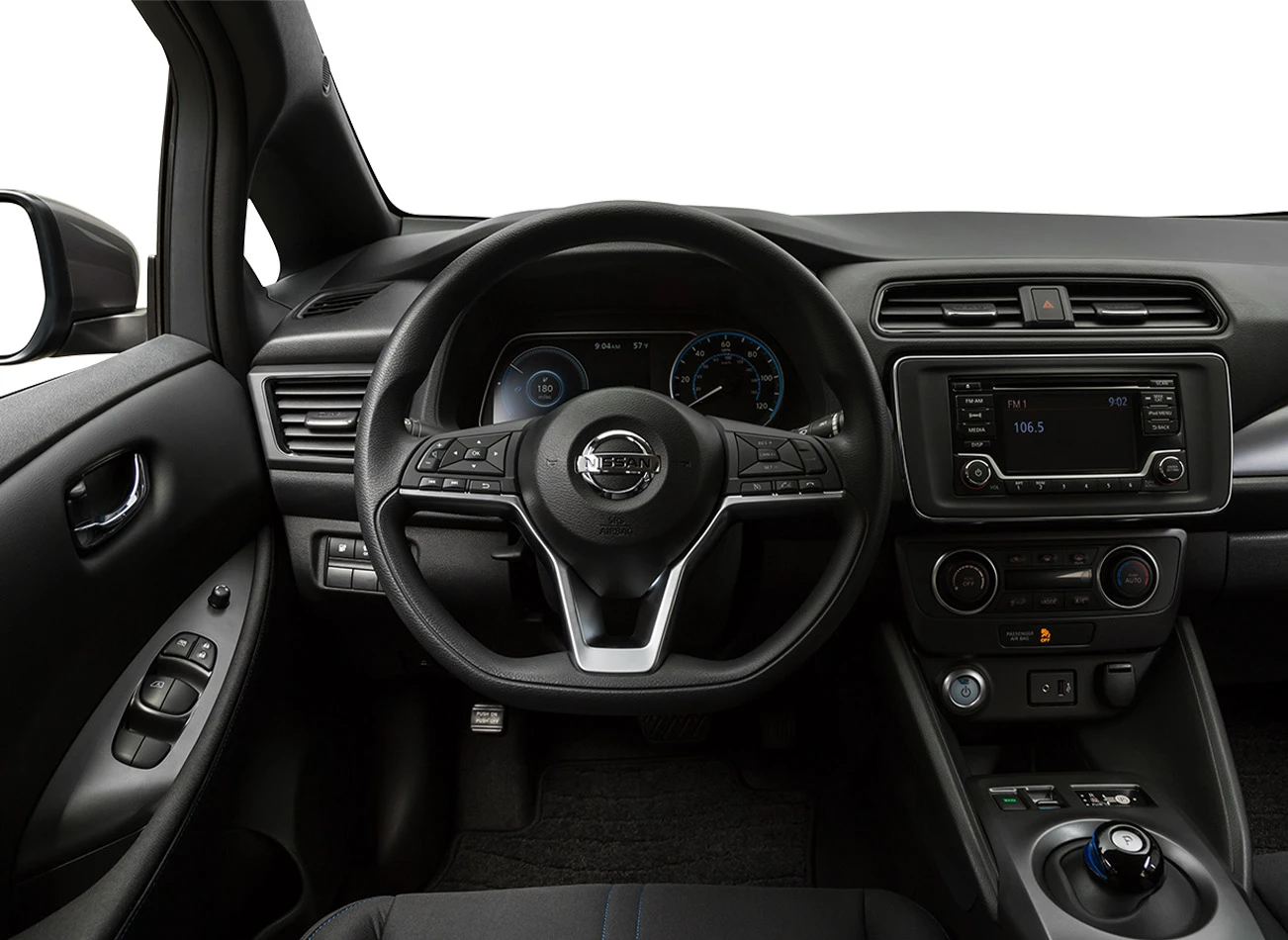 The 2018 Nissan Leaf features the e-Pedal, which is essentially a one-pedal driving system. This means you can accelerate, decelerate, and stop by increasing or decreasing the pressure applied to the accelerator pedal itself. When the pedal is fully released, regenerative braking takes place (by slowing down the motor to regain some range) and the friction brakes are applied automatically, bringing the Leaf to a complete stop, even on a steep hill.
3. Instant acceleration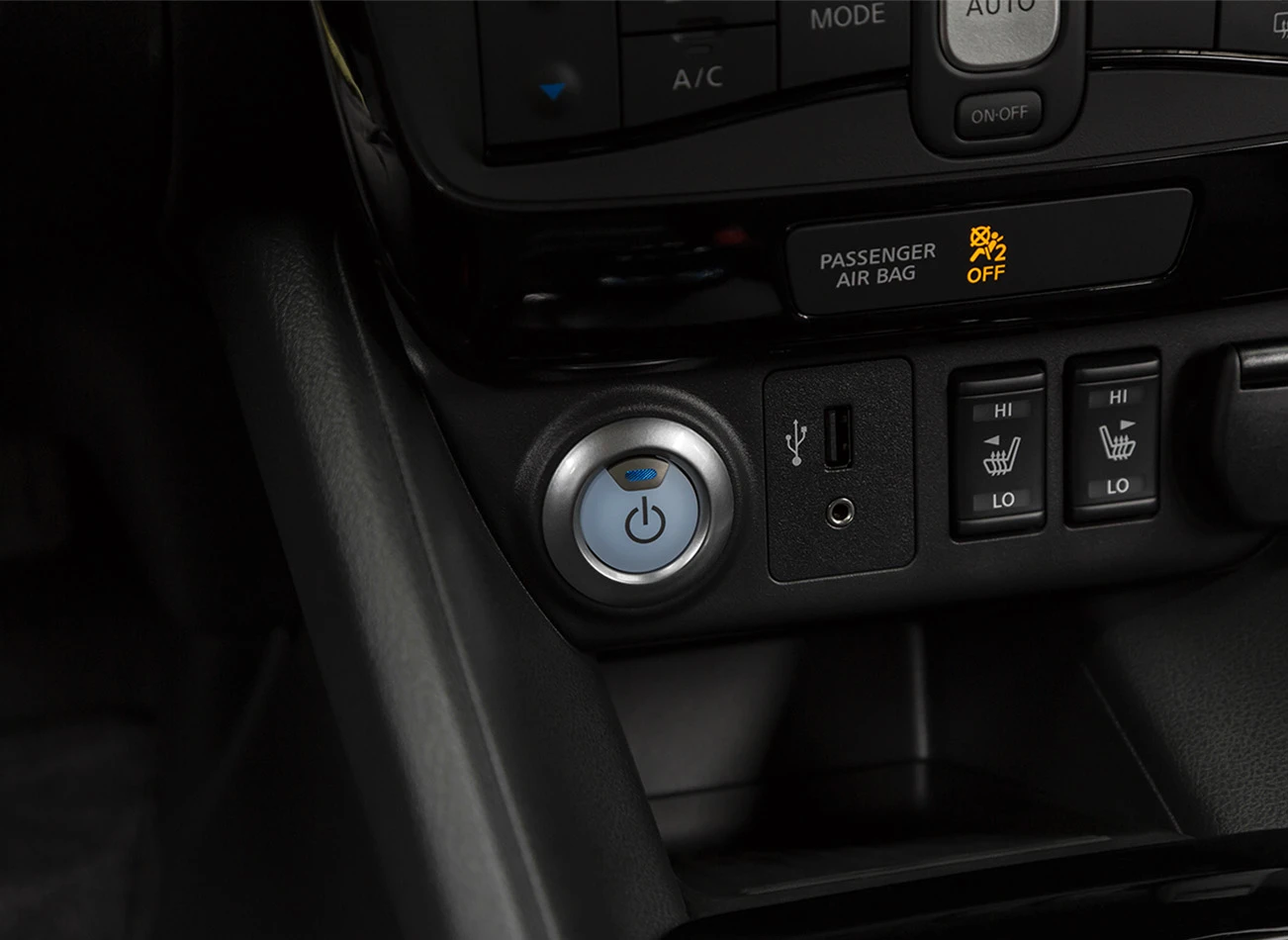 One of the best things about an electric car is instant access to its full torque, which gives you incredible acceleration—even on an unassuming hatchback. The 147 hp and 236 lb-ft of torque on the 2018 Nissan Leaf provide a pace that's perfect for busy urban traffic, whether you're on a grocery run or taking the kids to school. 
4. Plenty of technology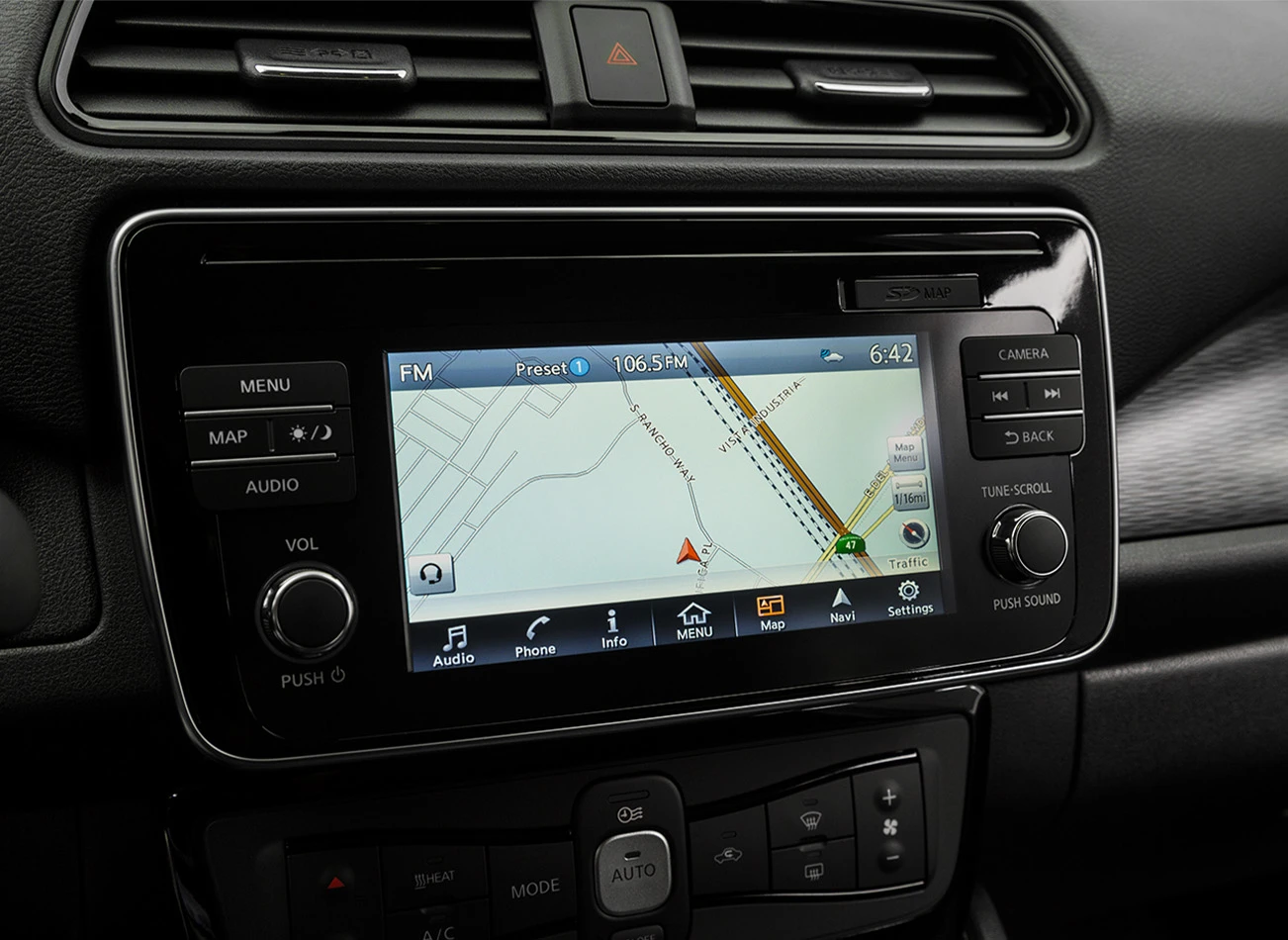 The 2018 Nissan Leaf is loaded with technology, all designed to entertain or assist you as you drive. Bluetooth® streaming and SiriusXM® satellite radio are standard on all models, and entry-level S models have a five-inch color display radio/CD system. 2018 Nissan Leaf SV and SL models feature NissanConnect® with navigation and Apple CarPlay® and Android Auto™ connectivity, as well as a seven-inch color display. Automatic emergency braking is standard on all trims, with Nissan's ProPilot Assist driver-assistance system optional on SV and SL trims. 
5. Fast and easy charging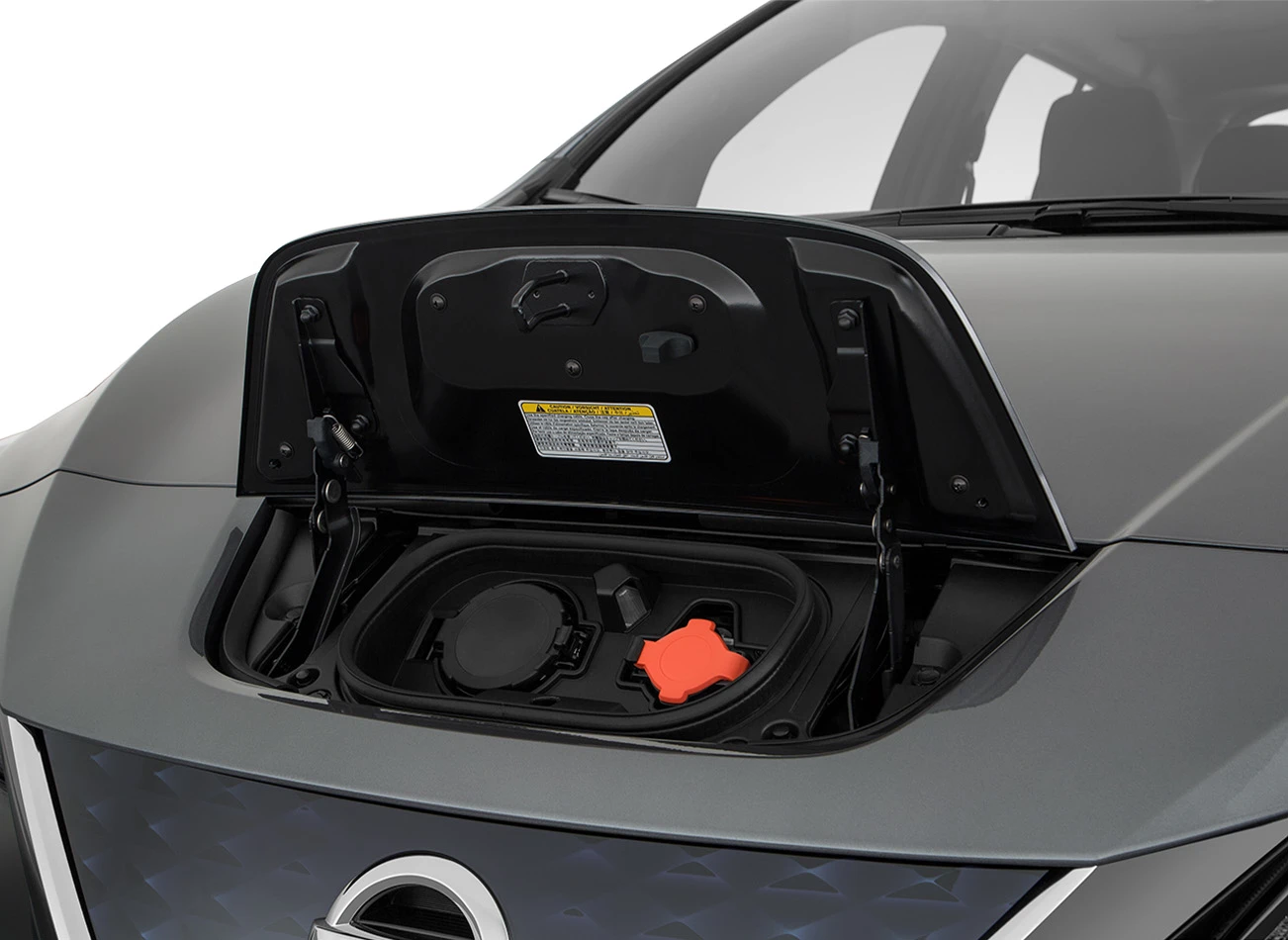 A more powerful onboard charger means that the 2018 Nissan Leaf charge time for a full battery recharge is 7.5 hours on a 220V power connection. A rapid charging option is also available. The quick charge port on higher-trim Leafs allows charging to 80 percent battery capacity in only 40 minutes at a fast-charging station. A revised charge port location at the front makes 2018 Nissan Leaf charging easy, as does a standard charge port light and door lock. 
RepairPal gave the Nissan Leaf an overall reliability rating of 4.5 out of 5 stars, which RepairPal describes as Excellent. This rating ranks Nissan Leaf 3rd out of 4 among Alternative Fuel Vehicles.
Color options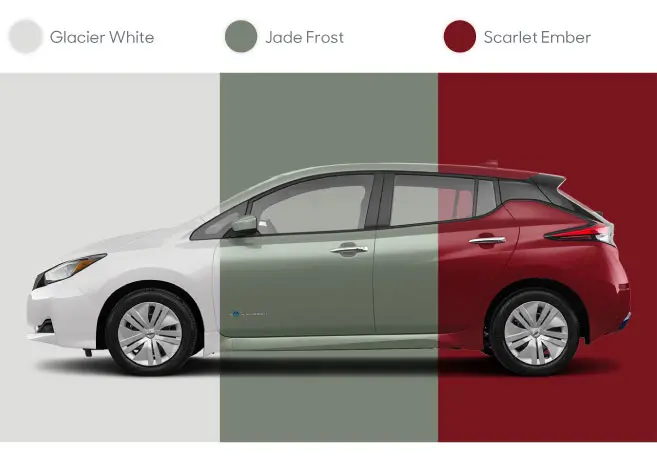 Exterior colors:
Interior colors:
Black (All trims)

Light Gray (SL only)
Interior details
The 2018 Nissan Leaf interior can seat five passengers in two rows. Both the entry-level S and mid-range SV models have cloth interior trim, with leather standard on the SL trim. The standard trim color is black, with light gray optional on the SL. The Leaf has plenty of storage spaces around the cabin, including four bottle holders and two cup holders.
Suitable for small families and groups, the 2018 Nissan Leaf has 23.6 cu-ft of trunk space with the rear seats in place, increasing to 30 cu-ft when folded down. The 42.1 inches of front-seat legroom and 33.5 inches of rear-seat legroom mean you and your passengers can travel in comfort. 
Child seat details
You can fit two child car seats in the rear row of the 2018 Nissan Leaf, including LATCH car seats, infant rear seats, rear-facing convertible car seats, forward-facing convertible car seats, and booster car seats. There are two complete sets of LATCH connectors on the rear outboard seats, along with a tether anchor for the rear middle seat. 
Performance
All models of the 2018 Nissan Leaf have the same 147-hp powertrain and 40kWh battery. The Leaf's get-up-and-go is more akin to a family car than a Ferrari—despite that instant torque—but it reaches zero to 60 mph in 7.5 seconds (according to the manufacturer, when new). The range for all models is an EPA-estimated 151 miles on a full charge.
The 2018 Nissan Leaf is a front-wheel-drive hatchback, with power fed through a single-speed reducer transmission, controlled by a shift-by-wire drive selector. Three driving modes allow you to tailor the driving style of the car to preserve range. "Normal" is the default setting. "Eco" mode brings increased regenerative braking and limits the 110kW electric motor's output, which also reduces the air conditioning system's operation. "B" mode provides even more aggressive regenerative braking when slowing down.
Year comparison
2011-2017 Nissan Leaf (first generation)
The Nissan Leaf debuted for the 2011 model year. Initially, only a 24kWh battery was available, with an EPA-estimated range of 84 miles on a full charge for 2011 models.
All models were front-wheel drive, fitted with the same 80kW/107-hp electric powertrain. SV and SL trims offered different levels of equipment, including the option of a quick charge port for shorter charging times. The 2013 model year introduced 240V charging, along with an entry-level S trim. A larger-capacity 30kWh battery was introduced on the 2016 Nissan Leaf, increasing the EPA-estimated range to 107 miles on a full charge.
2018-present Nissan Leaf (second generation)
The second-generation Nissan Leaf arrived in 2018. Under the bigger and sharper-looking body, all 2018 Leaf trim levels were fitted with a 40kWh battery, bringing a significant range upgrade. The 2018 Leaf has an EPA-estimated range of 151 miles when fully charged.
ProPilot Assist and e-Pedal intelligent driving technologies make the second-generation Leaf enjoyable and relaxing to drive. 
In 2019, the range was increased further with the arrival of the Nissan Leaf e+ (renamed Leaf Plus in 2021). A 62kWh battery and 160kW/214-hp electric motor increased the single-charge driving distance to an EPA-estimated 226 miles, and charging was boosted with a new 70kW (100kW peak) quick-charging system.
 A CHAdeMO quick-charge port became standard across all trims from 2021.