5 reasons to buy the 2020 Tesla Model Y
1. No range anxiety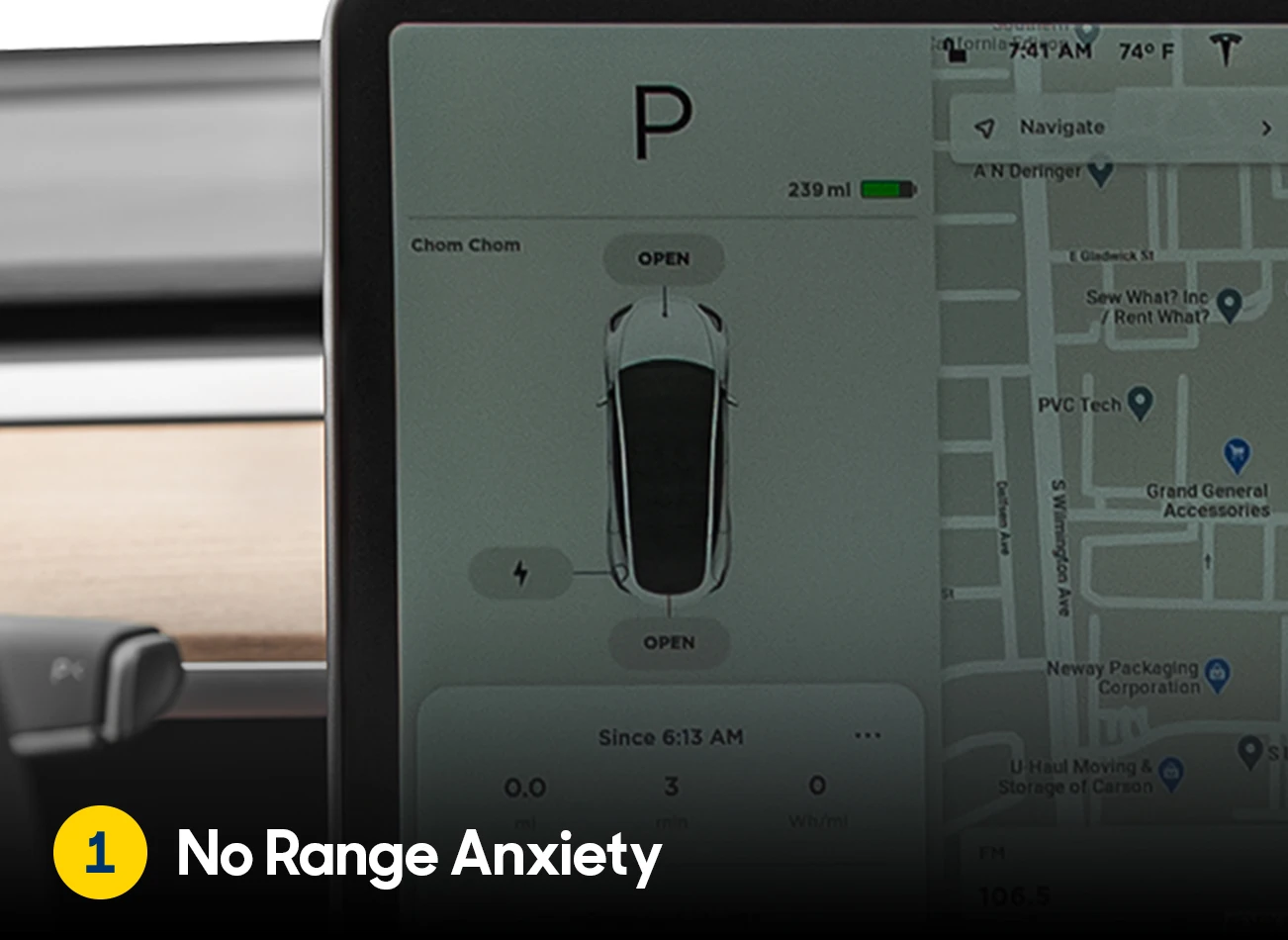 One of the things you may hear about electric cars is "range anxiety," but modern electric car batteries are large enough to get you pretty much wherever you need to go. With an EPA-estimated range of 315 miles on the Performance trim with a full charge, the 2020 Tesla Model Y can travel just about as far as many gas-powered cars can go on a single tank.
Plus, the EV charging network is growing by the day, so it's getting even easier to find a convenient charging spot for your next electric road trip.
2. AWD capacity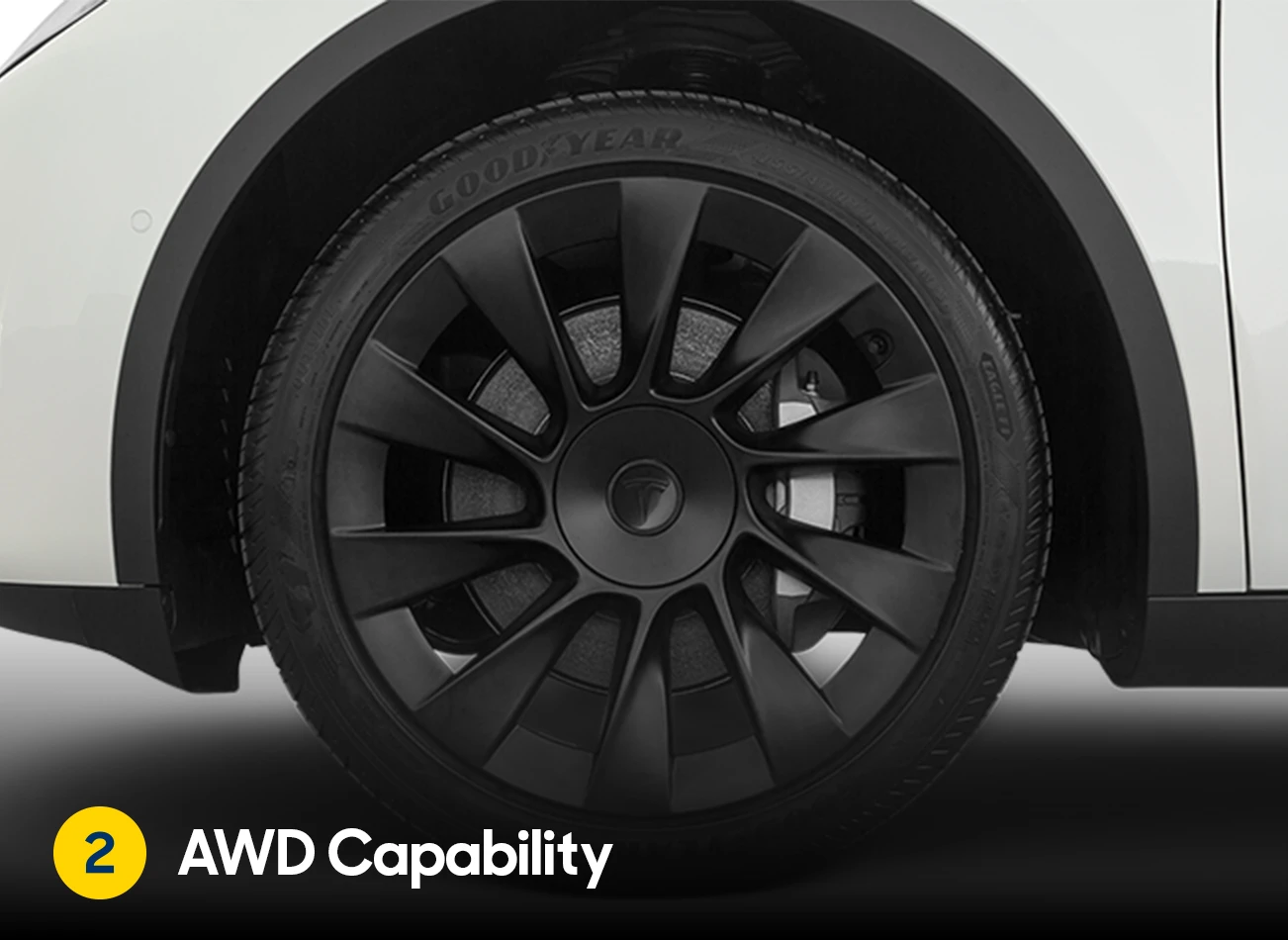 Both 2020 Model Y trim levels feature optional all-wheel drive, so your vehicle can be ready for whatever Mother Nature sends it way. Powered by super-responsive, independent electric motors, the Model Y is designed to instantly control torque to the front and rear wheels. That can mean better handling, traction, and stability control, regardless of the scenario.
3. The latest tech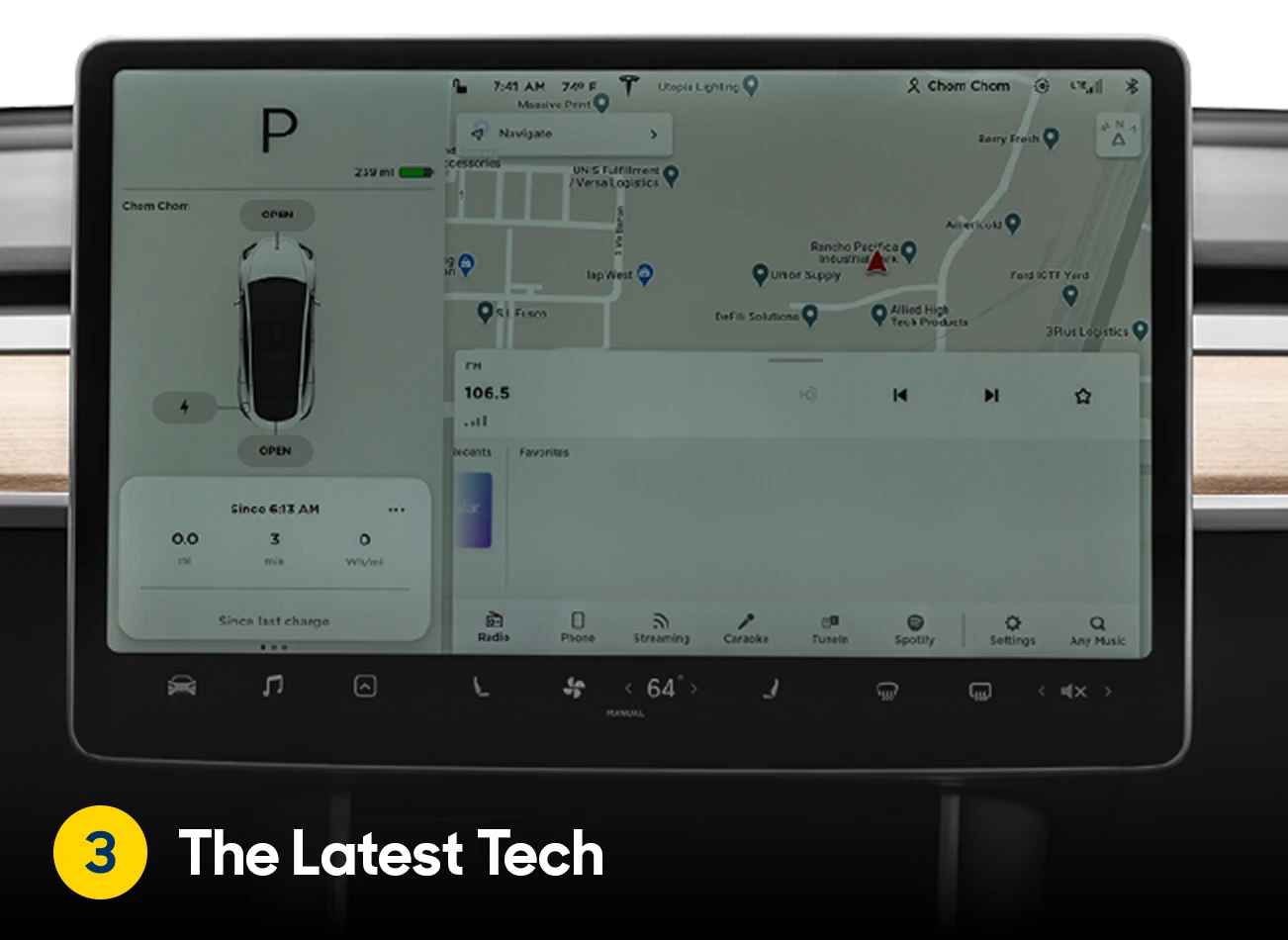 Like all Tesla models, the Model Y's interior centerpiece is a massive 15-inch screen. It goes beyond infotainment though, as the screen controls just about every function in the vehicle. With crisp resolution and an integrated navigation system, the Model Y has various gadgets you may want. You might even find some "Easter eggs," or fun little hidden surprises mixed in. There's even a mode to keep your pet warm or cool while they're in the car alone!
4. Plenty of speed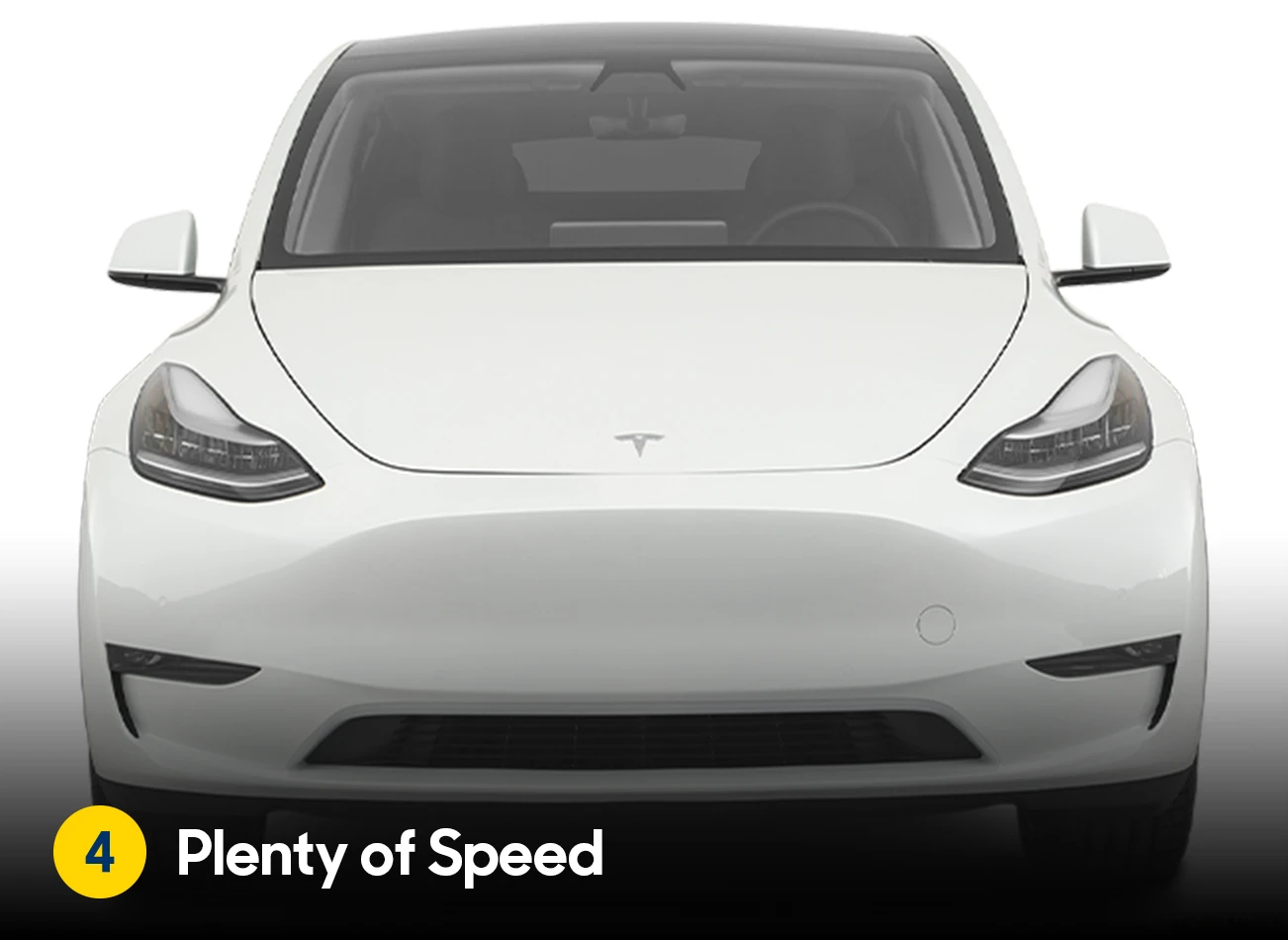 The average car enthusiast may fear the day when big V8 engines will no longer be available. However, that doesn't mean our electric future will be dull. Far from it — the 2020 Model Y is fast. On the Performance trim, the Model Y can go from zero to 60 mph in 3.5 seconds, boasting a top speed of 150 mph (according to the manufacturer, when new). Clearly, the Model Y is far from boring. You can even shop for a model with lower suspension in the Performance trim for better handling.
5. Lots of space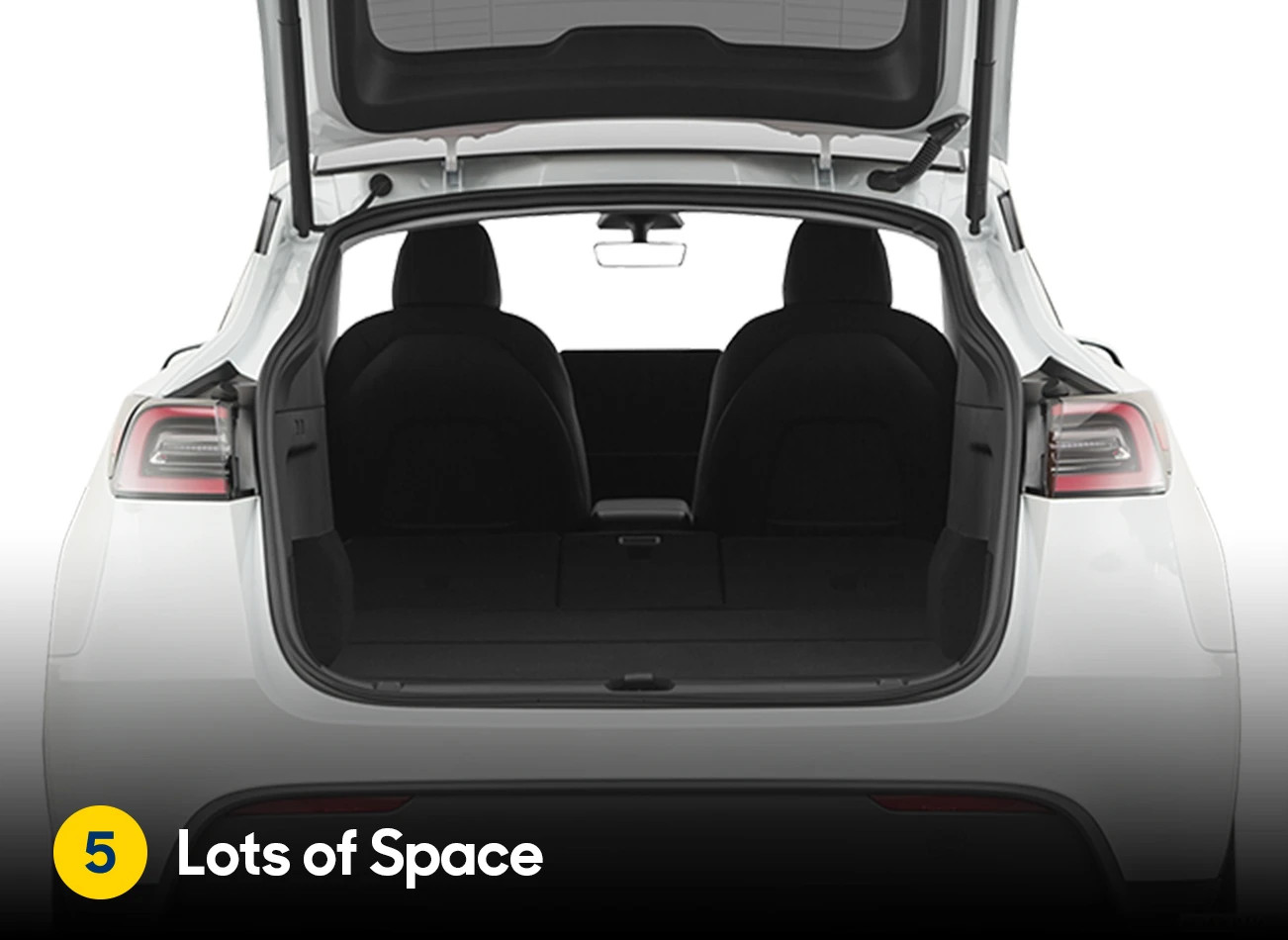 The 2020 Model Y's cargo space is quite large: 68 cu ft with the rear seats folded. The number of storage options is significant, including additional storage under the rear cargo area, plus the front trunk ("frunk"). That means you can have plenty of room for your stuff on your all-electric road trip.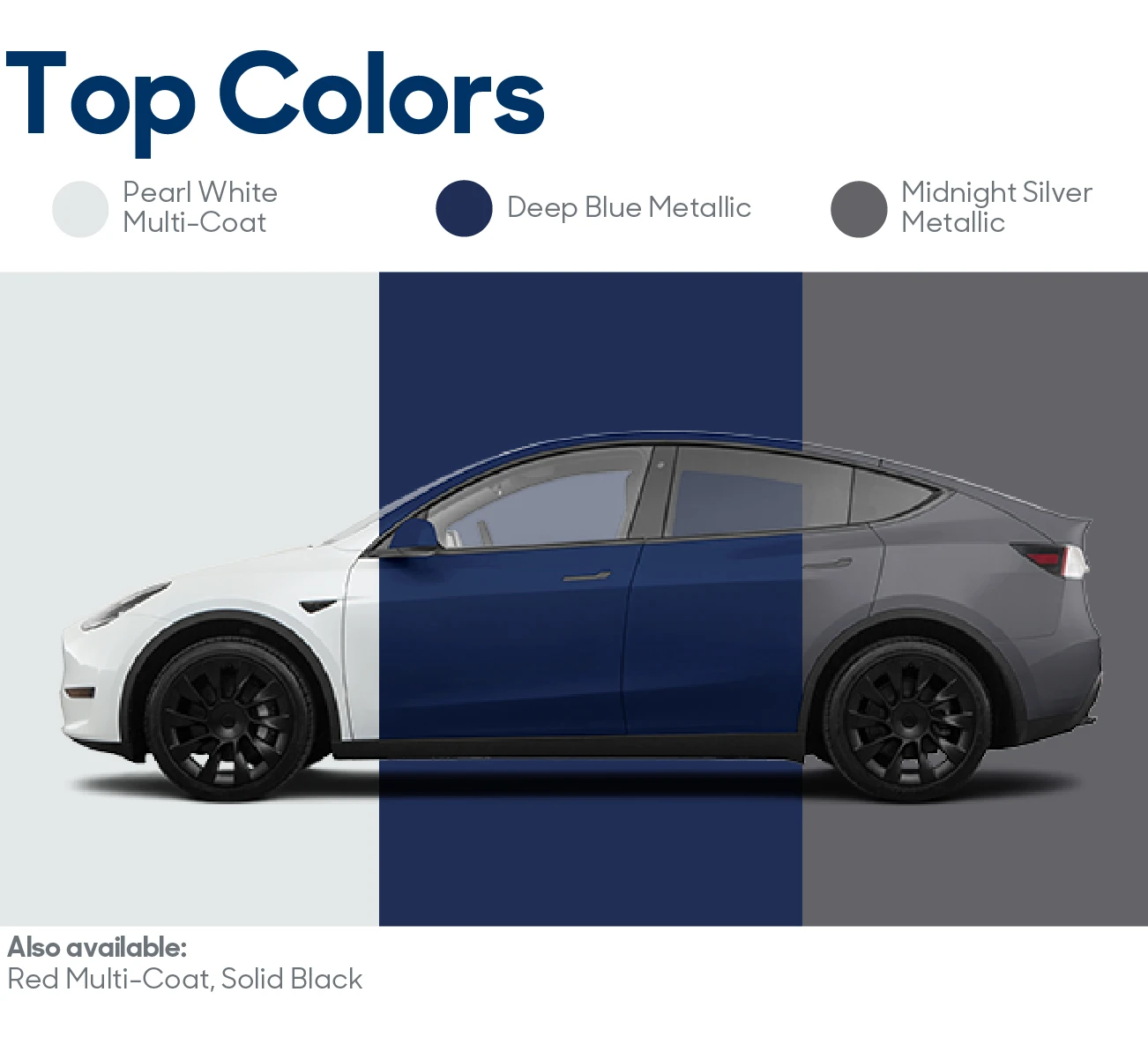 Exterior colors
Deep Blue Metallic

Midnight Silver Metallic

Pearl White Multi-Coat

Red Multi-Coat

Solid Black
Interior colors
Black w/Premium Seat Trim

White/Black w/Premium Seat Trim
Interior details
The 2020 Tesla Model Y seats up to five people across two rows of leatherette seating. While the rear seats don't fold entirely flat, the wide opening makes for easy loading. The removable cargo floor in the rear provides additional storage underneath, and the front trunk ("frunk") adds even more practicality. The Model Y boasts 68 cu ft of total cargo space with the seats folded down, and the large 15-inch touchscreen controls just about all vehicle functions.
Child seat details
The 2020 Tesla Model Y has three child seat tether anchors and can fit three child seats. There are no lower anchors for the middle seat. The IIHS rates the LATCH ease of use as "acceptable," which is its second-highest rating
Performance
The 2020 Tesla Model Y has a zero to 60 time of 4.8 seconds (Long Range) or 3.5 seconds (Performance), as well as a top speed of 130-150 mph (according to the manufacturer, when new). The Model Y in the Performance trim with AWD and 21-inch wheels gets an EPA-estimated 111 MPGe combined. Both the Performance trim (with 19-inch wheels) and the Long Range trim have an EPA-estimated 121 MPGe combined.
Emissions info
According to EPA estimates, the 2020 Tesla Model Y greenhouse gas emissions are 0 grams per mile. This estimate is based on a brand-new model. Visit fueleconomy.gov for more details.
Safety rating
The 2020 Tesla Model Y was rated overall 5/5 by the National Highway Traffic Safety Administration (NHTSA). Certain vehicles may have unrepaired safety recalls. Click here to look up a specific vehicle.
Frontal Barrier Crash Rating Test: A head-on collision between two similar vehicles traveling at 35 mph.
Overall: 5/5
Side Barrier Crash Rating Test: A vehicle standing in an intersection sustains driver side impact from a vehicle moving at 38.5 mph.
Overall: 5/5
Side Pole Crash Rating Test: A vehicle slides sideways at 20 mph and impacts a tree or telephone pole.
Year comparisons
2020 to present (First Generation)
The Tesla Model Y is a compact electric crossover based on the Tesla Model 3 sedan, featuring a taller roofline and more interior space. Whether you shop for the Long Range or Performance trim, you'll find a great all-electric option in the Model Y. For the 2021 model year, the Model Y introduced a Standard Range trim with an EPA-estimated 244 mile range on a full charge, as well as an optional pop-up third-row jump seat that increases total seating capacity to seven.