1. Switching between driving modes
Although racetrack driving is one of its main purposes, the 2020 Toyota Supra is well suited to cruising around town. This is in large part thanks to its two different driving modes: Normal and Sport. You can move between these two modes by flipping a switch, resulting in easier handling, simpler gear shifting, and an overall smoother ride. While the Supra is primarily meant for fast driving, you can easily use it for your daily commute as well.
2. Stylish design
Like many sports cars, the 2020 Toyota Supra boasts an attractive exterior design that's bound to turn heads. From the aerodynamic shape aimed at optimizing drag coefficient to the signature LED taillights and the reverse light cluster reminiscent of an actual race car, the design makes the 2020 Toyota Supra stand out from the crowd wherever it goes, be it in the city or the race track. It's topped off with a double-bubble roof, which in addition to giving the exterior a distinctive look, provides extra headroom for passengers.
3. Powerful engine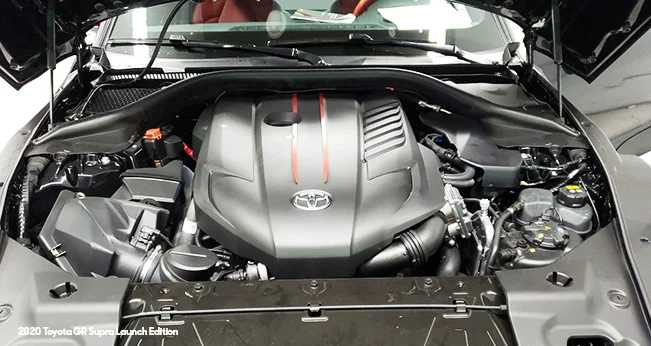 The 2020 Toyota Supra comes with one engine option, and it's a powerful one. The 3.0L turbocharged six-cylinder engine, delivering 355 horsepower, paired to an eight-speed automatic transmission, gives the Supra quick response and enviable acceleration. According to the manufacturer, the 2020 Toyota Supra goes from 0 to 60 mph in 4.1 seconds (when new). Toyota has implemented sophisticated technologies such as variable valve timing and twin-scroll turbocharger, which help provide a true sports car-riding experience.
4. Convenient and comfortable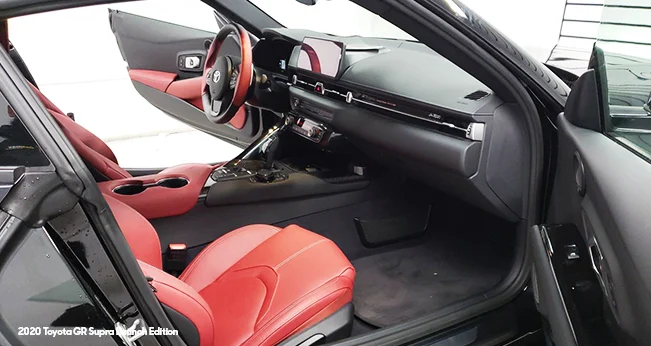 Convenience and comfort are a bonus for any sports car enthusiast, and the 2020 Toyota Supra does well in these areas. The interior is quite comfortable, with high-quality materials, adjustable seats, and well-positioned tech features. What's more, the cargo area is generous (9.9 cubic feet), with enough room to put a couple of small pieces of luggage or plenty of groceries.
5. Lots of color options
When it comes to sports cars, looks matter. Exterior color is one of the factors that can significantly influence the look of a sports car, and the 2020 Toyota Supra doesn't disappoint in this regard. It comes with a wide range of exterior paint options that complement the sporty design and highlight the car's boldness and aggressiveness on the road.