The 2019 Nissan Rogue: A Small SUV with a Big List of Features
---
PUBLISHED FRIDAY, DECEMBER 11, 2020
The Rogue offers plenty for a price that's within reach.
With thousands of vehicles in our inventory, we're here to help make car research easier for you. We've partnered with car-review experts from Edmunds to weigh in on what matters most when you're looking to buy a car.
***
Shopping for a Nissan Rogue? This article will guide you through everything you need to know to help you make a smart choice. Edmunds' Elana Scherr has extensive on-road experience with the Rogue as well as with rival small SUVs. She shares her thoughts on how to choose the right Rogue for your needs.
What do I need to know about the Nissan Rogue?
There are three generations of the Nissan Rogue:
The newest version, which debuts for 2021

The second-generation Rogue for the 2014-2020 model years

The original 2008-2013 Rogue
We'll focus on the second-generation Rogue because that's the one you'll most commonly find at CarMax. Compared to the first-generation model, the second-generation Rogue is roomier and has more available technology and advanced safety features.
Nissan largely kept this generation Rogue the same. Most second-generation Rogues you'll come across will have a 2.5-liter four-cylinder engine, a continuously variable transmission (CVT), and either front-wheel drive or all-wheel drive. For the 2017-2019 Rogue, Nissan also offered a hybrid powertrain.
One significant aspect to consider is that for the 2014-2017 Rogue, Nissan also offered an optional third-row seat. It's quite small, but can give you some flexibility if you need to take along extra passengers.
But, for the rest of this article, lets focus on the specific model we tested: a 2019 Rogue.
Elana's take:
With so many years to choose from in the second generation, there should be a flavor of Rogue to suit your needs. It's a straightforward design that has remained similar throughout the generation's life, making it easy to focus on years that have the amenities you want.
What stands out about the 2019 Nissan Rogue's design?
The Nissan Rogue has a classic small SUV shape and stance, with an overall design that hasn't changed much over the course of the generation's lifetime. Most Rogues you'll come across look very similar. The SV and SL trim levels make use of a small amount of chrome for accents on the door handles, grille, and window surrounds. As for wheels, the 2019 Rogue S and SV trim levels have 17-inch wheels, and the top-line SL sports 19-inch wheels. The SV and SL also have roof rails, which you can use to install an aftermarket roof rack.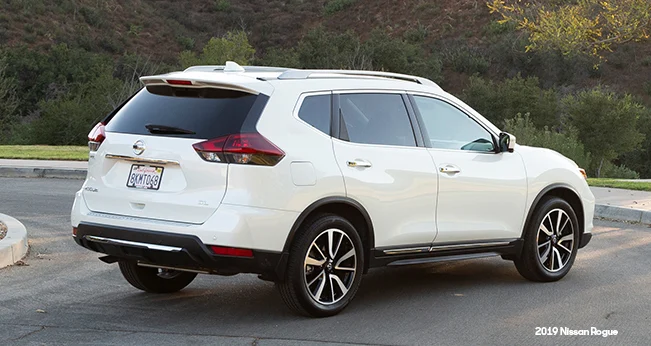 Elana's take:
I like the big windows on the Rogue. They let in a lot of light and add to the sense of space in the interior. Like most small SUVs, the Rogue has a bit of a high-top tennis shoe shape, but it looks good in the SL trim thanks to the bigger 19-inch wheels.
How is the 2019 Rogue's storage?
The 2019 Rogue is a storage star. It offers an excellent-for-the-class 39.3 cubic feet of space behind the second-row seat or 70 cubic feet with the second row folded down. That means there's lots of room for stuff of all sizes behind the second row.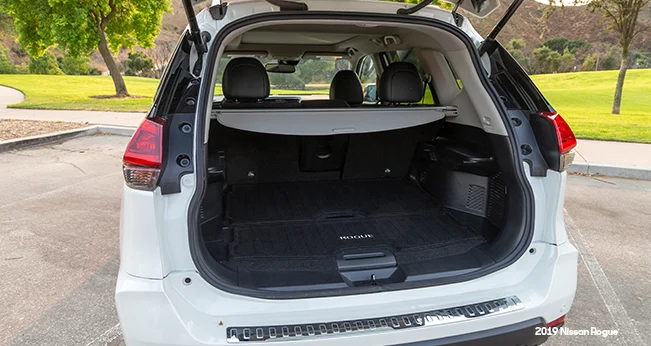 In a clever touch, you'll find two configurable cargo floor panels. You can hide small items underneath them, take them out to free up extra room, or divide them up to help secure items such as grocery bags.
Space up front for smaller items isn't as clever, however. There's not much room in the center console armrest bin, for example. Perhaps most annoyingly in the modern age, there's no perfect spot for a cellphone, as all the cubbies and slots in the console are either too small or too large to keep an average-size phone from sliding around.
Elana's take:
The Rogue is a happy hauler. It's easy to get things in and out of the back, and there's plenty of room for just about anything you'd need to carry, from groceries to gardening supplies. But I am disappointed that there's not a better place to put my phone.
What's the 2019 Rogue's interior like?
When you open the door of the Nissan Rogue you're greeted with a well-lit, spacious interior. Tall passengers will find enough legroom and headroom, and short passengers will be able to adjust their seats forward for better comfort and visibility.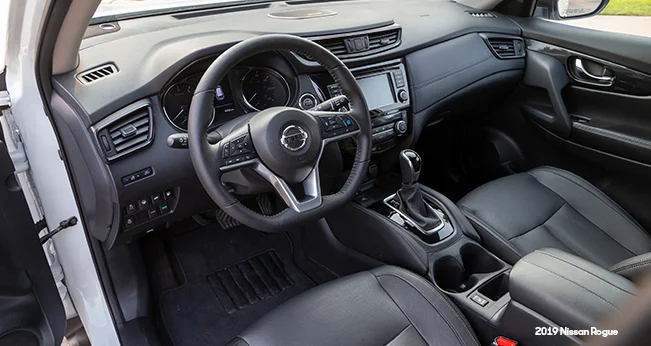 While most touchpoints are well padded, the overall feel of the Nissan's interior is less upscale than the cabins of competitors from Honda and Mazda. The main complaint with the Nissan's interior is control placement. The physical buttons surrounding the touchscreen are small. The screen itself is small, too, and cluttered with virtual buttons. Other interfaces — for example, the steering wheel heating — are located next to the driver's left knee. It's neither ergonomic nor logical.
In the rear, there's no lack of room for long legs. Sitting three across would be a shoulder-to-shoulder situation for large adults, but that's to be expected in a small SUV like the Rogue. There's a lot of room to help you install a child safety seat, and the rear door openings are wide enough and tall enough to ease the task of lifting small passengers in and out.
Elana's take:
While I appreciate the space inside the Nissan Rogue, and the ease with which its simple faux leather surfaces can be cleaned, I do wish Nissan had explored more color and texture options to add visual interest, and the control placements are truly mystifying.
How is the 2019 Rogue's tech?
There's a lot to say here because one of the Rogue's selling points is the quantity of tech-included offerings. Every Rogue comes standard with advanced safety features that can help mitigate an accident, such as blind-spot monitoring (can alert you if a vehicle in the next lane over is in your blind spot), lane departure warning (can alert you if the Rogue begins to drift out of its lane), and forward collision mitigation (can warn you of an impending collision and apply the brakes in certain scenarios).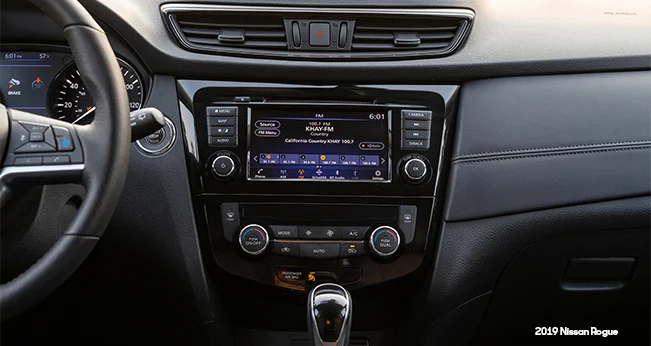 On the 2019 Rogue SL, you also get an additional batch of features called ProPilot Assist. It has stop-and-go adaptive cruise control, which can bring the car to a complete stop and start up again while in heavy traffic, and steering assist, which helps keep the Rogue centered in its lane. These features are optional on the SV trim as well.
We do like how the adaptive cruise control manages changing traffic conditions well with smooth acceleration and braking. But the lane departure warning system is touchy and alarmist. Luckily, it can be turned off. The surround-view camera system (standard on the SL) offers multiple views that can be helpful to spot short objects when parking. But the displayed views are low-resolution and don't work well in dark or brightly sunlit parking spots.
Every 2019 Rogue has a 7-inch touchscreen that includes Apple CarPlay and Android Auto. These systems allow you to connect your smartphone with a USB cable and display many of your phone's apps right on the screen.
But some of the Rogue's other technologies aren't as helpful as they could be. The SL trim, for example, comes with a built-in navigation system. But, its subpar graphics make it difficult to see fine details. The system's associated voice command system isn't particularly intuitive to use either.
In the 2019 Rogue, there's one USB port below the center stack and another charge-only port inside the console. There aren't any rear USB charge ports for backseat passengers.
Elana's take:
You get a lot of tech in the Rogue, but you might not find all of it useful. Luckily, the basics work well. It's easy to pair your phone with Bluetooth®, for example. And the Rogue's blind-spot monitoring system is helpful for keeping track of vehicles lurking off to the sides.
What's the 2019 Rogue like to drive?
For the average commute, the Rogue provides a comfortable and predictable ride. It's quiet and softly sprung, with just enough tautness to stay stable while turning corners. It is not, however, a performance car. The 2019 Rogue's 2.5-liter four-cylinder engine makes 170 horsepower and 175 lb-ft of torque. That's adequate for typical driving around town. But climbing hills or passing on highway grades will leave you wanting just a more responsiveness from the engine and slow-acting CVT automatic.
Fuel economy for a front-wheel-drive 2019 Rogue is above average for the class at an EPA-estimated 26 mpg city, 33 mpg highway, and 29 mpg combined city/highway for the gas engine. Optional all-wheel drive drops the mileage numbers just slightly. The hybrid offers better mileage numbers as well as a small bump in horsepower
Elana's take:
There isn't much thrill to driving a Rogue. It's a slow SUV that doesn't give you much feel for the road. On the plus side, the cocoonish nature of the cabin makes for a quiet and comfortable experience behind the wheel or in the passenger seats. You'll get decent fuel economy too.
What else should I consider?
The market is brimming with small SUVs. To keep it simple, here are three of the best you can consider as alternatives to the Rogue.
The 2019 Honda CR-V offers a well-designed cabin with brilliant solutions for small storage. It's generally more enjoyable to drive than the Rogue because of its taut handling and available turbocharged engine. On the downside, the CR-V doesn't come with as many standard advanced driver aids as the Rogue.
Another option is the 2019 Mazda CX-5 It's one of the more attractive small SUVs around. Like the CR-V, it provides sharper handling and quicker acceleration than the Rogue. But it's not as roomy for cargo as the Rogue.
When it comes to adventuring off the commuter path, the 2019 Subaru Forester is a good pick. It comes standard with all-wheel drive, which helps maximize available traction, as well as higher ground clearance than the Rogue. But just like the Rogue, it's not particularly quick.
Elana's take:
There are a lot of vehicles to choose from when you're cross-shopping crossover SUVs, so it's important to know your priorities. If it's design, performance, or off-road capability, there may be better choices for you than the Rogue. But if you want an option-packed, comfortable commuter, the Rogue offers the most for the money.
If I decide on a Rogue, which one should I buy?
The 2019 Rogue comes in three trims: the S, the SV and the SL. The S is the base trim and comes reasonably well equipped with those safety and technology features mentioned above.
The SV trim includes the features of the S, plus some extra features you'll find useful. These include the roof rails we mentioned above, keyless entry, push-button ignition, heated side mirrors, a hands-free power-opening liftgate, heated front seats, a power-adjustable driver's seat, a leather-wrapped steering wheel, and a six-speaker audio system.
For a more luxury-oriented vibe, there's the SL. It adds 19-inch wheels, leather upholstery, a heated steering wheel, driver-seat memory settings, and a premium Bose sound system. It also includes the technology features mentioned previously: ProPilot Assist, the integrated navigation system, and the surround-view camera system.
Pleasingly, Nissan makes most of the SL's extra features available as options on the SV. These include ProPilot Assist, the heated steering wheel, the navigation system, the Bose sound system, and the surround-view camera system. Other notable optional features you might find on a Rogue include a panoramic sunroof (SV and SL), LED headlights (SL), and tan leather seats with quilted inserts (SL).
Elana's take:
I love the way the SL's 19-inch wheels make the Rogue look tough and ready for adventure. The leather upholstery and heated steering wheel are nice too. But the value play here is to look for a Rogue in the SV trim. Plus, there's a decent chance you'll be able to find a SV that's almost as nice as an SL.
Elana Scherr has written automotive news and buying advice for more than a decade. As an automotive editor-at-large for Edmunds, Scherr examines trends in both the new and used markets with a focus on family vehicles.