5 Best Used SUVs Under $30K
---
PUBLISHED MONDAY, OCTOBER 12, 2020
Spacious and versatile, these top picks surely won't disappoint.
With thousands of vehicles in our inventory, we're here to help make car research easier for you. We've partnered with car-review experts from Edmunds to weigh in on what matters most when you're looking to buy a car.
***
No matter what kind of SUV you're looking for, there's something out there that will fit your needs. But can you find something to fit your budget? We think so.
These are our top choices for SUVs with a CarMax average used price under $30,000.Edmunds' Travis Langness walks you through the details and makes specific recommendations.
Depending on mileage, equipment levels, and condition, any of the SUVs on this list could be available for well under or well over the price of $30,000, but we've found these vehicles selling for an average of under $30K recently enough that we think you'll be able to find one in your price range.
The SUVs
Honda CR-V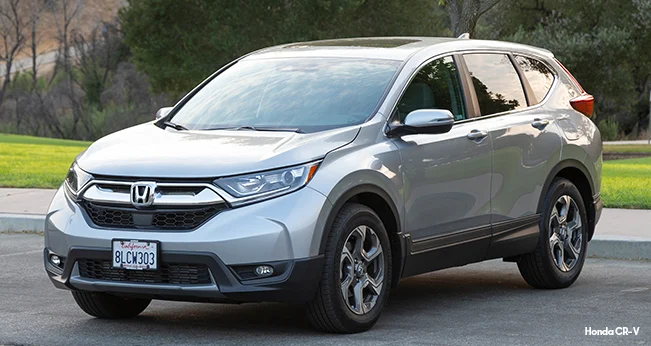 The Honda CR-V is one of the most well-rounded vehicles on sale today. It's not only spacious and comfortable, but it's also enjoyable to drive for such a practical SUV. Whether you want an SUV for daily commuting or need something to support your growing family, the CR-V fits the bill.
The CR-V has gone through several generations, so we'll focus on the two most recent generations to keep things simple. The fourth generation of the CR-V debuted as a 2012 model, and it's powered by a 2.4-liter four-cylinder engine. In 2017, Honda redesigned the CR-V, with the addition of an optional turbocharged 1.5-liter four-cylinder engine.
That new engine provides more power than the 2.4-liter engine as well as higher EPA fuel economy estimates. What's more, we really like the way the 1.5-liter engine performs. Despite its small size, the 1.5-liter engine feels powerful and punchy―there's no need to floor the throttle just to get a bit of passing power on the highway.
Big and Practical on the Inside
On the inside, the CR-V is functional and solidly constructed. The cabin controls are easy to learn and, for the driver, there's impressive visibility, engaging steering, and a comfortable driving position. The features are also remarkable, with most 2017-2020 CR-Vs offering a full suite of driver aids including adaptive cruise control, forward collision mitigation, and blind-spot monitoring.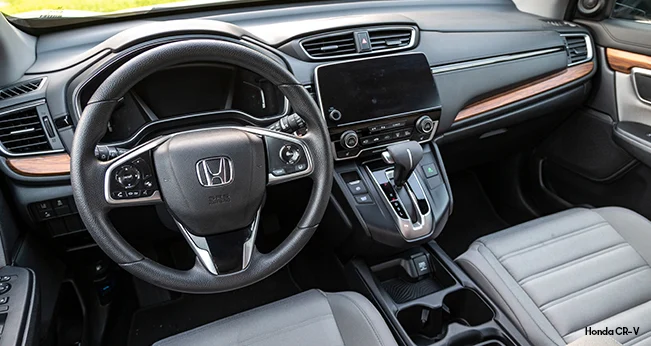 The CR-V's redesign in 2017 brought the 1.5-liter engine, so we recommend shopping for models built after that date. But even fourth-gen CR-Vs (2012-2017) are still impressive by today's standards.
Travis' take:
The CR-V doesn't have styling that stands out in a crowd, but it does nearly everything right from a usability perspective. The cargo storage is enormous for the class, and performance and comfort are entirely appropriate. Even though I'm not a huge fan of the CR-V's looks, there's no denying that this is one of the best SUVs in its class.
Ford Escape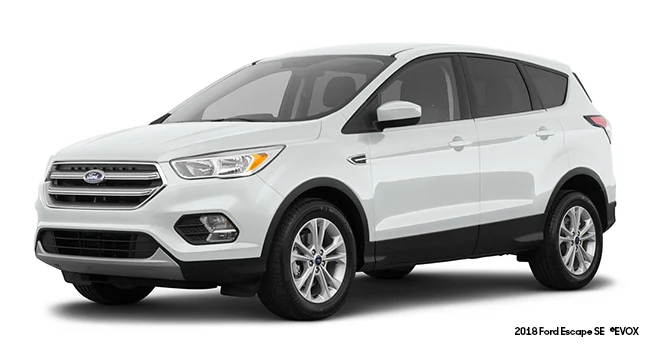 Check out the Ford Escape if you're looking for a small SUV that's fun to drive. Ford redesigned the Escape for the 2020 model year, ushering in the fourth-generation model with new looks and a new hybrid variant. For this review, however, we're focusing on second-generation (2008-2012) and third-generation Escapes (2013-2019).
Second-generation Escapes feature several powertrains. The two base engines available during this time are a 2.3-liter four-cylinder and a 2.5-liter four-cylinder. The second generation also includes an available 3.0-liter V6 engine, which offers significantly more horsepower. Unfortunately, none of these three engines are particularly impressive when it comes to the EPA's fuel economy estimates.
Go With the Optimal Engine: You Will be Glad You Did
The third generation, which lasted from 2013 to 2019, has some pretty desirable traits. You'll again find a mix of powertrains, including a base 2.5-liter engine, a turbocharged 1.5-liter or 1.6-liter engine (depending on the model year), or the most powerful motor of the bunch, an optional turbocharged 2.0-liter. The 2.0-liter engine provides punchy acceleration. Combine that with the third-gen Escape's impressive handling and you've got a pretty entertaining SUV.
SYNC®3, Ford's newest infotainment interface, is also an upside to buying a more modern Escape. Available as an option in 2016-and-newer Escapes, SYNC 3 includes an 8-inch touchscreen that you can use to control a variety of features, including smartphone connectivity and available navigation. Base trim levels of the Escape typically have a smaller infotainment screen but still have a useful voice command system. Some earlier model years from this generation have a similar system called MyFord Touch®but it's not as slick or appealing as SYNC 3.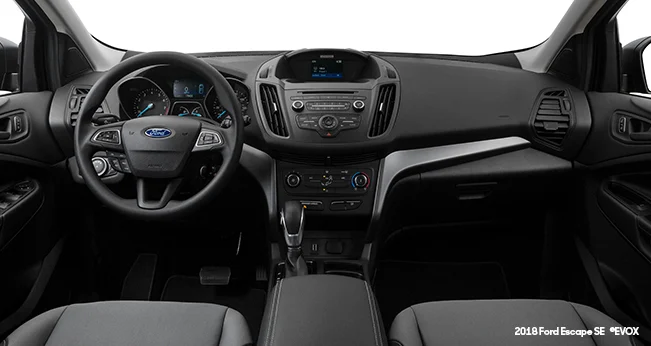 Travis' take:
The Escape with the 2.0-liter turbocharged engine is straight-up fun. This thing is a straight-up sleeper with all that power. Get an Escape with this engine and you might be able to use it as a decent tow vehicle, too. If I were shopping for an Escape, this engine would be at the top of my list of requirements.
Toyota RAV4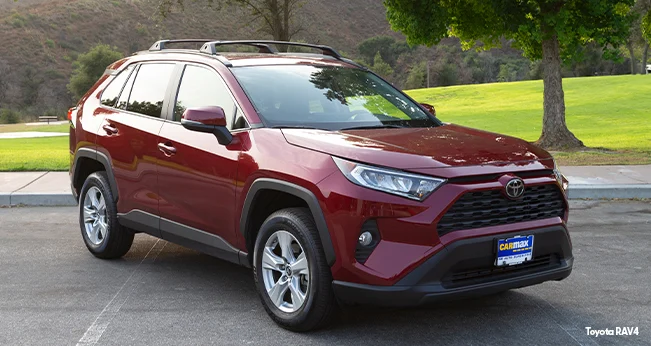 The Toyota RAV4 is a great representation of the compact SUV class. It's quiet, comfortable, and spacious―all of which make it attractive for a range of shoppers. Toyota has been building the RAV4 since the late 1990s, but to keep things from getting too complicated, we'll be focusing on the two most recent generations: the fourth generation (2013-2018) and the fifth (2019-present).
Comfort and Practicality in a Compact Package
Most RAV4s you'll come across will have a 2.5-liter four-cylinder engine. It's sufficiently powerful and fuel-efficient, but you may find the RAV4 lacking if you want more power; Toyota doesn't offer a more powerful engine upgrade as some other automakers do.
There is an option to consider for higher fuel economy, however: the RAV4 Hybrid. For example, a 2016 Toyota RAV4 Hybrid gets an EPA-estimated 32 mpg in combined driving, while a 2019 RAV4 Hybrid gets an EPA-estimated 40 mpg in combined driving.
The RAV4's interior is well built and the cabin is quiet. Fourth-generation RAV4 models feel a bit utilitarian on the inside when it comes to amenities and a distinct lack of high-end materials, but the ride is impressive even over broken pavement. The fifth-generation RAV4 takes things up a notch with a higher build quality and easy-to-use interior controls. A large interior is another plus. Load up the cargo area or even fold down the rear seats and the RAV4 offers up plenty of space for your large items.
Lags in Infotainment
On the downside, the RAV4 lags a bit behind rivals in regard to touchscreen technology. Toyota's Entune™ infotainment interface, which controls the radio and stereo functions in the RAV4, is a bit frustrating to use. What's worse, Toyota was late to introduce the newest smartphone integration systems. Apple CarPlay® wasn't available in the RAV4 until 2019, and Android Auto™ didn't show up on the spec sheet until 2020.
Toyota, however, has been one of the earliest adopters of advanced driver assistance features. Starting with 2016 RAV4s, you can find features such as traffic-adaptive cruise control and frontal collision mitigation.
Travis' take:
If you need a no-nonsense SUV with lots of space, the RAV4 ticks all the boxes. It's not as entertaining to drive as the CR-V or the Escape, but it'll keep you comfortable on long trips and have plenty of room for your stuff. The hybrid models are particularly efficient, but they're likely to be priced a bit higher and may not match a $30,000 budget.
Jeep Grand Cherokee
Power, Style and Off-road Capability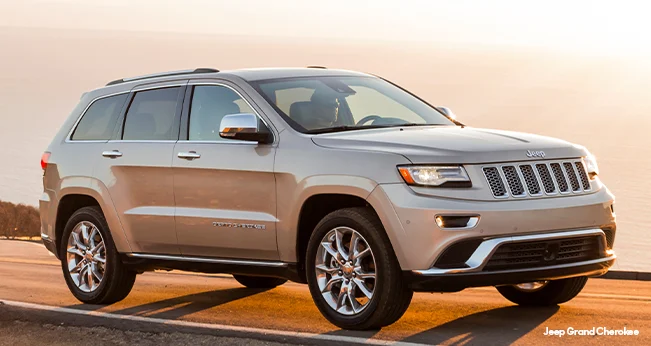 Looking for an SUV that you can actually use to venture off-road? Check out the Jeep Grand Cherokee. It's bigger and beefier than the compact SUVs on this list, but it offers more towing capability and a more refined interior. It's not the most efficient vehicle on our list, but it definitely has the most character.
Since the current (fourth) generation of Grand Cherokee spans nearly a decade, that's the one we'll focus on here. Jeep first introduced it for the 2011 model year. A 3.6-liter V6 engine comes standard, and it provides decent power. But the Grand Cherokee is at its best when you find one with an optional V8.
For instance, there's a 5.7-liter V8 with significantly increased horsepower and towing capabilities compared to the V6. Another option is the 6.4-liter V8. Exclusive to the SRT trim level, it puts out 470-475 hp (depending on the model year) and gives the Grand Cherokee a distinct muscle-car vibe.
As a larger midsize SUV, the Grand Cherokee is a bit less efficient than compact SUVs, but the optional 3.0-liter diesel-powered V6, could help out a bit. The diesel engine, available from 2014 to 2020 except for 2017, gets an EPA estimate of 24 or 25 mpg combined, depending on whether you go with rear- or four-wheel drive. That's respectable for a midsize SUV and the best you can get in a Grand Cherokee.
Plush Interior Ups the Appeal
On the inside, the Grand Cherokee feels downright plush on upper trim levels with excellent materials and a well-constructed cabin. There are several trim levels to choose from over the years, and all of them are feature-packed for different reasons. The Trailhawk model gives the Grand Cherokee some extra off-roading equipment, while topped-out trim levels such as the Overland and the Summit add creature comforts including an adaptive air suspension and a rear-seat entertainment package.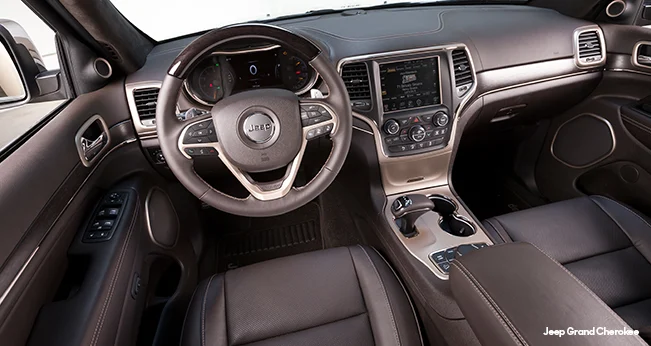 Jeep's infotainment system, Uconnect®, has excellent graphics, and it's extremely easy to use. Apple CarPlay and Android Auto are standard on even the most basic Laredo going back to 2018. And even before the Uconnect system could handle smartphone connectivity, it was one of our favorite systems on the market.
Travis' take:
The Grand Cherokee, with one of its available V8s, is the muscle car of SUVs. Thankfully, you don't have to shell out top dollar for those expensive engines if you simply want the same style and swagger offered by the JGC. Honestly, the Trailhawk is the one I'd take. It's an off-road-oriented trim with low-range gearing, underbody skid plates, and all kinds of four-wheelin' goodies. Muddy adventures: Engage!
Nissan Rogue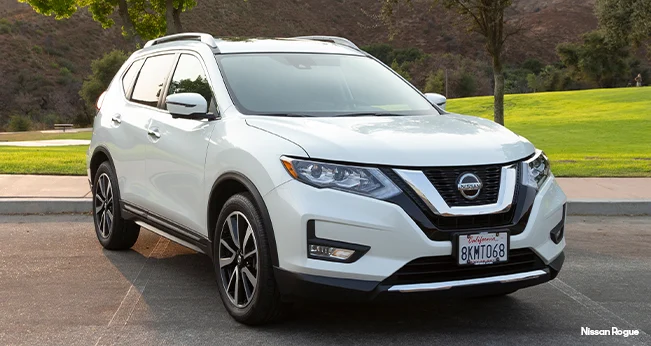 The Nissan Rogue gives us a simple set of virtues: utility, comfort, and value. It isn't as lively or rewarding to the driver as the CR-V is, but it's still very comfortable on long road trips thanks to excellent seats in both the first and second rows. Space is generous too, with plenty of room for adults in all four primary seating positions.
Space and Comfort at a Bargain Price
There's a new Rogue on the horizon for 2021, but for this list, we're focusing on the second-generation Nissan Rogue (2014-2020). When it was redesigned in 2014, the Rogue got something that very few compact crossovers get―an optional third row. And if you're thinking, "Boy, a third row in something this small is probably pretty cramped," well, you're right. The third row has very limited space and is a tight squeeze even for children, but it's nice to have the option. The third row of seating in the Rogue is available in 2014-2017 models.
In 2014, the Rogue carried on with the engine from the previous model year (2013): a 2.5-liter four-cylinder. Acceleration isn't very impressive, but fuel economy is competitive. EPA fuel economy estimates for the Rogue of this generation range from 27 to 29 mpg combined, depending on equipment and model year.
Fuel Economy and Interior Also Add Value
And if you're looking for better fuel economy, the 2017-2019 Rogue is also available with a hybrid powertrain. The Rogue Hybrid's setup uses a 2.0-liter four-cylinder engine paired with an electric motor to reach an EPA estimate of 33 or 34 mpg combined, depending on the year you look at or whether you go with front- or all-wheel drive.
When it comes to the interior and available tech, the Rogue does pretty well. The materials are high-quality, and there are lots of soft-touch surfaces where you interact with the cabin. Even the seats are made from materials that give the cabin an impressive look and feel. In early Rogue models, the tech interface is a bit dated, with a small screen and poor graphics. But the commands are simple and well laid out.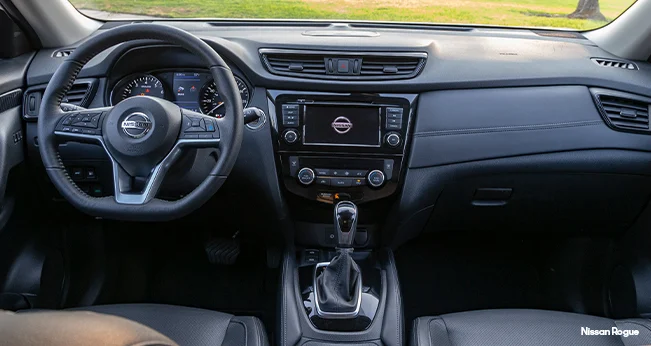 Learning how to use the Nissan interface is a breeze. In 2018, Nissan added Apple CarPlay and Android Auto to the Rogue's list of standard features, which should appeal to tech-savvy buyers. And, long before many of its rivals, Nissan offered a 360-degree parking camera. Showing a top-down view of the Rogue, this system is great for helping you squeeze into a tight parking spot.
Travis' take:
It's not fast or exciting to drive, but the Rogue should definitely be on your list. It's seriously comfortable on long highway drives, and it's quiet too. Another bonus is that the Rogue undercuts the CR-V and the RAV4 in average price when you're comparing the same model years. It is a value buy, no doubt, but you don't compromise on any of the basics by going with the Rogue.
Travis Langness is an automotive reviews editor for Edmunds.com. As a life-long car-and-truck enthusiast, Travis has a deep passion for cars. Through instrumented testing, off-roading, epic road trips and local commuting, the Edmunds team tests and writes about new and used vehicles to help car shoppers make informed decisions.