Ask the Expert: Should You Buy a Honda Civic or Accord?
---
PUBLISHED MONDAY, AUGUST 17, 2020
Find out the differences between these two all-star sedans.
With thousands of vehicles in our inventory, we're here to help make car research easier for you. We've partnered with car-review experts from Edmunds to weigh in on what matters most when you're looking to buy a car.
***
It's no surprise you'd be interested in a Honda Civic or Honda Accord. They're comfortable, enjoyable to drive, and typically packed with useful features and technology. But, which one should you get? Edmunds' Elana Scherr will walk you through the details and make specific recommendations.
Pros and Cons
Here are the main contrasts you need to know between the Civic and the Accord:
Civic
Sedan, coupe, and hatchback body styles available.

Sporty performance models.

Higher fuel economy estimates based on Edmunds testing.

Typically more affordable when compared to the same model year of Accord.
Accord
Sedan and coupe body styles available.

Roomer cabin, particularly in the back.

Smoother ride and quieter on the highway than the Civic.

Higher-quality interior materials, such as more leather or leather-like details, than the Civic.
Civic and Accord Generation Overview
Just like smartphone manufacturers, automakers introduce new generations of their cars. Each generation will have different styling and typically bring increases in power, space, and technology features.
Civic
The Civic has been sold in the U.S. since 1973 with 10 generations in total. The main ones you'll likely encounter on used car lots are:
2008 to 2011 Civic

2012 to 2015 Civic

2016 to current-year Civic (redesign expected in 2022)
Accord
Honda brought the Accord to our shores only a few years later in 1976. It's also evolved through 10 generations. The common Accord generations at used car lots are:
2008 to 2012 Accord

2013 to 2017 Accord

2018 to current-year Accord
Because Honda offers so many versions of Civic and Accord, we're going to focus on the most popular trim levels, and won't cover the hybrid and performance versions.
What are the Civic and Accord's engines and gas mileage?
Most Civics you'll be shopping for have fuel-efficient and reasonably powerful engines. The Accord's engines are similar but typically have a little more horsepower in exchange for slightly lower fuel consumption.
Honda offers automatic or manual transmissions on both the Civic and the Accord, though it sells the automatic in overwhelming numbers. You might find an occasional Civic with a stick shift, but an Accord with a stick is a rare find, indeed.
Civic
Most Civics from 2008 to 2015 have a 1.8-liter four-cylinder engine with about 140 horsepower. Honda upgraded to a 2.0-liter engine (158 hp) in 2016 and introduced an optional turbocharged 1.5-liter four-cylinder (174 hp). Besides the extra power, these newer engines are smoother and quieter than earlier versions.
For most 2008 to 2015 Civics, the EPA-estimated fuel economy ranges from 29 to 34 mpg in combined city/highway driving depending on the year, body style, engine and transmission. For most 2016 to 2020 Civics, the EPA-estimated fuel economy ranges from 29 to 36 mpg in combined city/highway driving depending on the year, body style, engine and transmission.
Accord
The 2008 to 2011 Accord had a 2.4-liter four-cylinder engine (either 177 hp or 190 hp). This generation Accord also offered a 3.5-liter V6 with 268-271 hp. That changed in 2013, with 185 hp for the smaller engine and 278 hp for the latter.
On the most recent generation Accord (2018 and up), you get a turbocharged 1.5-liter four-cylinder engine (192 hp) or a turbo 2.0-liter four-cylinder (252 hp) that replaced the previous V6. Both engines provide excellent acceleration and are quiet and smooth.
For most 2011 to 2017 Accords, the EPA-estimated fuel economy ranges from 26 to 30 mpg for four-cylinder engine in combined city/highway driving depending on the year, body style and transmission. The V6 of this era will get an EPA-estimated 21 to 25 mpg in combined city/highway depending on the year, body style, and transmission.
The 2018 to 2020 Accords achieve an EPA-estimated 26 to 33 mpg in combined city/highway driving depending on the year, engine, and transmission.
Elana's take:
The Accord has caught up to the Civic in terms of efficiency in recent years. But the Civic can still get better EPA fuel economy estimates, which can mean a savings in fuel expenses compared to the Accord.
How big are the Civic and Accord trunks?
Choosing a car isn't just about fuel efficiency and engine size. It's also about carrying capacity.
Civic
The 2006 to 2011 Civic sedan offers 12 cubic feet of trunk volume, or 11.5 cubic feet in the coupe. Following versions (2012-2015) slightly increased their capacity, with the sedans able to easily fit one large suitcase and two overhead carry-on cases. For the newest 2016-and-up Civic, Honda boosted the trunk up to 15.1 cubic feet (The coupe holds about 12 cubic feet.).
You'll still probably be able to only fit the same number of suitcases and carry-ons, but it can hold a considerable amount of equipment if you're using something malleable, such as duffel bags. If storage is a priority, the 2017-2020 Civic hatchback offers 25.7 cubic feet of space behind its rear seats.
Accord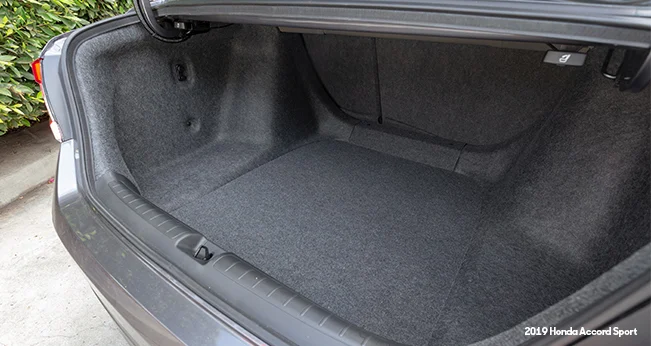 Accord sedans from 2008 to 2010 offer 14.0 cubic feet of trunk space, and 2011-2012 models have 14.7 cubic feet. Coupes of this generation have 11.9 cubic feet. Most trim levels for the 2013-2017 Accords can hold 15.5 cubic feet for sedans and 13.4 cubic feet for coupes. In the sedans, the space is sufficient for one large suitcase and two overhead carry-ons. With the next overhaul in 2018, the sedan-only Accord finally grew to 16.7 cubic feet. Based on our experience, this should be plenty for two large suitcases.
Elana's take:
No car can match an SUV for cargo-carrying potential. But the Civic and Accord are certainly capable of the occasional home-improvement store run or family road trip. You can also fold down the rear seats, which helps to increase capacity. In general, the Accord gives you more trunk space. But the Civic is the winner if you go for the hatchback body style.
What are the Civic and Accord interiors like?
The Civic and Accord's interiors are pretty roomy for their respective class sizes. They also have easy-to-use controls and seating for five.
Civic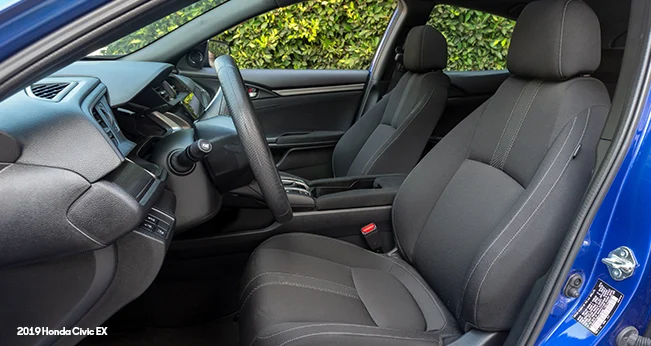 Don't worry about feeling squished in the Civic. You'll find plenty of room for adults, especially in the 2016 and newer Civic sedans. The driver's seat is highly adjustable, and the seating position works for short and tall drivers. But even an older Civic sedan should be adequate for most adults. The Civic coupe's rear seat has noticeably less available legroom and headroom.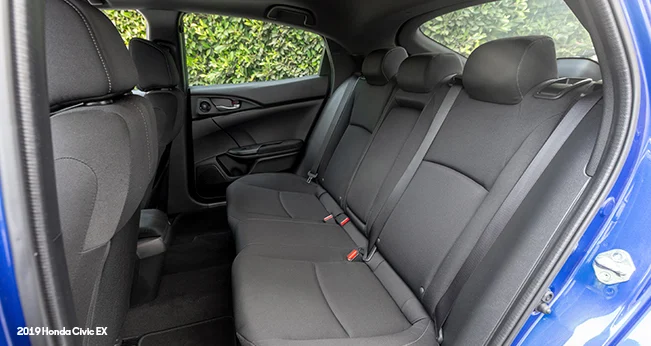 Seats are available in cloth or, on most years, available leather upholstery. The interior control layout is logical, especially in the 2019 and later models with the revisions to the infotainment interface. There's also many versatile small-item storage spots. However, the touchscreen interface looks a little small and dated.
Accord
The interior of the Accord is modern, comfortable, and user-friendly. The Accord, however, still holds a distinct advantage in rear legroom. It also feels more upscale inside, even in lower trim levels. Compared to the Civic, the infotainment system is better integrated, looks more contemporary, and offers a better user experience. Basic functions are easy to navigate, although the media and information display controls on the steering wheel aren't particularly intuitive.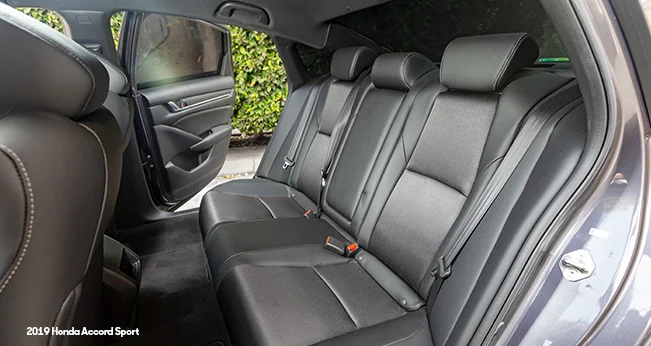 The Accord offers a lot of adjustability for the driver's seat. Overall, the interior feels large, because it is large. You'll notice it in the back since there's typically an inch or two more of rear headroom and legroom than in the Civic.
Elana's take:
Yes, you get more rear legroom and headroom in the Accord. But there's also a dramatic difference between the interior quality. The Accord is just nicer on the inside.
Also, even if you don't want power-adjustable leather seats, consider the difference a leather-wrapped steering wheel makes in the daily feel of your car. In the lower trim levels of the Civic and in the base Accord, the steering wheel is a hard plastic, which lowers the overall feel of quality. Forgive me for the unpleasant visual, but it gets so gross and sweaty on a summer day. Get a Civic or Accord with a leather-wrapped steering wheel. You'll thank me later.
What tech features come with the Civic and Accord?
Honda packs its sedans with the latest gadgets and equipment. Here are things to look for in your Civic and Accord shopping.
Civic
Older Civics come with relatively basic technology. For several years beginning in 2009, there wasn't much available beyond Bluetooth® connectivity for making hands-free calls. The 2012 Civics include a standard five-inch color monitor and vehicle stability control. They also have wider availability of navigation, Bluetooth connectivity, and satellite radio. In 2014, Honda introduced an optional larger touchscreen and a system called LaneWatch™ that projects a video of your right blind-spot onto the central monitor when you change lanes.
For 2016, you'll find a seven-inch touchscreen with both Apple CarPlay® and Android Auto™ smartphone compatibility—it's standard on all trims excluding the base LX. The Honda Sensing driver-assist features, including automatic emergency braking (AEB), which is when the car automatically applies the brakes to help prevent or reduce the severity of a crash, adaptive cruise control, and lane-keeping assist (Your car gently steers you back into your lane if you drift out of it.), come standard.
Accord
The Accord has always been more ahead of the curve. The models beginning in 2008 offer available navigation that includes an 8-inch screen, voice command functionality, and Bluetooth connectivity. Some trims came with a rearview camera in 2011, and USB audio became standard in 2012.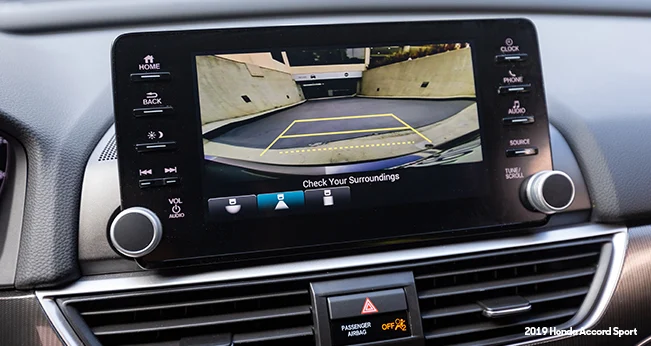 The 2013-generation Accord has Bluetooth, a rearview camera, and USB audio standard. It also marks the debut of the LaneWatch system that monitors your right blind spot, one model year before it appeared on the Civic. Some trims of the 2016 Accord have Apple CarPlay® and Android Auto™ connectivity, and the suite of Honda Sensing driver-assist aids starts to be available as an option.
The 2018 redesign ushered in a long list of features as standard. On these Accords you'll find a 7-inch information display, push-button start, and the Honda Sensing driving-assist features. On the top trim levels you'll also find a head-up display, wireless device charging, and an available in-car Wi-Fi with a 4G LTE hotspot.
Elana's take:
As a huge fan of Apple CarPlay and Android Auto, I put a lot of weight on that technology. So, I'm glad to see it available in both Civic and Accord models. You can queue up maps or music right on the touchscreen (or by voice commands) instead of having to look down at your phone. As far as driver-assist tech, it's a great idea to find a Civic or Accord that has it. It can help reduce the chance of an accident, as well as fatigue on long drives or in congested rush-hour highway traffic.
How do the Civic and Accord drive?
You'll be happy with the driving performance of both the Civic and the Accord. But both cars have changed over time, and you may find one that better suits your style.
Civic
For the earlier Civics, expect sluggish acceleration and more outside noise than you'd find in other sedans. But the ride is comfortable, especially in those made after 2012. Civics made in 2014 and later feel lighter and more balanced. The redesigned 2016 Civic took the experience to another level―especially with the turbocharged engine―sharpening its strengths and reducing outside noise to impressive levels.
Accord
The Accord rises a level up again over the Civic in drive quality, offering especially smooth and even quick acceleration with the available V6 engine. By the 2013 redesign, the Accord is more refined and responsive. The 2018 models brought new levels of ride comfort.
Elana's take:
No matter the year, the Civic and the Accord typically provide above-average driver engagement compared to rival sedans or coupes. They feel light and easy to drive. The 2016 and later Civic and 2018 and later Accords provide the most enjoyable acceleration thanks to their turbocharged engines. These are genuinely fun cars that still provide loads of usefulness and efficiency.
Final Take
Civic and Accord sedans are sought-after by savvy shoppers. They are fun to drive and generally economical at the pump, and recent models offer all the expected new technologies.
For most people, the Civic is all the car you'll need. Throughout its many versions, the sedan maintains great space inside and a composed ride.
Then again, it's easy to justify a step up to the Accord. The increased trunk space and rear legroom, more refined ride quality, and smoother power make it a great choice.
Elana Scherr comes to car review with more than 10 years of experience in new, used, and classic car culture. As Editor-at-Large for Edmunds, Scherr reviews everything from performance cars to family SUVs and she's always on the hunt for a bargain, and an excuse to get out and drive.