5 reasons to buy the 2015 Honda CR-V
1. Touch-of-a-button conveniences
When you have your hands full with work and school bags, the small but significant conveniences the CR-V has are going to be an everyday help. On the EX trim and above, the 2015 CR-V can identify when the key is inside the vehicle. So rather than trying to find it in the bottom of a purse, all you need to do is press a button to start the engine.
On the Touring trim, you'll find the tailgate button on your key, at the driver's seat, and on the tailgate itself. Super helpful if you're doing multiple after-school activity drop-offs and errands.
2. Clever cargo space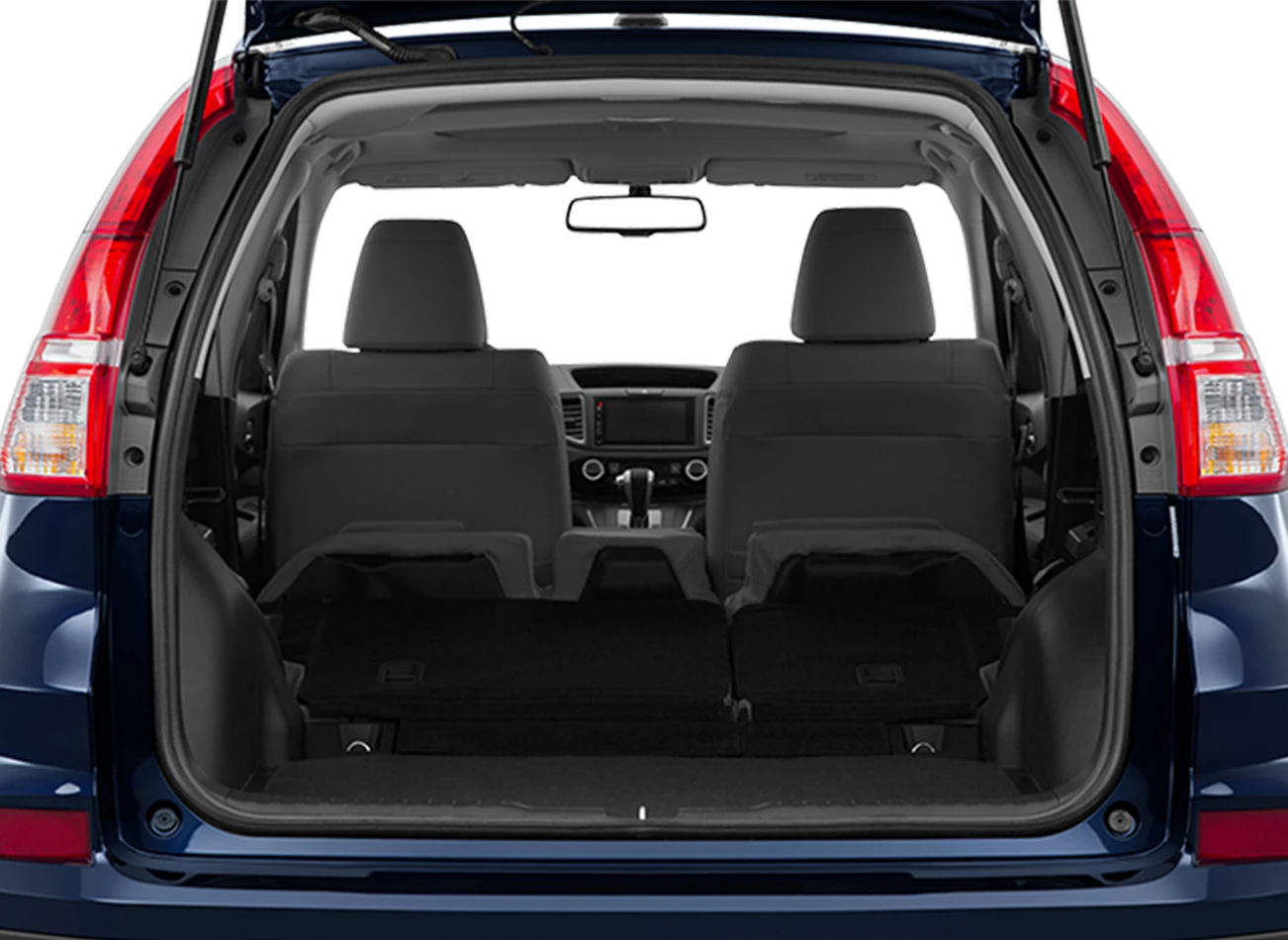 That easy-access liftgate is just one of the great features of the CR-V's cargo capability. The 2015 CR-V has 35.2 cu-ft of fixed cargo storage with a low loading floor that helps when you're loading large items or taking your dogs to and from their favorite park. Lowering the spring-mounted rear seats extends cargo space to 70.9 cu-ft; generous enough for holiday shopping or camping-trip essentials.
3. Range-topping Touring trim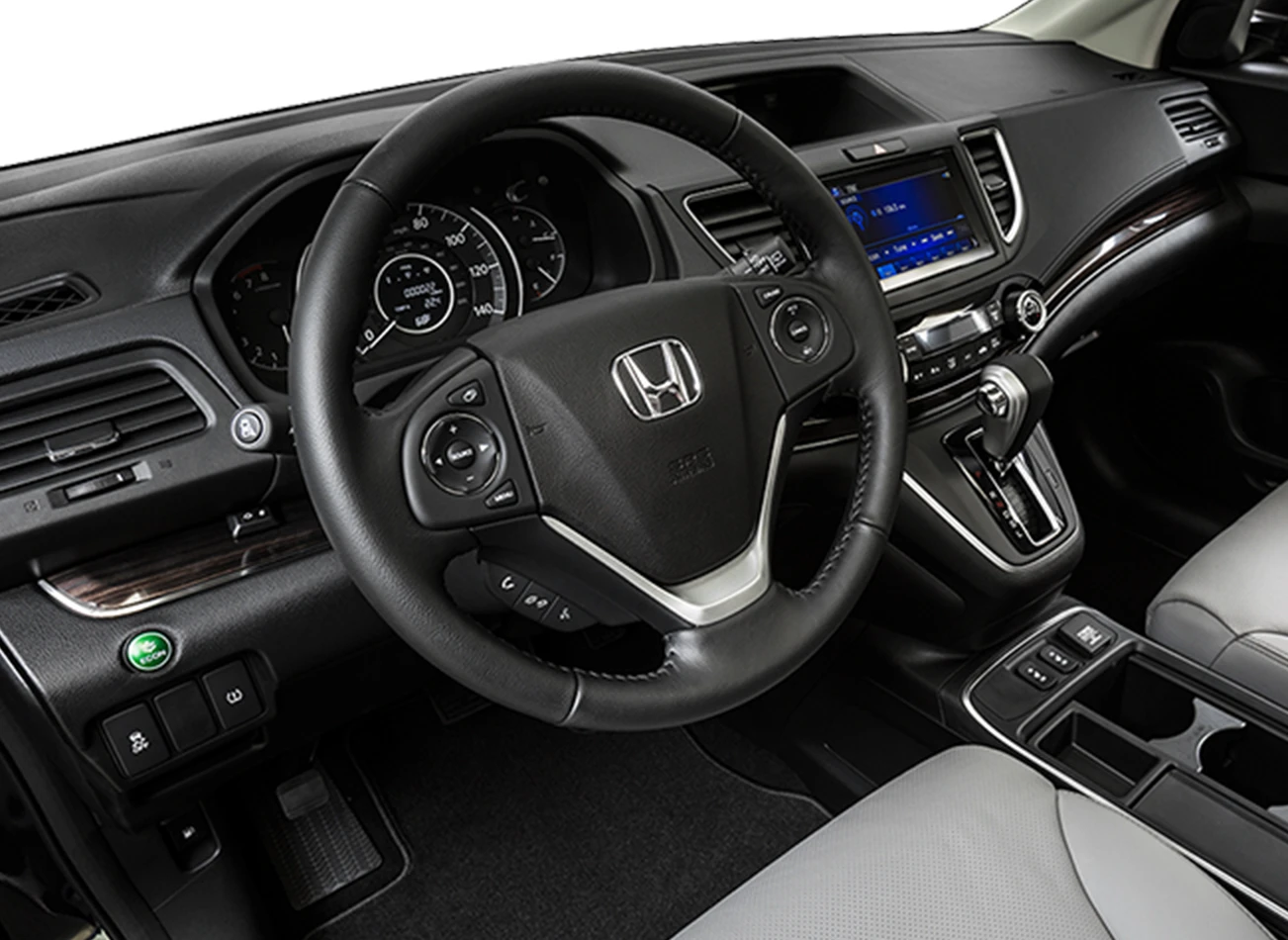 New for the 2015 model year, the Touring trim is a welcome addition to the CR-V line-up, adding a roster of clever upgrades. Helping you find your route is a satellite-linked navigation system. Hit the highway, and you'll appreciate the Touring trim's driver assistance features, including adaptive cruise control, forward collision mitigation, lane departure warning system, and more. Leather upholstery (from EX-L) and 18-inch alloy wheels (Touring exclusive) complete the high-end look and feel.
4. An indulgent second row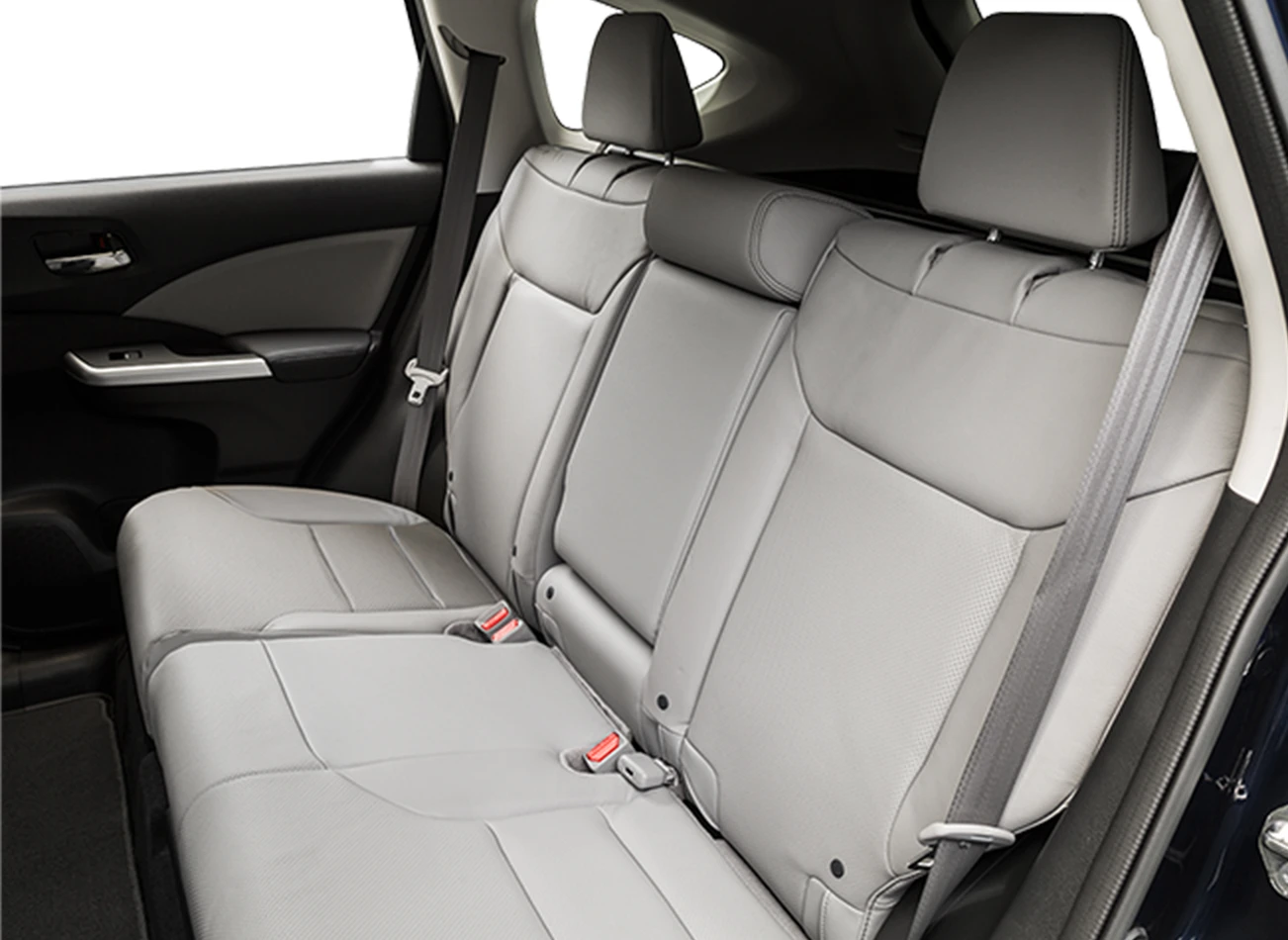 While the CR-V may come off initially as straightforward and practical, its second row shows how much more it has to offer. Spacious rear seating makes it comfortable for adult passengers; there are 38.3-inches of rear legroom and 56.4-inches of shoulder room. Those rear seats are split folding, too, for maximum configurability. They also recline (a comfort boost on long journeys) and all three seats are equipped with LATCH anchors for securing child seats.
5. Smart standard tech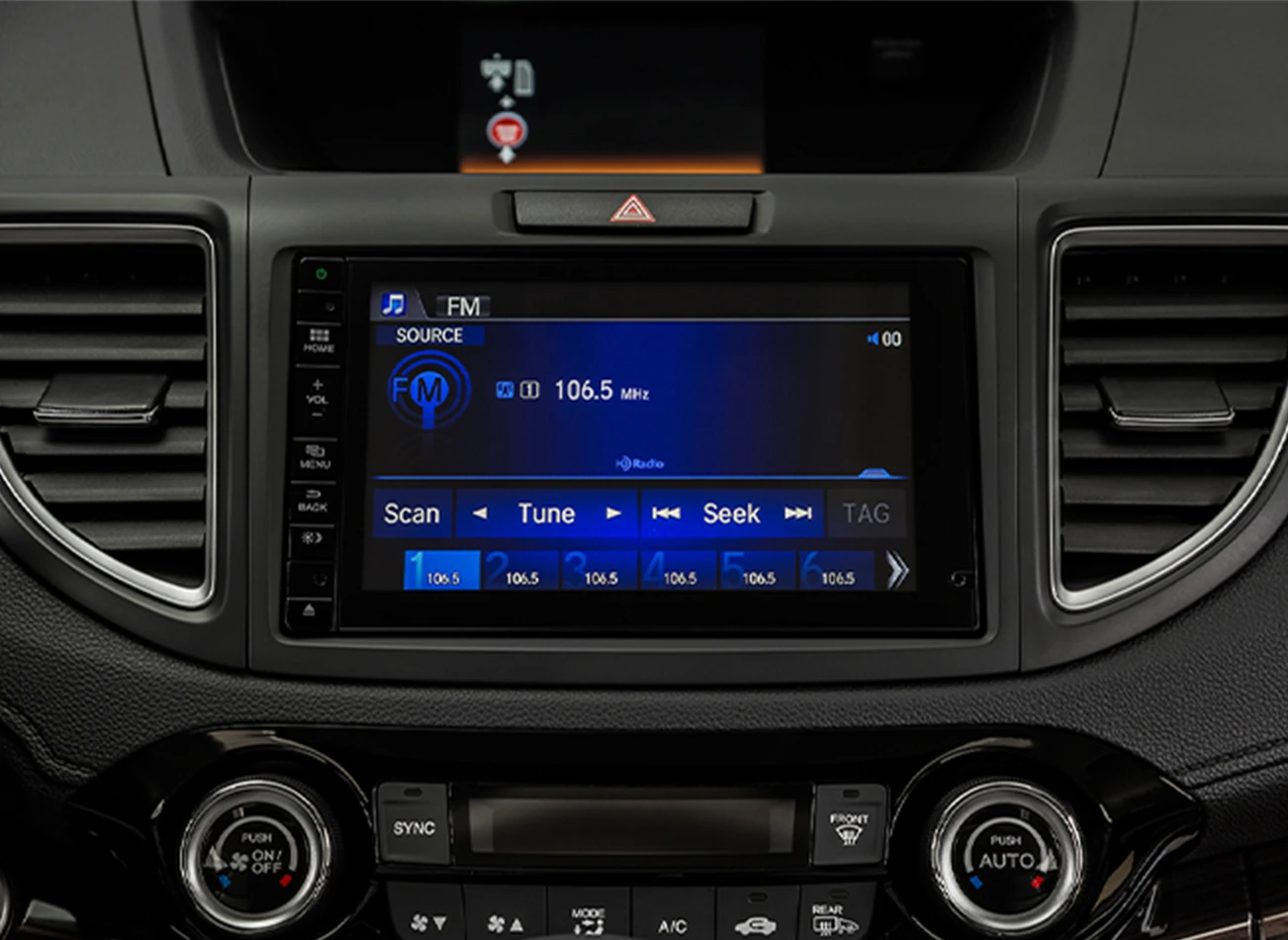 While rival models might hold back the best tech for higher trims, the 2015 CR-V is well equipped at its base trim LX level. An infotainment display screen, Bluetooth® functionality, and a text-message reader with digital voice are all features that play a huge role in staying connected while focusing on the road. For a base trim model to have these as standard is a real plus for the CR-V.
RepairPal gave the Honda CR-V an overall reliability rating of 4.5 out of 5 stars, which RepairPal describes as Excellent. This rating ranks Honda CR-V 4th out of 27 among Compact SUVs.
Exterior colors
Interior colors
Interior details
The 2015 Honda CR-V seats five passengers, with a choice of three classic interior colors (beige, black, or gray) and either cloth or leather upholstery. Comfort touches include four cup holders (two and two), door cubbyholes, and a central console for storing essential items. Want to enjoy those bright winter mornings? Heated front seats and a light-giving sunroof are cabin highlights from the EX trim and above.
Child seat details
The 2015 Honda CR-V has two full sets of LATCH restraints (upper tether and lower anchors) in the second-row outboard seats. The upper tether hooks for these are found in the middle of the seatback. The middle seat has an upper tether restraint (found in the ceiling) and one lower anchor. All lower anchors are easy to find. The 2015 CR-V can accommodate booster, infant, and convertible (front/rear) seats.
With rear-facing child seats, your front-seat passenger may need to click their seat forward a touch. The wide rear-door opening on the 2015 CR-V makes fixing seats and settling children much easier on parents and guardians.
NHTSA Safety Ratings
The 2015 Honda CR-V received an overall 4/5 by the National Highway Traffic Safety Administration (NHTSA). Find out more about this rating and how NHTSA's 5-Star Safety Ratings program evaluates the crash protection and rollover safety of new vehicles.
Keep in mind that certain vehicles may have unrepaired safety recalls. Click here to look up a specific vehicle.
Frontal Barrier Crash Rating Test: A head-on collision between two similar vehicles traveling at 35 mph.
Overall: 4/5
Side Barrier Crash Rating Test: A vehicle standing in an intersection sustains driver-side impact from a vehicle moving at 38.5 mph.
Overall: 5/5
Side Pole Crash Rating Test: A vehicle slides sideways at 20 mph and impacts a tree or telephone pole.
Overall: 5/5
Performance
All 2015 CR-V models are powered by a 2.4L direct fuel injection four-cylinder engine, paired to continuously variable transmission with the choice of front- or all-wheel drive across the trim range. This impressive setup delivers 185 horsepower, while torque tops out at 181 lb-ft.
When new, the 2015 range-topping CR-V Touring, achieves a zero-to-60-mph time of 8.7 seconds (according to the manufacturer, when new). Fuel economy figures are worth noting too; the CR-V equipped with FWD and the 2.4L engine gets an EPA-estimated 29 mpg combined.
Emissions
According to EPA estimates, the 2015 Honda CR-V with FWD and 2.4L engine, has tailpipe greenhouse gas emissions of 306 grams per mile.4 The 2015 CR-V with the same 2.4L engine, and AWD, has tailpipe greenhouse gas emissions of 317 grams per mile.