70 Mercedes-Benz Models, Explained
---
PUBLISHED FRIDAY, FEBRUARY 10, 2017
Looking for a used Mercedes SUV or sedan? Check out our Mercedes-Benz buying guide.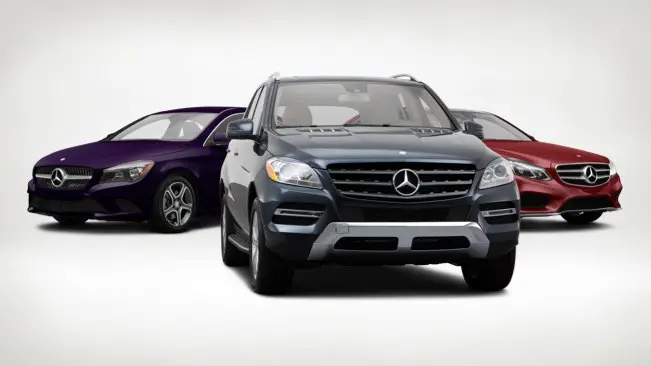 Any car out there can get you from point A to point B. But some car companies work harder to build cars that do it better than anyone else. Take Mercedes-Benz, for example. Every Mercedes-Benz SUV, sedan, coupe, and convertible, from the least-expensive C-Class to a loaded S, is built to get you to your destination in considerable comfort and superb style. This Mercedes-Benz buying guide can help you narrow down your own personal list of options.
Why buy a Mercedes-Benz?
A Mercedes is a car you treat yourself to—a reward for working hard and managing your finances well. When customers come to see us at CarMax, they tell us they're looking for a luxurious vehicle that has style. They want a solid, smooth ride, a good measure of performance, and a full complement of features. And, to be sure, they want to get behind the wheel of a vehicle that carries the Mercedes name. They're seeking a car that says, "I've arrived."
"The Mercedes ride is predictable and solid," says the 13-year CarMax veteran, and Mercedes vehicles perform very similarly across all classes. "Whether you drive a C300 or the E350, for example, you'll see that the ride, build, and style aren't all that different."
- CarMax Senior Buyer
That stiffness and rigidity in their builds give all Mercedes models an impressive feel for the road. Recent cars come with an impressive array of exclusive, innovative features. And when owners aren't driving their Mercedes, they like to admire them from a distance. They take in the elegant yet understated lines, the immaculate paint and finish, and, of course, the three-pointed star on the hood or in the grille.
One of our CarMax purchasing associates says Mercedes doesn't cut corners on the things that make owning their cars a rewarding experience, like sound deadening materials or ride and handling technology. "The Mercedes ride is predictable and solid," says the 13-year CarMax veteran, and Mercedes vehicles perform very similarly across all classes. "Whether you drive a C300 or the E350, for example, you'll see that the ride, build, and style aren't all that different."
There's more, our vehicle specialist says. Customers in his North Carolina store know what they want in a Mercedes. They're not just looking for the luxury features, like the passenger comfort, the heated seats, the Bluetooth® hookup, or the panoramic moonroof. Used Mercedes customers want to experience the name-brand luxury and craftsmanship of a legacy brand — they're looking for a luxury vehicle with an affordable price tag.
Drivers who want to upgrade from, say, a Toyota Camry or Nissan Altima will test-drive either a used Mercedes C300 or a CLA250, he says. E-Class customers tend to be drivers who have already owned at least one Mercedes vehicle. And, customers who want a Mercedes convertible are looking for a second car, or what's sometimes called a "mid-life" car.
Which Mercedes is right for you?
As a "full-line" manufacturer, Mercedes-Benz offers sedans, convertibles, coupes, and SUVs. You can find diesel-engined models, roadsters, and a wagon, as well as ultra-high performance AMG variants. There's even a high-capacity van, the Mercedes-Benz Sprinter. In short, you've got a lot of choices. As the driver, you want a vehicle that best fits your driving habits, as well as one that meets the requirements of you and your family.
Sedans form the core of Mercedes's vehicle lineup. They start with the compact C-Class, grow to include the midsized E-Class, and culminate in the full-sized S-Class.
Mercedes assigns both a letter and a number to its sedans; often, the number denotes the engine size or type. For instance, The C300 sedan indicated the engine size (a 3L V6) until 2015‒2016. The C350 has a 3.5L, six-cylinder engine, the E550 had a 5.5L V8 engine, and so on. Newer Mercedes cars have moved away from this naming scheme.
Since late 2015, Mercedes SUVs have all had three-letter model names starting with GL.
One designation of particular interest to snow-belt drivers is the 4MATIC badge, which means the car comes equipped with the very capable Mercedes AWD system.
Finally, some models carry the letters AMG after the C, E, or S on the trunk lid. If you're an auto enthusiast, you probably know that AMG-modified Mercedes vehicles have been available to US customers since the 1980s. Take a solid base-model Mercedes, add in a high-performance engine and modified suspension components, and you've got a factory-built hot rod. They may not be cheap to buy and maintain, but the AMGs are a serious blast to drive.
Sedans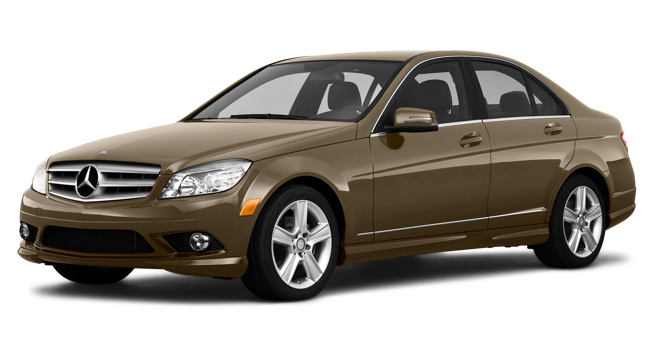 C-Class Sedans
The current C-Class sedan hit showrooms in 2015. The previous generation was produced from 2008 to 2014, receiving a facelift for 2012 that gave it LED taillights and a restyled front fascia. Inside there's room for four adults. Five passengers will fit, but the cabin will be snug.
The C-Class is available in Sport and Luxury trims. Sport models have the star in the grille and feel a little tighter, as benefits a car aimed at more enthusiastic drivers. Luxury models have the star in its traditional place atop the grille, and as you might expect, these models put greater emphasis on driver and passenger comfort.
In 2008, the two engine choices were a 3.0L V6 engine in the C300 models and a 3.5L V6 in the C350. For 2012, a third engine joined the lineup—a turbocharged, 1.8L four-cylinder that powered the new C250 model. For hardcore performance enthusiasts, Mercedes also offered the AMG C63, which packs a big 6.3L V8 that's good for 451 horsepower. If you can find a good used C63 for sale, lucky you!
New-for-2015 C-Class sedans saw the end of the model number-to-engine size designation. Still, the C250 retained its 1.8L engine, but under the hood of the C300 there now lurks a 2.0L turbo four, while the C400 got a turbocharged 3.0L V6. The AMG C63 continues, but it was tweaked for even more power.
Other C-Class Mercedes sedans include: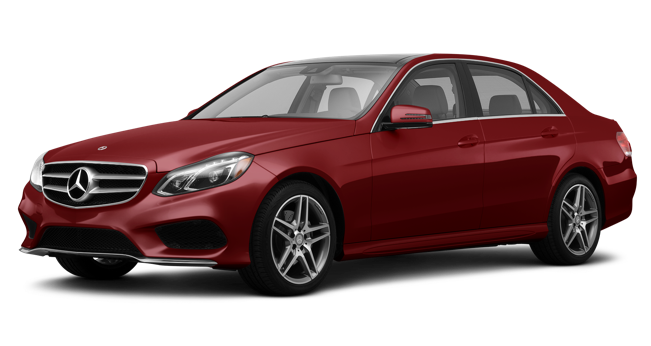 E-Class sedans
"Our Mercedes purchaser says customers like the E-Class because they serve up a good mix of performance and price."
These are the midsized Mercedes models that seat five adults comfortably. Our Mercedes purchaser says customers like the E-Class because they serve up a good mix of performance and price. A new E-Class sedan came out for the 2017 model year, replacing the version that had been in production since 2010. This recently-discontinued E-Class was available as both an E350 and an E550. As with the last-generation C-Class, these numbers referred to a 3.5L V6 and a 5.5L V8. In addition, an E63 AMG came with a 518-horsepower, 6.3L V8 engine. The pricier, rarer E63 AMG S model gets the twin-turbo treatment which pushes the horsepower even higher—to an insane 580 horsepower.
Some buyers might be surprised to learn that leather upholstery wasn't standard on the E350. Instead, drivers who opted not to upgrade sat on MB-Tex leatherette, which might actually be a more durable choice than cowhide.
In 2011, the E-Class gained a 3.0L V6 turbodiesel as an option. This engine was rated at 33 mpg on the highway and delivered a prodigious 400 lb-ft of torque. Recognize these models by the E350 BlueTEC badge on their trunk lids.
A year later, the E350 got a new, more powerful 3.5L V6 engine while the E550 got a smaller but punchier 4.6L V8. Those were followed in 2013 by the arrival of the E400 hybrid. While not dramatically more fuel-efficient (if MPGs are your concern, the diesel might be a better choice), the hybrid gave its drivers an extra bit of boost when accelerating.
In a move that upset some traditionalists, Mercedes ditched the traditional E-Class dual headlights, as part of a 2014 facelift, in favor of what appear as single units (there are still two pairs of LED headlights under each one-piece cover). Other changes included revised front and rear sheetmetal and adoption of the Sport and Luxury trims used on the C-Class.
Under the hood, the 2014 E-Class saw just one significant change. Here, a 2.1L, turbocharged four-cylinder diesel badged the E250 BlueTEC replaced the thirstier E350 diesel.
Twelve months later, the E-Class saw yet another engine shuffle. This time the V8 in the E550 was dropped and replaced with a twin-turbo, 3.0L V6 in a model called the E400. Perhaps to avoid confusion, 2016 saw the discontinuation of the E400 hybrid.
S-Class sedans
Big and imposing, the S-Class offers a combination of luxury, comfort, and performance that's hard to beat. Show up in one of these, and even if it's not the latest model (which went on sale for the 2014 model year), you'll be greeted with a measure of respect.
The earlier-gen S-Class lasted seven years from its 2007 launch, and underwent a subtle facelift for 2010. That year also saw the addition of a 3.5L, S400 hybrid to a model range previously consisting of two cars. Those were the S550, powered by a 5.5L V8, and the 5.5L, V12-powered S600.
Wait—12 cylinders? Isn't that engine kinda big for a passenger vehicle? Well, yes. Twelve cylinders means more power on tap for a bigger, heavier sedan, and it also means the engine is smoother, with fewer vibrations to pass on to the rest of the car.
Buyers who like their executive express vehicles a bit more raucous have the choice of two AMG variants. The S63 carried a 6.2L V8, while under the hood of the S65 there's a twin-turbo V12 with more than 600 horsepower.
Other S-Class sedans include:
SUVs
If your ideal Mercedes requires a high seating position, a liftgate to access the cargo area, and the ability to go off-road, take a look at their SUVs. You can choose from three models: the compact GLK/GLC, the mid-sized ML/GLE, and the full-size GL/GLS.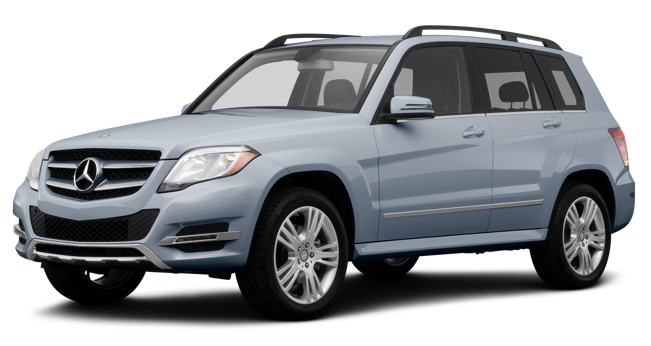 Mercedes-Benz GLK
Launched in 2010, this was Mercedes's first attempt at a compact SUV. With rear-wheel drive or 4MATIC AWD as an option, reviewers found it solid and well-built. Externally, the GLK has a somewhat angular appearance, which continued inside with more angles than curves. But the high-quality materials and attention to detail more than compensated for the lack of curves.
There was just one GLK model—the GLK350. As the name suggests, it used a 3.5L V6 for power. A GLK250 BlueTEC diesel was part of the 2013 refresh, which also rounded off some of the sharper edges.
In 2016, the GLK was replaced by the GLC. More than just a name change, the new GLC350 was wider and longer and featured more rounded exterior styling. These improvements continued inside, creating a less austere cabin with more leg room in the rear. The only engine available is a 2.0L, turbocharged four-cylinder.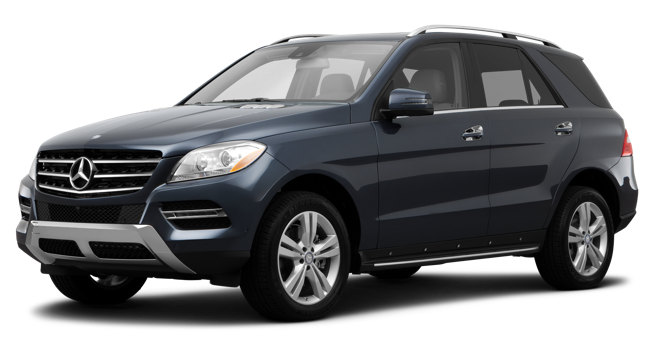 Mercedes-Benz M-Class
The ML first appeared in 1997 with a body-on-frame construction. The chassis construction was replaced in the second generation (2006 to 2011) model with a more car-like unibody construction. These models provide ample room for five adults, with some room for luggage space, and there is no third-row seating. If you need to move more people or more stuff, take a look at the larger GL.
On the road, second- and-third generation MLs feel and drive a lot like their E-Class sedan cousins. Seats are firm, yet supportive and comfortable; everything is put together well; and a lot of equipment is included as standard. One item not standard, however, is leather upholstery. Unless the original owner sprung for one of the option packages, seats will be clad in MB-Tex® leatherette.
All MLs come with permanent all-wheel drive. That, plus good ground clearance, makes them capable on rough surfaces and uneven ground. They also have tow ratings of up to 7,000 pounds, depending on the model and equipment. Your choices here include the ML350 BlueTEC, ML350, ML550, and an AMG variant, the ML63 AMG.
The ML350 is, logically enough, powered by a 3.5L V6. Second-generation ML550s received a 5.5L V8, but the third gen ML550 has a 4.6L V8, albeit with twin turbos which help it deliver 402 horsepower. As for the ML63 AMG, it maintained the engine-size link and got a 6.3L V8.
Other M-Class Mercedes include:
Mercedes-Benz GL-Class
Wider and longer than the M-Class, the GL is a full-sized SUV that has has third-row seating and can transport seven adults comfortably. You could think of it as a German GMC Yukon, except it rides and drives more smoothly, thanks to its car-like unibody construction (most full-size SUVs still use a body-on-frame design). The result is, despite its heft, a big vehicle that feels smaller than its measurements and is easily parked and maneuvered.
The GL first appeared in 2007, got a facelift in 2010, and was replaced in 2013. At launch, there were two engines/models: the GL450 has a 4.6L V8, and the GL320CDI has a 3.0L V6 turbodiesel. In 2008, a GL550 joined the family, sporting as the name suggests, a 5.5L V8. A year later, the CDI was replaced by the GL320BlueTEC diesel, which, unlike its predecessor, was approved for sale in all 50 states.
Looking for a base model GL? Check out the GLA250. It's the smallest of the GLs, and is a solid choice for families looking to dip a toe in the Mercedes-Benz waters. It has turbocharged get-up-and-go, it's efficient, it seats five comfortably, and these models can often be found for less than $30,000.
The even bigger second-generation GL had a few additional changes. The GL320BlueTEC was replaced by the GL350BlueTEC, and the GL550 swapped the 5.5L V8 for a 4.6L engine, but it made more power thanks to twin turbochargers. Also, the GL63 AMG model arrived packing a 5.5L twin-turbo V8 which delivers 550 horsepower.
All GL SUVs come with AWD standard, and when suitably equipped, can pull as much as 7,500 pounds. That makes them a practical workhorse vehicle, providing you don't mind dirtying up the beautiful interior.
Other GL-Class vehicles include:
R-Class
The R-Class vehicles are larger, passenger based vehicles that straddle the SUV-crossover line. They're long and roomy, and include the V6-engined, five-door R350 and the even bigger R500. Both models feature powered liftgates and third-row seats. Some can be had with all-wheel drive. The R-Class vehicles are great for larger families.
Roadsters and Convertibles
If you're a fan of top-down, wind-in-your-hair motoring, Mercedes has you covered (or should that be uncovered?). The SLK/SLC roadster is a sporty two-seater, while the larger, more expensive SL is more of a two-seat Grand Tourer. If you want to transport more than one friend, both the C-Class and E-Class have drop-top versions to consider.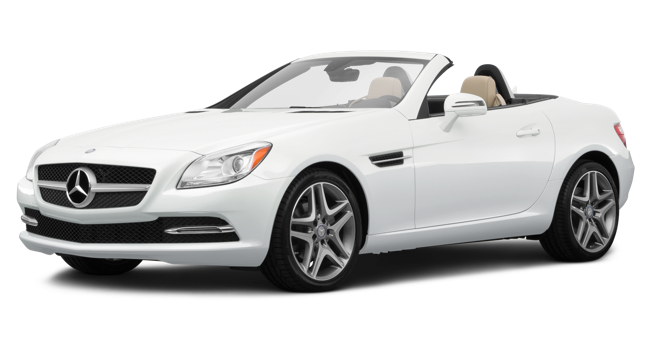 SLK/SLC roadster
It's a simple recipe: two seats, a retractable hardtop roof, a gutsy engine, and great handling make this a fun little sports car. There's not much room inside with the roof up, and when it's folded into the trunk, you'll only be able to pack a sports bag or a few groceries. But then, this car is more about entertainment than practicality.
A new SLK arrived in 2012, bringing with it a smaller-engined, entry-level model, the SLK250. If its 1.8L turbocharged four-cylinder engine isn't enough for you, there's also an SLK350 with a 3.5L engine, or the very quick SLK55 AMG. And for buyers who live in cooler climates, remember to look for models optioned with Airscarf heater ducts in the headrests.
Other SLK roadsters include: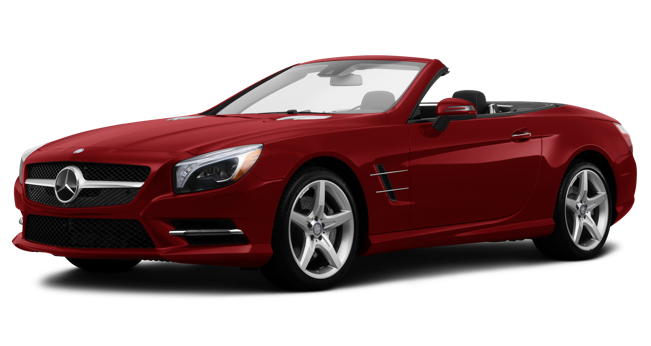 SL roadster
A dream car for many. Large enough for two adults to carry a weekend's worth of luggage and still fold down the retractable hardtop roof, it's fast, comfortable and supremely elegant. This is how you should cruise the Pacific Coast Highway. Until 2015, the SL roadster only came with V8 power, but to the shock of some traditionalists, that year Mercedes introduced the less-expensive SL400. It's still plenty quick with a 3.0L V6 under the hood, but it's somewhat eclipsed by the beefier SL500, SL550, SL63 AMG, and V12-powered SL65 AMG. The SL roadster is definitely a car for extroverts.
C-Class convertible
It seems a little unfair to mention this car, since it only debuted in 2017. Derived from the sedan, the C-Class 'vert is a two-door, soft-topped four-seater that really lets you feel the wind in your hair. The back seat and trunk are rather compact, but providing you're not going far, it's a fun and stylish way to enjoy some warm weather. Oh, and Mercedes likes to refer to this model as a cabriolet.
E-Class convertible
Larger and therefore more family-friendly than the C-Class convertible, the soft-top E-Class pleases the eye from every angle. Inside, you'll find the high-quality materials and impressive build quality you'd expect in every Mercedes; plus, back-seat passengers have some space for their knees!
Engine/model choices at launch in 2011 were the E350 with a 3.5L V6 and the E550, with a 5.5L V8. In 2015, a smaller-engined, yet more powerful E400 replaced the 350.
Coupes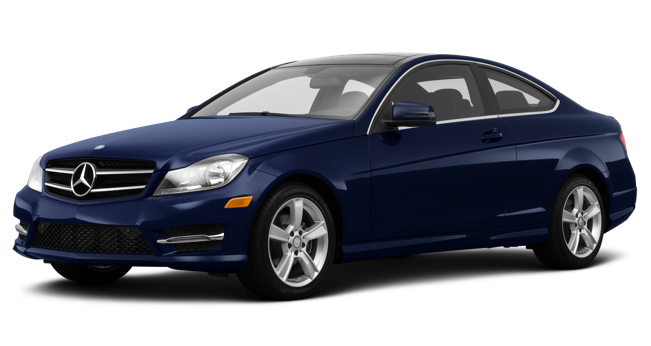 With only two doors and a token back seat, Mercedes coupes are all about style. Every sedan (C-Class, E-Class, and S-Class) is available in two-door form, and to complicate matters, there are also two four-door coupes, the CLA and the CLS.
The C-Class coupe went on sale as a 2012 edition, and had a choice of three models: the C250, C350, and C63 AMG. Under the hoods of these cars you'll find, in order, a 1.8L turbocharged four-cylinder, a 3.5L V6, and a 4.3L V8. While that might sound like good, better, and best, don't underestimate the C250. If you're looking for a quality car with good looks, the C250 won't completely empty your wallet.
When you step up to the E-Class coupes, you'll get more room in the back for passengers and luggage plus a choice between the E350, with its 3.5L V6, and the E550 which as a 5.5L V8.
Finally, for the car enthusiast who wants it all, there's the S-Class coupe. Known as the CL-Class until 2015, this car is opulent. You get all the lavish equipment of the regular S-Class, but in a two-door package. If anything says, "I have other cars as well," it's this car. The S550 is the entry-level S-Class coupe, and after this car, your only upgrade choices are the mighty S63 and S65 AMG models. Or if you're shopping for something older, there's the CL550, the CL63 AMG, or the CL65 AMG, which gives you a twin-turbo V12 that puts out 621 horsepower.
At the opposite end of the scale is the Mercedes-Benz CLA. Positioned as an entry-level Benz, the CLA has a sloping roofline that earns it a 'four-door coupe' description. On sale since 2014, the CLA250 is small in the back, but four doors mean you can reach in to fit a child seat without too much effort. Powered by a 2.0L turbo four, performance is adequate, and 4MATIC is an option.
If you need more adrenaline with your CLA, you can opt for the CLA45 AMG. Squeezing 355 horsepower from a turbocharged 2.0L, four-cylinder engine, this model offers the same seating for four but gets you off the line much more quickly.
The CLS is your other four-door coupe choice. With similar proportions to the E-Class, this may be the most graceful and elegant of all the cars in the Mercedes range. The long, sloping roof limits headroom, especially in the back, but it's well-equipped and beautiful to look at. Two models make up the range: the CLS550 and the CLS63 AMG.
The CLS first became available in 2004, and a new model arrived in 2012. This saw the 5.5L V8 in the CLS550 replaced by a 4.7L twin-turbo unit. The AMG version gained a 5.5L V8.
What about the wagon?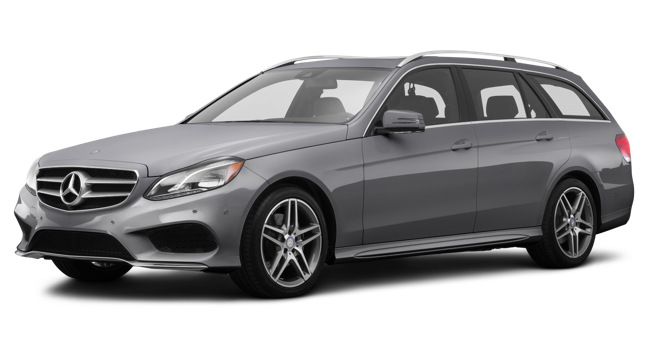 Those well-acquainted with Mercedes vehicles might be asking if we'd forgotten about the wagons. The answer is no. Mercedes has offered an E-Class wagon for many years, although it periodically disappears from the lineup. A new E-Class wagon arrived in 2011, available in E350 and E550 forms. In addition, 2012 saw the arrival of the E63 AMG wagon. Perhaps aimed less toward Americans and more at Germans who want to haul their stuff down the Autobahn at 155 mph, it combines luxury and practicality in an extremely fast package.
Our CarMax sales consultants report that in addition to smooth ride and solid build characteristics, customers want the following features in a Mercedes-Benz:
Bluetooth®

Heated seats

Blind spot detection

Navigation

Panoramic sunroof

Comfortable seats