1. Historic design
Since 2005, the Chrysler 300 has blended class and classic muscle for a truly iconic design. This gives the 2019 Chrysler 300 a unique look in the large car market. From its muscular styling to its smooth slab side panels and elegant grille, it's a look that never goes out of style. That's especially true when you add performance accents like dual-exhaust tips, 20-inch wheels, or blacked-out trim (300S trim). The 2019 Chrysler 300 proves that good design is timeless.
2. The power of a good powertrain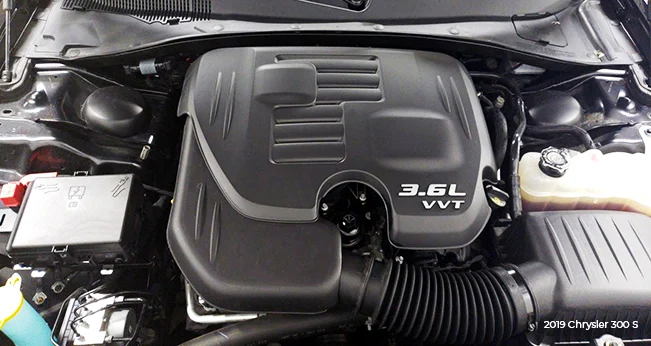 Whether sporting a V6 or V8, the 2019 Chrysler 300 delivers capable power through a smooth delivery system. All models, except for the Chrysler 300C, start with a standard V6 engine mated to an eight-speed transmission. As for the 2019 Chrysler 300C and 300S, there's a 5.7L V8 (optional for 300S) that makes 363 horsepower and 394 lb.-ft. of torque. Models with the V8 engine also add paddle shifters.
3. All-Wheel drive or rear-wheel drive
Available all-wheel drive is an option across the 2019 Chrysler 300 lineup—except for 300S and 300C V8-engine models. As for the 363-horsepower Chrysler 300C, it sports rear-wheel drive. The all-wheel-drive system uses a front-axle disconnect, which enables the system to engage traction across different weather and road conditions, giving you confidence when the going gets tough.
4. Technology in the cabin
It's not just performance and style that makes the Chrysler 300 so attractive. It's also the modern tech features from driver assistance to infotainment. There's an 8.4-inch touchscreen on all models, as well as Apple CarPlay and Android Auto. There's are also two available sound systems: a nine-speaker Alpine® or a 19-speaker Harman Kardon® system. Driver-assistance features include forward collision warning and adaptive cruise control. Chrysler's Uconnect® system access is also standard on all 2019 Chrysler 300s.
5. A roomy and comfortable large car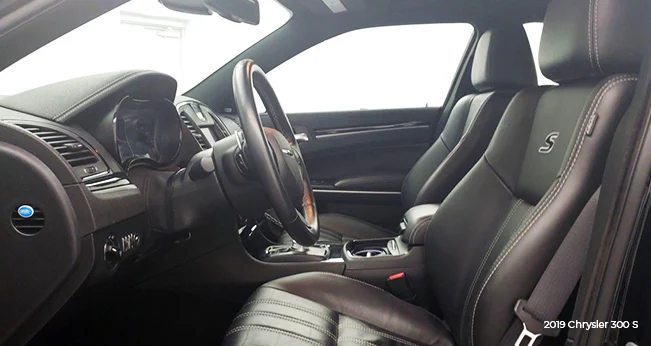 A comfortable interior with roomy dimensions welcomes passengers into the 2019 Chrysler 300. There are 41.8 inches of front legroom and 40.1 inches of rear legroom, enough to comfortably seat you and four others.
As for storage room, there are numerous cubbies and compartments inside the car and a trunk that measures 16.3 cubic feet.
The interior also features dual-zone automatic climate control on the base model 2019 Chrysler 300 Touring, and heated front seats on the 2019 Chrysler 300S. The 2019 Chrysler 300 Limited brings heated and ventilated front seats, heated rear seats, and more—while the 2019 Chrysler 300C includes heated and cooled front cupholders.