1. Epic engine options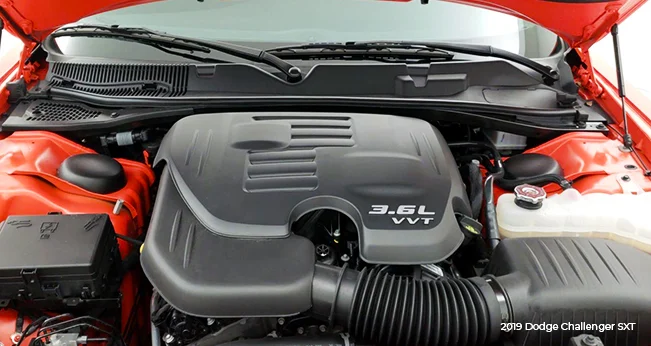 When you go to buy a car, you'll quickly notice most cars come with one or two engine offerings, with one slightly more powerful than the other. With the 2019 Dodge Challenger, you can choose from a variety of different engine options with anywhere from 305 to 797 horsepower! Opt for the base 305-horsepower 3.6L V6 or upgrade to the 375-horsepower 5.7L HEMI® V8, the 485-horsepower 6.4L HEMI V8, or an amazing 717- or 797-horsepower supercharged 6.2L HEMI V8! The muscle car is alive and well at Dodge, and they have the engines to prove it.
2. Surprisingly roomy for people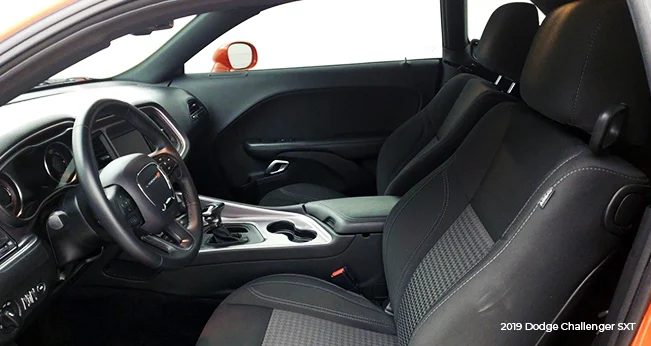 The 2+2 coupe has never been known for its rear-seat room. However, the Dodge Challenger is built off of the same platform that the full-size Dodge Charger is built. That means near full-size roominess in both the front and rear. Expect 33.1 inches of rear legroom in the 2019 model, which is quite good for a two-door coupe. That means you can bring your friends along on the adventure. Just make sure they hold on to something!
3. Surprisingly roomy for stuff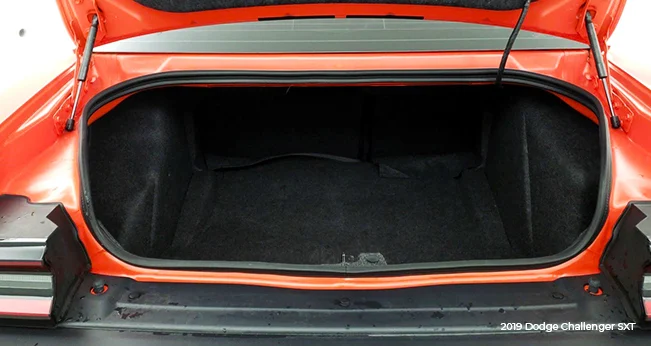 The 2019 Challenger is fast, and it's got a roomier interior than most two-door coupes. It's also fairly practical for a coupe, with a large 16.2-cubic-foot trunk. You can even expand that space via the standard 60/40-split-folding rear seats across all 2019 trim levels. Is the Challenger the ultimate escape from the everyday driving experience? It will certainly get you where you are going quickly, and you can even pick up the groceries along the way.
4. Some cooling with your cool
There's no question that the Challenger is cool. It also has some pretty high-tech cooling features to make sure your engine stays as cool as your car's attitude. All 2019 Challengers come with standard-duty cooling, but opt for the R/T Scat Pack, SRT Hellcat, or SRT Hellcat Redeye, and get upgraded Severe-Duty engine cooling. 2019 Hellcat models even feature a standard "after-run chiller" which is designed to keep the engine's cooling fan and low-temperature circuit coolant pump running after the engine shuts off; that helps lower the engine temperature after a spirited drive. The Hellcat Redeye has the trick SRT Power Chiller which diverts the air-conditioning refrigerant from the interior cabin to a cooling unit and then to the heat exchangers in the supercharger. All that is to say, the Dodge Challenger is literally one cool car.
5. The latest tech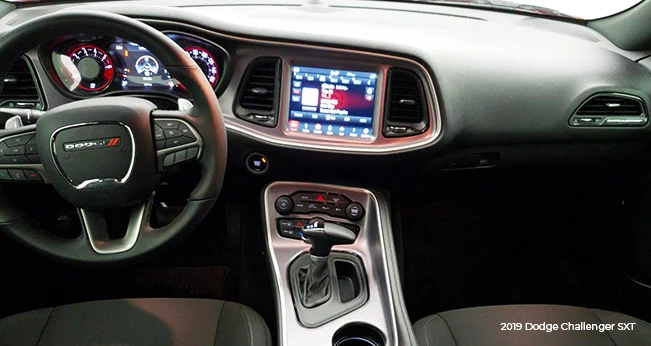 This isn't some unsophisticated or antiquated brute. The Challenger comes equipped with the latest technology to keep you comfortable and add quite a bit of convenience. You can expect standard features on the 2019 model like dual-zone climate control, a rearview camera, and a seven-inch touchscreen. Plus, with standard Apple CarPlay and Android Auto, you can stay connected to your favorite driving music along the way. Opting for a super cool muscle car shouldn't come with sacrifices.