1. Impressive feature list
No matter what your requirements, there's a trim level with more than enough tech features to satisfy your needs. Even on the 2019 base model, you don't miss out on anything; it sports features like a seven-inch touchscreen infotainment system including Android Auto and Apple CarPlay compatibility, lane-keeping assist, and forward collision warning. While the base model is certainly well equipped, the higher trim levels for 2019 sport features like a hands-free smart liftgate on the Sport trim, wireless device charging on the Limited model, and a panoramic sunroof and heated front and rear seats on the top-of-the-range Ultimate version. The 2019 Hyundai Tucson is a superbly well-equipped compact SUV.
2. Effortless to use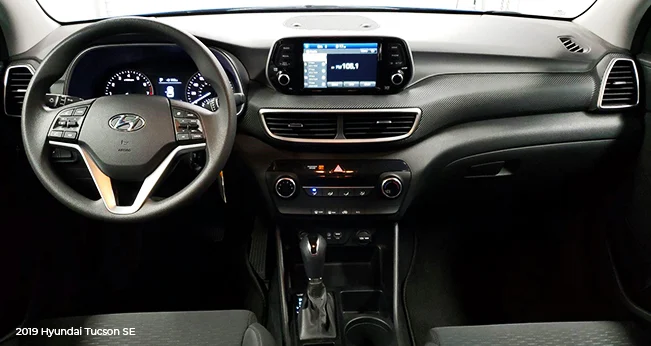 Despite such a vast array of tech, the 2019 Hyundai Tucson offers all of these features in a package that it feels effortless to use even if you don't happen to be that tech-savvy. The infotainment system is simple and straightforward, as is using the Bluetooth and mobile device connectivity systems, and there's even voice control available for greater accessibility. If you're on the lookout for a relaxing and seamless ride, the 2019 Hyundai Tucson is what you've been looking for.
3. Storage space for days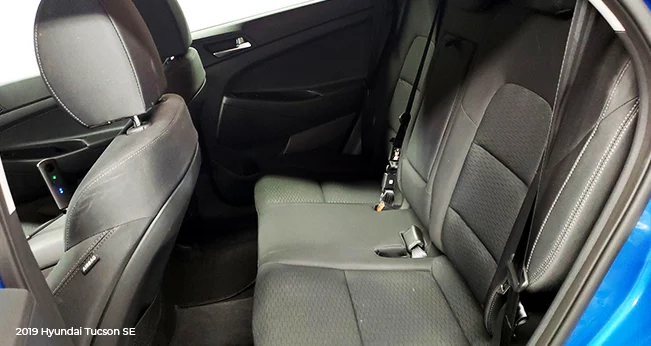 Despite being a compact SUV, the 2019 Hyundai Tucson is spacious inside—particularly if you require plenty of cargo space. Five seats mean an average-sized family or small group of friends will have no problem fitting inside, and a very impressive 31 cubic feet of cargo space in the back means your family's luggage will fit in with room to spare. Even if you prefer to travel solo, you've got plenty of space for golf clubs and camping gear. And should you need even more storage, a 60/40-split-folding rear seat is available as standard to squeeze in longer items. Don't be fooled by the small SUV body type; the 2019 Hyundai Tucson makes a great choice if you're looking for decent interior space.
4. Comfortable travel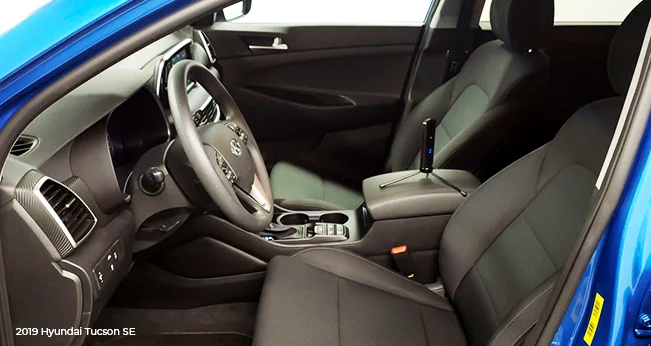 So you've loaded the car up with your passengers and your luggage. Now comes the long drive to your destination. You'll be pleased to know the 2019 Tucson offers a comfortable experience for everyone. The Tucson offers a quiet cabin and a smooth ride that absorbs the bumps of the road. You'll also enjoy soft, comfortable front and rear seats for those weekend road trips. Even on a long journey, the Tucson will deliver you there with a smile on your face.
5. Good fuel economy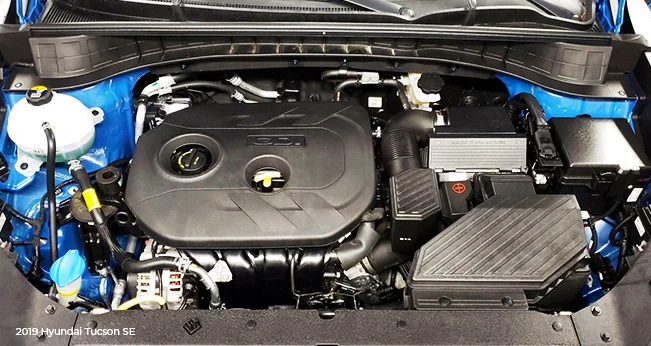 And during that long journey, you won't have to worry about the 2019 Hyundai Tucson being a huge gas guzzler. Models equipped with the 2.0L four-cylinder engine get an EPA-estimated 26 mpg combined in front-wheel-drive configuration and an estimated 23 mpg combined with all-wheel drive.
Meanwhile, models equipped with the 2.4L four-cylinder engine can manage an EPA-estimated 25 mpg combined with front-wheel drive and an estimated 23 mpg combined with all-wheel drive.