2018 Ford F-150 Review: Interior, Specs & More
---
PUBLISHED TUESDAY, JULY 14, 2020
Everything you want to know about the 2018 Ford F-150.
With thousands of vehicles in our inventory, we're here to help make car research easier for you. We've partnered with car-review experts from Edmunds to weigh in on what matters most, whether you're looking to buy or sell a car.
***
Whether you're looking to haul lumber, tow a trailer, crawl over boulders in the great outdoors, or just take your kids to school, the Ford F-150 has you covered. Edmunds editor Travis Langness will walk you through the details of what makes the F-150 so versatile and unique to help you decide whether it's the right truck for your needs.
What's changed on the 2018 F-150?
Ford redesigned the F-150 for the 2015 model year, ushering in the 13th generation of the F-Series. This was the first full-size pickup truck to use aluminum body panels. That change, along with a few other updates, made the truck lighter and faster than previous-generation trucks. With less inherent weight, the F-150 could also tow and haul more than before. All of those improvements are serious advantages in the full-size truck segment.
In 2018, the F-150 received a midcycle refresh that introduced a variety of updates. From a side profile, the truck looked mostly the same, but the headlights, front bumper, and front grille were all-new. Engines and transmissions were also on the list; Ford added a new 3.3-liter V6 as the base engine and an optional turbodiesel V6. A 10-speed automatic, previously available on just one engine, was now made standard on two optional engines: the 2.7-liter V6 and the 5.0-liter V8.
Travis' take:
I love midcycle refreshes. It gives automakers a chance to say, "Oh, hey, you didn't like some of the things we did on our full redesign from a few years ago? We fixed that." Or better yet, a refresh brings new technologies or features that, as a car shopper, you can benefit from. On the 2018, I especially like the new look of the grille and its more powerful engines.
How much power does the 2018 F-150 have?
The 2018 F-150 offers six powertrain choices. The base engine is a 3.3-liter V6 paired with a six-speed automatic transmission. It produces 290 horsepower and 265 lb-ft of torque.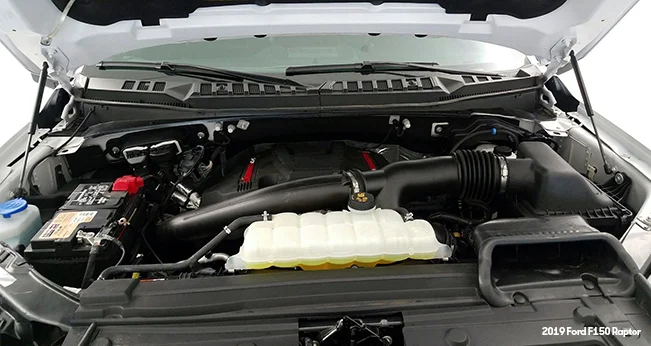 Up next is the 2.7-liter turbocharged V6. It's paired to the previously mentioned 10-speed automatic transmission and makes 325 hp and 400 lb-ft of torque―an increase of 25 lb-ft of torque over the previous year's engine.
Ford's 5.0-liter V8 is also available. It comes with the 10-speed automatic transmission too. The V8 produces 395 hp and 400 lb-ft of torque, an increase of 10 horsepower and 13 lb-ft of torque from the previous year.
The next engine in the F-150's lineup is the turbocharged 3.5-liter V6 paired to the 10-speed automatic. The 3.5-liter engine is available with two output ratings. Most F-150s with this engine produce 375 hp and 470 lb-ft. But for the F-150's off-road trim, the Raptor, Ford drops in a high-output version that produces 450 hp and 510 lb-ft.
Finally, the new engine for 2018 is an optional turbodiesel 3.0-liter V6. It's also paired with a 10-speed automatic. It produces 250 hp and 440 lb-ft and gets the best EPA-estimated fuel economy for the F-150.
Travis' take:
The F-150's optional turbocharged engines are stellar. Power, towing capacity, and payload are all impressive with the 2.7-liter V6 and the 3.5-liter V6. I've driven F-150s with both engines and they're surprisingly fast in a straight line. They're also very adept at towing. I've pulled big car trailers with the F-150 on several occasions, and I'm always surprised at how effortless it is to tow even with the smaller turbocharged V6 under the hood.
At Edmunds' we've bought and lived with both a 2015 and a 2018 F-150. We drove them in long-term tests, putting over 30,000 miles on the odometer of each truck. Both were equipped with the 2.7-liter V6, and neither was hurting for power. Unfortunately, they both underperformed in our real-world testing when it came to meeting the EPA's fuel economy estimates. The updated 2018 model was supposed to see significant fuel economy improvements thanks to the addition of the 10-speed automatic.
How's the 2018 F-150's interior, and is it comfortable?
While there are some minor changes to the 2018 F-150's looks and some more significant additions under the hood, the interior remains mostly the same.
The F-150's controls are easy to use. The volume and temperature control knobs, for example, are large and easy to find without taking your eyes off the road. Even the smaller buttons, located on the steering wheel, are labeled with a large, easy-to-read font so you'll be able to identify them with a quick glance. Visibility is good too. There's an expansive view out the front, and the large windows have a signature drop-down cutout design that helps you better see nearby objects, such as when you're parking.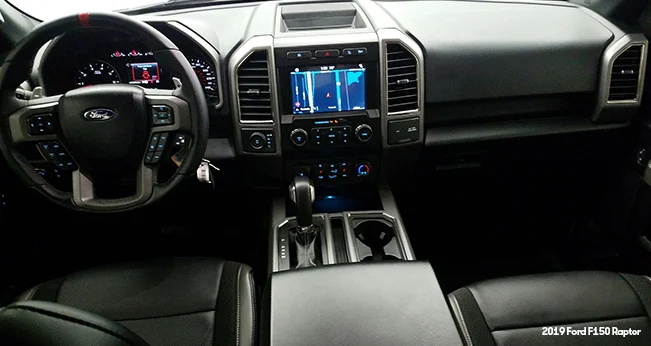 In the city, the F-150's suspension soaks up most bumps. On the highway, the ride can feel a bit stiff and larger bumps make their way into the cabin, but it's not a deal-breaker. The front seats are supportive and provide all-day comfort. If you opt for one of the mid-level or top trims, the heated and ventilated seats are a worthwhile addition.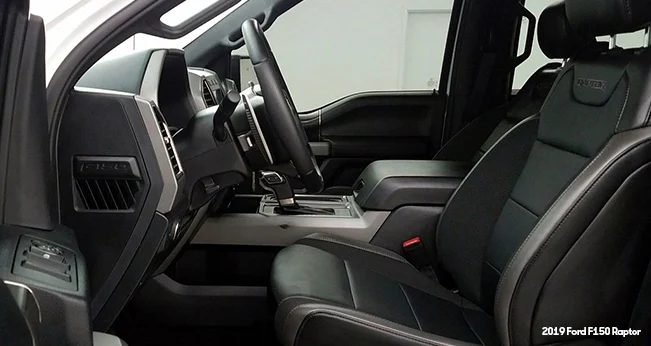 Travis' take:
Having driven thousands of miles in several different F-150s, I can safely say this truck is a road-trip champ. The ride is a bit stiff over broken highways, but that's nothing out of the ordinary for a full-size truck. The seats are comfortable enough that even 12-hour days on the road won't wear you out.
It doesn't take long to get familiar with the F-150's layout either. Even after testing hundreds of non-Ford products, it's easy to get in and know almost immediately where everything is. Buttons and knobs you use the most are the most prominent―the stereo volume and the temperature controls, for instance―while controls for lesser-used features are out of the way but still accessible if you need them quickly.
What kind of features does the 2018 F-150 have?
There are three cab styles: regular, SuperCab (extended) and SuperCrew (crew cab). From there, you'll find F-150s in six main trim levels: XL, XLT, Lariat, King Ranch, Platinum, Limited, and Raptor.
On the base trim, the XL, you get functional equipment but not a ton of extras. The mirrors and windows are manually controlled, and there's a four-speaker audio system and a small 4.2-inch center display screen. This is pretty common for a work truck in the full-size segment. The XLT adds features such as power windows, Bluetooth® audio, cruise control, and lumbar adjustments for the front seats.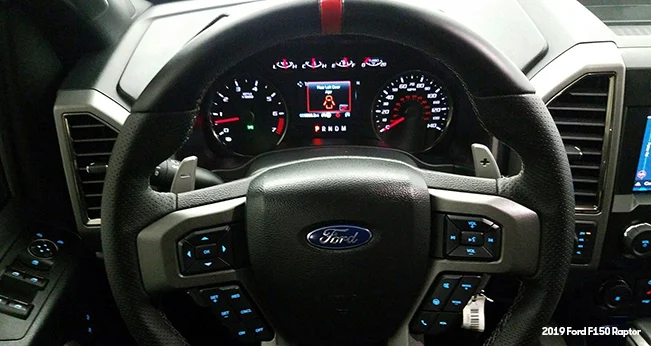 In the middle of the lineup, you'll find the Lariat. It includes features such as rear parking sensors, power-adjustable front seats, power-adjustable pedals, a seven-speaker stereo, Apple CarPlay® and Android Auto™ smartphone compatibility, a larger 8-inch touchscreen, dual-zone automatic climate control, and heated and ventilated seats. Also worth noting, the Lariat includes optional driver assistance features, such as blind-spot monitoring with rear cross-traffic alert, which is designed to alert you if a vehicle in the next lane over is in your blind spot.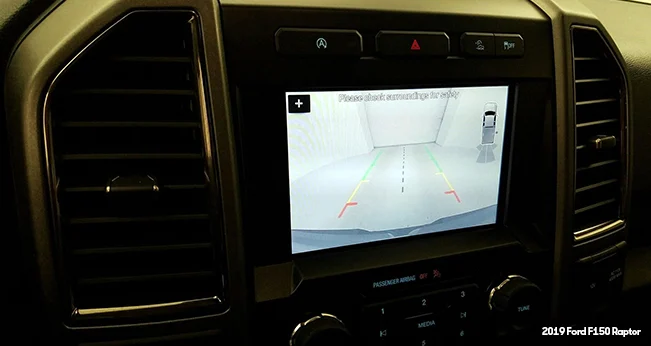 Topping the F-150's range are the King Ranch, Platinum, and Limited trims. The King Ranch and Platinum have a few more luxury-oriented standard features than the Lariat, such as a premium audio system and a household-style power outlet. The loaded-up Limited even has collision mitigation braking (applies the brakes automatically to stop the vehicle to avoid or minimize a collision) and adaptive cruise control (maintains a driver-set distance between the F-150 and the vehicle in front).
The Raptor (also known as the SVT Raptor) is significantly different from the rest of the lineup. Designed to handle high-speed off-road use, it has a reinforced frame, a unique four-wheel-drive system, long-travel suspension, wider fenders, heavy-duty skid plates, and upgraded engine cooling. Whether you're traversing a vast desert or crawling over a massive rock garden, the Raptor is nearly unbeatable off-road.
Travis' take:
Trying to find the right trim level for your next pickup truck can be a daunting task. Here's how I do it: I start with items I can't live without. My must-haves are heated seats, the loudest stereo I can get, and a bedliner. With the F-150, there are two specific features I'd add to that list: the tailgate step and the Pro Trailer Backup Assist. I often tow my car trailer and haul my motorcycle, and those features make a world of difference.
After all that, I end up in a Lariat with the V8 and four-wheel drive. With the Lariat, I get all my must-haves, plus the bigger 8-inch touchscreen, adjustable pedals (excellent if you have short legs like me), and a Class IV trailer hitch. The V8 is just a preference thing for me―it makes more power than the 2.7-liter V6, and since the V8 is paired with the 10-speed automatic, fuel economy differences between the two engines are much smaller.
What do the 2018 Ford F-150's rivals have to offer?
The F-150's chief rivals are the Chevrolet Silverado 1500 and the Ram 1500. The Silverado is an impressive full-size truck with stout V8 power. The Silverado 1500 received a full redesign in 2019, so, depending on your needs, you may want to search for an updated model with Chevy's new styling. If you don't like the Silverado's styling, or you want a bit more of a luxury vibe in your truck, the Silverado has a fraternal twin brother, the GMC Sierra 1500 (which was also redesigned in 2019). The Ram 1500 was redesigned in 2019 and it offers class-leading interior refinement and ride quality - the 2019 model is Edmunds' Top Rated full-size pickup.
Other full-size competitors include the Nissan Titan and the Toyota Tundra. They might be worth a look but know that generally they are not as highly rated by Edmunds as the F-150, Silverado 1500 and Ram 1500.
Travis' take:
If you're looking for near-luxury levels interior refinement and an impressive, well-equipped cabin, the Ram 1500 is the right choice. While many rivals still use bulky leaf-spring suspension, Ram uses a more modern setup, coil-spring suspension, which improves the Ram's ride quality and makes it adept at handling corners. The Ford is hot on its heels though. The Ram beats out the F-150 in a few key categories but the F-150 is still an extremely capable pickup truck with lots to offer.
Travis Langness is an automotive reviews editor for Edmunds.com. As a life-long car-and-truck enthusiast, Travis has a deep passion for cars. Through instrumented testing, off-roading, epic road trips and local commuting, the Edmunds team tests and writes about new and used vehicles to help car shoppers make informed decisions.