The 2018 Toyota Camry: Everything You Need to Know
---
PUBLISHED TUESDAY, JULY 21, 2020
Find out if the Camry is right for you.
With thousands of vehicles in our inventory, we're here to help make car research easier for you. We've partnered with car-review experts from Edmunds to weigh in on what matters most, whether you're looking to buy or sell a car.
***
Toyota fully redesigned its Camry sedan in 2018, and we've put together an insider look at what has improved and what hasn't. Edmunds' Elana Scherr has spent plenty of time in Camrys, as well as hundreds of other vehicles during the process of testing and reviewing, so she's more than ready to weigh in on the details of the newest generation.
What do I need to know about the eighth-generation Camry?
The eighth-generation Camry debuted in 2018, and was a big departure from 2017 and earlier models. The redesign included a new look, a new interior, new powertrains, an improved suspension design, and all sorts of technology updates.
Elana's take:
The Toyota Camry has a reputation for being reliable but not radical. More refrigerator than race car. The new generation addresses that perception of dullness with exciting visual changes to the exterior and, to a lesser extent, the interior. It also has an improved ride quality and driving feel for a more enjoyable experience behind the wheel.
What about the 2018 Camry's looks has changed?
Depending on the trim level, you get a different look in the front with various grille and headlight designs. The design is sharp and angular rather than rounded like the 2017 cars. This is particularly the case with the SE and XSE trims, which have a honeycomb-style grille. Other Camrys, such as the LE and XLE, are a little more conservative in their appearance.
Elana's take:
The previous-generation Camry had a wide, oddly shaped grille that made the car look like it had a mustache―and not a particularly cool one. The new Camry looks sleeker and sportier, especially in its SE and XSE trim levels. Now, by sporty, I don't mean running-shoe sporty. In car design, "sportiness" is often designated by use of black trim instead of chrome and larger air openings at the nose of the car, both of which you'll see on the SE and XSE Camry.
How is the 2018 Camry's storage?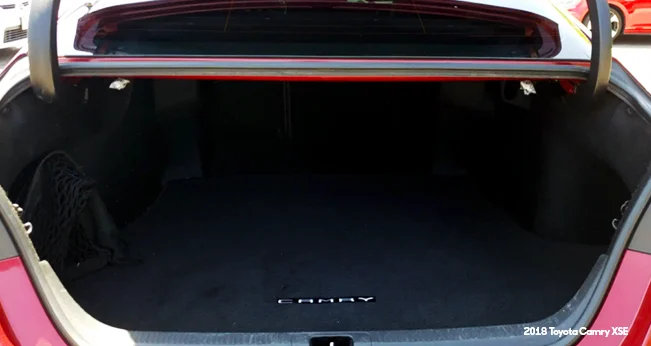 When you pop the trunk in the new generation of Camrys, you'll find 15.1 cubic feet of trunk space, which is an average amount for a midsize sedan. The trunk opens wide enough to accommodate a couple kids' worth of sports gear, a stroller, a summer barbecue's worth of groceries, or maybe all of them at once if you're good at Tetris. A low lip makes it easy to lift heavy items out again. The Camry also has 60/40-split-folding rear seats should you need to carry something longer.
Elana's take:
The Camry's trunk space isn't the best in the class (rival 2018-and newer Honda Accord has 16.7 cubic feet, for example), but you can carry all your groceries, or better yet, pack luggage for two and escape your grocery list for the weekend. The in-cabin storage is slightly below average, but the door pockets are wide enough for a reusable water bottle; not all cupholders can fit the large-diameter containers, but the ones in the Camry have space. There's a handy sliding shelf in the center console for a phone, and the console bin will hold a medium-size bag. So if you're a purse-person, you don't have to leave it sitting on the passenger seat.
What's the 2018 Camry's interior like?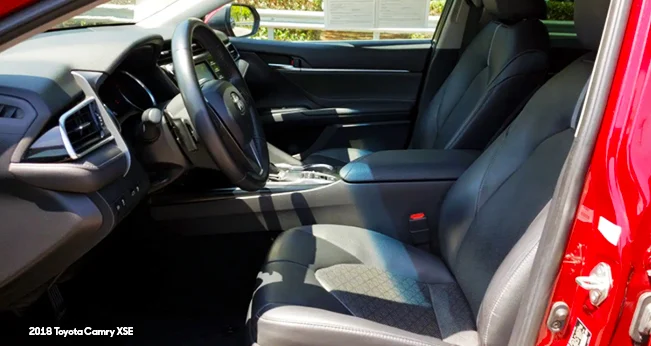 The Camry has always had a roomy interior with ample space for adults. This most recent model is no different. There's plenty of headroom in the front, even if you buy one with a sunroof, and plenty of legroom both front and rear. Rear headroom can be a little cramped for tall adults, however. And while there is plenty of space to install child seats in the rear, you'll want to use some caution getting taller children in and out to keep from bonking their head ―or yours―on the door opening. The low roofline and relatively tight backseat space can make it tricky.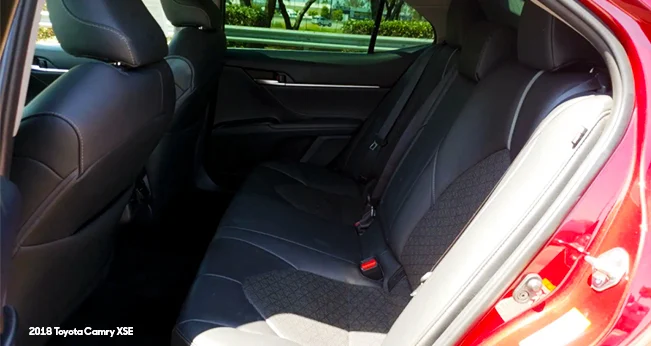 The driving position is neutral―not sports-car low or SUV high. There's good visibility due to big side windows and narrow windshield pillars that allow a broad view of the road ahead. It offers an available 360-degree top-down parking camera system that gives you a view of the car from above, so you can see any obstacles that might be out of your mirror view. It helps you squeeze into even the tightest of parallel parking spots.
Elana's take:
There's a lot to like about the 2018 Camry's interior. It's detailed enough to be interesting. I like the infotainment stack in the front, which has a pretty crossover trim that frames it in the dash. The interior is also easy to clean and sturdy enough to hold up over years of dragging car seats in and out or driving your Golden Retriever to the park so she can bark at the ducks.
The front-seat padding is firm but not uncomfortable, so you should be able to take road trips with ease. If you like a more fitted seat, you get a little more side bolstering with the SE and XSE.
How is the 2018 Camry's tech?
The Camry offers driver-assist features, such as adaptive cruise control, blind-spot monitoring, and a lane-keeping assist system. Adaptive cruise control is a smart cruise control system that uses sensors to maintain a set distance from the car in front of you while cruise control is engaged. Blind-spot monitoring is designed to alert you when a car is passing or hanging out in the car's blind spot. And, lane-keeping assist is meant to provide small steering inputs when you drift out of your designated lane without signaling first.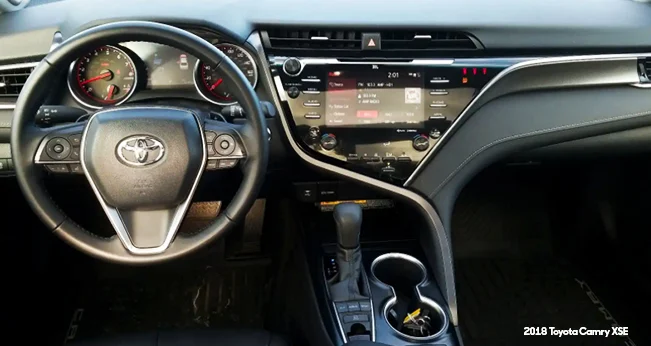 At launch in 2018, the Camry lacked an optional integrated navigation system. Apple CarPlay® and Android Auto™ smartphone integration wasn't available either. The Camry got navigation and Apple CarPlay in 2019 and Android Auto for the 2020 model year.
Elana's take:
I appreciate that Toyota makes many of the Camry's advanced features standard. Adaptive cruise is a great invention for both long empty highways and cramped stop-n-go commutes. When it comes to infotainment tech, however, the Camry has been slow to add in some of the more popular options, like phone connectivity. Personally, having driven cars with Apple CarPlay, I'd never go back to something without it, so if I were shopping for a Camry, I'd go 2019 or newer.
What's the 2018 Camry like to drive?
The 2018 Camry has a more powerful 2.5-liter four-cylinder engine than the 2017. That horsepower increase―from 178 hp the previous year to 203 hp―gives the four-cylinder Camry a bit more pep in the city. It's plenty for highway passing and general driving, although you'll find it a little sleepy at stoplights and sluggish on steep hills. Thankfully, an optional 301-hp V6 is available on the XSE and XLE trims if you want more power.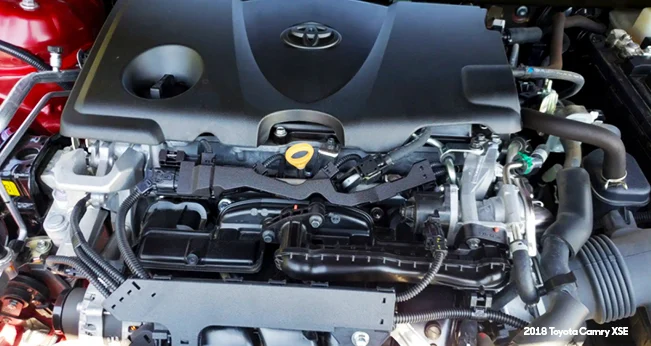 If you're interested in mileage, the four-cylinder beats the six-cylinder, which has an EPA- estimated 26 mpg combined (city and highway). The four-cylinder offers an EPA-estimated 32-34 mpg combined, depending on trim level. There is also a hybrid option that combines a 2.5-liter four-cylinder with an electric motor and a continuously variable transmission (CVT). The hybrid is available in LE, the sportier SE, and the loaded XLE trims, and it gets an EPA-estimated 46-52 mpg in combined driving depending on which trim you choose. Looking again at its rival the Honda Accord, we can see that the numbers are in line for the class. You can get higher EPA-estimated fuel economy from the Toyota Prius, but the Camry offers a more refined ride quality.
If you go with the SE or XSE, you get a sport-tuned suspension, making the Camry more stable and enjoyable to drive around curvy roads. The trade-off is ride quality. You'll feel a few more bumps and thumps on the road. That's nit-picking though, because even at its stiffest, the ride quality in the Camry is on the gentle side.
The Camry is front-wheel-drive, but there is an all-wheel-drive option for 2020, which is something to look at if you live in an area with snowy or icy winters. Another new option for 2020 models is the TRD trim, which combines the more powerful V6 engine with bigger brakes, an even sportier suspension, and even a rear wing.
Elana's take:
The four-cylinder engine is certainly better than the one in the previous-generation car, but it's no powerhouse. If you're looking for stoplight getaways, upgrade to the V6. That said, the smaller engine is plenty for most driving needs. For the most comfortable cruise, look for the LE and XLE trims to get a softer suspension.
What else should I consider?
The 2018 Honda Accord is the 2018 Camry's most appealing competitor. The Accord is comfortable, quiet, and rewarding to drive. It balances handling capability with everyday comfort very well. It doesn't offer a V6 engine like the Camry, but it does have a more powerful turbocharged engine upgrade that's comparable.
One of the sportier options in the midsize sedan segment is the Kia Stinger. Introduced in 2018, the Stinger is available in several trim levels; our favorite is the GT with the optional V6 engine. You'll pay a premium for the Stinger compared to the Camry, but the Kia's top-notch interior, excellent driving dynamics, and user-friendly tech interface make it feel as if it's worth the added cost. If you want something that's more entertaining than the Camry, we think it's worth a closer look.
Finally, we'd recommend checking out the third generation Mazda 6, which also had some major revisions starting in 2018. The 6 looks sleek and attractive on the outside and upscale on the inside. Mazda has been making its cars feel more and more luxurious the past few years, and it shows in the 6. High-end interior materials, lots of high-tech driver assistance options, and impressive build quality really stand out in the Mazda.
Elana's take:
The Camry is more modern and competitive than ever, but it's in a packed class with high-class rivals. The Accord, the Stinger, and the Mazda 6 all prove that an everyday sedan can feel like a luxury car without paying luxury money.
If I decide on a Camry, which one should I buy?
All Camrys are spacious, fuel-efficient, and easy to drive. If you want the best overall balance of performance and comfort, we recommend taking a look at the SE or XSE trim level. The SE and XSE are similar except that the XSE comes with more standard features and offers the optional V6 engine.
Elana's take:
I like the SE and XSE but ultimately there's no wrong choice when it comes to a trim level. Just keep an eye on option packages to make sure you get all the drive assistance and infotainment technology you're hoping for. I'd recommend getting a Camry with blind-spot monitoring, heated seats, and the nicer leather interior.
Elana Scherr comes to car review with more than 10 years of experience in new, used, and classic car culture. As Editor-at-Large for Edmunds, Scherr reviews everything from performance cars to family SUVs and she's always on the hunt for a bargain, and an excuse to get out and drive.