Ask the Expert: Best Midsize Sedans
---
PUBLISHED FRIDAY, OCTOBER 8, 2021

BY EDMUNDS EDITORS
Which midsize sedan is right for you?
With thousands of vehicles in our inventory, we're here to help make car research easier for you. We've partnered with car-review experts from Edmunds to weigh in on what matters most when you're looking to buy a car.
***
Has your compact sedan become a bit too small for your needs? Wishing the back seats were larger for loading in those bulky car seats? Well, an SUV isn't the only solution. Despite a big shift toward SUVs in the automotive world, there are several excellent midsize sedans that offer comfortable interiors and lots of space for luggage in the trunk.
In this article we'll go over our favorite midsize sedans and help you decide which one will be best for you. Edmunds' Travis Langness brings his experience with the full landscape of midsize sedans, complete with personal driving impressions.
Vehicles Reviewed
Honda Accord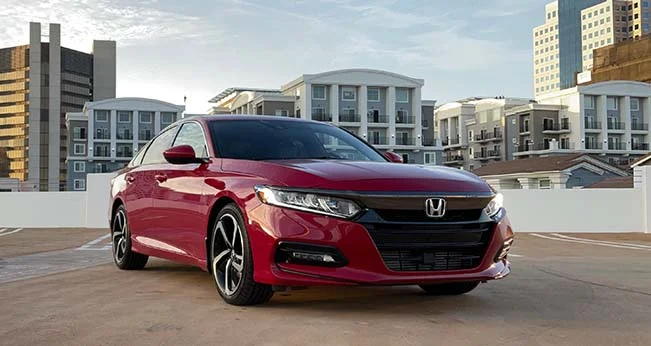 The latest generation Accord debuted for the 2018 model year and is a great choice for a midsize sedan. Highlights include a comfortable interior, a spacious trunk, and an enjoyable-to-drive demeanor.
Honda Accord trim levels and engines
The 2020 Accord is available in five trim levels: LX, Sport, EX, EX-L, and Touring. The base LX is reasonably equipped with items such as dual-zone automatic climate control and a 7-inch touchscreen infotainment system, as well as advanced driver aids such as traffic-adaptive cruise control and forward collision warning with automatic emergency braking. The Sport trim level adds a power-adjustable driver's seat and an 8-inch infotainment touchscreen, while the EX includes features such as a sunroof and heated front seats. Find an Accord EX-L or Touring and you'll get leather upholstery and a premium sound system, among other upgrades.
There are two engines available on the Accord. A turbocharged 1.5-liter four-cylinder is standard on everything but the top Touring trim. It makes 192 horsepower and is paired to a continuously variable automatic transmission (CVT). For a bit more power, there's the turbocharged 2.0-liter four-cylinder engine. It's optional on the Sport and EX-L and standard on the Touring. It makes 252 hp and comes with a 10-speed automatic transmission.
EPA fuel economy estimates for a 2020 Accord range from a high of 33 mpg combined for models with the 1.5-liter engine down to 26 mpg for the Accord Sport or Touring with the 2.0-liter engine.
Honda Accord interior and driving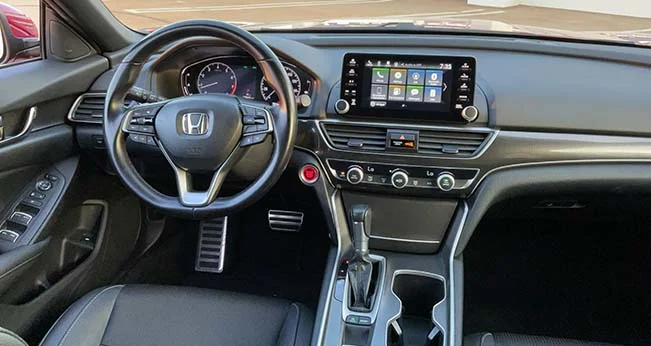 A roomy and upscale cabin is one of the Accord's strengths. The design is attractive and features a lot of soft-touch materials, along with plenty of storage for small items such as smartphones and water bottles. The car's low-profile roof means that taller passengers will have to duck a bit getting in and out, but once inside, there's expansive room for adults in both the front and back seats.
Out on the road, the Accord continues to impress. The base 1.5-liter engine is average when it comes acceleration, but the optional 2.0-liter engine gives the Accord some serious punch. Handling and steering are sportier than you might expect in a midsize sedan, yet the Accord remains a competent and enjoyable daily driver. There are a few minor drawbacks, such as a noisy cabin at highway speeds and advanced driver aids that are a bit too sensitive for our liking, but overall the Accord is a great pick.
Top reasons to get an Accord
Impressive powertrain choices

Fun to drive and comfortable

Spacious, well-built cabin
Travis' take: The Accord is the best all-arounder in the segment. It looks sharp, it drives well, and it's comfortable. I'd skip the base LX trim and go straight for the Sport with the optional 2.0-liter engine. On the 2020 model, it gives you some extra power, equipment such as Apple CarPlay® and Android Auto™ smartphone connectivity, and the bigger 8-inch touchscreen. If you're in the market for a midsize sedan, don't pass up the chance to test-drive an Accord.
Mazda6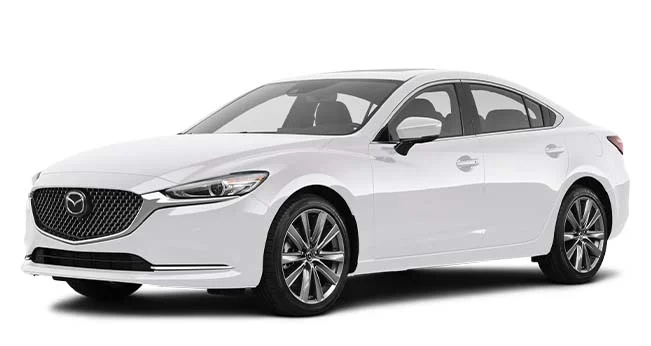 The Mazda6 is a favorite of ours, not just for its stylish looks but for its impressive quality as well. The Mazda6 received its last redesign in 2014, which makes it the oldest sedan on our list. But thanks to a number of updates over the years, it remains a competitive pick.
Mazda6 trim levels and engines
The 2020 Mazda6 comes in five trim levels: Sport, Touring, Grand Touring, Grand Touring Reserve, and Signature. Even the base Sport gets you an impressive list of standard features such as LED headlights, an 8-inch touchscreen infotainment interface, and driver aids including lane-keeping assist, forward collision warning with automatic emergency braking, blind-spot monitoring, and adaptive cruise control. As you work your way up the trim levels, you'll find Apple CarPlay and Android Auto smartphone integration on the Touring and above and luxury-like features such as ventilated front seats and a surround-view parking camera system on the top Signature. 
The base engine is a 2.5-liter four-cylinder that produces 187 hp, while the upgraded engine is a turbocharged 2.5-liter four-cylinder that makes 227 hp. Both engines are paired with a six-speed transmission, and both are respectable in terms of straight-line acceleration and passing power on the highway. However, there is a drop in EPA-estimated fuel economy on the 2020 Mazda6 when you move from the 2.5-liter engine (29 mpg combined) to the 2.5-liter turbocharged engine (26 mpg combined).
Mazda6 interior and driving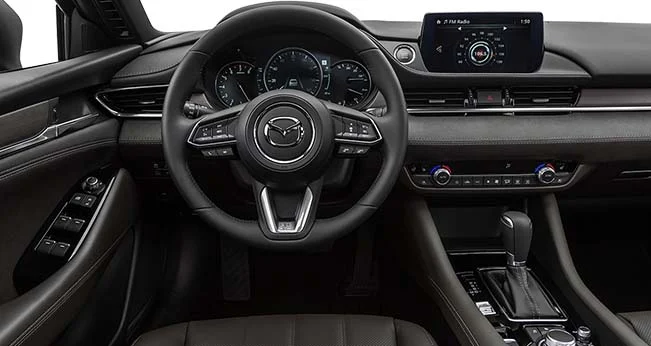 The Mazda6's interior boasts high-quality materials and a sleek design. The gauges and dials look like they belong in a luxury sedan, especially on higher trim levels. The standard 8-inch infotainment screen offers an easy-to-use interface with a center console-mounted rotary controller and crisp graphics, adding to the luxury feel. Small-item storage and overall cargo space are a bit behind class leaders, but we've still found them to be acceptable during Edmunds' testing.
Take a test drive and you'll find the Mazda6 gives you a great combination of sharp handling and pleasing power. The turbocharged engine, in particular, gives the Mazda6 quick acceleration, which is great for highway on-ramps and passing. Well-padded seats and a comfortable ride are simply icing on the cake at this point.
Top reasons to get a Mazda6
High-end materials used in cabin construction

Sleek exterior design

Sporty driving dynamics
Travis' take: Not everyone is going to need the high-end Signature or Grand Touring Reserve trim, and that's fine. But if you're looking for the borderline-luxury experience that we've come to expect from late-model Mazdas, I'd say go for the Touring or Grand Touring trim. Oh, and if you're the kind of driver to go for a spin on a winding mountain road just for fun, get the optional turbocharged engine—it's a perfect match for the Mazda6's sporty character.
Hyundai Sonata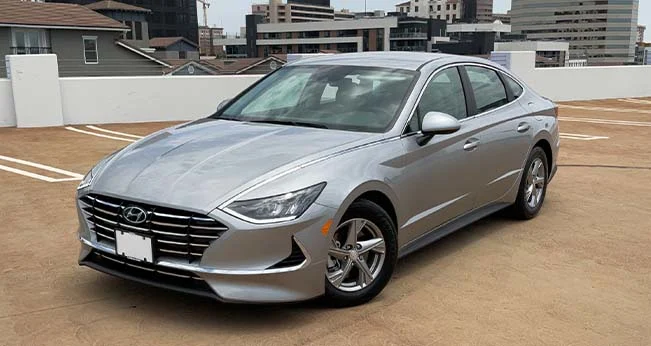 Redesigned in 2020, the Hyundai Sonata has a sleek new look, a long list of high-tech features to choose from, and lots of cargo space. These qualities help it make our list of best midsize sedans.
Hyundai Sonata trim levels and engines
The 2020 Sonata is available in four different trim levels: SE, SEL, SEL Plus, and Limited. The base SE has a few more standard features than you'd expect in the class, as it includes Apple CarPlay and Android Auto smartphone integration and driver aids such as adaptive cruise control, lane-centering assist, and forward collision warning with automatic emergency braking. On higher trim levels, Hyundai adds even more tech, such as a big 10.25-inch center screen (available on the SEL Plus with the Technology package) and a head-up display (on the top Limited trim). 
The Sonata has two available engines, though they're not appreciably different as they are in the Accord and Mazda6. The first is a 2.5-liter four-cylinder producing 191 hp. The second is a turbocharged 1.6-liter engine with 180 hp. The horsepower difference between these engines is pretty small, but the turbocharged engine does feel slightly better to drive. EPA estimates for the 2020 Hyundai Sonata with the 2.5-liter tops out at 32 mpg combined, and the 1.6-liter engine gets 31 mpg combined—so there isn't much of a fuel economy advantage to either one.
Hyundai Sonata interior and driving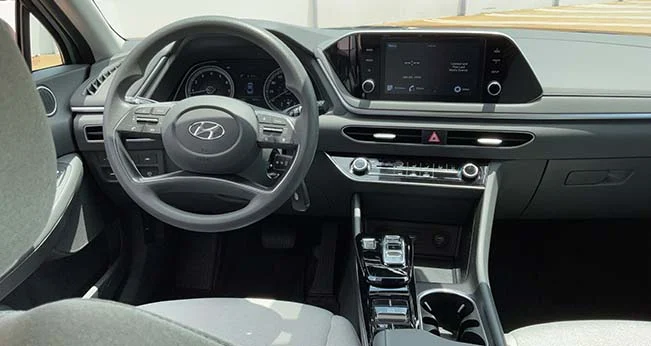 The Sonata boasts a roomy interior with comfortable seats and enough space for adults in both the front and the back. There's plenty of small-item storage, and cabin construction feels sturdy. Cargo space matches most class leaders, and the standard 8-inch touchscreen is relatively easy to use. We're less fond of the push-button style shifter, which requires more of your attention to use than a traditional gear shift lever.
Power from both engines is adequate. So are steering and handling. Ride quality is a bit on the firm side, but the comfortable seats balance that out a bit. Overall, the Sonata is a great option for buyers who want a lot of value in their midsize sedan but who aren't concerned with having the sharpest-driving sedan out there. 
Top reasons to get a Sonata
Lots of standard features for the money

Impressive cargo space

Roomy interior with impressive in-cabin tech
Travis' take: If you want a feature-packed ride with lots of space in the trunk, go with the Sonata. Sure, it's not really entertaining to drive, but it doesn't lose points in that department either. It's totally competent in the city and on the highway, and it's spacious enough to transport adults in all the major seating positions. It's one of our favorites, not because it excels at any particular task but because it offers a well-put-together overall package. As for trim levels, I'd go with the SEL since it offers the best mix of features for the price.
Kia Stinger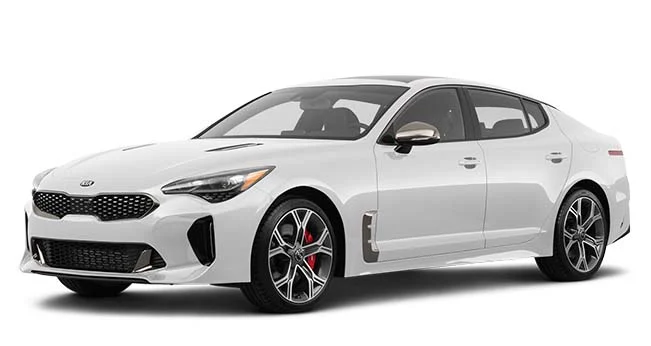 The Honda Accord and Mazda6 are fun to drive, sure. But what if you want a bona-fide sport sedan? Check out the Kia Stinger. This is a sleek-looking sedan that came out for the 2018 model year. It's got powerful turbocharged engines and responsive handling. It also has an upscale-looking interior and a hatchback cargo area for added versatility.
Kia Stinger trim levels and engines
The 2020 Kia Stinger comes with a choice of two engines and four trim levels. The trim levels are as follows: GT-Line, GT, GT1, and GT2. The GT-Line gets the base engine, a turbocharged 2.0-liter four-cylinder engine with 255 hp. That matches or beats most optional engines in the class. The GT, GT1, and GT2 trims use a turbocharged 3.3-liter V6 that puts out 365 hp. The drawback of such high horsepower numbers are low fuel economy estimates from the EPA. The EPA gives the 2020 Stinger a best estimate of 25 mpg with the four-cylinder engine or 20 mpg with the V6.
Kia Stinger interior and driving
The Stinger's hatchback-style trunk makes it easy to load luggage or other bulky items. Passenger room is adequate, though rear headroom is a bit short of what you can get from other midsize sedans. The interior of the Stinger is impressively built with pleasing-to-the-touch materials. The infotainment interface is straightforward and easy to learn, and Apple CarPlay and Android Auto come standard. Unlike many of the class competitors, however, the Stinger doesn't come with many standard driver aids. You'll need to look for the GT1 or GT2 trim for features such as lane-keeping assist and forward collision mitigation.
Whether you go with the base 2.0-liter engine (255 hp) or the optional 3.3-liter V6 (365 hp), the Stinger's has more than enough power to be entertaining. Acceleration is especially quick with the V6, even rivaling some luxury sedans in the class. The Stinger also provides sporty handling through corners, though there is a bit more body roll than we'd like. Steering is immediately responsive. There's also the added benefit of optional all-wheel drive for shoppers who live in climates with inclement weather.
Top reasons to get a Stinger
Powerful base and optional engines

Exciting and engaging driving experience

Luxurious cabin appointments
Travis' take: Sure, it's a bit more expensive than an equivalent model year of something like an Accord or Sonata. But the high-quality interior, the excellent driving dynamics, and the sleek looks all combine to make one of my favorite cars in the class. If the high-performance Stinger isn't exactly your style, you might also want to look for a Kia K5, but it was just introduced in 2021, so used models will be hard to find.
Toyota Camry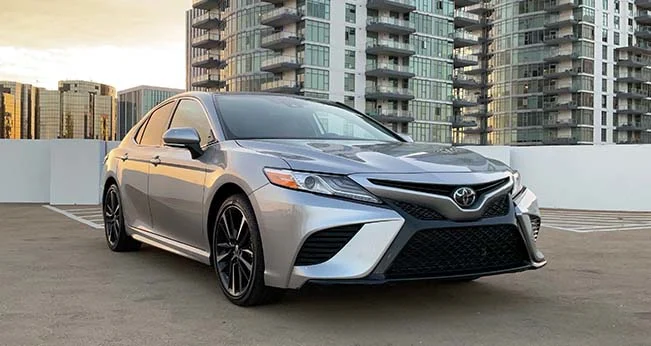 The Toyota Camry is practical, spacious, well built, and easy to drive. The latest generation debuted for the 2018 model year. If you're looking for a no-nonsense midsize sedan, the Camry should top your list.
Toyota Camry trim levels and engines
The 2020 Camry comes in six trim levels: L, LE, SE, XSE, XLE, and TRD. The base L trim level is relatively basic in terms of cabin quality, but the LE and SE trim levels step things up. The XSE and XLE trim levels add more luxury-like features such as leather upholstery and a premium audio system. The TRD trim comes with some performance upgrades and a more aggressive exterior look.
There are two engines offered for the Camry: a 2.5-liter four-cylinder that makes 203 hp (205 hp in the XSE) and a 3.5-liter V6 with 301 hp. The V6 is optional for the XSE and XLE and standard on the TRD. Base trim levels of the 2020 Camry with the 2.5-liter engine get an impressive EPA fuel economy estimate of 34 mpg combined. However, as you move up the trim levels, efficiency drops a bit. For example, front-wheel-drive versions of the 2020 Camry in XLE and XSE trims get an EPA estimate of 31 mpg combined. All-wheel drive is also available on models with the four-cylinder, decreasing fuel economy estimates by about 1 mpg. V6 models, which come with front-wheel drive only, drop to either 25 or 26 mpg combined.
Toyota Camry interior and driving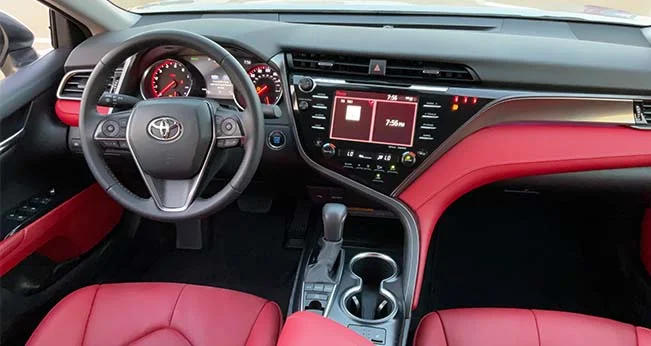 In stark contrast to the cabins of the Mazda6 and Kia Stinger, the Camry's interior is more pedestrian. Sure, upper trim levels use relatively nice materials, and cabin construction is solid, but nothing feels particularly plush. However, the spacious seating, excellent outward visibility, and large trunk all make for a particularly practical sedan. While we weren't fans of Toyota's native infotainment interface (called Entune) in earlier models, the 2020 Camry received some updates that made it easier to use. The Camry already had Apple CarPlay smartphone integration in place, but for 2020 it added Android Auto connectivity as standard too. Also, the driver aids such as forward collision warning and blind-spot monitoring are a bit oversensitive. When it comes to tech, the Camry isn't a top choice.
Before shopping for Camrys, keep in mind that L, LE, and XLE trim levels will be a bit more comfortable on the highway. SE, XSE, and TRD trim levels use stiffer suspension setups that are a bit stiffer. They'll make driving along a curvy road a bit more enjoyable, but more small bumps and road imperfections will make their way into the cabin. We wouldn't exactly call the Camry sporty, but the SE, XSE, and TRD are a good place to start if you enjoy driving on curvy roads. There's a significant difference in fuel economy, so frugal shoppers should definitely look for the more common four-cylinder engine, but the V6 feels like a better match for the Camry's aggressive exterior looks.
Top reasons to get a Camry
Appealing fuel economy from four-cylinder engine

Lots of interior space

Large trunk
Travis' take: Sure, the SE, XSE, and TRD are a bit more fun than the standard Camry, but that's not what I'd be interested in a Camry for. The spacious cabin and the easy-to-drive nature—that's where it's at. So for me, I'd opt for the LE or XLE trim level. And if you're an Android Auto user, look for models that are 2020 or newer—before that, the Camry only had Apple CarPlay.
Conclusion
So many excellent SUVs have been introduced over the last few years that it might be easy to overlook midsize sedans, but we're big fans. They offer practicality, they're fun-to-drive, and they have all the modern tech you're looking for. Whether you're looking for a sporty four-door or something that simply gets you from point A to point B in comfort, there's a solid choice out there for you.
Travis Langness is an automotive reviews editor for Edmunds.com. As a lifelong car-and-truck enthusiast, Travis has a deep passion for cars. Through instrumented testing, off-roading, epic road trips, and local commuting, the Edmunds team tests and writes about new and used vehicles to help car shoppers make informed decisions.