1. Available four-wheel drive
The 2021 Chevrolet Colorado is available with rear-wheel or four-wheel drive. If you frequently find yourself driving off-road or spend a good portion of the year dealing with challenging weather, then four-wheel drive will make easier work of the job. It provides a better grip on wet and icy roads and improves handling on muddy, unpaved surfaces.
2. Engine options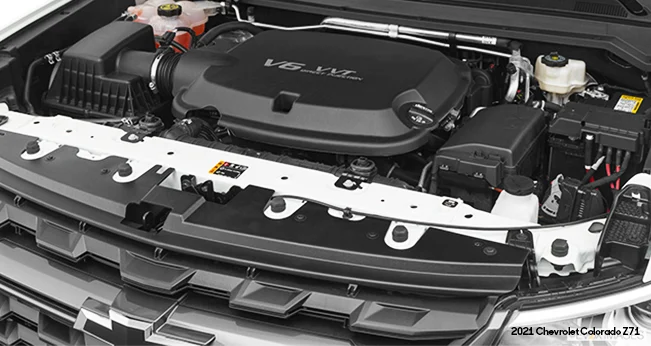 The available 3.6L V6 engine on the 2021 Chevrolet Colorado increases horsepower and torque for better performance whether you're accelerating up to highway speeds or towing a heavy load (estimated capacity: 7,000 lbs, when properly equipped).
There's also a 2.8L four-cylinder diesel engine, which boasts the highest torque of the three engine options. It can tow an estimated 7,700 lbs when properly equipped, which is a big deal if you need something that will haul a camper, boat, or trailer.
The 2.8L four-cylinder diesel engine makes getting up to speed with a heavy load easier, which is especially important merging into heavy highway traffic.
3. High tow rating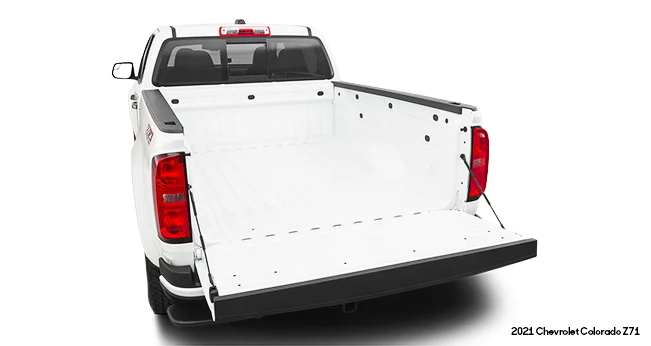 The 2021 Chevrolet Colorado with the diesel engine has an impressive estimated tow rating of up to 7,700 lbs, when properly equipped.
Whether you're planning a weekend getaway with a pop-up camper, heading out for some winter fun with a snowmobile, or hauling supplies to a jobsite, the Colorado is up to the task. And with 17 tiedown points and a bevy of accessories available, you can customize your Colorado exactly the way you want it.
4. Easy-to-use infotainment system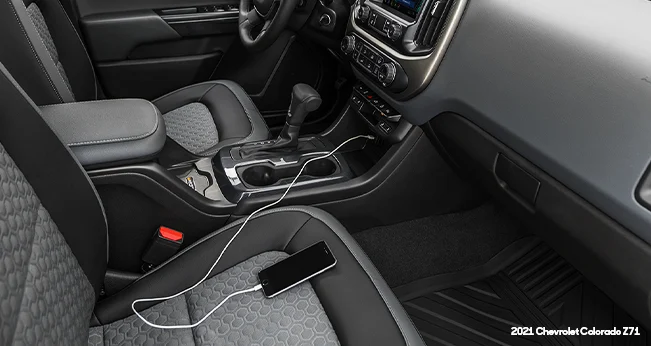 Infotainment in the 2021 Chevrolet Colorado includes key smartphone connectivity with both Apple CarPlay and Android Auto, with available navigation. There's also available 4G LTE Wi-Fi hotspot capability, Bluetooth® audio streaming, and a selection of in-vehicle apps.
The best part, however, is the infotainment system's ease of use that won't frustrate or distract the driver.
5. Smooth ride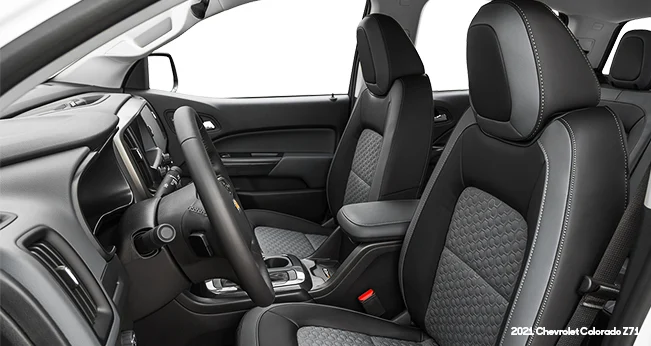 Not every truck offers a ride that lets passengers get comfortable, but the 2021 Chevy Colorado does just that. It has a welcoming and relaxing interior with plenty of room for front and rear passengers. The rear seats fit three adults and there's enough space that a couple of kids won't end up arguing about keeping to their own side and not crossing that imaginary dividing line in the middle.