5 reasons to buy the 2018 Chrysler Pacifica
1. Stow 'n Go® seating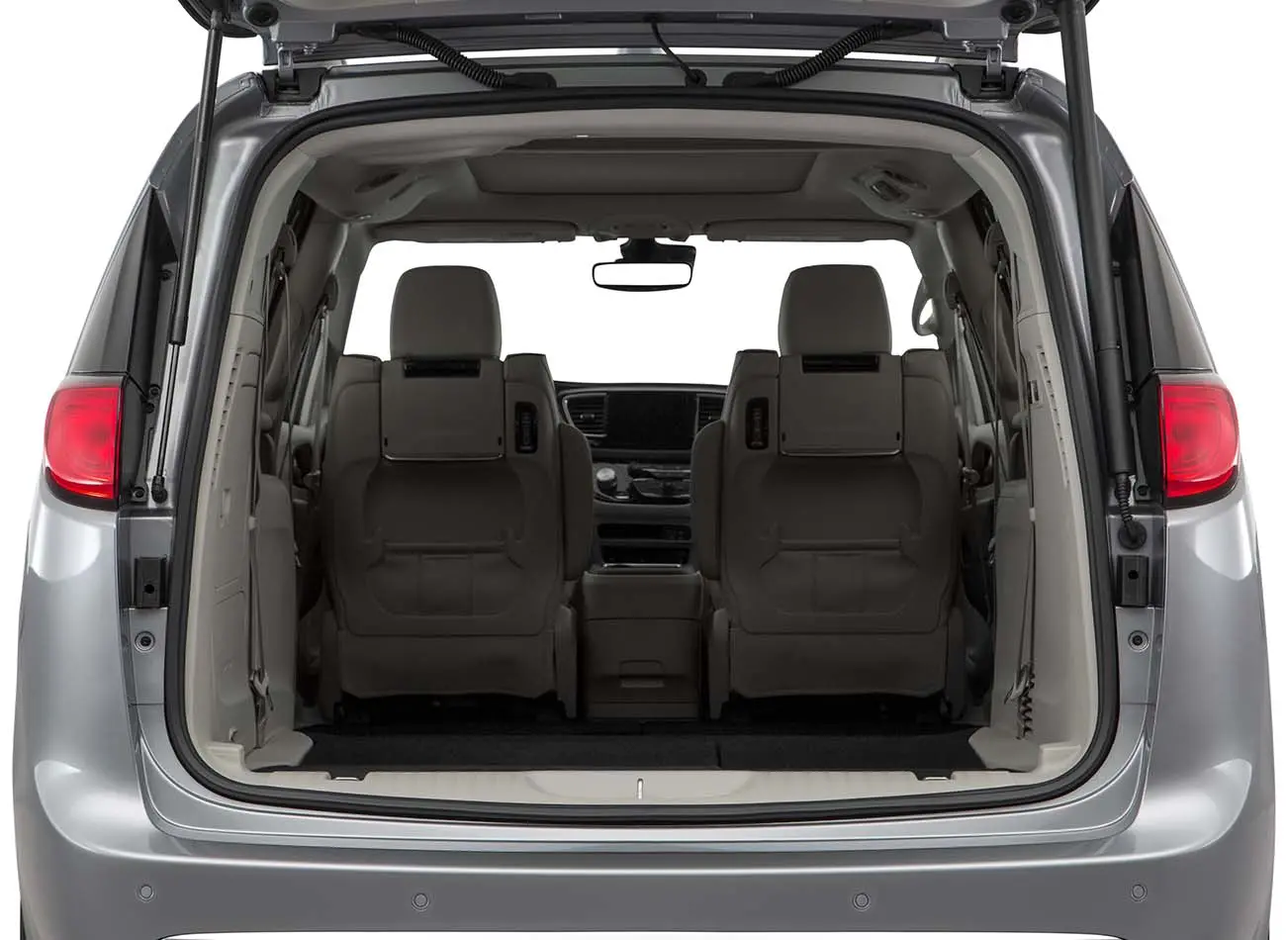 Versatile seating doesn't get much better than this. Chrysler's exclusive Stow 'n Go rear row seating is invaluable; especially when your daily planner is filled with little league game days, garage decluttering, and those never-ending household errands. With seating that stows away directly into underfloor bins, you've got fast and easy access to the extra storage space you need.
2. A hybrid powertrain option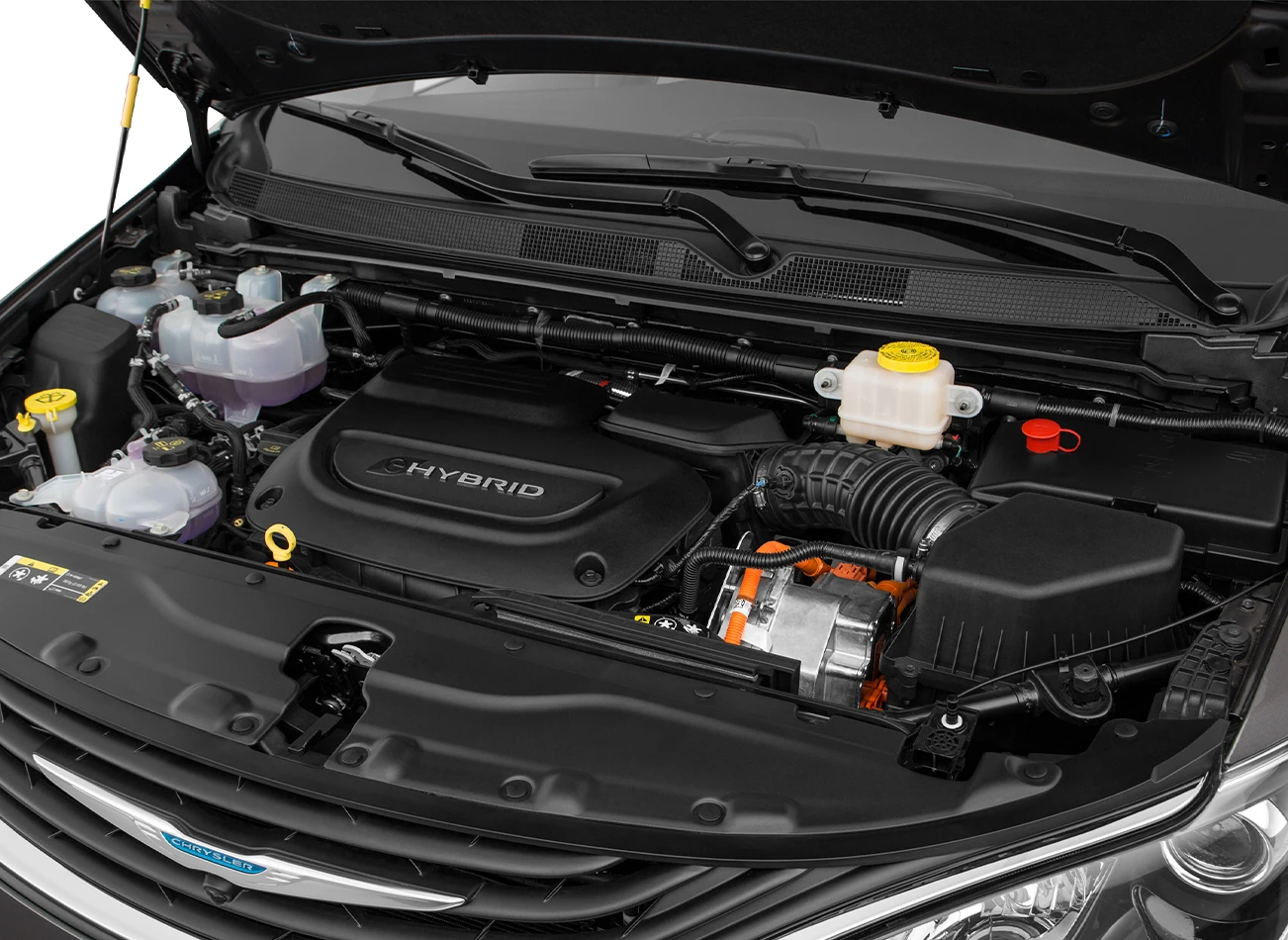 With so many minivan journeys made relatively close to home each day, a hybrid powertrain that delivers electric-only miles makes a lot of sense. The 2018 seven-seat Pacifica Hybrid is powered by a 3.6L V6 gas engine, dual electric motors, and a 16-kWh onboard battery.
If your daily driving only includes short commutes, perhaps the school run and then onto work or errands nearby, the Hybrid Pacifica, with its EPA-estimated 33 miles of all-electric driving range (on a full charge), could mean visits to the gas station are a rare novelty.
3. A passenger pleasing package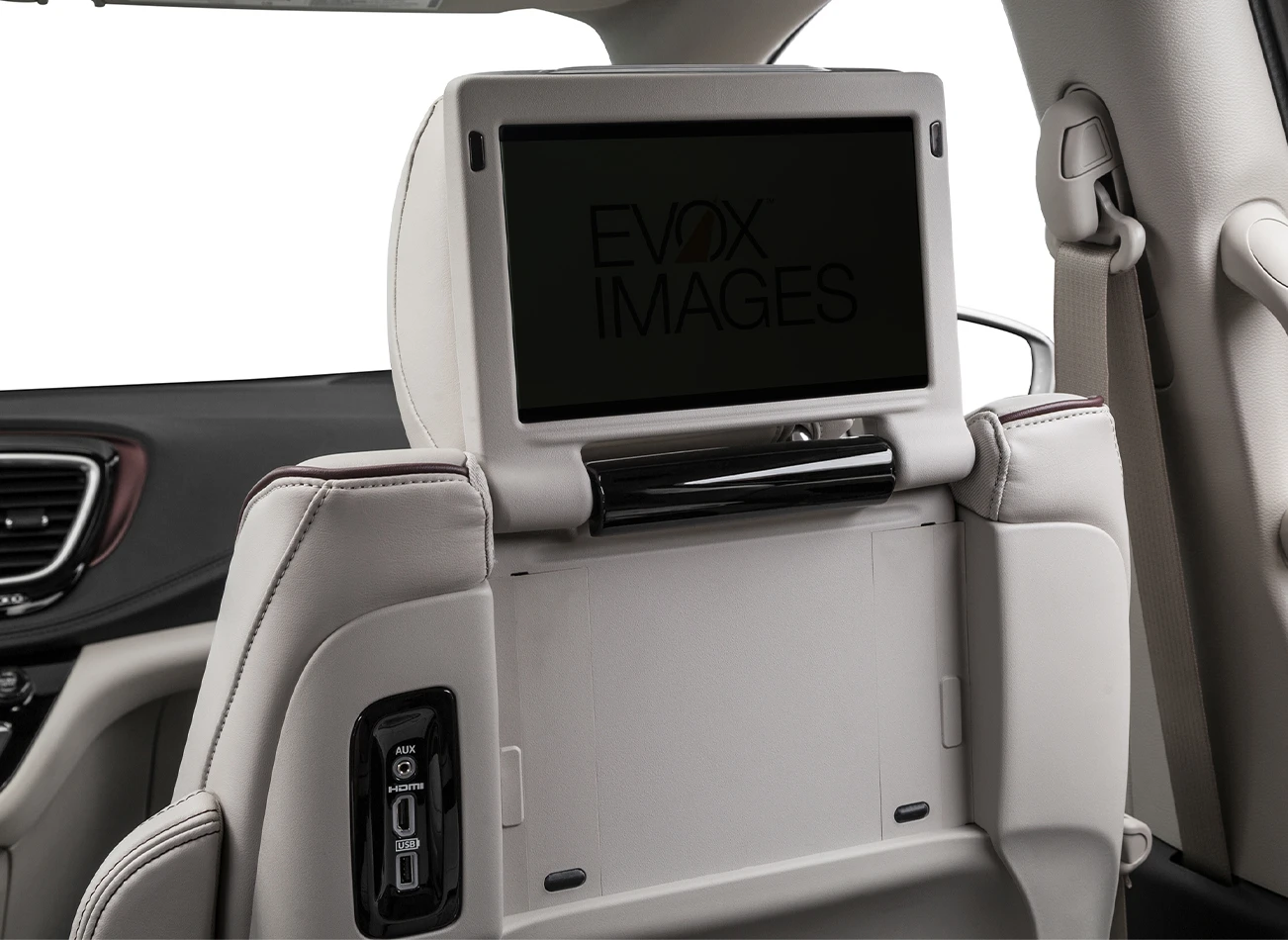 If you'd like to treat yourself or your family to something extra special, why not pick a Pacifica that's fitted out with an entertainment package. For movie-mad youngsters and grandparents that love the classics, the Touring-L Plus and Hybrid Limited trims are equipped with a Uconnect® theater package. It includes two 10-inch seatback touchscreens, wireless headphones, video remote control, and a Blu-ray®/DVD player. Your driver duties just got easier (and quieter).
4. Easy in, easy out doors
Weekday mornings can be the most hectic time of day for big families with young children. From the Touring Plus trim upwards, the Pacifica (and Pacifica Hybrid) is equipped with power-sliding rear doors. These help ensure parents and guardians have got plenty of space around them to install child seats, settle infants, and attend to little ones. These repetitive daily actions are so much easier when you're not bending, reaching, or crouching, to achieve family harmony.
5. Useful driver-assistance features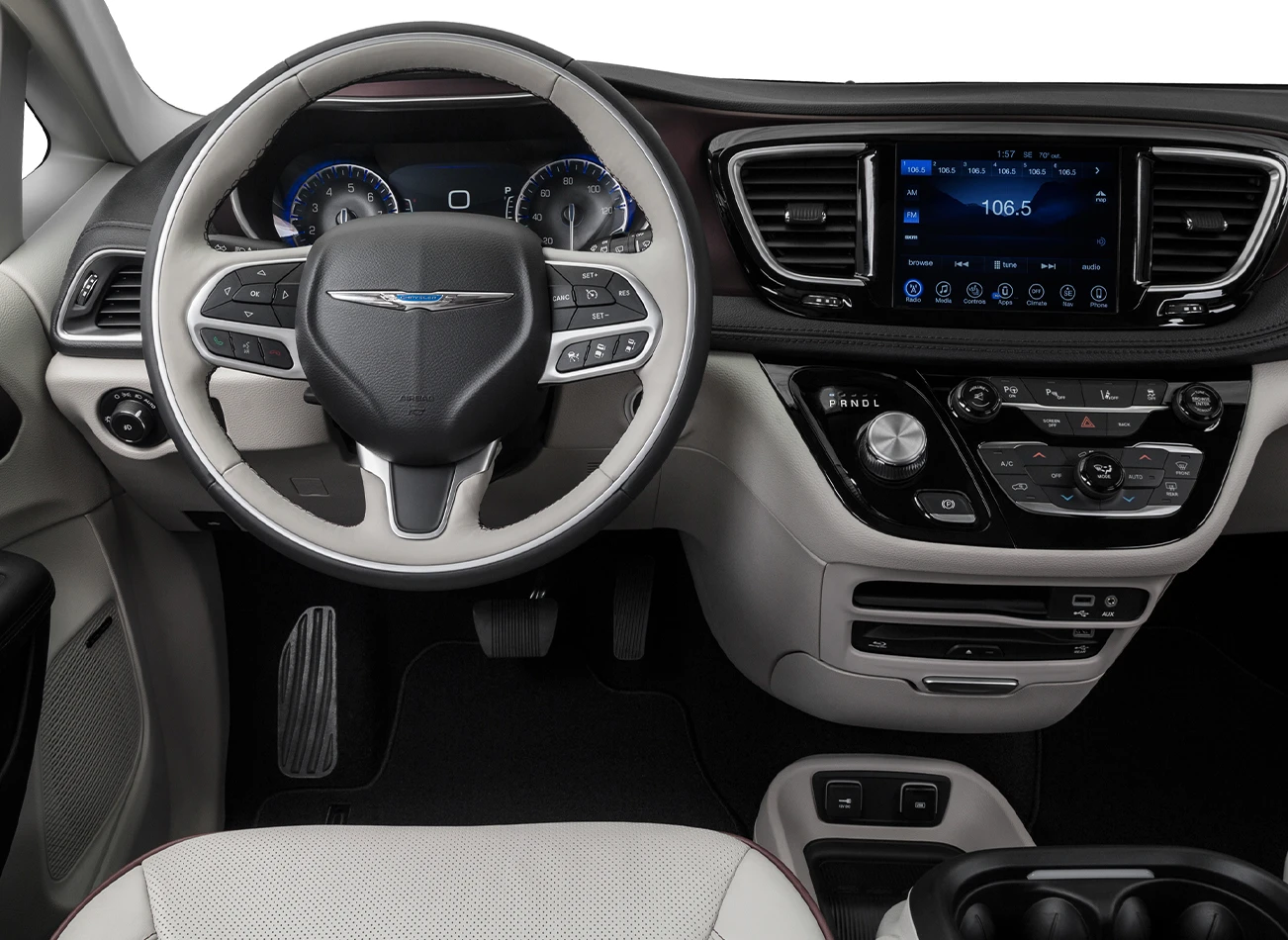 The Pacifica has a bumper roster of driver assistance features, many of which are standard, no matter the trim or powertrain. But it's in the everyday maneuvers where these features really show their value. If you find yourself constantly pulling into, and out of parking lots, then you'll appreciate the audible chimes of the Pacifica's ParkSense® Rear Park Assist sensors, alerting you to close up obstructions.
RepairPal gave the Chrysler Pacifica an overall reliability rating of 4.5 out of 5 stars, which RepairPal describes as Excellent. This rating ranks Chrysler Pacifica 1st out of 15 among Minivans.
Color options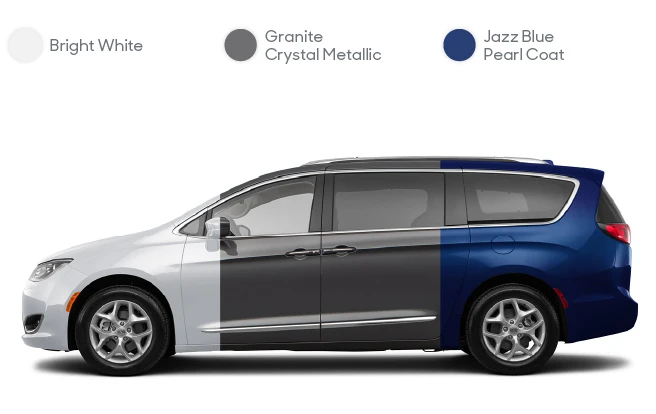 Exterior colors:
Interior colors:
Alloy

Alloy/Toffee

Black

Deep Mocha

Toffee
Interior details
The 2018 Pacifica's spacious interior makes a big impact, with plenty of versatility across the rear rows and cargo area. Premium cloth and leather upholstery are offered in deep muted shades that suit the thrills (and spills) of family life.
The Pacifica and Pacifica Hybrid boast third-row Stow 'n Go seats that conveniently fold down into the cargo floor bins, an ideal solution for groups that like to spread out or travel with lots of luggage. The non-hybrid Pacifica also has second-row outboard Stow 'n Go seats. Should you need it, you've got up to 140.5 cu-ft of cargo space behind the front row. Small-item storage and cup holders are plentiful, including floor bins and a lockable glove box.
Child seat details
The 2018 seven-seat Pacifica has four full sets of LATCH restraints (upper tether and lower anchors), two in the second row, and two in the third row. The eight-seat models raise that to five, with the additional second-row middle seat adding another set of LATCH points.
The Pacifica's third row can seat three passengers, however, the position of the lower LATCH restraints means it can only accommodate two child seats. The Pacifica can comfortably fit all types of child seats, with the sliding rear doors making it easier for caregivers to take time with installing seats and getting young ones settled.
Performance
The 2018 Chrysler Pacifica has one engine option, a 287-hp 3.6L V6 paired with a nine-speed automatic transmission and standard front-wheel drive. The Pacifica Hybrid takes the same 3.6L V6 engine and pairs it to dual electric motors and a 16-kWh battery pack. When new, a fully-charged Pacifica Hybrid can achieve an EPA-estimated 33 miles of all-electric driving range, before the gas tank kicks in.
The standard gasoline-powered Pacifica with front-wheel drive gets an EPA-estimated 22 mpg combined.
Year comparison
2017–Present Chrysler Pacifica (First Generation)
Launched in 2017, the Chrysler Pacifica heralded a new era for the modern minivan. In 2018, the gas-powertrain models get a new base trim (L) and Apple CarPlay and Android Auto connectivity became standard across all trims.
The 2020 model year saw two big changes. The entry-level Pacifica trims (L, LX) get their own nameplate, the Chrysler Voyager, while all-wheel drive becomes an option on the gas-powered Pacifica for the first time.
A refreshed Pacifica for 2021 has new styling cues for the exterior and interior, while a new range-topping trim (Pinnacle) includes features such as rear-seat entertainment with wireless headphones and an interior camera monitor.