1. Powerful standard engine
The Ford Focus RS is all about power and performance, and that is made abundantly clear in its powerful standard engine for the 2017 model year. This year comes with a turbocharged 2.3-liter, four-cylinder engine at 350 horsepower. You'll also be delighted that this vehicle comes standard with all-wheel drive.
2. Plenty of options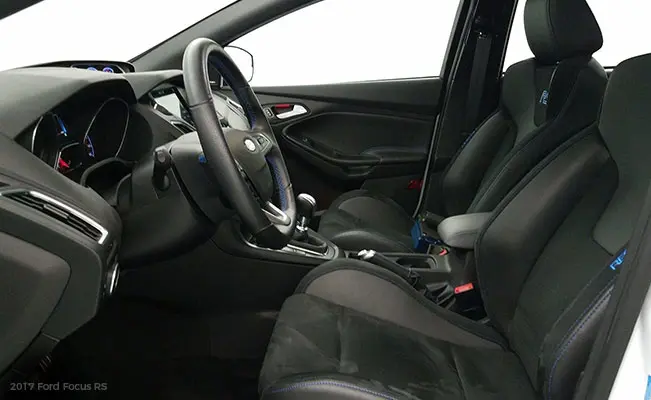 Despite being available in just one trim/configuration, there are plenty of ways to customize your Ford Focus RS with various packages. The 2017 model year offers an RS2 package, which includes a heated steering wheel, heated front seats, and heated side mirrors. It also includes leather upholstery with suede inserts. Another package option is the Winter & Wheel Package, which offers winter tires and larger 18-inch wheels.
3. Generous standard features
Even without any of the add-on packages, the Ford Focus RS comes with some generous standard features. In both the 2016 and 2017 model years alike, standard features include blind-spot mirrors, front Recaro sport seats, 10-speaker sound system, 8-inch touchscreen interface, Bluetooth® connectivity, and smartphone integration. The Ford Focus RS also comes standard with dual-zone automatic climate control, a rearview camera, and push-button start.
4. Stylish and spacious interior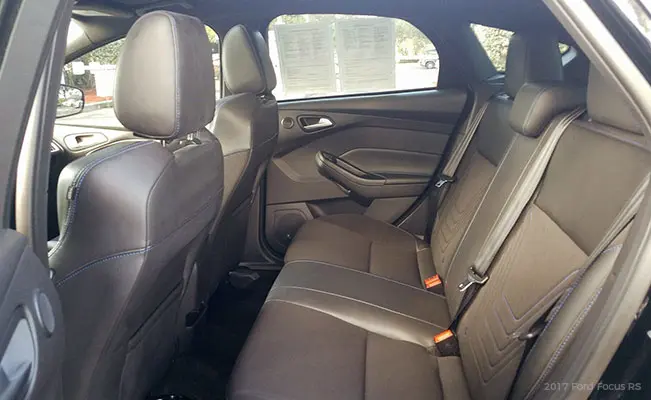 Drivers and passengers will enjoy the well-appointed interior on the Ford Focus RS. Outfitted with soft materials and a stylish design, the Focus RS offers a surprising amount of head and leg room for both front- and back-seat passengers.
5. User-friendly infotainment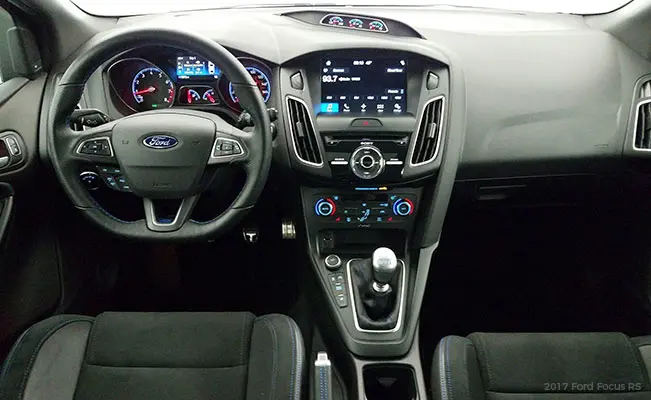 The Ford Focus RS comes standard with the Ford Sync 3 infotainment system, which includes a standard 8-inch touchscreen display with a user-friendly interface that is similar to that of a smartphone. The 2017 Ford Focus RS offers standard smartphone integration for both Android and Apple devices that's easy to use and set up.