1. Mustang track apps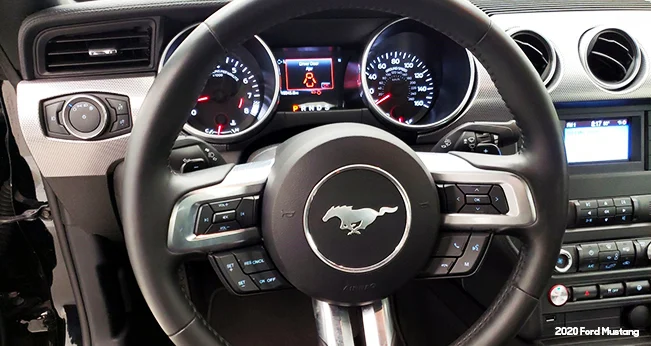 You don't need to rely on extra hardware and third-party apps for your track data anymore. The 2020 Ford Mustang has an available suite of tools to track the crucial times and data you need to lower track times or shave milliseconds off your quarter-mile times. Focus on driving instead of a stopwatch by using the built-in Lap Timer. Measure your quarter-mile speed with the app when you're on the go!
2. Classic muscle car look and feel
Are you looking for a taste of nostalgia while taking advantage of the decades of advancements? The 2020 Ford Mustang is a textbook muscle car. It's available as a two-door, rear-wheel-drive fastback or convertible. A powerful engine up front and smoking wheels at the back is a recipe for fun that is time-proven. While it looks and feels like a throwback, the 2020 Ford Mustang is still a capable and modern road machine.
3. Modern driver assists
While the 2020 Ford Mustang may have kept that classic shape, it has some of the most current available driver assists. Included in the Ford driver-assist package is forward pre-collision braking assist. The package also adds adaptive cruise control, lane-keep assist, rain-sensing wipers, and automatic high beams. Standard on the EcoBoost® Premium and GT Premium is blind-spot monitoring. A rearview camera is standard on all 2020 Ford Mustangs.
4. Exciting power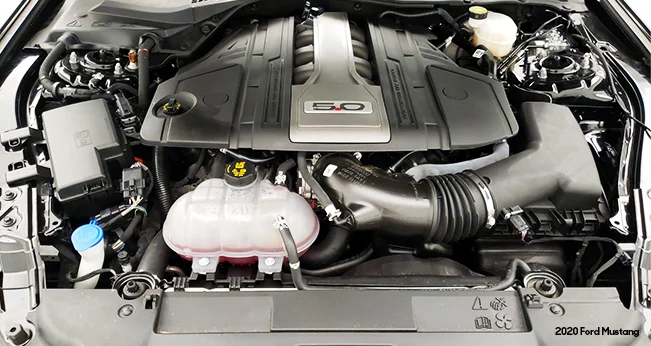 There is an engine for everybody available on the 2020 Ford Mustang. Even the base-model turbocharged 2.3L four-cylinder is no slouch, making an impressive 310 hp. The GT350 and GT500 trim set the pace for performance and hp, featuring a 526-hp and 760-hp 5.0L V8 engine. A six-speed manual is standard on all 2020 Ford Mustangs, except the GT500, in case you're looking for a car that gives you full control.
5. An interior with style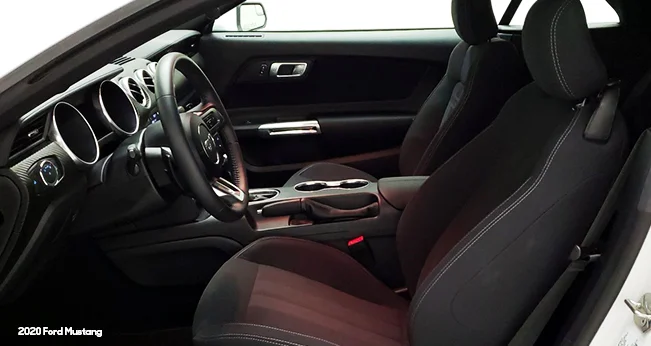 You don't have to know the Mustang style to understand that the 2020 Ford Mustang interior is stylish. There's up to 13.5 cu-ft of trunk space for your stuff. The six-speed manual shifter and control buttons blend modern and vintage design. Large, comfortable front seats feature accent stitching and have a great ergonomic feel. The cabin is filled with impressive sound thanks to an available 12-speaker B&O® sound system.