1. Wide range of engine options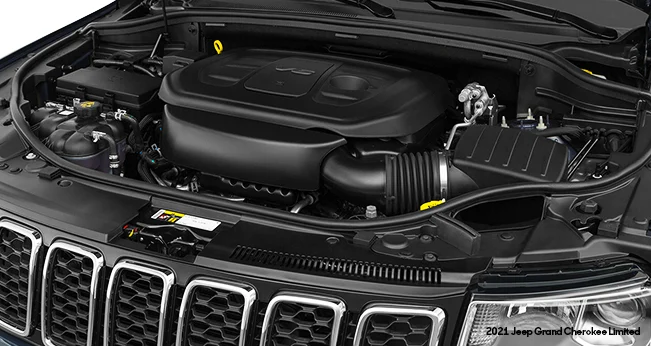 It's great to have multiple engine options when buying a vehicle, and the 2021 Jeep Grand Cherokee provides that flexibility. A 295-horsepower, 3.6L V6 engine comes standard on most trims; a 475-horsepower, 6.4L V8 engine is standard on the SRT trim, and the high-performance turbocharged 707-horsepower, 6.2L V8 is standard on the trim-topping Trackhawk. If you prefer, you can shop for a model with the available 360-horsepower, 5.7L V8 on the Trailhawk, Overland, and Summit trims.
2. Off-road capability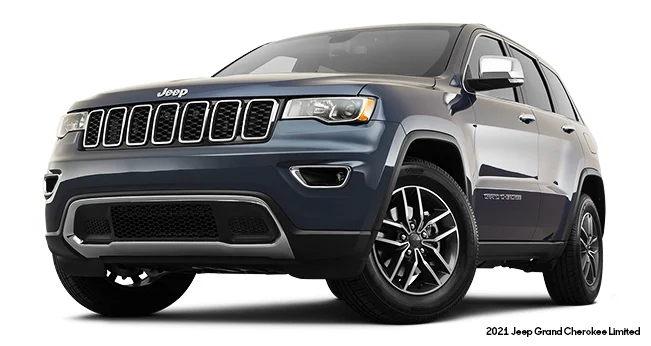 With the 2021 Jeep Grand Cherokee, you'll get a vehicle that's ready for off-road adventures. Four-wheel drive—designed to improve traction on rough terrain—is available on all trims, and standard on the Trackhawk. All trims are configured for ideal maneuverability to conquer a range of obstacles and weather conditions. The Trailhawk trim is specially designed for off-road driving, with the Quadra-Drive® II suspension system that allows you to switch between sand, mud, snow, rock, and auto modes. The system is designed to adjust to the terrain, and it can increase ground clearance up to 10.8 inches.
3. Lots of tech features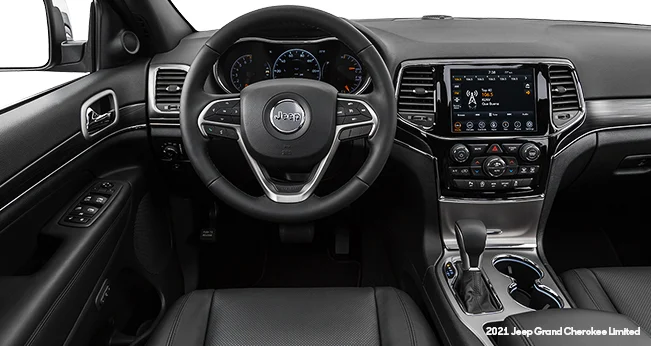 The 2021 Jeep Grand Cherokee is a practical and convenient vehicle that can provide a comfortable and entertaining ride for all your passengers. This well-equipped SUV comes standard with an infotainment system that's compatible with Apple CarPlay and Android Auto, and can be accessed through a seven-inch touchscreen. Navigation, Bluetooth® connectivity, and integrated voice command are also standard. Plus, the Jeep Grand Cherokee is equipped with useful driver-assistance features such as blind-spot monitoring, rear cross-path detection, and rear park assist.
4. Ample room for passengers and storage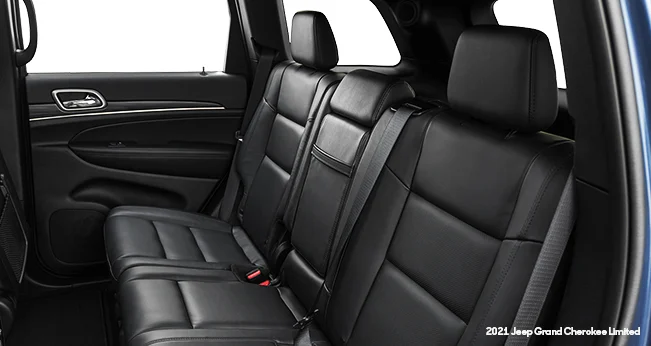 The 2021 Jeep Grand Cherokee offers an abundance of room for passengers as well as cargo. There's 36.3 cubic feet of room for cargo behind the rear seats; when you fold them down, the cargo volume extends to 63 cubic feet. That means you can easily fit a couple of large suitcases or sporting equipment, as well as lots of groceries. The 2021 Jeep Grand Cherokee can seat five passengers comfortably, with a total passenger volume of 105 cubic feet, 40.3 cubic feet of front legroom, and 38.6 cubic feet of legroom in the back.
5. Impressive interior features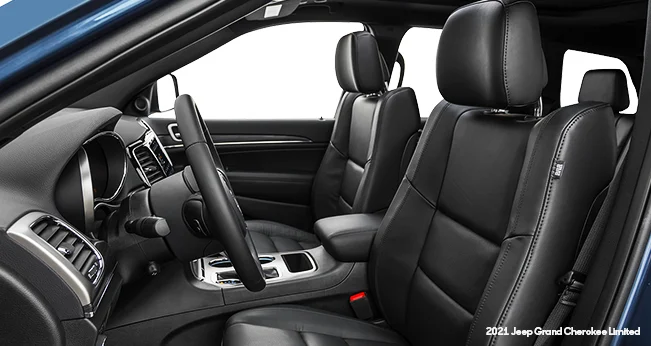 The 2021 Jeep Grand Cherokee boasts an upscale interior, with quality materials and lots of convenience features. The cabin is lined with soft-touch materials and leather details on the dashboard, armrests, and upper door panels. A six-speaker audio system and a seven-inch touchscreen infotainment system are also part of the 2021 Grand Cherokee's standard equipment. Features such as Bluetooth connectivity, satellite radio, and USB ports enhance the riding experience.