1. Strong engine selection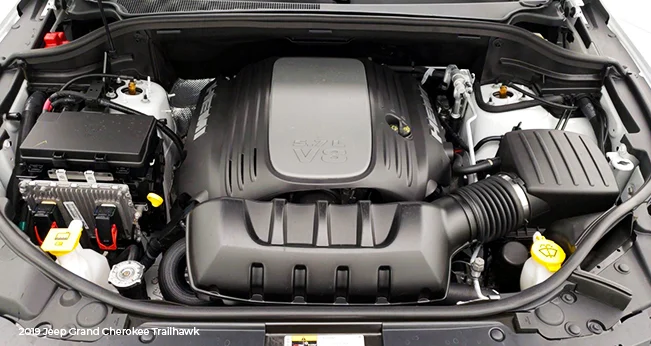 The 2020 Jeep Grand Cherokee has a strong selection of powerplants, including one V6 and three different V8 variants, all ready to meet whatever requirements you might have. The base 3.6L V6 is good for 295 hp and the 5.7L V8 is capable of 360 hp. Both handle a mix of off and on-road driving just fine. Meanwhile, the top two engines—the 6.4L V8 engine punching out 475 hp and the 6.2L supercharged V8 packing an epic 707 hp—are focused on maximum performance, and both deliver it in spades.
2. Lots of pulling power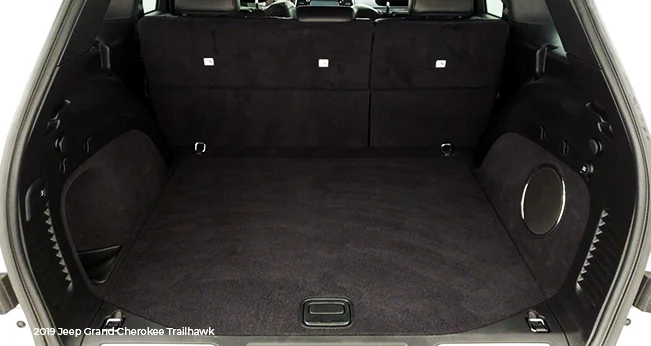 The 2020 Jeep Grand Cherokee has a real ace up its sleeve with its excellent towing capacity. While the top V8 engines available boast high horsepower outputs and performance figures, all engines across the range are good for potent pulling power. The base 3.6L V6 engine is capable of an estimated towing capacity of 3,500 lbs. when properly equipped and the 5.7L V8 engine models are capable of an estimated max towing capacity of 7,200 lbs. when properly equipped.
For those times when you need to haul extra cargo on a trailer or take a caravan with you for a weekend adventure, the 2020 Jeep Grand Cherokee is more than up to the job.
3. Plenty of space inside
For the most part, though, you won't need any extra space in a trailer to store your cargo and luggage for those long trips. The 2020 Jeep Grand Cherokee is full of room for both passengers and luggage. It offers a total of 105 cubic feet of passenger volume across the front two seats and rear bench seat, and in standard configuration, it offers 36.3 cubic feet of luggage volume. Plenty of room for groceries, but what if you need a little extra? No problem, the 2020 Jeep Grand Cherokee features a 60/40-split-folding rear bench seat for maximum convenience, and when fully folded down, luggage volume goes up to 54.7 cubic feet.
4. Off-road ability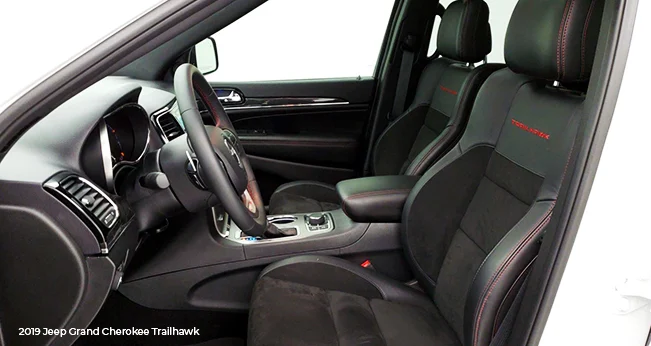 As adept as the 2020 Jeep Grand Cherokee is on the road, it's over rough terrain that it really comes to life. The Trailhawk trim configuration is geared specifically for off-road driving and features standard four-wheel drive with low-range gearing, off-road tires, electronic limited-slip differential, and Quadra-Lift adjustable air suspension. All of these features—and more—help make the 2020 Jeep Grand Cherokee an absolute blast to drive when the going gets tough.
5. Plenty of features inside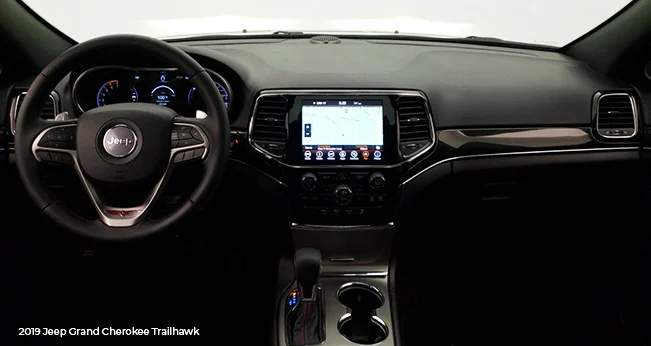 The 2020 Jeep Grand Cherokee's extensive feature list really gives you the maximum value for money, especially when it comes to the interior. On the base Laredo trim, you get dual-zone automatic climate control, rear parking sensors, a seven-inch touchscreen, and a six-speaker sound system with Apple CarPlay and Android Auto support. Just one step up with the Limited trim and you get a powered liftgate, leather seats, heated front seats and steering wheel, and an uprated 8.4-inch touchscreen display. The 2020 Jeep Grand Cherokee has a lot to offer for both driver convenience and comfort, even on the base trim levels.