1. Exciting performance & handling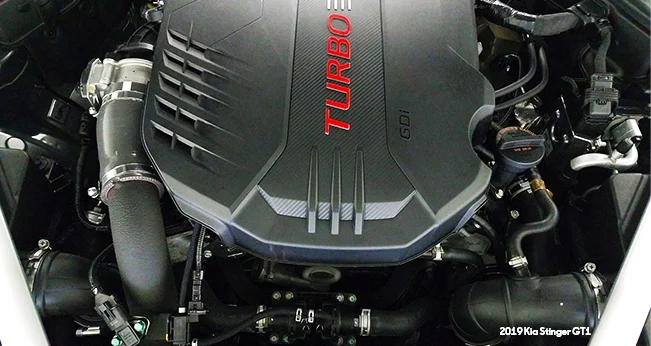 A midsize car sporting the good looks of a sedan, the trunk of a hatchback, and plenty of get up and go gives you the best of both worlds—practical and utilitarian for everyday use while still offering you the performance thrills of more exotic sports cars. With the 2020 Stinger you'll find two engine choices: a 2.0L turbocharged four-cylinder engine producing 255 horsepower and a 3.3L turbocharged V6 outputting an impressive 365 horsepower. Both engines pack the performance needed to put a smile on your face and every trim level comes with either standard rear-wheel drive or available all-wheel drive for even better handling. Be it a daily commute to the office or a longer highway trip, the 2020 Kia Stinger can make any journey a real thrill.
2. Eye-catching style and selection of exterior colors
Matched to its performance edge, the 2020 Kia Stinger sports a very stylish, fastback body that is sure to catch a few eyes as it drives on by. Its looks are as aggressive as they are modern and boast real presence. Helping elevate that bold exterior style is a great selection of available colors, including the gorgeous Micro Blue Pearl, the sleek HiChroma Red, or the bright and eye-catching Federation Orange—new for the 2020 model year. With such exciting styling, the 2020 Kia Stinger isn't just a sleek midsize car; it's a statement of intent.
3. Comfortable, luxurious interior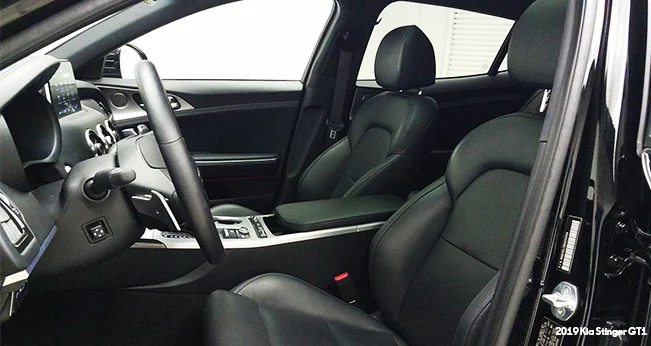 The 2020 Kia Stinger is as attractive on the inside as it is on the outside. The interior is both comfortable and upmarket and includes features such as leather upholstery, a power-adjustable driver seat, and heated front seats, all as standard. With a roomy 95 cubic feet of passenger volume to seat five passengers, you and four others will have plenty of room to stretch out and enjoy the ride. And thanks to additional touches like cup holders for both front and rear seats, the 2020 Kia Stinger provides the sort of luxury that ensures even longer journeys are a pleasure.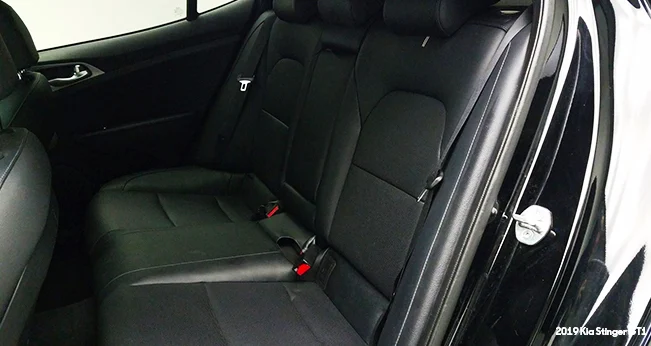 4. Great selection of tech and driver convenience features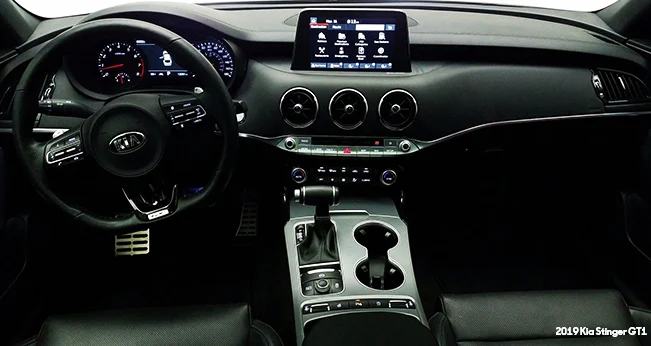 The 2020 Kia Stinger is well-equipped in every sense of the word—especially when it comes to technology. Standard features on base Stinger models include wireless phone charging, dual-zone automatic climate control, Apple CarPlay and Android Auto compatibility, and driver-convenience kit like blind-spot monitoring with rear cross-traffic alert. And on GT1 models and up, extra tech includes forward collision warning, smart cruise control, and lane-keeping assist. Whatever trim you pick up, you won't be lacking for equipment and gadgets aboard the 2020 Kia Stinger.
5. Utility and space in abundance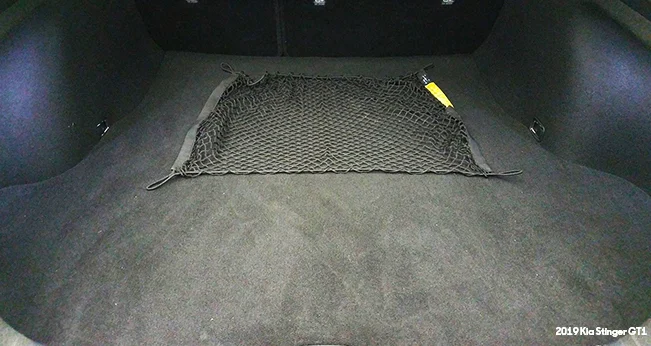 The 2020 Kia Stinger is a midsize car, meaning you expect it to be practical, seat five with room to spare, and have space for your luggage and belongings. Whether you're driving solo, with a passenger, or you're bringing the whole family along for the ride, the 2020 Kia Stinger works hard to meet every one of your expectations. It has impressive cargo volume to match all that passenger space—23.3 cubic feet behind the rear seats—and should you need more, those rear seats fold flat, opening up 40.9 cubic feet of luggage space. Meanwhile, smaller items can be stored in the underfloor storage or the handy overhead sunglasses holders. No need to worry about sacrificing practicality for sportiness—the 2020 Kia Stinger can handle both with ease.