1. Driver convenience features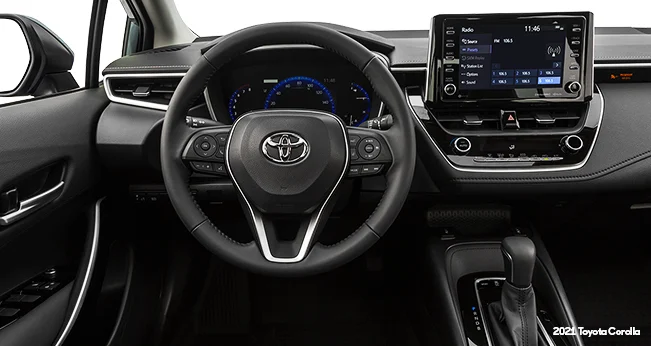 For peace of mind and ease of use, the 2021 Toyota Corolla has you covered. Standard driver convenience features include forward collision mitigation, lane departure warning, adaptive cruise control, and LED headlights designed for excellent visibility in all conditions. The XLE trim adds blind-spot monitoring as standard, and adaptive headlights that swivel as you turn the steering wheel are available on XLE and XSE trims, designed to improve visibility around corners. These features make the 2021 Corolla a great choice for stress-free convenience in your daily driving.
2. Efficient engine options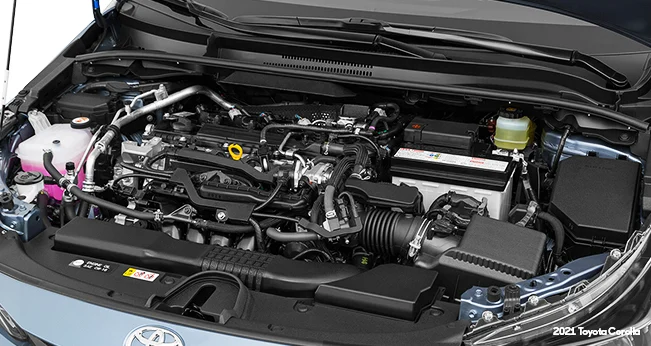 The 2021 Toyota Corolla offers a choice of two engines, both of which can help you minimize trips to the pump. The standard engine is a 1.8L four-cylinder, which gets an EPA-estimated 33 mpg combined (automatic and manual transmissions).
Choose a model with automatic transmission for an EPA-estimated 30 mpg in the city, or the six-speed manual for an EPA-estimated 39 mpg on the highway.
On the SE trim and higher, you can shop for a model with the 2.0L four-cylinder engine, which gets an EPA-estimated 34 mpg combined (automatic transmission).
3. Lots of trims and features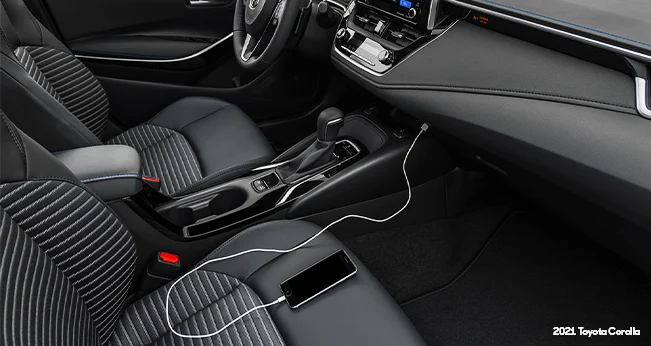 The 2021 Toyota Corolla offers a great variety of trims, as well as a packed feature list across the entire lineup. Starting with the base L model, you'll get standard features like LED headlights and a seven-inch touchscreen interface with Apple CarPlay and Android Auto integration. On the LE trim, you'll get automatic climate control, an enhanced eight-inch touchscreen, and a rear-seat USB port. The XLE features blind spot monitoring and heated seats with simulated leather upholstery. With so many options to choose from, it's easy to find a 2021 Toyota Corolla that's tailored to your needs.
4. Sharp styling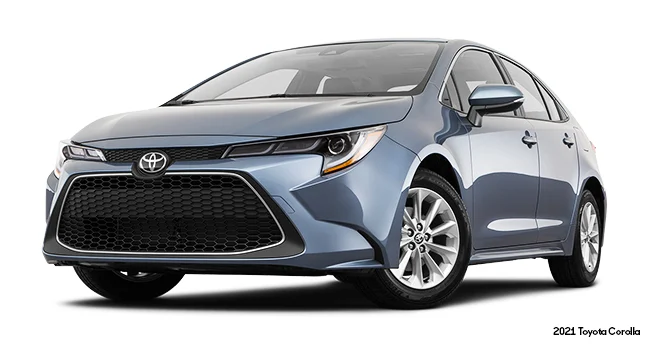 The 2021 Toyota Corolla is a practical vehicle, but it doesn't skimp on style. Sharp lines and curves around the front create an aggressive and eye-catching look, especially when paired with the sporty exterior trim options. The Corolla boasts a selection of eight available colors, ranging from sleek and subtle silvers and whites to more bold and striking tones. All of this makes the 2021 Toyota Corolla a stylish and sophisticated sedan that looks great in any setting.
5. Plenty of space for passengers and cargo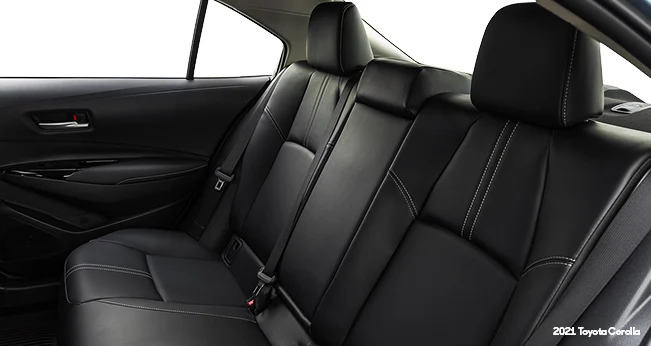 The 2021 Toyota Corolla can seat five passengers comfortably, with room to spare. A total passenger volume of 88.6 cubic feet (84.6 cubic feet on hatchback models) is matched with 42.0 inches of legroom for the front seats and 34.8 inches for the rear seats (29.9 inches on hatchback models). Not only that, but sedan models also offer 13.1 cubic feet of cargo space behind the rear seats, and hatchback models offer 17.8 cubic feet of cargo space. With the 2021 Corolla, you'll have plenty of space for your crew, your groceries, and your day-to-day cargo.