1. Features that inspire confidence
All 2019 Toyota Corolla trims feature the brand's signature ToyotaSafety Sense™ P (TSS-P) package. As soon as you get behind the wheel you'll appreciate the collision warning system, pedestrian detection, automatic emergency braking, automatic high-beam headlights, steering assist, lane departure warning, and more. Whether you're a new driver learning to take to the road or a veteran traveler logging thousands of miles each year, you'll enjoy taking advantage of these forward-thinking features. Combine this with entertainment features and the inside of a 2019 Corolla is a great place to be.
2. A modern technology package
Standard features across the 2019 Toyota Corolla sedan lineup appeal to the tech-savvy consumer. These include a touchscreen multimedia system, iPod integration, a USB port, and Bluetooth® enabled connectivity for hands-free phone calls and music streaming. Luxury trim options offer an upgrade from the standard 6.1-inch screen to a larger seven-inch option. Even if you don't consider yourself tech-savvy, you'll still find the 2019 Toyota Corolla's features easy to use.
3. Ample interior passenger room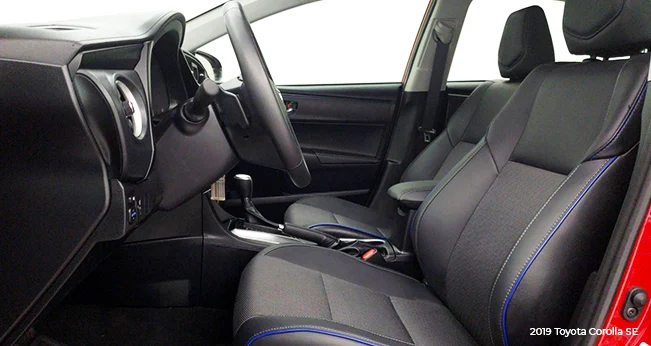 The Corolla line may be known for its compact exterior size allowing ease of city driving and parallel parking, but don't let that fool you. The interior is spacious with 38.3 inches of headroom, 53 inches of hip room, and 42.3 inches of legroom in the front seats. Rear passengers enjoy 37.1 inches of headroom, 43.9 inches of hip room, and 41.4 inches of legroom in this five-passenger, four-door vehicle.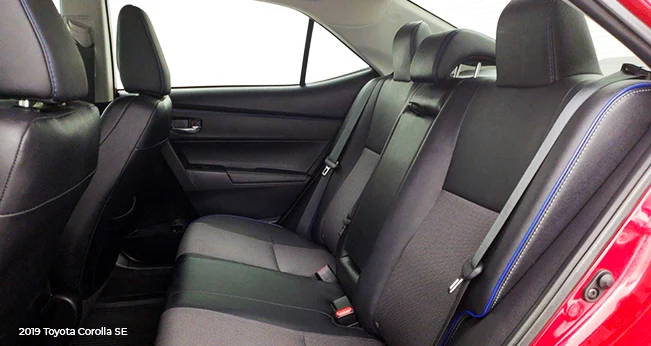 4. Great for the commute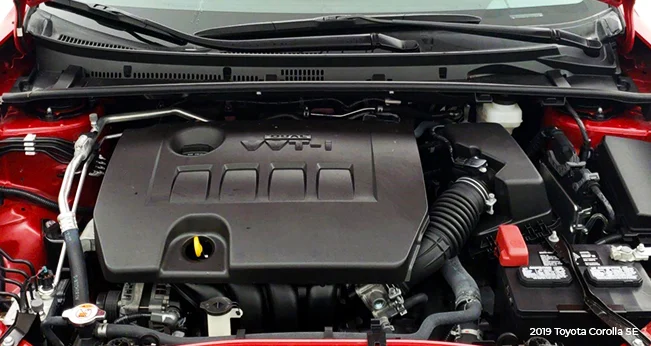 The 2019 Toyota Corolla houses an approximate-13.2-gallon fuel tank that boasts an EPA-estimated fuel economy of 32 mpg combined with the 1.8L engine and continuously variable transmission.
Commuting workers and adventure-seekers alike will appreciate the ability to go, go, go without thinking about when and where to fill up next. So if you have a long commute, you'll feel more confident for the journey ahead.
5. Comfortable town handling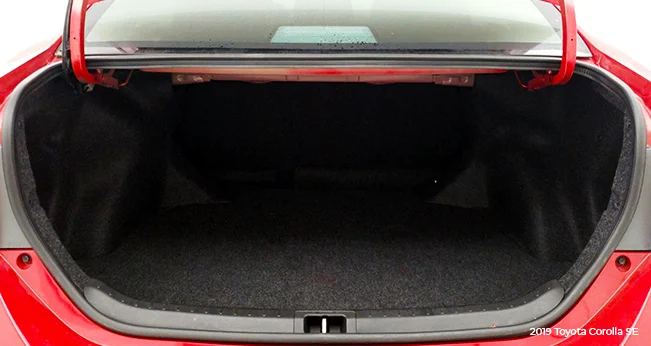 For those navigating suburban roadways, the smooth braking system and assisted steering make the four-cylinder 2019 Toyota Corolla a joy to drive. Plus, this vehicle has ample get-up-and-go for city freeway driving, as it clocks in at approximately 7.5 seconds to reach 60 mph (according to the manufacturer, when new). Whether you're stopping off for groceries or hauling little league supplies, the 13-square-foot cargo area in the trunk can handle your task with ease. This makes the 2019 Corolla a great choice if you have a lot of errands to run and passengers to ferry.