Ask the Expert: Should You Buy a Porsche Cayenne?
---
PUBLISHED FRIDAY, DECEMBER 10, 2021
An SUV that lives up to the Porsche name.
With thousands of vehicles in our inventory, we're here to help make car research easier for you. We've partnered with car-review experts from Edmunds to weigh in on what matters most when you're looking to buy a truck or car.
***
Vehicle Reviewed
2019 Porsche Cayenne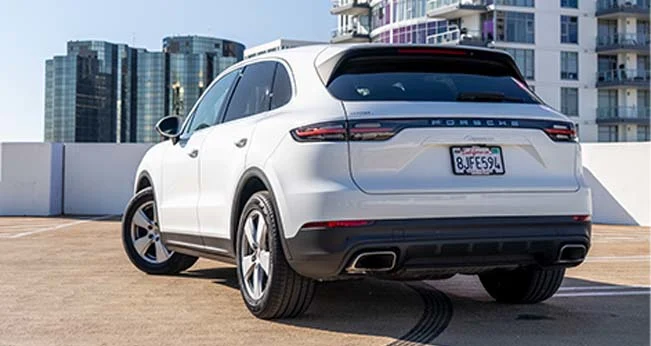 Visions of sporty 911s and race cars likely come to mind when you think of Porsche. But can you also associate Porsche with practical, luxurious, and family-friendly SUVs? You can with the Porsche Cayenne. Edmunds' expert Travis Langness gives you the details on the Cayenne and his take on what to look for when shopping for one.
What do I need to know about the Cayenne?
The Cayenne was Porsche's first entry into the SUV market for the 2003 model year. As a midsize SUV with seating for five, it's known for its performance chops and nimble handling. Now in its third generation, it received a complete redesign in 2019. With engine upgrades, an all-new infotainment system, and a new plug-in hybrid option, this latest Cayenne is significantly improved and remains a top choice for luxury SUV buyers.
What's the Cayenne like to drive?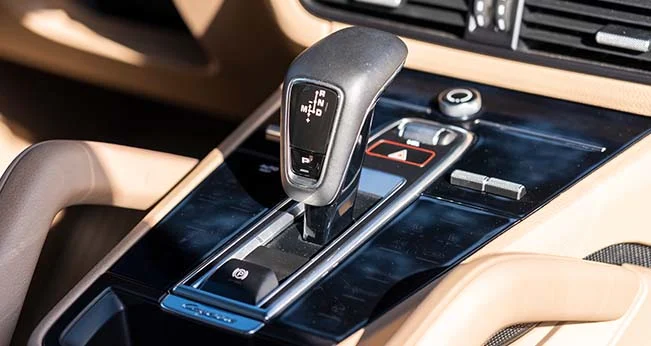 Trust the badge on the nose—this may be an SUV, but it's still a Porsche. The Cayenne will deliver the sporty driving experience you're expecting, even with the base engine. Power is steady, and despite its weight, the Cayenne accelerates effortlessly. We don't usually spew off zero to 60 mph stats when it comes to SUVs, but the base V6 model did it in just 5.3 seconds, and the more powerful S trim pulled it off in just 4.4 seconds. Those kinds of numbers definitely fall into fast-car territory. And the twin-turbo V8? Simply astonishing in a straight line.
The steering and handling reflect the Porsche's sporty aspirations too. While the steering is a bit heavy, the wheel feels responsive and it returns to center quickly. Handling feels controlled, with minimal body roll as you go around turns. Pleasingly, this performance doesn't come at the expense of comfort either. The Cayenne's ride quality is firm and controlled but not jarring.
Travis' take: The Cayenne is fast regardless of which engine you get it with. The base engine is surprisingly peppy in something this big. Acceleration is downright bonkers with the turbocharged V8. Some of the numbers this thing produces put sports cars to shame. Oh, and the cool part? It's still totally comfortable and reasonable for daily driving.  
What engines are offered?
The Cayenne got some engine upgrades as part of its 2019 redesign. Starting with the impressive base model, this Cayenne SUV is equipped with a turbocharged 3.0-liter V6 engine (335 horsepower, 332 lb-ft). It's quite a bit beyond your average specs for a family hauler.
Stepping up to the Cayenne S scores you even more power. A turbocharged 2.9-liter V6 engine (434 hp, 406 lb-ft) is featured on this model.
Going green won't sacrifice your Cayenne's power either. The Cayenne E-Hybrid is a plug-in hybrid that makes a total of 455 hp and 516 lb-ft.
For more power, there's the Cayenne Turbo with a turbocharged V8 engine (541 hp, 561 lb-ft). That's quite a beefy motor for an SUV.
Want to combine high fuel economy with maximum power? There's the 2020-and-newer Cayenne Turbo S E-Hybrid. It marries the turbocharged V8 with the plug-in hybrid system for a combined 670 hp and 663 lb-ft.
All Cayennes come with all-wheel drive and an eight-speed automatic transmission.
Here's what you can expect for EPA-estimated fuel economy on a 2019 Porsche Cayenne:
Base Cayenne: 21 mpg in combined city/highway driving

Cayenne S: 20 mpg combined

Turbo: 17 mpg combined
The Cayenne E-Hybrid's fuel economy needs a little more explanation. It's a plug-in hybrid, which means it has a battery pack you can recharge at home or at a public charging station. Fully charged, the 2019 Cayenne E-Hybrid can go an EPA-estimated 13 miles on all-electric power. After that, it switches to regular hybrid operation and gets 21 mpg combined. For the 2020 Turbo S E-Hybrid, the EPA estimates 12 miles of all-electric range and 18 mpg combined.
Frequently recharging is the key to saving on gas with the E-Hybrid models.
Travis' take: All of the Cayenne's engine options are impressive, especially when you consider it's an SUV. Unless you've got some regular laps to log in at the track, the base model should provide all the power most SUV owners will need. If you're looking for a good balance of power and equipment, though, go with the S model and the 2.9-liter V6. It's a big power upgrade over the standard engine but not as bonkers as the Turbo.
What's the Cayenne's interior like?
The interior of the Cayenne is luxurious and remarkably comfortable. The seats are exceptionally cozy on long trips. Their many adjustable seating positions help blur the line between the Cayenne's sports car and SUV personalities.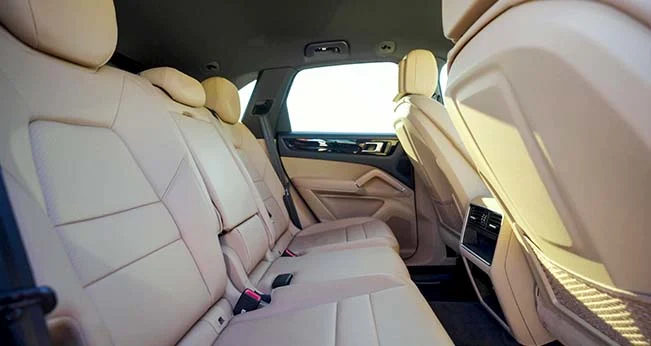 The cabin looks high-tech with large glossy displays and hints of aircraft details. It's roomy, and a wide center console provides ample elbow room between driver and passenger. There's plenty of rear legroom and headroom, too, even for 6-foot-tall or taller riders.
Travis' take: If you've ever owned a Porsche 911, or you're familiar with all the button locations and top-notch interior construction, the Cayenne will feel very familiar. There's a great driving position and everything feels really well built. It's lacking a bit when it comes to small-item storage, so you might want to temper your expectations regarding the number of water bottles you can bring along.
How is the Cayenne's tech?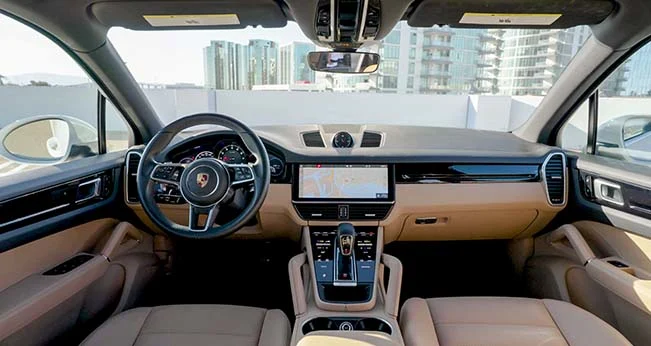 Once you slide into the front seat of the third-generation Cayenne, you'll notice the impressive 12.4-inch touchscreen right away. It's got crisp-looking graphics and a customizable menu layout. Some of the controls on the center console are small, hard to locate, and behind the shifter where they're hard to get to, but the overall ease of Porsche's infotainment system makes these small gripes bearable.
However, a potential bigger gripe exists for Android smartphone users: You can connect to Porsche's media interface with your phone, but Apple CarPlay® is the only smartphone integration you can get. (Insert sad trombone here.) Android Auto™ isn't available on the Porsche Cayenne at the time of this writeup.
Travis' take: The wide touchscreen and infotainment system are two of the best parts about the latest-generation Cayenne. It's one of the best infotainment systems in the class—the interface is intuitive to use, and it's very customizable. No Android Auto to be found, not even on the options sheet, but at least the Cayenne's native phone integration system is straightforward and simple to use.
How is the Cayenne's storage?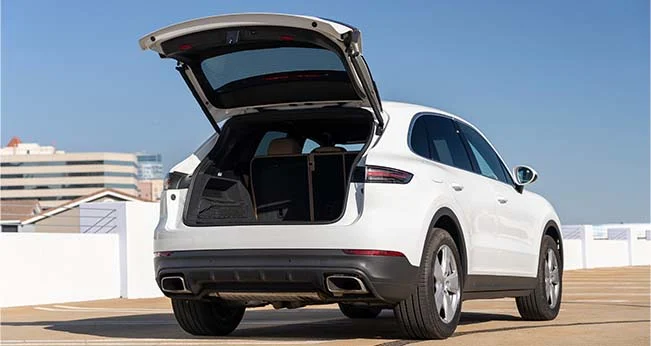 Just as sports cars aren't known for their trunk size, the Cayenne's cargo area isn't the largest you can get in SUVs of this size. Porsche lists the 2019 Cayenne's cargo area at 27.1 cubic feet behind the rear seats. That's decent, but most rival SUVs have more. The 2019 BMW X5, for example, has 33.9 cubic feet behind its rear seats,
The Cayenne's 40/20/40-split folding rear seats do help for larger loads, however. Small-item storage is on the skimpy side, but you'll find two cupholders near the gear selector, two additional door pockets for medium-sized bottles, and a smartphone cubby.
Travis' take: The same way you aren't going to be able to fit a lot of small items in the center console, you probably won't be stuffing a lot of suitcases in the trunk. The Cayenne is reasonable when it comes to overall cargo storage but compared to class rivals, it's not great.
What other SUVs should I consider?
Start with the BMW X5 and Mercedes-Benz GLE. These are two excellent midsize luxury SUVs that, like the Cayenne, offer a wide range of engines and features. The GLE is the most luxurious of this trio, and the Cayenne is the sportiest. The X5 splits the difference. For a roomier SUV, you could check out a three-row model such as the Audi Q7, Cadillac Escalade, or Mercedes-Benz GLS.
If I decide on a Cayenne, which one should I buy?
There are many reasons people look to Porsche, but performance is definitely high on the priority list. Though the Turbo and E-Hybrid are quicker, the styling and features offered on the Cayenne S really deliver the best bang for your buck. Choose the S model for the ultimate combination of exhilarating performance, refined luxury, and relative affordability.
Travis' take: Don't get me wrong, I'd love to own a Cayenne with the V8, but it's not nearly as practical as the base engine or the 2.9-liter V6, both of which are plenty powerful on their own. The air suspension is a good option to look for too, especially if you like to do a bit of light off-roading.
Travis Langness is an automotive reviews editor for Edmunds.com. As a lifelong car-and-truck enthusiast, Travis has a deep passion for cars. Through instrumented testing, off-roading, epic road trips, and local commuting, the Edmunds team tests and writes about new and used vehicles to help car shoppers make informed decisions.