1. The platinum edition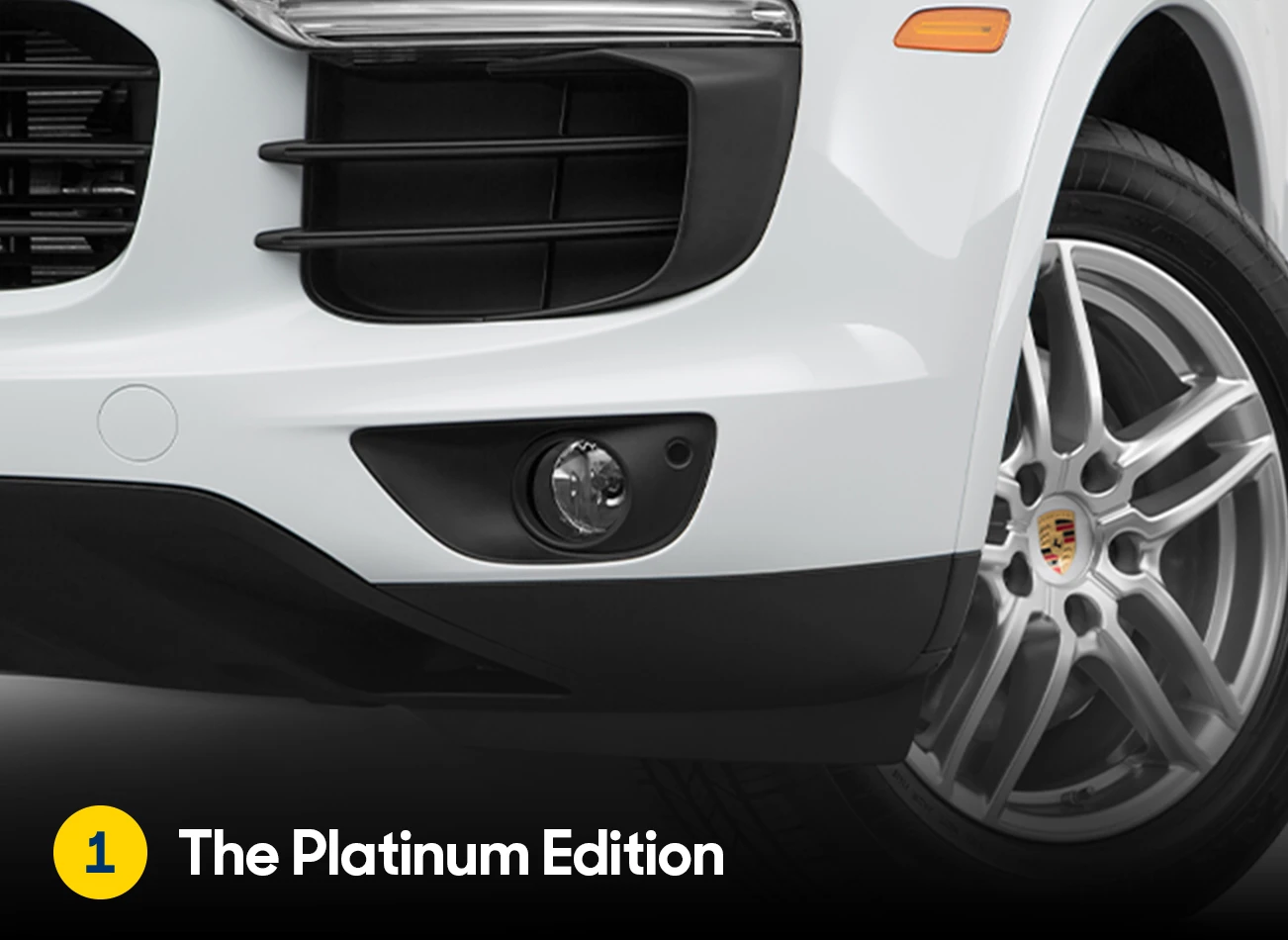 New for the 2017 model year, the Platinum Edition is a nice upgrade for the Cayenne base trim and the S E-Hybrid. These popular tech upgrades to the base model certainly feel worthwhile, even if you're looking for a sensible daily driver. The Platinum Edition includes 20-inch satin-finish alloy wheels, Platinum Edition logos, eight-way sports seats, and Porsche Connect Plus with navigation. These trim-exclusive touches will get you noticed while you ride in comfort and style.
2. Upgraded entertainment system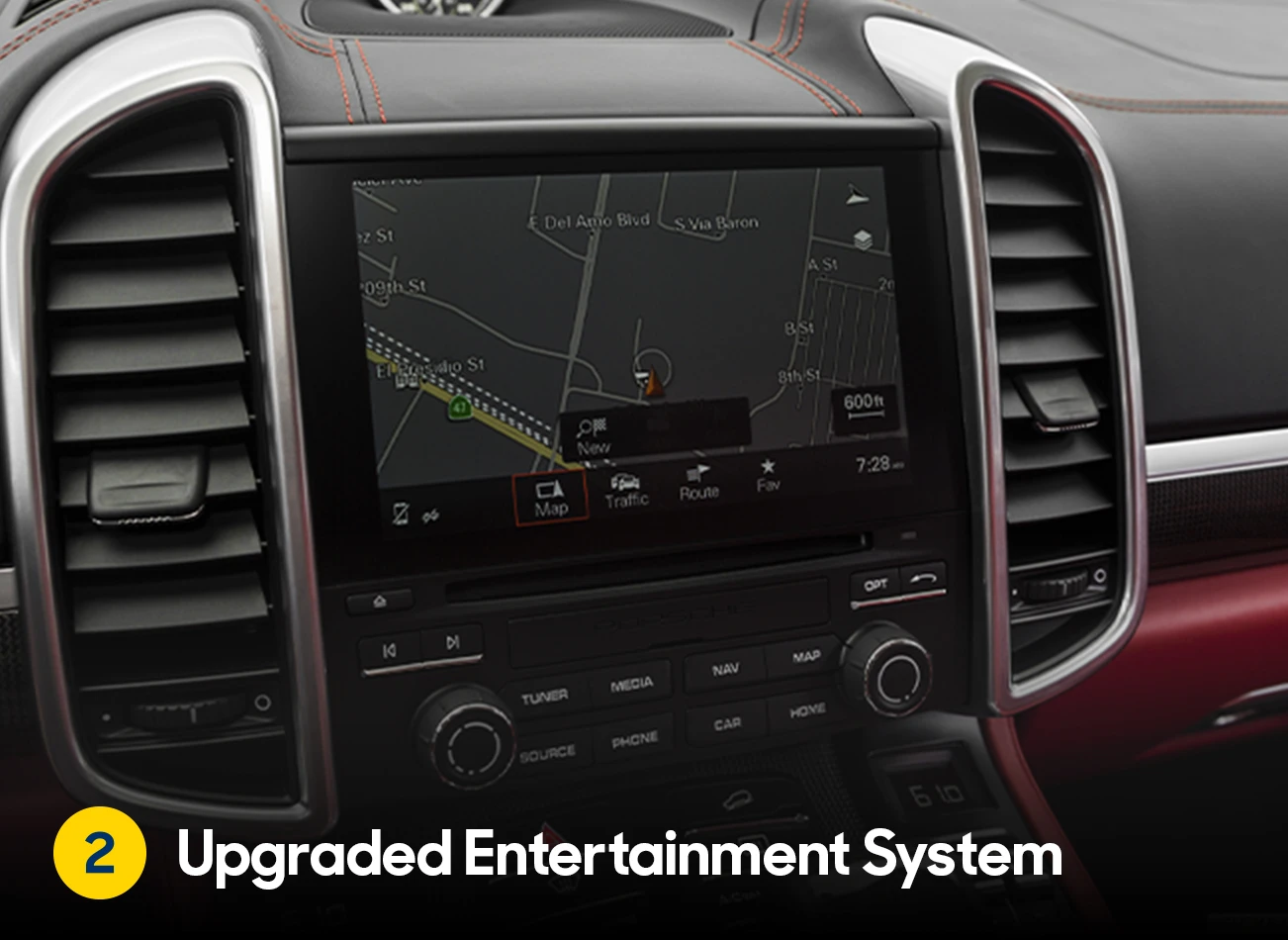 For 2017, Porsche has given the Cayenne's infotainment system an upgrade. The seven-inch central touchscreen is high-resolution with tablet-style sensor responses, and is complemented by USB ports and Bluetooth® streaming abilities. Optional extras include Apple CarPlay® connectivity and an available Wi-Fi hotspot.
You'll come to appreciate the 2017 Cayenne's intuitive entertainment system on your daily commute.
3. Interior finishing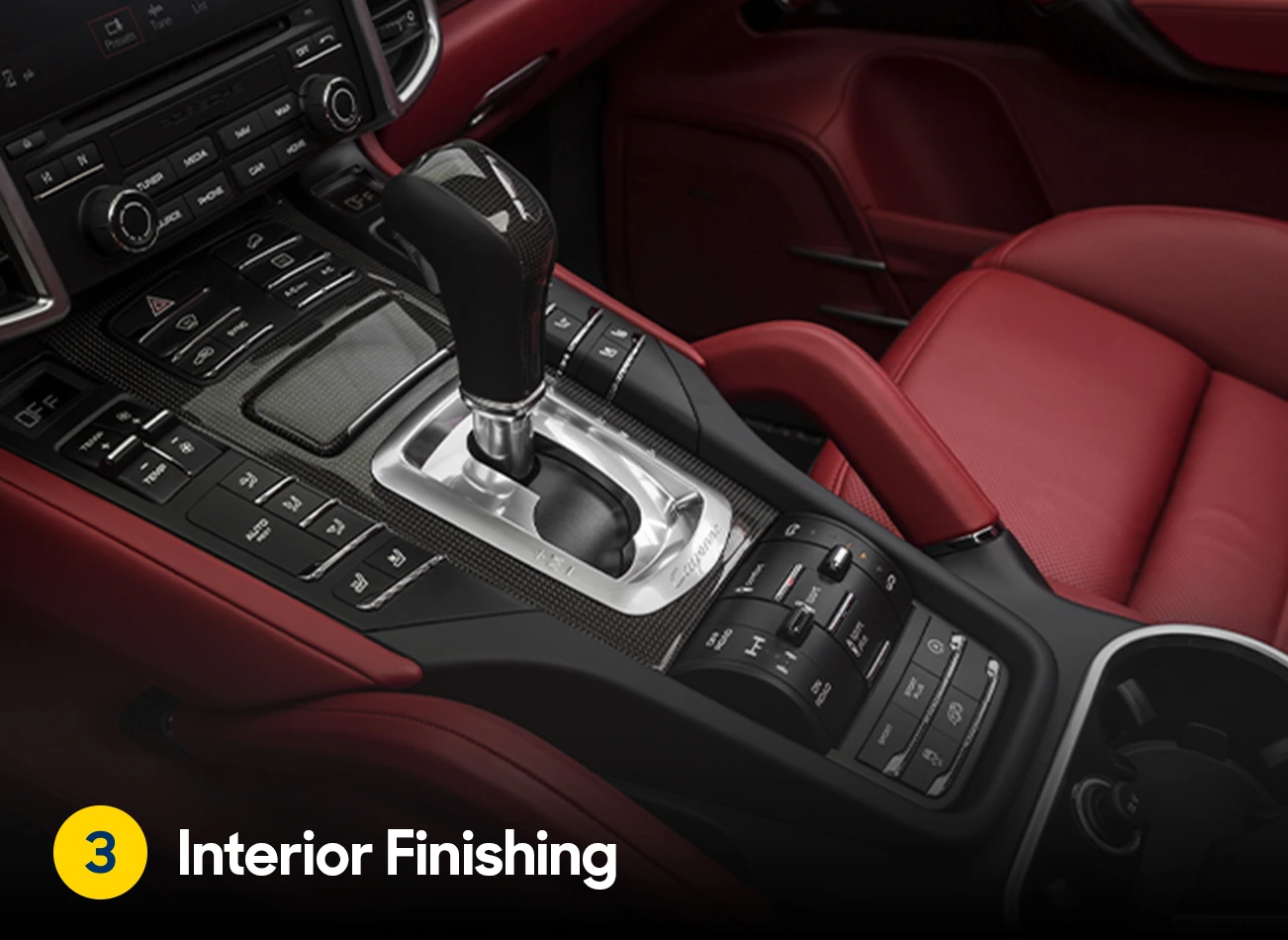 While features can be replicated, character cannot, and nothing else truly feels like a Porsche. As the brand's first four-door sporty SUV in 2003, the Cayenne had a lot to live up to; and it continues to meet and exceed these expectations with the 2017 model. The Cayenne's interior is a sensory feast to enjoy. Soft, buttery leather upholstery in warm natural tones, high-end wood and chrome finishes, available surround-sound audio, and gentle, hushed door closes are just some of the interior highlights of this exceptional SUV sports car.
4. Pleasurable daily driving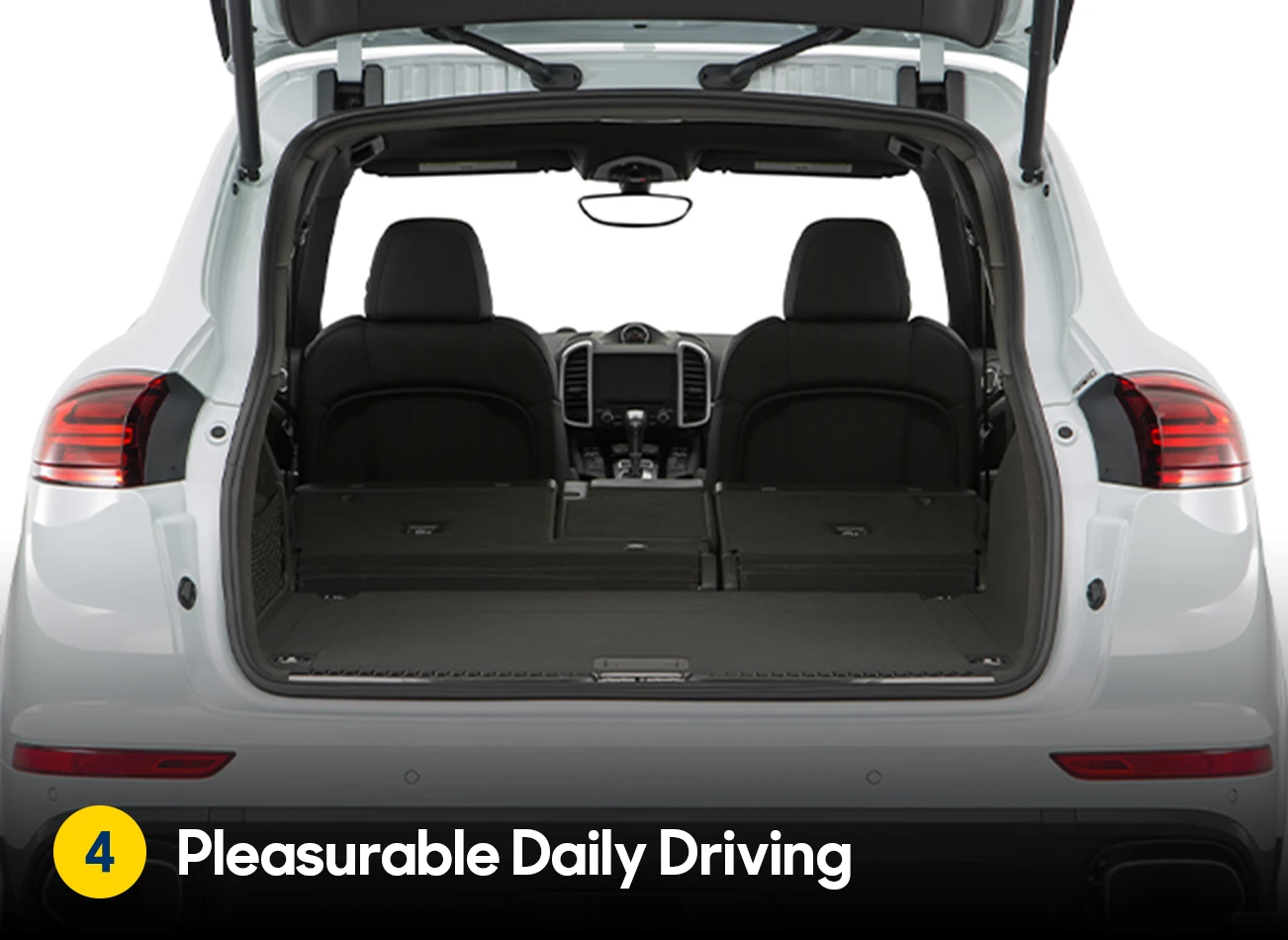 What does daily driving mean to you? If it's the commute downtown or taking on the errands that keep family life on the move, the Cayenne's 23.6 cu-ft of cargo space and split-folding rear row can comfortably accommodate your passengers, equipment, groceries, and luggage. How about being the driver for your group's regular canyon hike? No problem. Throw your trail packs in the trunk and enjoy the Cayenne's standard all-wheel drive and dual-zone automatic air conditioning.
5. Engine choices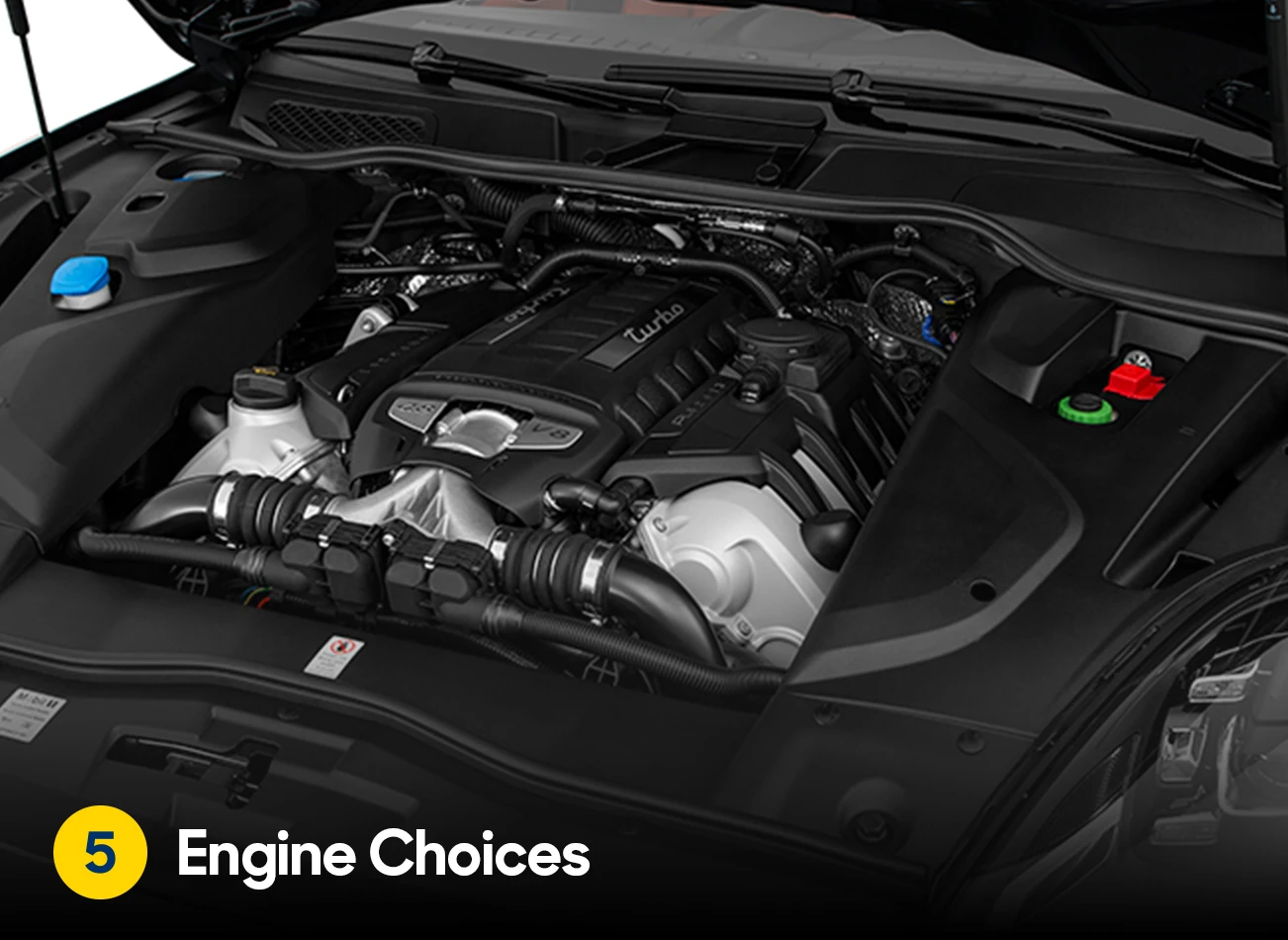 Porsche is a luxury brand that has produced some of the world's best sports cars, and the 2017 Cayenne powertrains are part of that fine heritage. Base models feature a 3.6L V6 engine capable of producing 300 horsepower, and a zero to 60 time of less than eight seconds (according to the manufacturer, when new). Take on the 2017 Turbo S, and you'll be driving a turbocharged 4.8L V8 powerhouse, with a manufacturer-advised zero to 60 speed of 4.1 seconds (with launch control engaged) and a top speed of 173 mph (according to the manufacturer, when new). Exciting, huh?