5 reasons to buy the 2019 Porsche Cayenne
1. Friends and family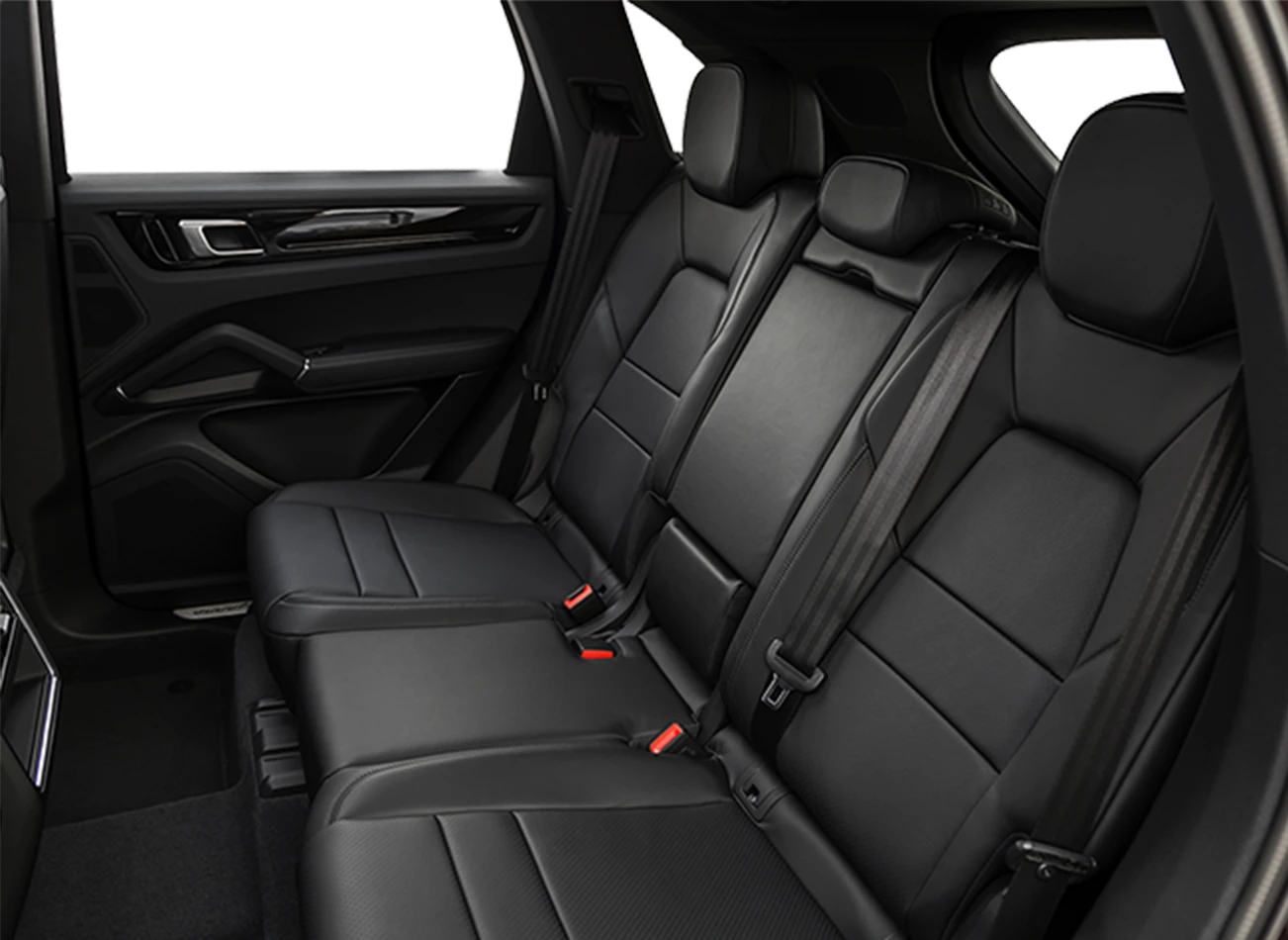 Got people? The luxurious four-door, five-seater 2019 Porsche Cayenne can transport them comfortably. The optional panoramic moonroof and 12.3-inch touchscreen system are impressive when road tripping with friends. When it comes to family time, kids in the backseats enjoy elevated side bolsters to get cozy. The rear seats also split 40/20/40 and when folded down expand the rear cargo area from 26.3 cu-ft to 60.4 cu-ft on the base trim to easily accommodate a dog kennel or holiday shopping hauls.
2. Popular tech options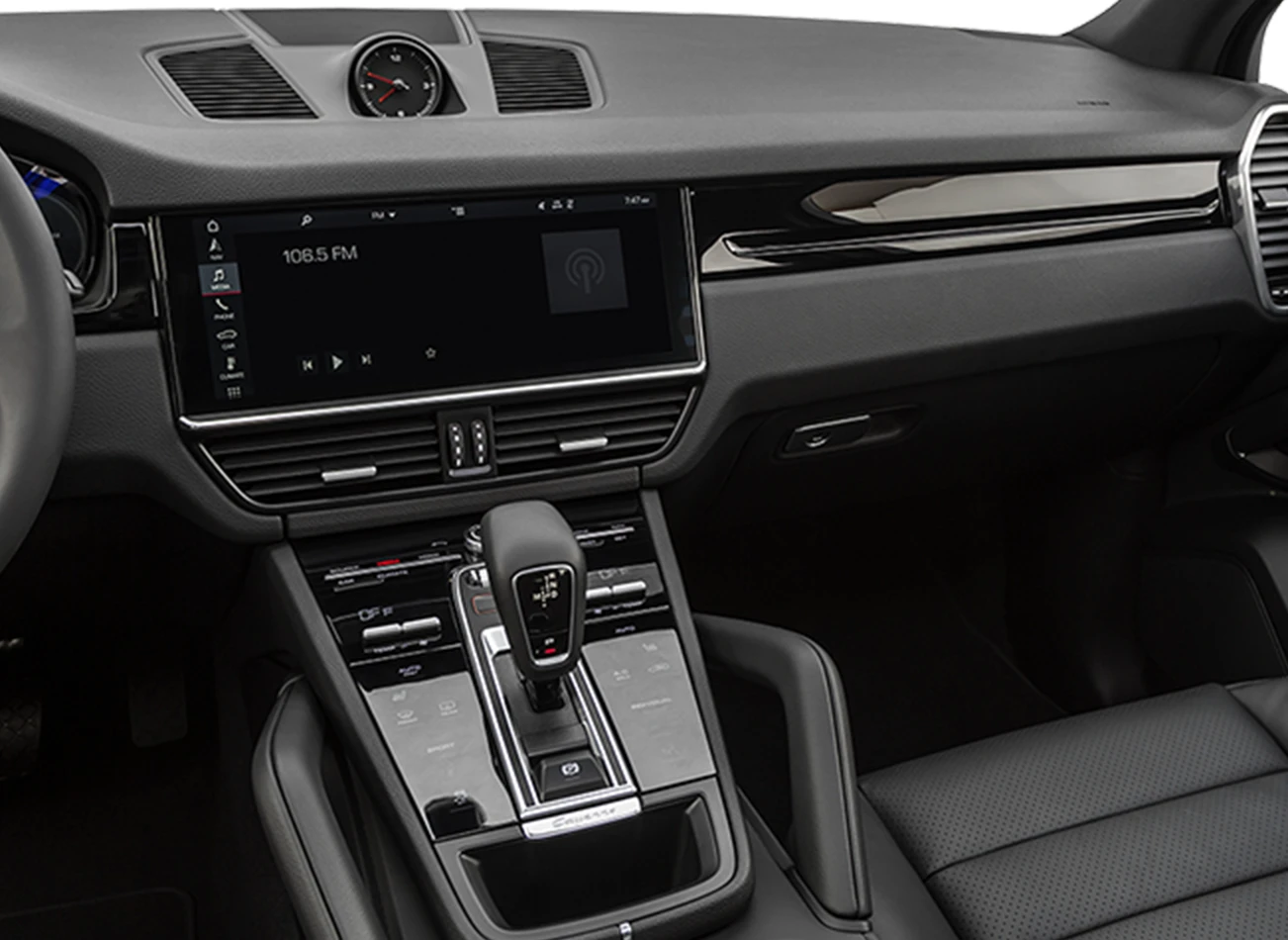 As you might guess, the Porsche Cayenne comes loaded with ample technology in the cabin. The Porsche Communication Management (PCM) system oversees the audio, navigation, and communications features, perfect for business drivers and those who like to take to the back roads but need a little guidance. There are also five USB ports, an option to upgrade to a Burmester® 3D High-End Surround Sound System, Apple CarPlay® connectivity, Bluetooth® integration, and an optional CD/DVD autochanger controlled by push-button or voice control for hands-free operation. This ride really is a tech-lover's dream.
3. Sports car features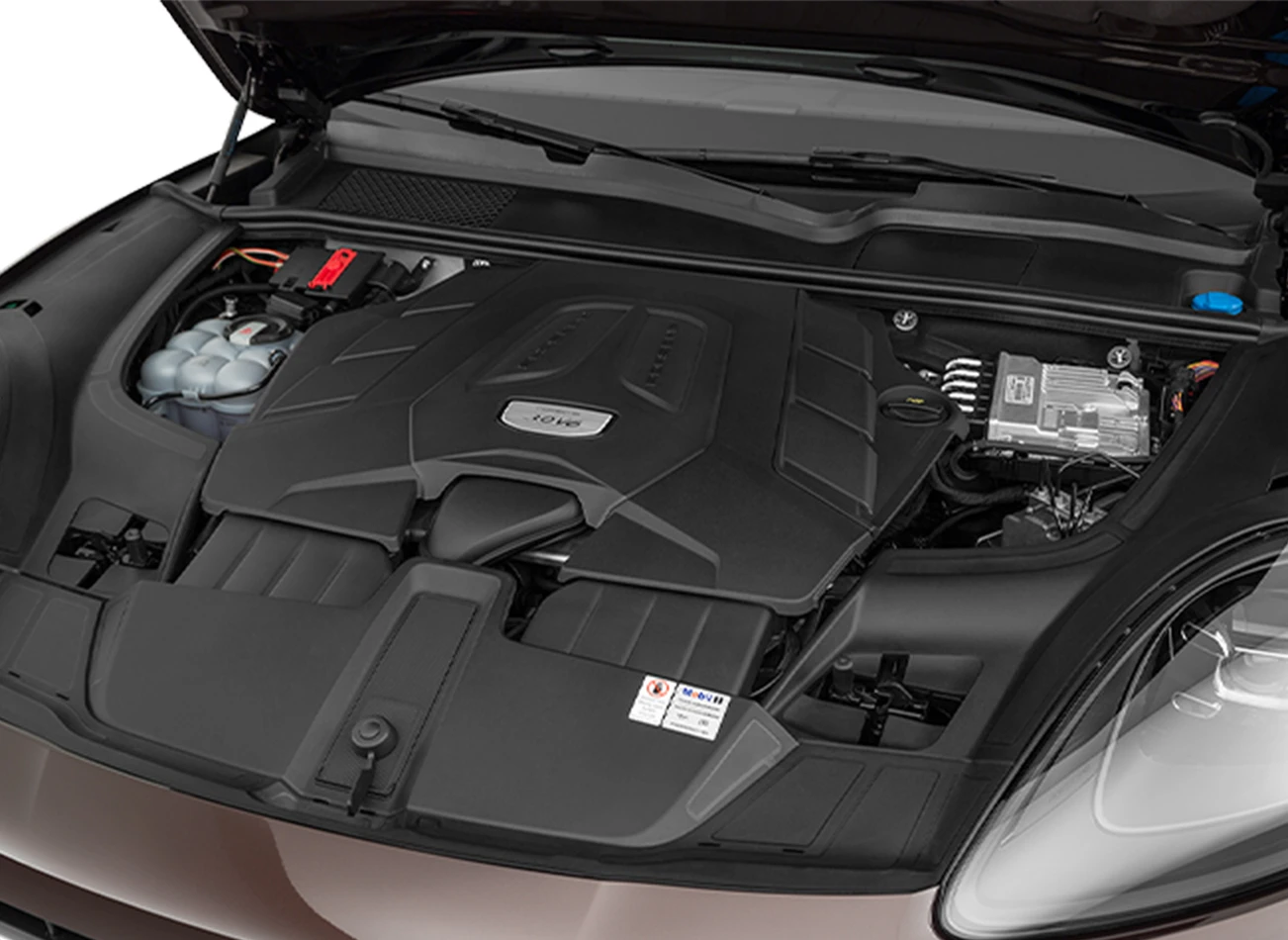 You might just forget you're behind the wheel of an SUV in the 2019 Porsche Cayenne. The base trim features a robust 3.0L V6 with a twin-scroll turbocharger, cranking out 335 hp making daily runs to the school drop-off lane a breeze. Jump to the Cayenne Turbo trim and your inner racecar driver will smile at the 4.0L twin-turbo V8 that does zero to 60 in just 3.7 seconds, according to Porsche when new. This might just be the perfect ride if you want to have some fun on your commute or want to get the neighbors talking.
4. Luxe cabin features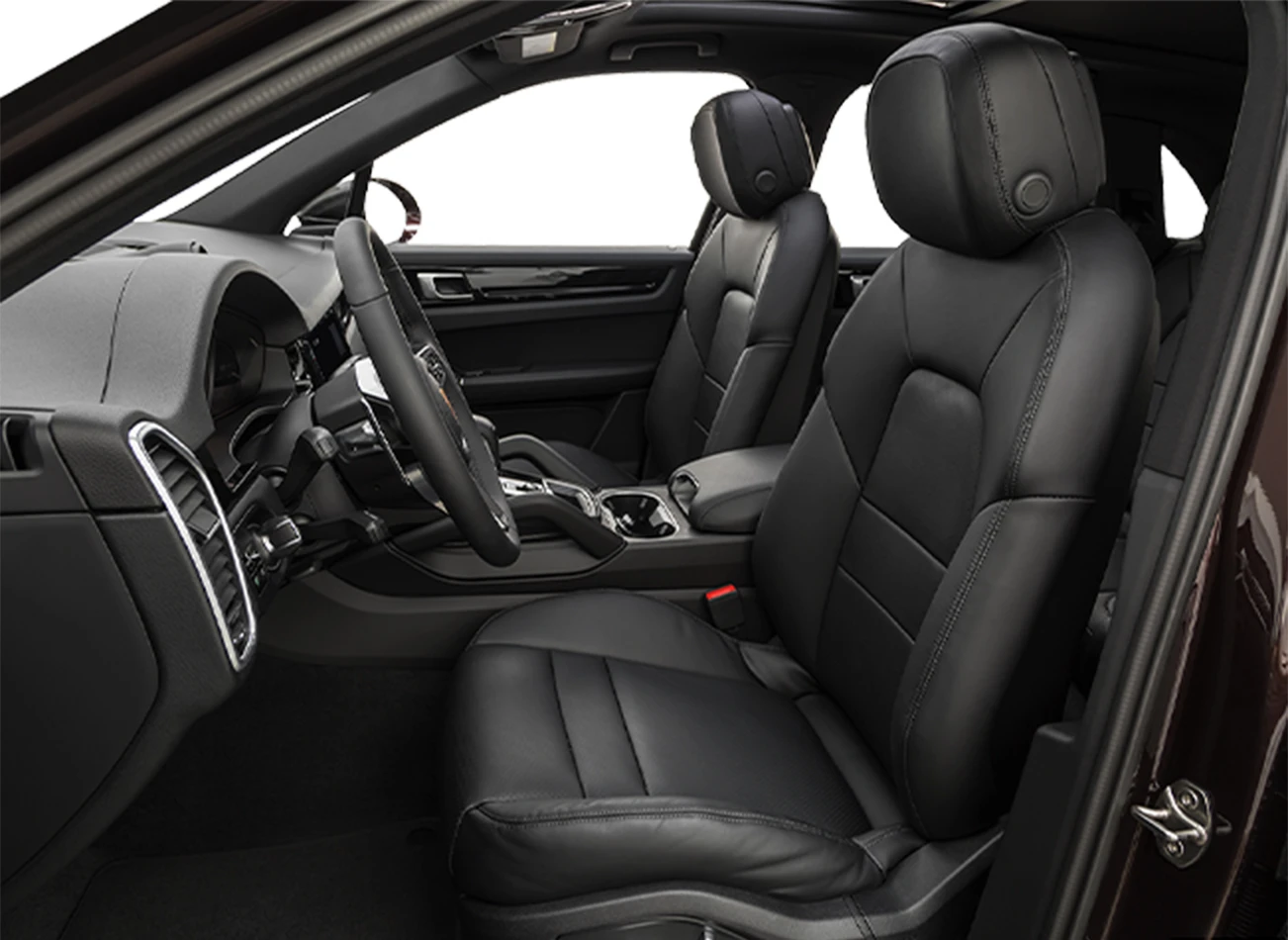 You really shouldn't expect any less from Porsche when it comes to interior styling. The company's theme seems to be "comfort" with standard 14-way adjustable front seats that have a memory for perfect positioning time after time, a programmable massage function, and air-cushioned backrests. Activate the optional four-zone climate control feature and ionizer to improve air quality and you might just never leave this SUV. The 2019 Porsche Cayenne is the perfect road-tripping, business-traveling, daily-driving vehicle for those who spend hours in the car each day.
5. Driver-Assist systems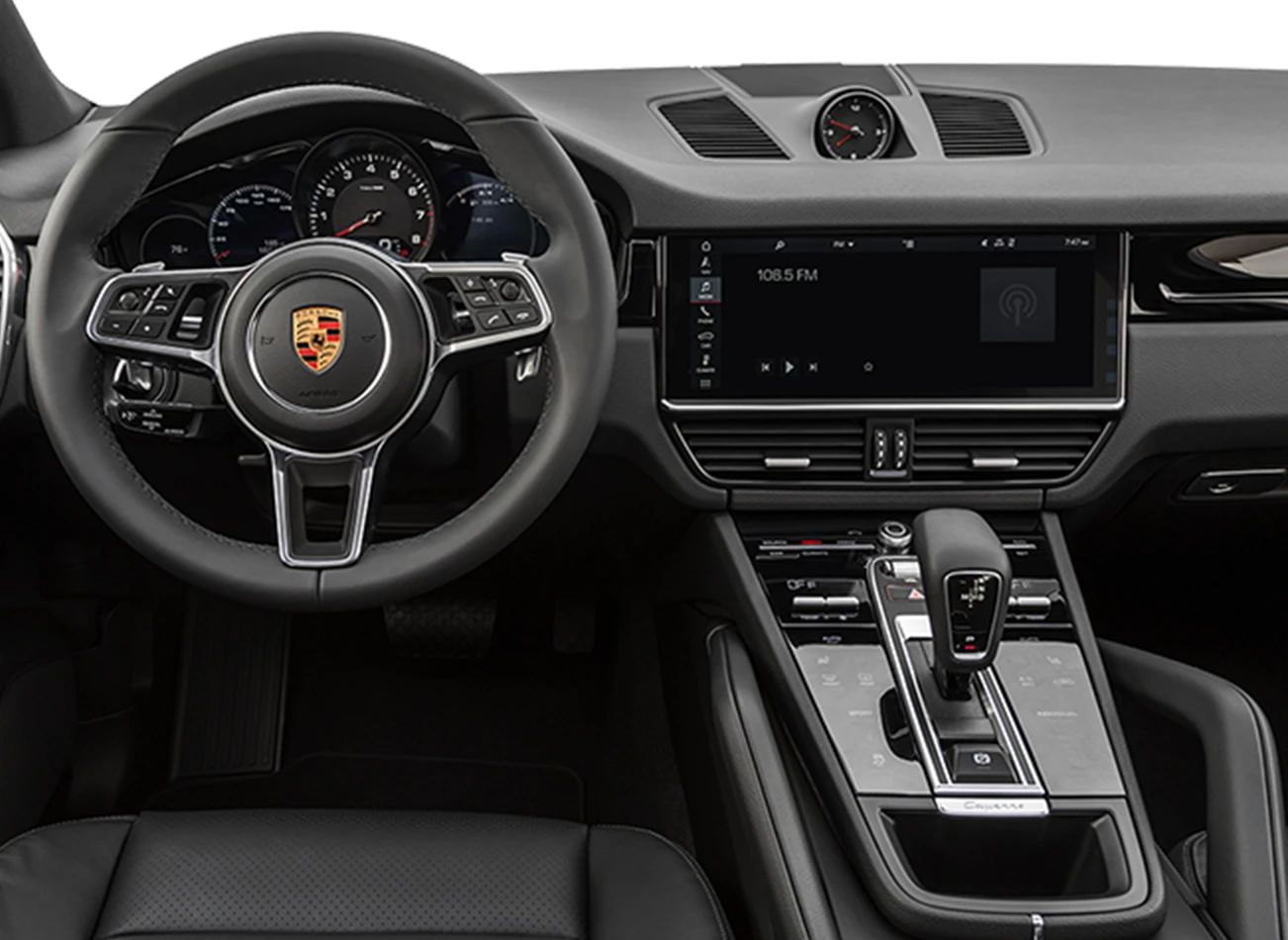 Is a teen driver in your household? Or maybe you just want to make driving even easier, the extras on the Porsche Cayenne are worth exploring. The daytime running lights, swiveling headlights to illuminate curvy roads, adaptive cruise control, lane keep assist, brake warnings, night vision assist, active lane keep, and intersection assist are pretty swoon-worthy for anyone new to driving or who feels a bit timid behind the wheel.
RepairPal gave the Porsche Cayenne an overall reliability rating of 3 out of 5 stars, which RepairPal describes as Above Average. This rating ranks Porsche Cayenne 20th out of 23 among Luxury Midsize SUVs.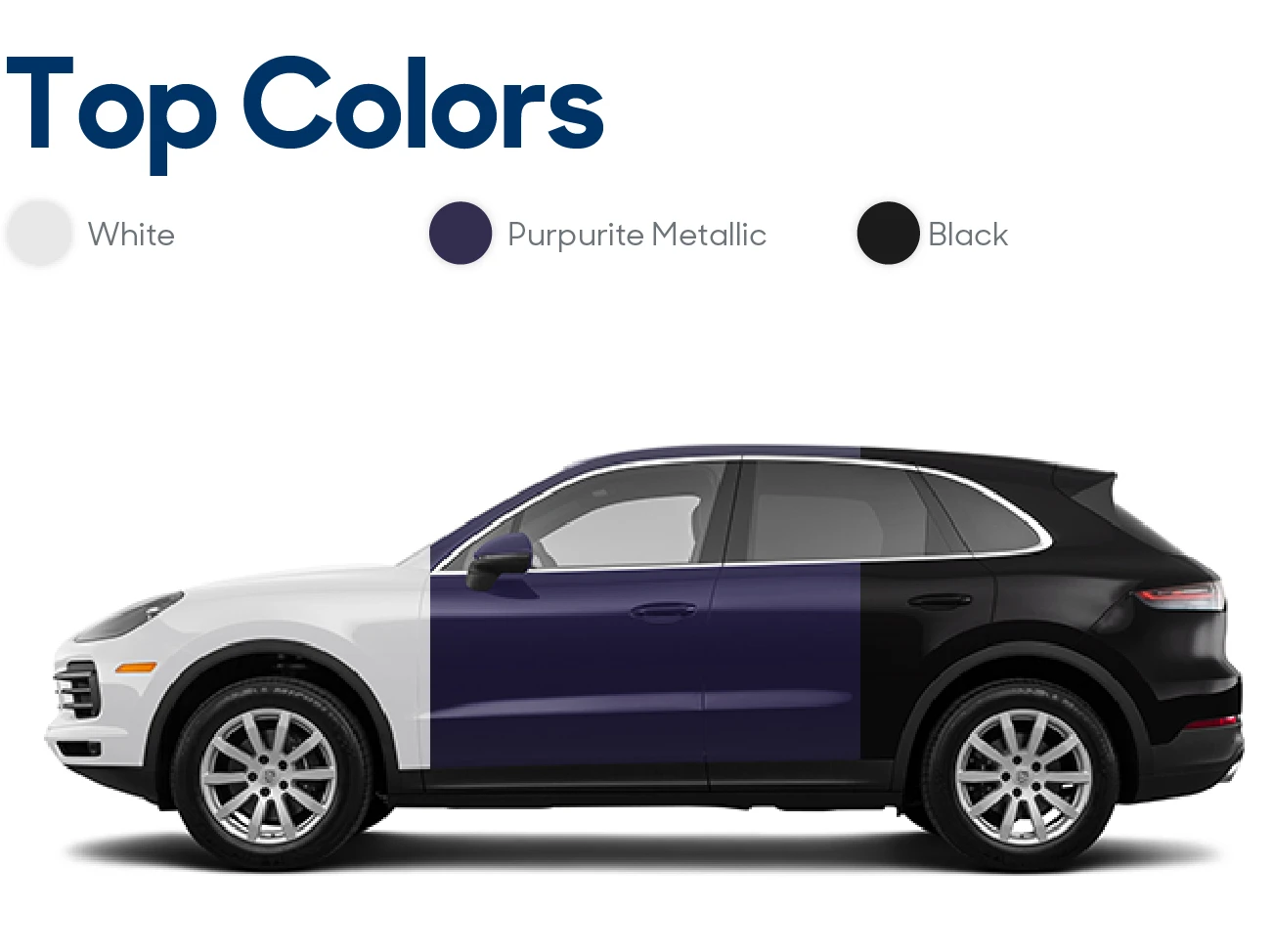 Exterior colors:
Biscay Blue Metallic (Turbo trim only)

Black

Carrara White Metallic (Turbo trim only)

Jet Black Metallic (Turbo trim only)

Mahogany Metallic (Turbo trim only)

Moonlight Blue Metallic (Turbo trim only)

Palladium Metallic (Turbo trim only)

Purpurite Metallic (Turbo trim only)

Quartzite Grey Metallic (Turbo trim only)

Rhodium Silver Metallic (Turbo trim only)

White
Interior colors:
Black

Black and Mojave Beige

Black and Bordeaux Red

Graphite Blue and Chalk

Slate Grey

Slate Grey and Mojave Beige

Truffle Brown

Truffle Brown and Cohiba Brown
Interior details
The 2019 Porsche Cayenne offers seating for five in a posh cabin featuring your choice of wood, metal, carbon fiber, or leather trim paired with full or partial leather upholstery. Look out for the optional decorative stitching, which can really personalize the interior. Upgrade the interior to include a massaging feature on the front seats and heated rear seats by opting for the Turbo trim.
Child seat details
The 2019 Porsche Cayenne can accommodate five passengers. In the back row, you'll find two sets of LATCH car-seat connectors for child car seats positioned in the rear outboard seats. In the rear middle seat, an upper tether is available. Do a practice fit when scheduling a test drive to ensure your current child-safety seats will work with the 2019 Porsche Cayenne.
Note: Porsche makes child seats designed, tested, and approved for Porsche cars for children up to 12 years old. The child seats secure to the Porsche Cayenne rear seats using a preparation kit or a three-point belt system.
Performance
The 2019 Porsche Cayenne is a beast under the hood for an SUV. The standard Base trim comes equipped with a 3.0L V6 that pumps out an impressive 335 hp, making accelerating up highway merge lanes a breeze. If it's power you crave, the top-line Turbo trim offers a robust twin-turbo V8 that nails zero to 60 in a lightning-fast 3.7 seconds making lane changes effortless.
Emissions
According to EPA estimates, the base trim 3.0L V6 2019 Porsche Cayenne's tailpipe greenhouse gas emissions are 427 grams per mile.

According to EPA estimates, the S trim 2.9L V6 2019 Porsche Cayenne's tailpipe greenhouse gas emissions are 442 grams per mile.

According to EPA estimates, the Turbo trim 4.0L V8 2019 Porsche Cayenne's tailpipe greenhouse gas emissions are 529 grams per mile.

According to EPA estimates, the E-Hybrid 3.0L V6 2019 Porsche Cayenne's tailpipe greenhouse gas emissions are 284 grams per mile.
Year Comparisons
2011–2018 Porsche Cayenne (Second Generation)
Porsche launched its first SUV, the Cayenne, in 2003. In 2011, the inaugural style got a facelift and a Cayenne S Hybrid featuring an electric motor was added to the lineup. The Base trim V6 model topped out at 300 hp and the top-line Turbo trim hit 500 hp. In 2015, the S trim dropped its V8 for a turbocharged V6. In 2017, a flashy platinum package featuring Power Steering Plus, parking assist features, and an updated navigation system was offered for V6 and E-Hybrid models.
2019–Present Porsche Cayenne (Third Generation)
The 2019 Porsche Cayenne leads the pack in the current generation of this make. The exterior styling stays about the same as the second generation, so it's best to look under the hood for upgrades. The 2019 and newer models boosted the Base trim up to a 335-hp 3.0L turbocharged V6. Look to the 2020 models and you'll find a sleek four-door Cayenne Coupe option. In 2021, a new Turbo S E-Hybrid combos the top-end Turbo trim with the electric motor to produce a 670-hp plug-in SUV.