Ask the Expert: Best Compact Sedans
---
PUBLISHED FRIDAY, AUGUST 20, 2021

BY EDMUNDS EDITORS
Which compact sedan is right for you?
With thousands of vehicles in our inventory, we're here to help make car research easier for you. We've partnered with car-review experts from Edmunds to weigh in on what matters most when you're looking to buy a truck or car.
***
While they are definitely small, compact sedans are still pretty mighty. The latest models are surprisingly roomy and come with many of the latest technology features and driver-assistance aids. There are several excellent sedans to choose from, allowing you to focus on getting one that delivers the most for your needs.
In this article Travis Langness of Edmunds reviews our favorite compact sedans, highlighting their strengths and giving you tips to help you decide which one will be best for you.
Hyundai Elantra Overview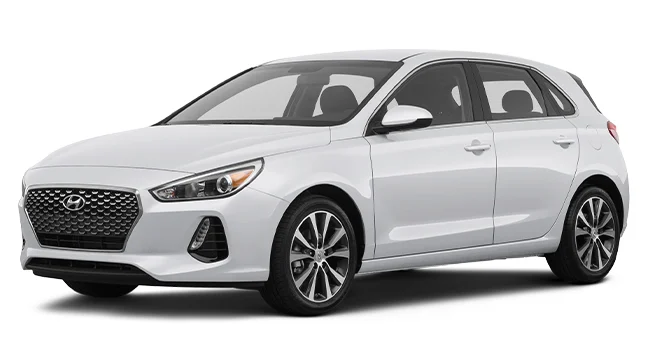 The Hyundai Elantra is one of our favorite choices when it comes to value. It offers an appealing combination of high-tech features, fuel-efficient engines, and many standard features. Many Elantras you'll find on the used market are part of the car's sixth generation, made up of the 2017-2020 model years.
Hyundai Elantra Trim Levels and Engines
The 2020 Elantra is available in six trim levels: SE, SEL, Value Edition, Eco, Limited, and Sport. Picking a trim also influences which engine the Elantra comes with. The SE, SEL, and Limited come with a 2.0-liter four-cylinder engine good for 147 horsepower. The Eco trim gets a turbocharged 1.4-liter four-cylinder engine that's designed for efficiency—it produces just 128 hp but delivers the best EPA-estimated fuel economy for a 2020 Elantra: 36 mpg combined. Finally, the Sport model gets a peppy 201-hp turbocharged 1.6-liter engine. Unfortunately, EPA-estimated fuel economy for the Sport drops to 29 mpg combined with the automatic transmission.
Hyundai Elantra Interior and Driving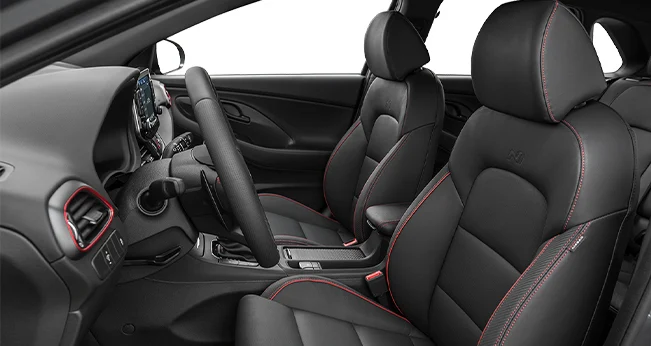 The different engines in the Elantra lend themselves to different driving characteristics. The base engine is somewhat underwhelming. It doesn't provide exciting acceleration, and passing maneuvers will take some planning. With its focus on efficiency, the Eco is even less entertaining. The Sport engine is our favorite, but with the drop in fuel efficiency it's easy to understand why some people would want to steer clear.
Handling and steering aren't tuned for fun. The Elantra is comfortable enough for daily driving, but this isn't a car you're going to want to drive just for the sake of driving. Value for the money is where the Elantra shines.
The Elantra offers a nice interior at a reasonable price. Tall passengers shouldn't have any issues fitting up front, but the back seat might be a bit of a squeeze. Buttons and controls are logically located, and learning how to use the infotainment system is relatively easy. For the 2020 Elantra, driver aids such as automatic emergency braking and lane-keeping assist come standard. Creature comforts like dual-zone automatic climate control are standard too.
Top reasons to get an Elantra:
Lots of standard features and driver aids

Quiet, comfortable highway ride

Logical layout with easy-to-learn controls
Travis' take: The Elantra has the potential to be a great first car. Even an Elantra SE comes reasonably well equipped, so you won't feel like you're missing out on anything. It's not sporty, it's not wildly spacious or even particularly stylish, but it's easy to drive. Sheer competence—that's what gets the Elantra its spot on the list.
Toyota Corolla Overview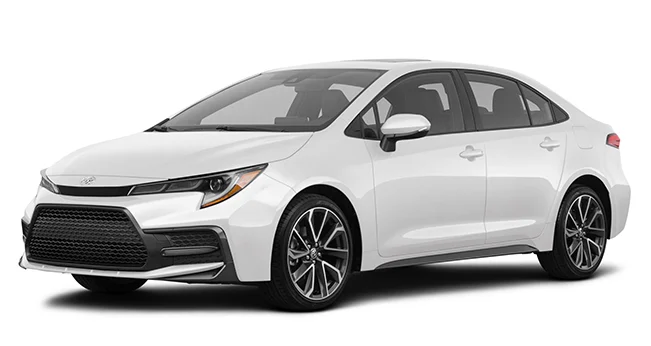 Redesigned in 2020, the Toyota Corolla is one of the newest vehicles on our list. Like much of Toyota's vehicle lineup lately, it's been updated with aggressive new looks and a series of interior updates. It also gets a series of high-tech features as standard.
Toyota Corolla Trim Levels and Engines
The 2020 Corolla is available in five trim levels: L, LE, SE, XLE, and XSE. The base engine is a 1.8-liter four-cylinder that puts out 139 hp—it's standard on the L, LE, and XLE. The SE and the XSE get a 2.0-liter engine that puts out 169 hp. That more powerful engine also gets you the best fuel economy: an EPA-estimated 34 mpg combined with the automatic transmission for a 2020 Corolla. The 1.8-liter engine gets 32 mpg combined with the automatic.
Toyota Corolla Interior and Driving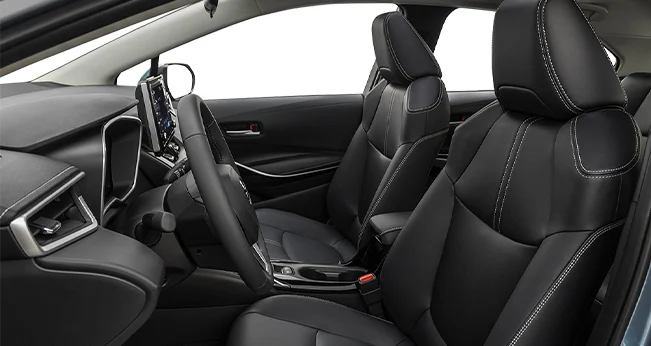 The Corolla is a comfortable daily driver with impressive fuel economy. Steering and handling are a bit better on the SE and XSE trims, but don't expect an exciting drive in the Corolla—this is a car that does well at the basics instead.
On the inside, the Corolla is no-nonsense. There aren't a lot of soft or upscale-looking surfaces, but things are well built. The controls are also logically organized and the seats are pretty comfortable. The cabin is roomy for front passengers, but rear headroom is a bit tight for taller adults.
With its recent redesign, more standard advanced driver aids and a refreshed infotainment system were added — both welcome improvements over earlier Corollas. Driver aids such as forward collision warning with automatic emergency braking and lane-keeping assist come standard, and they're well-tuned to avoid false alarms. The 2020 Corolla also has Apple CarPlay® smartphone integration. However, it lacks Android Auto™. Toyota didn't add this feature until the 2021 model year.
Top reasons to get a Corolla:
Well-built cabin with logical layout

Comfortable ride quality

Impressive list of standard features and driver aids
Travis' take: The L and the LE come with a suitable number of standard features. But the Corolla is at its best in the SE or XSE trim. They have the more powerful engine and don't feel so sluggish off the line as the L and LE. These trims also have bigger wheels and look a little sportier.
Honda Civic Overview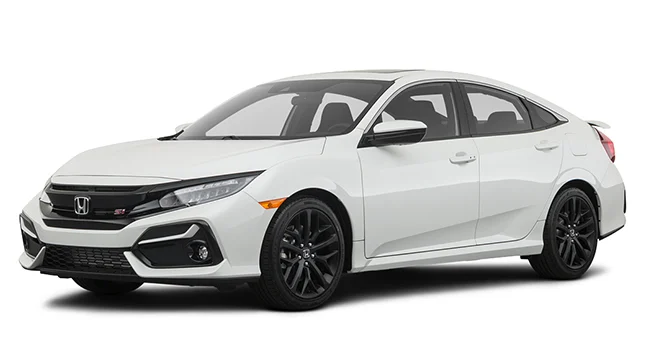 The Honda Civic is one of the best compact sedans that money can buy. The 10th-generation Civic was around from 2016 until 2021, and a completely redesigned version debuted for the 2022 model year. The 10th-gen Civic, however, still tops our list of best compact sedans on the used market.
Honda Civic Trim Levels and Engines
The Civic offers an excellent combination of comfort and performance. It's also one of the roomiest compact cars around. There are six trim levels for the 2020 Civic sedan: LX, Sport, EX, EX-L, Touring, and Si.
Depending on trim level, there are three engines you can get in the Civic. The LX and the Sport use a 2.0-liter four-cylinder engine that produces 158 horsepower. The EX, EX-L, and Touring get a turbocharged 1.5-liter four-cylinder that produces 174 hp. The sportier Civic Si has an upgraded version of the 1.5-liter engine that cranks out 205 hp. Note that it's only available with a six-speed manual transmission.
Depending on the engine and transmission you get, the 2020 Civic gets EPA fuel economy estimates that range from 29 mpg combined (the Si) all the way up to 36 mpg combined (models with the turbo 1.5-liter engine with the automatic transmission).
Honda Civic Interior and Driving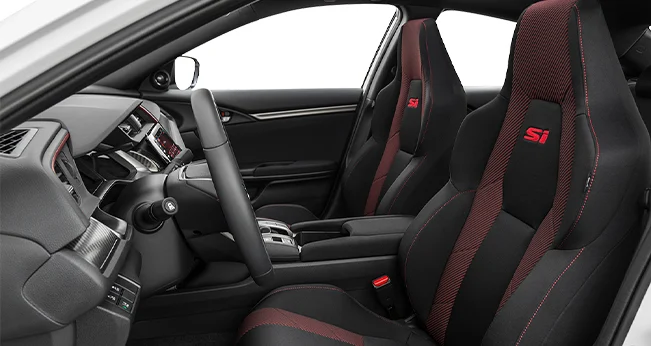 The Civic is fun to drive for a small sedan. Even in the base trims, it handles corners well. And when you opt for the more powerful 1.5-liter engine, it's one of the quickest vehicles in the class. As a bonus, the Civic is comfortable to drive on a daily basis or on long road trips. If you go with the high-performance Si trim, you'll get a firmer ride quality because of its sport-tuned suspension, but it's not what we'd call uncomfortable.
The Civic also has comfortable seats and enough legroom and headroom in all four major seating positions for most adults. The cargo space is impressive too, with a large trunk and lots of storage spaces in the cabin for small items such as water bottles and smartphones. The quality of materials is top-notch too, making for a high-end look and feel.
There are a few drawbacks to the Civic. The most notable is the infotainment system. It can be a little slow to respond and has dated-looking graphics. Models from 2016 to 2018 had a tactile slider for the volume that was distracting to use. Thankfully, Honda swapped it out for a regular volume knob in 2019.
A number of driver aids come standard on the Civic in 2020 including adaptive cruise control, lane departure warning, and forward collision warning with automatic emergency braking. The Civic's driver aids are abundant, which is nice, but they're a bit sensitive for our liking, often setting off false alarms.
Top reasons to get a Civic:
Excellent to drive for a compact sedan

Impressive engine performance and fuel economy estimates

Roomy cabin

Abundant standard features
Travis' take: The Civic is the best in its class, no doubt. Sure, there are some issues with overly sensitive driver aids and a lackluster infotainment interface, but the Civic overcomes those problems easily. It's roomy, practical, and fun to drive. Really, with the exception of in-cabin tech, it leads in every category. Look to get a Civic with the turbocharged engine for its superior performance and fuel economy.
Kia Forte Overview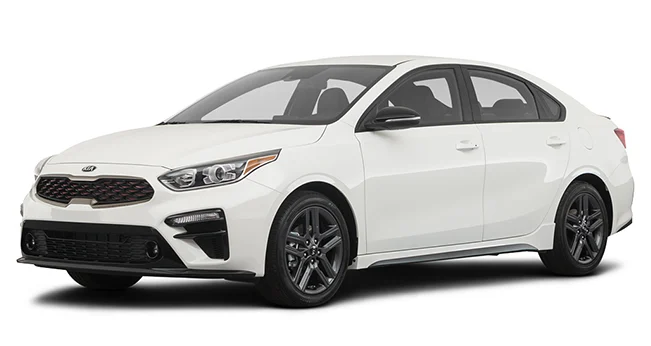 Looking for a small sedan that's stylish and packed with features? The Kia Forte just might be your best choice. The latest-generation Forte debuted for the 2019 model year and offers impressive value.
Kia Forte Trim Levels and Engines
The 2020 Forte is available in five trim levels: FE, LXS, GT-Line, EX, and GT. Even at the base end of the trim level ladder, there's plenty of equipment included in the Forte. And the upper trim levels give you a lot of options to choose from.
Depending on trim, the 2020 Forte has two different engines: a 2.0-liter four-cylinder is standard on the FE, LX, GT-Line, and EX. It's good for 147 hp. Exclusive to the GT is a turbocharged 1.6-liter that produces 201 hp. The 2020 Forte's best fuel economy comes from the base FE trim. It gets an EPA-estimated 35 mpg combined, which is one of the highest estimates in the class. The other trims with this engine and the automatic transmission get 33 mpg. A 2020 Forte GT with the automatic is slightly less efficient at an EPA-estimated 30 mpg.
Kia Forte Interior and Driving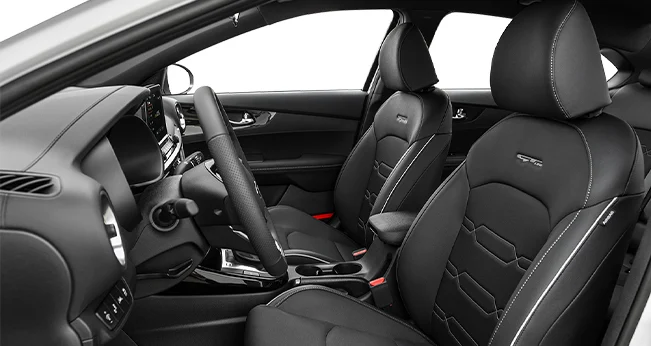 Both the 2.0-liter and 1.6-liter engines feel well suited to the car with good off-the-line acceleration. On the highway or over broken city streets, the Forte is comfortable enough for all the daily-driving and road-trip responsibilities you can throw at it. Road noise is low and the seats are well padded. Unfortunately, we've found the Forte can be upset by midcorner bumps, jostling the car about more than we'd like. Rear legroom is also a little tight for taller adults.
The Forte's cabin feels pretty plush for the price and has a simple control layout. With impressive cabin construction and high-quality materials, few vehicles in this class feel this nice. Standard driver aids include forward collision warning, automatic emergency braking, lane departure warning, and lane-keeping assist. Those aids are well tuned and during testing we didn't get any false alarms. Apple CarPlay and Android Auto smartphone integration systems are standard on all trims.
Top reasons to get a Forte:
Comfortable ride quality

Impressive, easy-to-use infotainment interface

Upscale interior quality
Travis' take: The Forte is a great value buy considering all the features it comes with. What's especially nice about the Forte is how high-end it feels on the inside. Even the base models feel like they're more expensive than they are. Consider getting the GT-Line trim if you're shopping for a Forte. It looks sporty and has just about all the features you'll really need from a compact sedan.
Mazda3 Overview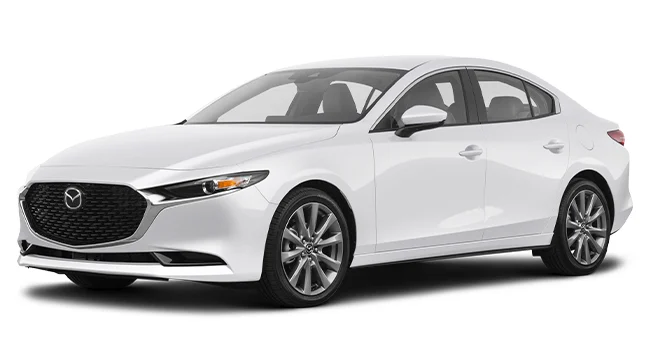 The Mazda3 should be at the top of your list if your priorities include style and driving fun. Sleek and stylish, the Mazda3 offers an appealing aesthetic on the outside and a luxury feel on the inside. The latest-generation Mazda3 debuted for the 2019 model year.
Mazda3 Trim Levels and Engines
The 2020 Mazda3 is available in four trim levels: Base, Select, Preferred, and Premium. Each one comes with a 2.5-liter four-cylinder that produces 186 hp. The 3 comes standard with front-wheel drive, and all-wheel drive is offered as an option. Fuel economy is OK but not as good as what you can get from some of the other sedans on our list. The EPA estimates that the front-wheel-drive Mazda3 gets 30 mpg combined and the all-wheel-drive 3 gets 28 mpg. If you're looking for more choice in engines, consider getting a 2021 or newer model since Mazda introduced a new base engine as well as a turbocharged 227-hp 2.5-liter engine, which is quite powerful for a compact sedan.
Mazda3 Interior and Driving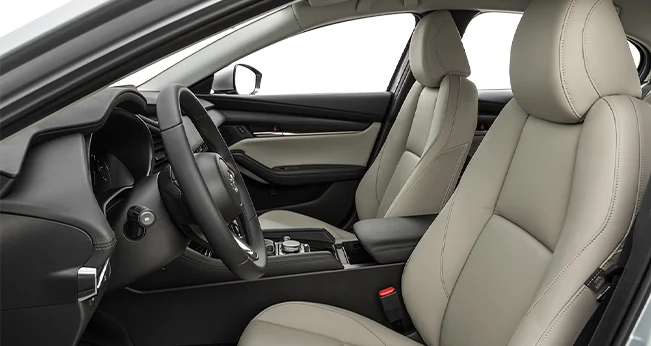 Driving the Mazda3, even with the standard engine, is an engaging and exciting experience. Steering and handling are excellent, with minimal body roll through corners and lots of confidence on a twisty road. The ride quality is a bit bumpy, but we think it's an easy trade-off when you consider how fun the 3 is to drive.
If you're looking for a sharp interior design that will wow your passengers, the Mazda3 has that nailed. The cabin features lots of soft-touch materials throughout, and upper trim levels feel luxurious. The 3's infotainment interface is crisp and clear with high-end graphics that remind us of those in some luxury sedans. The cabin isn't as spacious as class leaders, especially in the back seat, but most adults will fit well up front.
Giving all this praise to the Mazda, we'd be remiss to leave out its biggest drawback: price. Because of its premium feel, the Mazda3 is a bit pricier than the competition. It's worth noting, though, that most of the trim levels are relatively well equipped. The base Mazda3 gets forward collision mitigation, adaptive cruise control, lane-keeping assist, and a drowsy driver monitor. You won't get CarPlay and Android Auto smartphone integration, but they're standard starting with the Select trim. Go with a Premium trim model and you'll enjoy a premium audio system, leather upholstery, and sunroof.
Top reasons to get a Mazda3:
Luxurious look and feel

Sporty driving dynamics

User-friendly cabin tech
Travis' take: When it comes to looks, the Mazda3 is my favorite in the class. Sure, the Civic is a great all-arounder, but the 3 wins me over with its high-end interior, stylish exterior, and easy-to-use infotainment interface. The base engine isn't a tower of power, but handling is so good, you'll hardly notice. Drivers who are seeking fun: This one should be right at the top of your list.
Conclusion
Compact sedans offer quite a bit of capability in a small package. The best are feature-packed and can be a great option for first-time car buyers or people who simply want a city-friendly runabout. And depending on what you want, you can also find one that prioritizes comfort, style, or performance.