1. Eye-catching style and bold lines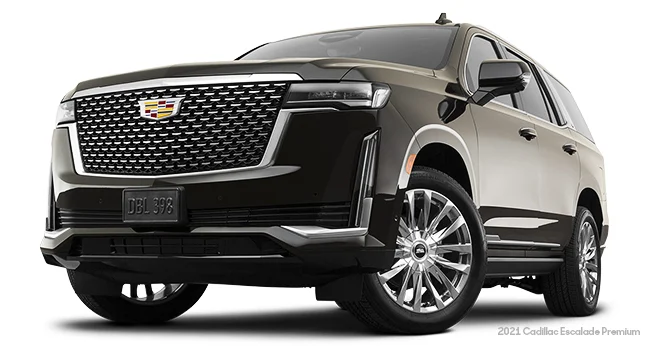 You won't have any trouble finding the 2021 Cadillac Escalade in a crowded parking lot, and passers-by will be turning their heads as you drive by. From Crystal White to Black Raven, there's also an exterior color option to suit every style.
2. A powerful, potent engine is standard
As standard, the 2021 Cadillac Escalade comes with a powerful 6.2L V8 engine, producing 420 horsepower and 460 lb-ft of torque. Right out of the box, the 2021 Cadillac Escalade offers all the power and hauling capabilities you'll need for daily driving duties. Not only does it offer fast, smooth acceleration, but it provides great pulling power, too. When properly equipped and in two-wheel drive configuration, the 2021 Cadillac Escalade can tow up to an estimated 8,200 lbs with its 6.2L engine.
3. Optional diesel engine = power and practicality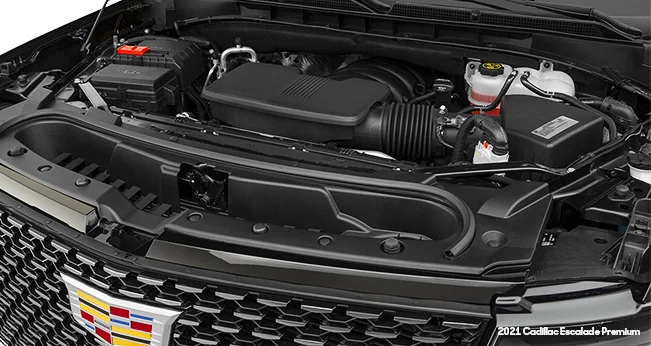 Alongside the standard 6.2L V8 gas engine, the 2021 Cadillac Escalade has an optional 3.0L turbocharged six-cylinder diesel engine available. Power output is 277 hp, with the exact same torque output as the gas engine at 460 lb-ft. Crucially though, you shouldn't need to take anywhere near as many trips to the pumps with this powerplant. The 3.0L diesel engine can achieve an EPA-estimated 23 mpg combined in two-wheel drive configuration with the standard ten-speed automatic transmission, compared to an EPA-estimated 17 mpg with the 6.2L engine on the same drivetrain configuration.
4. A vast, spacious interior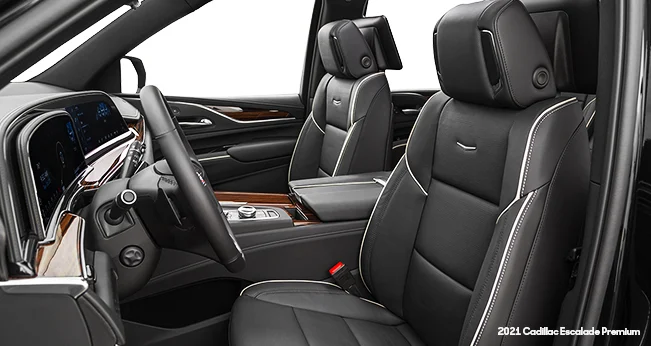 One of the main strengths of such a large SUV is, of course, a large spacious interior. And not only does the 2021 Cadillac Escalade deliver just that, but it maximizes the available space extremely well inside the redesigned body and cabin. There's seating for up to seven passengers as standard, with an optional bench second-row seat increasing that to eight if needed. And with a big 168.4 cu-ft of passenger volume, you and your crew will have plenty of room to stretch out and be comfortable on longer journeys. Additionally, there's 25.5 cu-ft of cargo volume behind the rear seats, and that can be expanded to a massive 121 cu-ft of cargo volume with both second and third-row seats folded.
5. A jam-packed feature list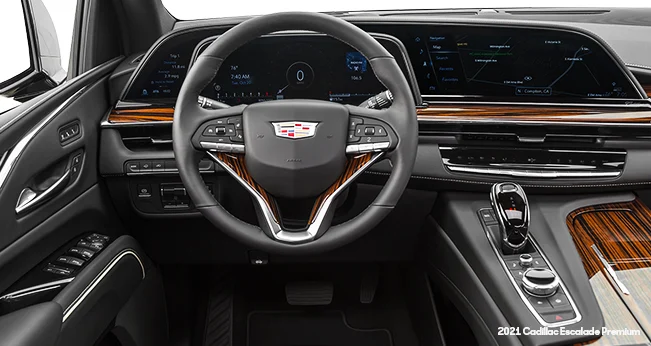 Well-equipped doesn't begin to cover the 2021 Cadillac Escalade. The base model trim is named Luxury, and they mean it. It comes standard with leather seating, a dash-spanning 16.9-inch infotainment screen, heated front and rear outboard seats, front and rear parking sensors, and tri-zone climate control. Elsewhere on the feature list, the Premium Luxury trim includes the Driver Assist Tech Package, featuring adaptive cruise control and soft-close doors, the Heavy-Duty Trailering system, and the Cadillac Super Cruise semi-automated driving system. For maximum driver convenience and comfort, the 2021 Cadillac Escalade has all the features you'll need.