What Makes the Dodge Durango a Towing King? Your Expert Guide
---
PUBLISHED TUESDAY, DECEMBER 1, 2020
Some crossovers are able to out-tow pickup trucks.
With thousands of vehicles in our inventory, we're here to help make car research easier for you. We've partnered with car-review experts from Edmunds to weigh in on what matters most when you're looking to buy a car.
***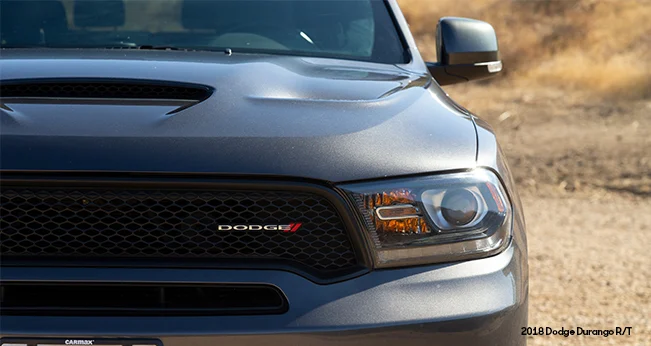 Crossovers are tougher than you might think. These SUVs ride on a car-like platform that, in most cases, enables greater ride comfort and fuel economy ratings than lumbering, larger models. But that doesn't mean crossovers are weak. A perfect example is the current-generation Dodge Durango, which debuted in 2011.
The Durango boasts a high-strength frame and a trio of powerful engines. As a result, models 2018 and newer pack a maximum towing capacity of 8,700 pounds when properly equipped. That is the highest capacity you'll find from a crossover SUV. It is also versatile, with optional three rows of seating and plenty of modern technology.
All right, so it can tow. How usable is it for weekday commutes and weekend getaways? Edmunds Editor Ryan ZumMallen examines this burly crossover plus other capable competitors you might want to cross-shop.
What are your options?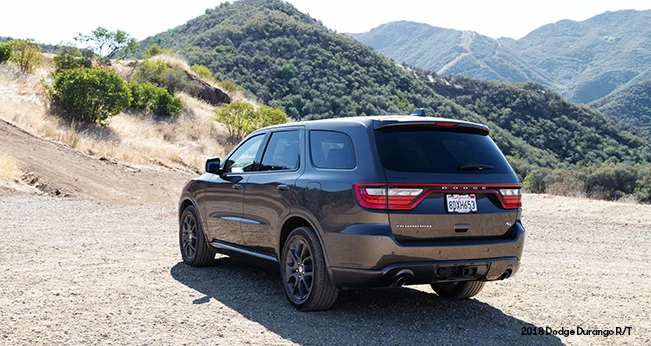 Admittedly, the current Durango generation shows some gray hair around the edges. This version of the Durango debuted in 2011, got a slightly new design in 2014, and added some key changes in 2018. Here is what you should know about certain model years:
2011-2013 Durango: These models are relatively basic, even for the time. They feature a 3.6-liter V6 engine or an optional 5.7-liter V8 engine. Luxury features are not common.

2014-2017 Durango: These Durangos have a sportier exterior design and an eight-speed automatic transmission that helps enhance acceleration and fuel economy compared to the earlier Durangos that had a five-speed or six-speed automatic. The interior is nicer, too, and features an improved infotainment system.

2018-2020 Durango: These years are pretty similar to the 2014-2017 models. A key addition is the SRT trim and its 6.4-liter V8 engine.
You may find some versions of the Durango with two rows of seats, although the vast majority feature three rows. All versions are available with either rear-wheel drive or true four-wheel drive with a low-range transfer case for bona fide off-road ability.
Dodge has cycled available trim levels in and out of the Durango lineup over the years. Ones to look for include the luxurious Citadel, the aggressive R/T that comes standard with the 5.7-liter V8, and the value-oriented GT that debuted in 2017.
Powertrains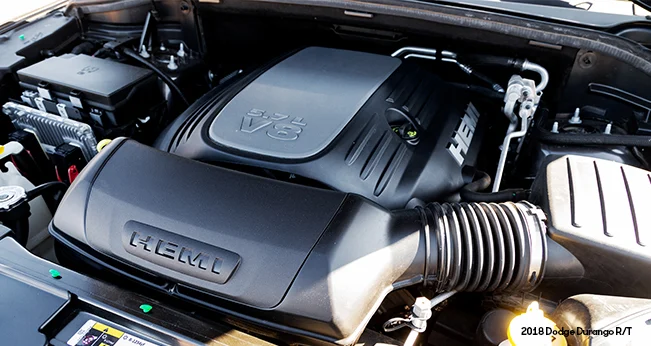 The base engine in the Durango is a 3.6-liter V6 called the Pentastar; it puts out 290-295 horsepower, depending on the trim and model year, and 260 lb-ft of torque. We've found it makes effortless power throughout the rev range. Its maximum towing capacity is 6,200 pounds when properly equipped. The Durango comes with rear-wheel drive, or you can choose all-wheel drive for better handling in slippery conditions.
For regular towing, a more enticing option is the 5.7-liter V8 engine that Dodge calls the Hemi. It makes 360 horsepower and 390 lb-ft of torque. This engine is available on many Durango trims and standard on the R/T. It's powerful and well suited for pulling a trailer. Maximum towing capacity is 7,400 pounds when properly equipped, which should be enough for most recreational uses, such as pulling a boat or travel trailer. V8 models with four-wheel drive also have a low-range transfer case, which can help the Durango in low-traction situations, such as off-roading or on boat ramps.
Finally, the Durango SRT trim (2018 and up) comes with a monstrous 6.2-liter V8 engine producing 475 horsepower and 470 lb-ft of torque. This turns the Durango into a rocket capable of towing up to 8,700 pounds when properly equipped. All Durango SRT models come standard with all-wheel drive.
High fuel economy is not a Durango strength. Some versions of the V6-powered Durango ― a 2019 model with rear-wheel drive, for example ― can achieve an EPA estimate of 21 mpg in combined city/highway driving. But that's the maximum combined figure available for this generation of Durango. A 2019 Honda Pilot with front-wheel drive and its available nine-speed automatic transmission, by comparison, gets an EPA-estimated 23 mpg combined.
In most configurations, EPA estimates for the 2011-2020 Durango fall below 20 mpg combined. The 2018-2020 Durango SRT is at the bottom of the Durango's range with an EPA-estimated 15 mpg combined.
Interior and Utility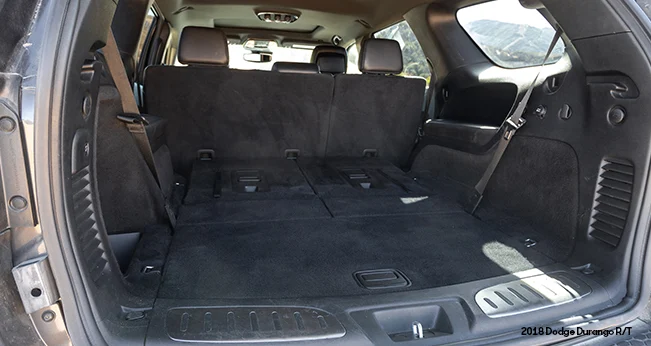 This generation of Durango has an appealing interior design. All trims have a unique, sporty style for a midsize crossover SUV. There are also supportive seats and soft materials that make for a more comfortable experience than riding in a rough and rugged SUV.
The Durango has big doors, which make it easier to get inside or load large items. However, it has a higher ride height than many crossover SUVs, so expect to step up instead of climbing in more naturally. Once inside, seating in the first two rows is spacious. The optional third row is best left for children. Outward visibility is good for the class, which is appealing when towing a heavy trailer.
When it comes to cargo space, the Durango can handle just about anything you'll want to store back there. There is not much room behind the optional third row of seats, but if you fold them down, you can load a reasonable amount of equipment onto the flat floor. A 2018 Durango, for instance, has 47.7 cubic feet of space with its third-row seat folded or 84.5 cubic with both the third-row and second-row seats folded down. This is plenty for loading items like large coolers, flatscreen televisions and even some bicycles.
The Durango is more of an overachiever when it comes to towing. Look for the Tow package, which includes both four-pin and seven-pin wiring connectors to power the signals and lights on a trailer. It also has a Class IV receiver hitch. A Class IV allows for heavier trailers than a Class III hitch, the style more commonly found on crossovers.
For a three-row crossover with a more impressive interior, check out the Buick Enclave and its pleasant and quiet cabin. We also like the spaciousness of the Honda Pilot. Enclave models 2018 and newer can tow up to 5,000 pounds when properly equipped, and Pilot models 2016 and newer are rated the same.
Technology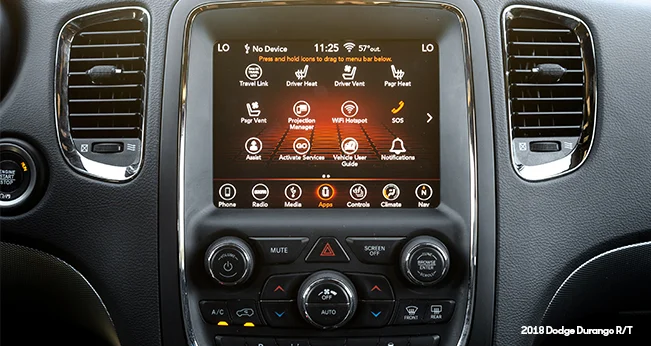 Dodge has traditionally taken a tech-forward approach to the Durango. A central touchscreen is available in models from 2011 and on. It became standard equipment in 2014 ― we highly recommend finding one with the 8.4-inch Uconnect® unit that debuted that year and includes Bluetooth® connectivity. The Durango, however, did not support Apple CarPlay® and Android Auto™ until 2018, when both came standard along with the new Uconnect 4C system.
A rearview camera comes on most Durango trims, even dating back to 2011 models. Adaptive cruise control came early to the Durango as well. The Technology package that debuted in 2013 includes it, plus forward collision mitigation. This system can warn you about an imminent collision and automatically apply the brakes if you don't react in time.
One three-row crossover with impressive technology is the Mazda CX-9, which is also a lot of fun to drive. The most recent generation that debuted in 2016 includes a lot of standard tech features and its driver aids work very well compared with those on the competition. Its towing ability is lacking, though, maxing out at just 3,500 pounds when properly equipped.
What it's like to drive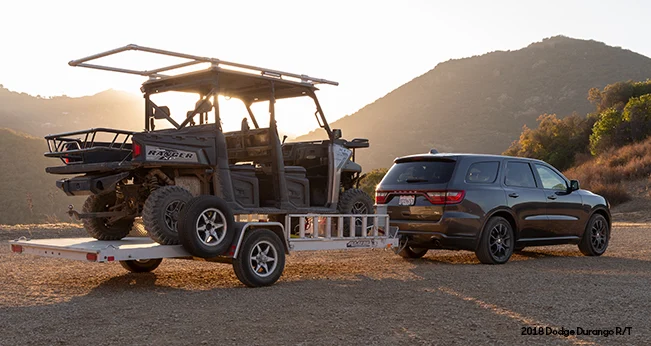 Power from the base 3.6-liter V6 is steady. But this is a workhorse engine ― it is not very exciting. You'll find towing is its sweet spot, where the engine can pull the Durango and your trailer along at a predictable pace. The eight-speed automatic transmission included since 2014 is a big upgrade in terms of acceleration and smoothness over the previous five-speed.
The optional 5.7-liter Hemi V8 takes things to another level. It performs similarly to the V6 in its consistent delivery, just with a lot more power on tap. Step on the gas pedal and this V8 will roar. It is a champion of towing, able to climb steep grades with impressive weight behind it. Just beware that Durangos with this engine, as well as the V6, can feel floaty and vague on the road. It's a result of the soft suspension built to handle heavy trailers.
What can we say about the 6.4-liter V8? This engine allows the 5,500-pound Durango — heavy even for a crossover this size — to accelerate from 0 to 60 mph in about 5 seconds flat. It takes off quickly, and the exhaust rumbles with a sound that is deeply satisfying to anyone who likes muscle cars. These Durango SRT models also include several performance upgrades that sharpen the braking and steering, but they make the ride extra rough on bumpy streets.
Conclusion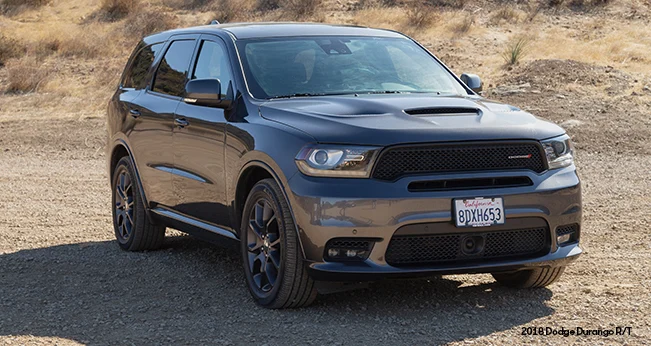 You'll find a lot of great three-row crossovers available on the used market. Your tastes may differ depending on how you prioritize driving fun, ride comfort, or luxurious features. If your focus is more on luxury and value, we recommend taking a look at the Honda Pilot, Mazda CX-9, and Toyota Highlander. But for the best mix of power, towing, and bold style, the Durango is easily your best choice.
Ryan ZumMallen has written automotive news and buying advice for nearly a decade. As an automotive reviews editor for Edmunds, ZumMallen examines trends in both the new and used markets with a focus on sporty, affordable cars, off-road trucks and SUVs.