The 4WD/AWD Index
---
PUBLISHED TUESDAY, MARCH 26, 2019
Find out where 4WD/AWD is gaining traction.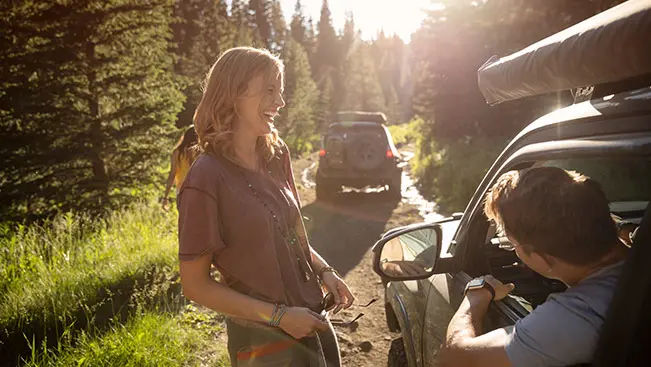 Why are vehicles with four-wheel drive (4WD) or all-wheel drive (AWD) becoming more popular? Maybe it's America's collective spirit of adventure. Then again, many drivers will never go off-road, much less climb a steep rock pile or power through a mud bog. If you live in parts of the country where it rains or snows for a good part of the year, you might be more inclined to choose a 4WD/AWD vehicle. We've been tracking sales of our used 4WD and AWD vehicles since the early 2000s and our data reveals some interesting sales trends.1
Purchases of used vehicles with 4WD or AWD are trending upward. The trend line looks more like uneven terrain than a steady incline. Nonetheless, when we looked at sales data for 4WD/AWD vehicles at CarMax stores that have opened prior to 2003, total sales reached 26% in 2018. We found that one out of four CarMax vehicles sold in 2018 were equipped with 4WD or AWD.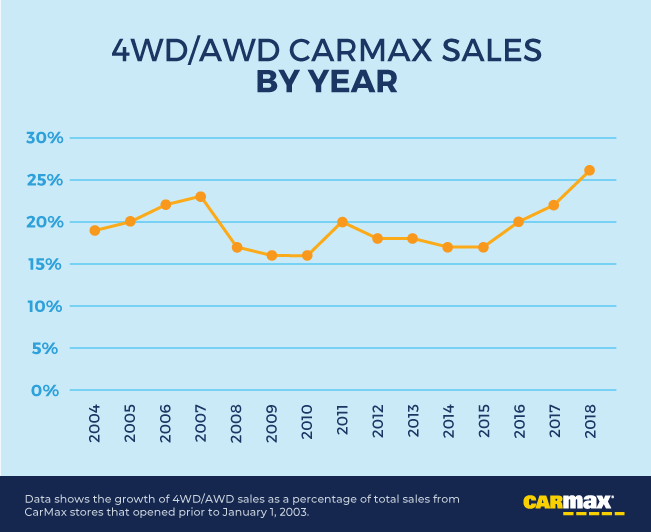 Which 4WD/AWD makes and models are most popular? Most 4WD systems are found in rugged trucks. In our article 4WD vs. AWD: Which to Choose, we shared that the top-selling vehicle with 4WD was the Ford F-150, based on CarMax vehicle and sales data from December 1, 2017 through June 1, 2018. These days, you can find AWD on many types of vehicles, from crossovers to compacts. The AWD Subaru Outback was our top seller.3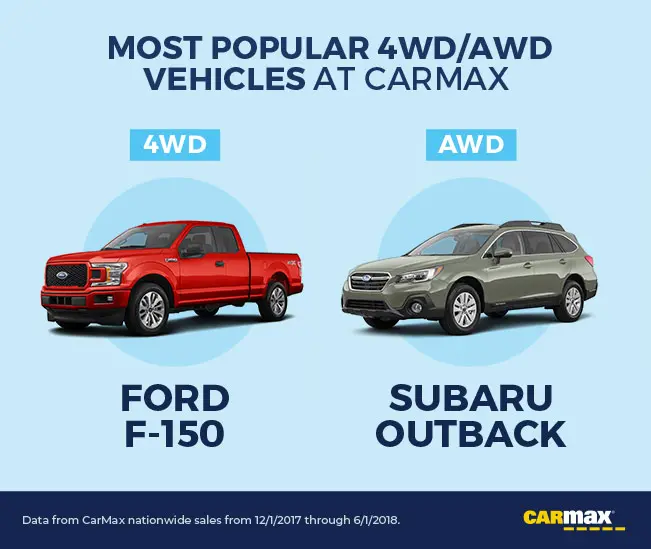 We decided to shift gears and look at geography. Not surprisingly, 4WD/AWD vehicles are very popular in the North and Midwest, where the winters are harsher or the mountains steeper. Topping our list is Colorado, where 72.64% of vehicles sold were equipped with 4WD or AWD.2
In general, 4WD and AWD sales head south in the South. These vehicles are least popular in Florida, where only 12.73% of car sales were equipped with 4WD or AWD.2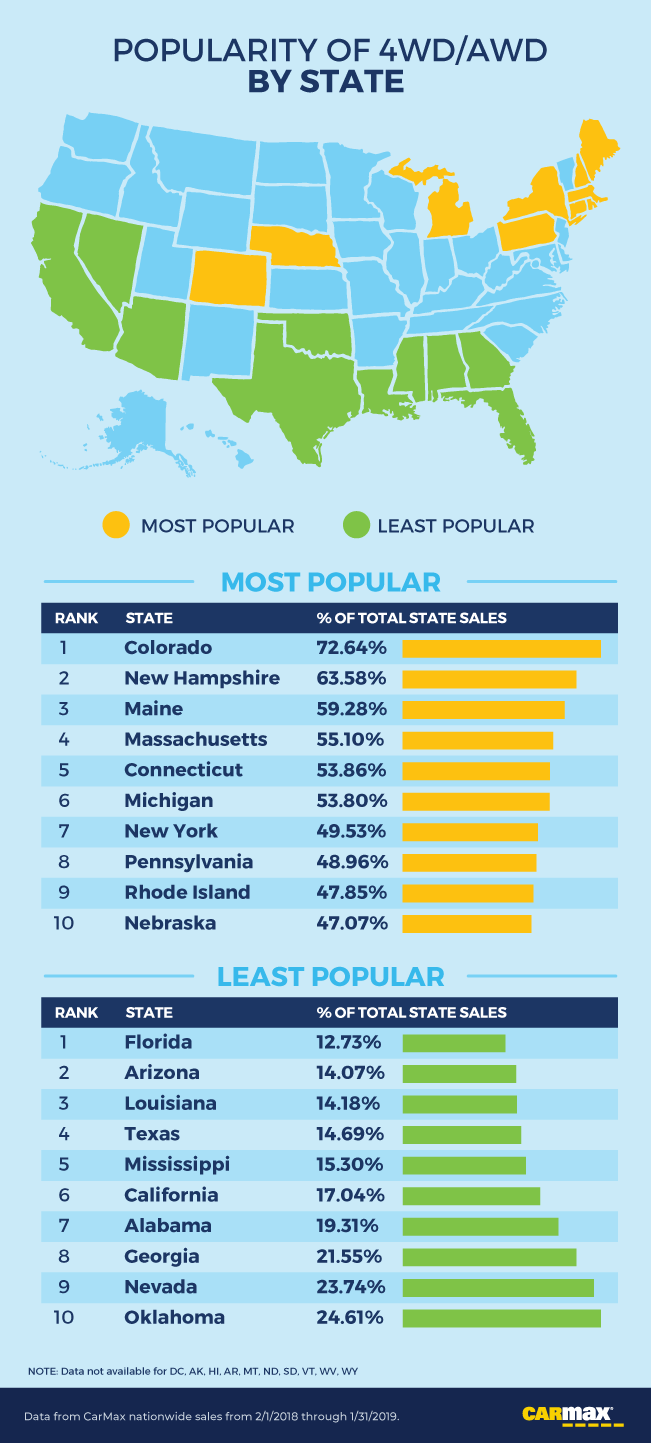 We also decided to look at cities where 4WD/AWD is most popular. The trend holds true—more popularity in the North and less in the South. And once again, Coloradans show their love for four-wheeling. Denver (72.23%), aka "The Mile High City," and Colorado Springs (68.10%) occupy the top two spots on our list.2
Reno, Nevada, located at the foot of the Sierra Nevada, is an outlier on this list. More than half the vehicles (54.90%) sold in Reno were 4WD/AWD, even though Nevada (23.74%) made our least popular state list.2
The cities where 4WD and AWD are least popular are found mostly in the South or Southwest. The least popular city for 4WD/AWD? Miami (10.68%), where only one in 10 sold were equipped with 4WD/AWD. See the chart below for the popularity of 4WD/AWD vehicles by city across the country (based on sales data from February 2018 to January 2019).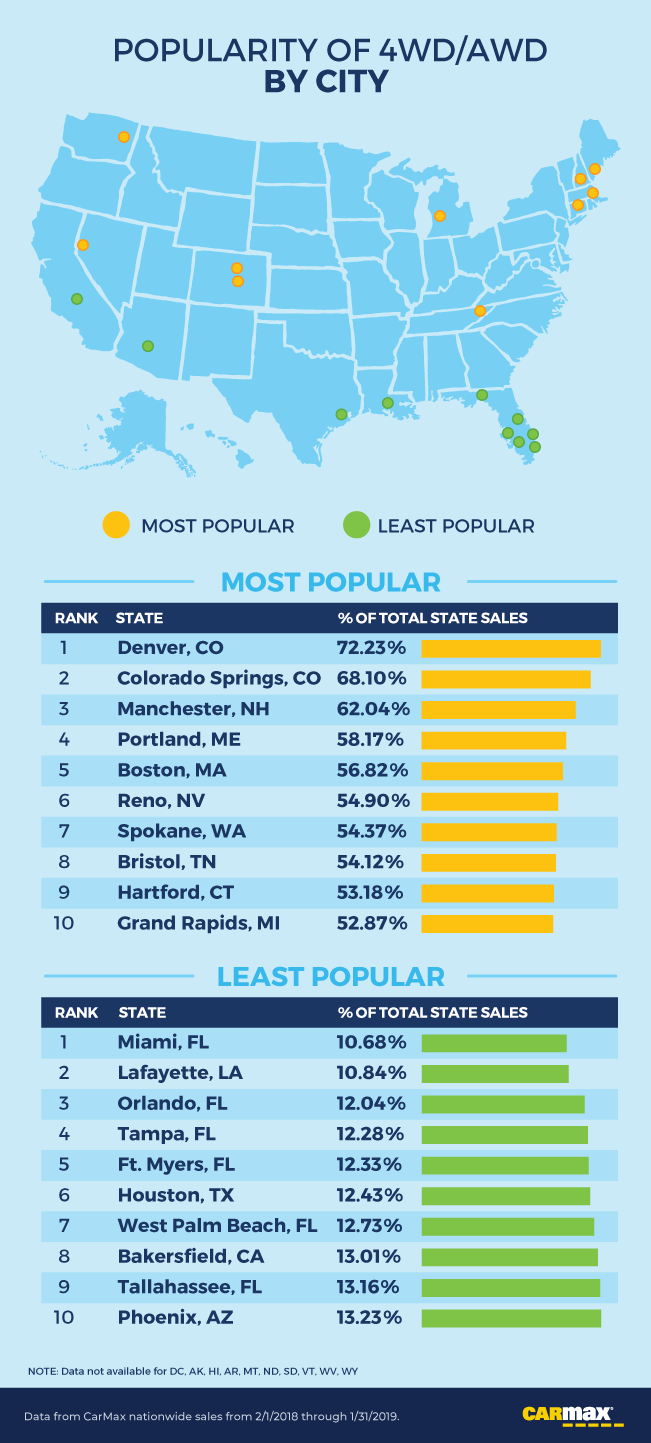 ***
Overall, more Americans are buying 4WD or AWD vehicles. Sales of these vehicles jumped to 26% of total CarMax sales in 2018. With a few exceptions, 4WD/AWD is more popular in the North and Midwest, areas prone to severe winters or rugged terrain. If you're interested in the power and control of 4WD or AWD, check out this article: AWD vs 4WD: Which to Choose.
1
Based on CarMax sales from January 1, 2004 to December 31, 2018.
2
Based on CarMax sales from February 1, 2018 to January 31, 2019.
3
Based on CarMax sales from December 1, 2017 through June 1, 2018.
Unless otherwise noted, information relating to these featured vehicles comes from third-party sources, including manufacturer information. Product and company names may be trademarks™ or registered® trademarks of third-party entities. Use of them does not imply any affiliation with or endorsement by these entities.