What Makes the Toyota 4Runner an Off-Road Star
---
PUBLISHED MONDAY, NOVEMBER 1, 2021

BY EDMUNDS EDITORS
Why this SUV appeals to adventurers of all experience levels.
With thousands of vehicles in our inventory, we're here to help make car research easier for you. We've partnered with car-review experts from Edmunds to weigh in on what matters most, whether you're looking to buy or sell a car.
***
Vehicle Reviewed:
2019 Toyota 4Runner TRD Off-Road Premium
The Toyota 4Runner is one of but a few SUVs suitable for off-roading straight from the factory. And by off-roading, we mean real off-roading, not just a brief foray on a dirt parking lot or gravel road. The 4Runner's high ground clearance and rugged truck-based architecture allow it to drive over rocks or hills that would stymie most crossovers.
But which 4Runner model or trim is the best choice for you? And are there any must-have features? Edmunds' Ryan ZumMallen lays out the options and offers his personal 4Runner advice.
What do I need to know about the Toyota 4Runner?
What engines does the 4Runner come with?
How is the 4Runner's cargo space?
How are the 4Runner's off-road features?
What's the 4Runner like to drive?
What's the 4Runner's interior like?
What other cars should I consider?
If I decide on a 4Runner, which one should I buy?
What do I need to know about the Toyota 4Runner?
This article focuses on the 2010-present 4Runner, which is the fifth-generation version of this midsize SUV. There are as many as nine trim levels to choose from, depending on the model year you find. You may also find some 4Runners with three rows of seats, but the majority are equipped with two rows only.
The 4Runner is a midsize SUV with a large cargo capacity. It has received only a few changes since debuting in 2010. The first significant update you should know about came in the 2014 model year when Toyota restyled the interior and added a standard infotainment screen. The 4Runner also received new integrated smartphone apps and a suite of driver-assistance aids for 2020. Otherwise, the improvements have been minimal over the years.
What engines does the 4Runner come with?
Some early 2010 4Runners came with a four-cylinder engine, but they are rare. Nearly every fifth-generation 4Runner you'll encounter has a 4.0-liter V6 engine that makes 270 horsepower and 278 lb-ft of torque. These numbers align with SUVs of similar size like the Jeep Wrangler and Honda Passport. And almost all 4Runners connect this power to a five-speed automatic transmission. Some trims are available with rear-wheel drive, but most 4Runners come with standard four-wheel drive.
The 4Runner is not a fuel-sipper. This big SUV generally requires a lot of gas. Here is how different models break down by their EPA estimate:
2WD with five-speed automatic

2010-2016: 19 mpg combined

2017-2019: 18 mpg combined

2020-2021: 17 mpg combined

4WD with five-speed automatic

2010-2012: 19 mpg combined

2013-2019: 18 mpg combined

2020-2021: 17 mpg combined
Ryan's take: The V6 in the 4Runner isn't going to blow you away, but it provides power where you need it. For our purposes, that means off-road. At low speeds you can keep digging into the gas pedal and the engine will deliver—whether you're trying to power over a rock or inch up a trail to crest your local hill. The more impressive trick is that the 4Runner has many ways to deliver the right amount of power to the wheel that needs it most. More on that below. 
How is the 4Runner's cargo space?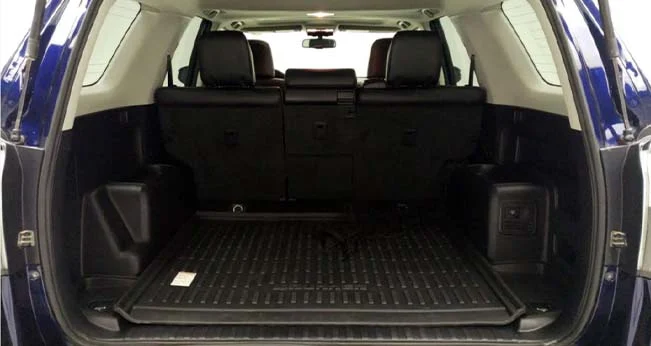 What's an SUV without an abundance of cargo space? That isn't a problem for the 4Runner. Due to its large size and rectangular shape, the 4Runner provides loads of room for storing your stuff inside. Considering the high ground clearance, it has a low floor for easy loading of items into the cargo hold. And one very cool feature is the power rear-hatch window, which more SUVs should copy.
Once you open the rear hatch in two-row models—or lower the power rear window—you'll find 46.3 cubic feet of space when the rear seats are folded down. That is a lot of room for the midsize SUV class, and it should be enough for a weekend of light camping while still putting passengers in the back seat. If you fold the rear seats down, however, the 4Runner capacity balloons to 88.8 cubic feet. This is a large figure, made to feel even larger because of the tall sides and big door openings all over. 
Another unique aspect is the way the rear seats fold. The seat bottoms can draw up against the front seatbacks, allowing the rear seatbacks to fold down. This capability makes a large flat floor combined with the cargo area and creates a nearly flat space to accommodate furniture or large electronics. You can even conceivably throw a mattress inside and make a bed, in a pinch.
Ryan's take: Storage is a major reason to consider the 4Runner. First, the size inside is impressive. Not only does it make your gear easy to access, but the 4Runner also offers a sliding cargo tray that can be pulled out for use either as a shelf or an organizing surface—kind of like the tailgate on a truck. Plus, most models come with roof bars on top of the car. That makes it easy to add a rack or storage box. Anything you can't fit inside? Just toss it up there and tie it down.
How are the 4Runner's off-road features?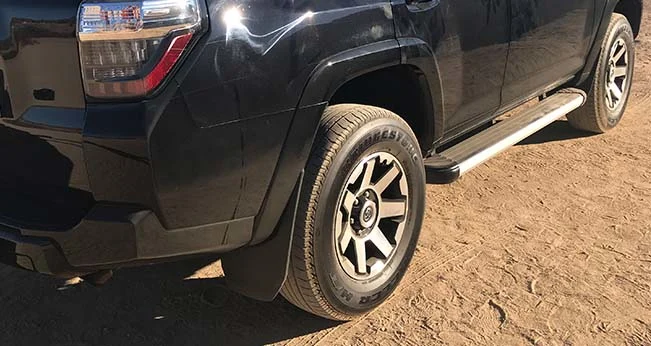 This is where the 4Runner separates from the vast majority of its competition. Every model has a high ground clearance, meaning you'll be able to traverse rocks, cracks, and bumpy trails that other SUVs can't without damaging the underbody. So, whichever 4Runner model you choose, it's likely to be more trail-ready than nearly any other SUV you're considering.
Some models come equipped with a special suspension called KDSS (Kinetic Dynamic Suspension System). This is an electronically controlled hydraulic suspension system that automatically adjusts to allow extra wheel articulation when off-roading on challenging terrain. Another helpful off-road feature that comes standard on 4WD models is called A-Trac. A-Trac sends power to the wheels that have the most traction and hits the brakes on those that don't. When it's activated, you can apply a steady throttle and this feature can help to pull you out of surprisingly difficult situations. Some 4Runners also come with a locking rear differential. It's similar to A-Trac but is even better at helping the rear wheels power through obstacles, even when one wheel is off the ground.
For those who are even more rugged at heart, there's the 2015-and-newer TRD Pro model. It gets a lifted suspension and upgraded shock absorbers to make it the most capable 4Runner for off-roading.
Ryan's take: The 4Runner has pulled me out of many a jam, so I speak from experience when I say its powers (A-Trac and the like) are not exaggerated. The first time A-Trac helped me conquer a rocky trail that I assumed had locked me in place for good felt like magic. The nice thing is that you can dive as deep as you want—try different terrain modes, lock the rear differential, etc.—but at its heart, the 4Runner's right-sized dimensions make it well equipped for outdoor fun right out of the box.
What's the 4Runner like to drive?
The 4Runner is well tuned for off-road driving. It has more than sufficient muscle for rumbling around through the dirt, and the five-speed transmission ensures there is always plenty of power on tap. It's also easy to feather the throttle and receive enough juice for slow crawling. Similarly, the steering and brakes offer good feedback so you can make necessary adjustments without the need for big dramatic motions.
On the road, these attributes are less praiseworthy. The transmission makes the 4Runner less efficient on fuel, and it's not as smooth and refined as modern competitors that feature eight, or even 10, gears. The steering also feels heavy and vague by comparison, and the brakes take longer than average to bring the 4Runner from 60 mph to a full stop.
Ryan's take: Driving the 4Runner feels like driving a decade-old vehicle. Because you are. Everything takes a little more effort and a little more muscle than on more modern crossovers and SUVs. But that additional heft comes in handy once you leave the pavement. It turns into a direct and responsive SUV that reacts quickly to your commands. If you need to avoid a rock at the last second or put your tire in an exact pinpoint position, the 4Runner excels at the task. That's the important takeaway of its driving style. If it outshines the vague and "floaty" feeling you get on the road, this may be the SUV for you.
What's the 4Runner's interior like?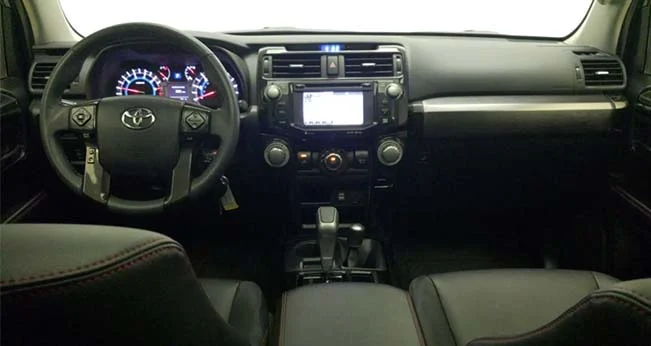 The 4Runner has a sparse and basic interior compared to most modern SUVs. This is partially because it was first designed more than a decade ago and partially because a no-frills interior is more or less the point of the 4Runner. The materials inside are mostly made of plastic and rubber. This might not be the most luxurious approach around, but it makes the 4Runner appear ready for anything. It's also easy to clean.
Early 4Runners were pretty rudimentary when it came to in-vehicle tech. If infotainment is important to you then start looking for 4Runners from the 2018-2019 model years—they come equipped with a 6.1-inch touchscreen. This is still quite small by today's standards, and it often makes the screen difficult to use or even see. Plus, there is no compatibility with the Apple CarPlay® or Android Auto™ smartphone apps with this system. Models from 2020 on come with a much improved 8-inch screen that includes both CarPlay and Android Auto.
Ryan's take: The 4Runner has one big benefit when it comes to the interior: space! There is loads of room for taller drivers to jostle their heads around without hitting the ceiling, and passengers in the back seat should find it easy to comfortably stretch their legs. The seats are also wide and offer a lot of adjustments, so people of all types should find them amenable, and the rear seats will recline as well. Mostly, however, the lack of plush materials inside means it's no big deal if you get the interior dirty.
What other cars should I consider?
There are several SUVs on the market today equipped for some level of off-road activity. For instance, take a look at two vehicles within the Jeep family. There's the Grand Cherokee, which is a five-passenger midsize SUV with comfortable seating and, on the Trailhawk version, plenty of capability. Then there's the Wrangler, a no-holds-barred icon of adventure.
A few SUVs also combine ruggedness with more livable comforts. There's the Land Rover Discovery, which sits on the higher end of the price spectrum but adds a true touch of luxury. Also consider the Subaru Outback for its wagonlike utility and the Honda Passport for its elevated height and carlike driving characteristics.
Ryan's take: The 4Runner squeezes into a really interesting niche—more rugged than a Passport, but not quite a Wrangler. More space than an Outback, and far more affordable than a Defender. The closest true competitor in my mind is the Grand Cherokee, which you can imagine as a 4Runner that went to finishing school. Personally, my pick is the 4Runner because of its inherent off-road ability. You'll make some compromises in terms of fuel economy, and it won't be easy street-parking something this large. But for outdoor fun with a touch more civility than a Wrangler, it's my favorite of the bunch.
If I decide on a 4Runner, which one should I buy?
For conquering mountainous terrain and obstacles, there's little doubt that the 4Runner TRD Pro is best equipped for the job. Its combination of fancy tech features and upgraded brute strength stands toe-to-toe with nearly any SUV on the used market.
For those who want to get dirt or mud splashed onto their fenders but aren't necessarily rock crawling, the TRD Off-Road and TRD Off-Road Premium trims are an excellent choice. These models also come with an impressive list of aggressive features but are a little easier on your budget.
Even the base SR5 and SR5 Premium trims are quite capable in many off-road situations thanks to their excellent ground clearance and standard equipment. However, steer clear of the Limited trim if you intend to get dirty. It comes with less favorable off-road angles, plus chrome exterior accents that may not hold up to much abuse.
Ryan's take: When you consider all that comes with a TRD Off-Road model, it's certainly hard to beat. There's loads of fun to be had with its additional driving modes and the locking rear differential. It also makes a lot of sense to grab a TRD Off-Road Premium because it adds navigation and heated seats. But for me, the Premium and the big, bad TRD Pro are a step or two above what I need. The dirty, muddy, messy adventures I have in mind are perfect for a 4Runner TRD Off-Road.
Ryan ZumMallen has written automotive news and buying advice for nearly a decade. As an automotive reviews editor for Edmunds, ZumMallen examines trends in both the new and used markets with a focus on sporty, affordable cars, off-road trucks, and SUVs.