8 Best Pickup Trucks under $25K for 2022: Reviews, Photos, and More
---
PUBLISHED THURSDAY, DECEMBER 9, 2021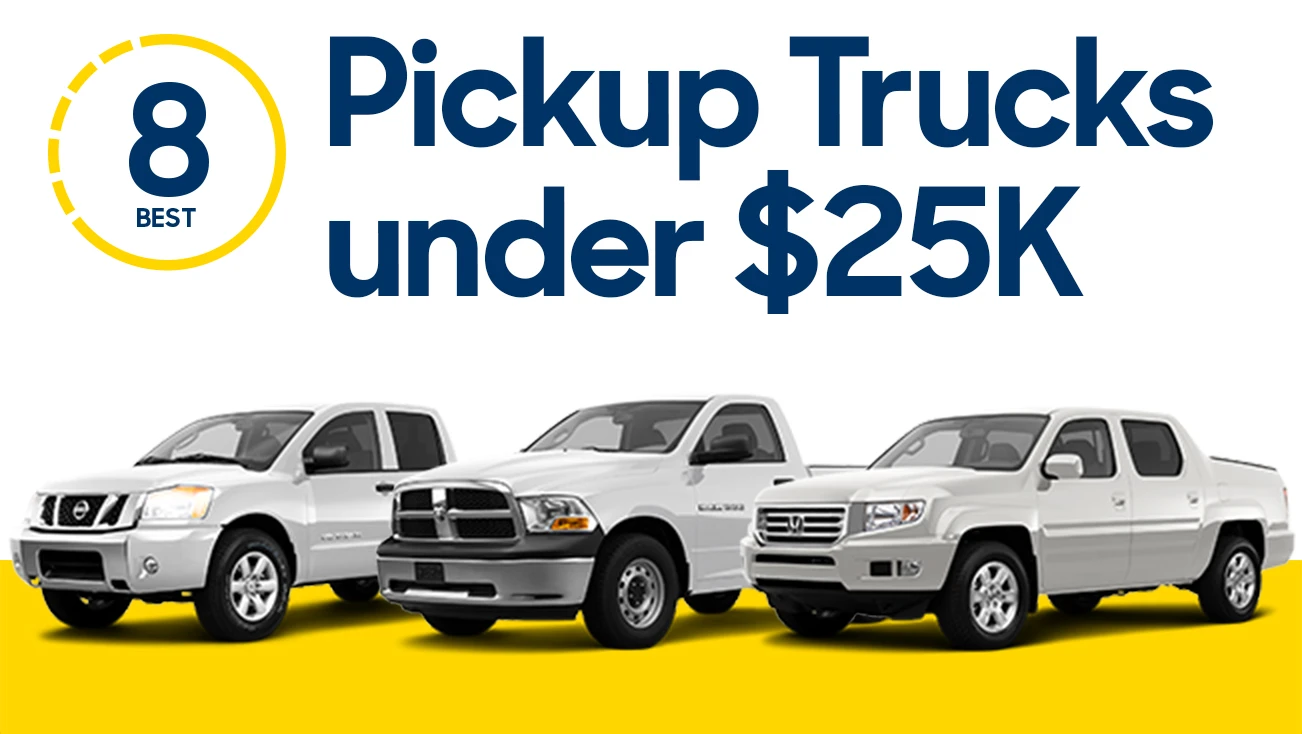 Budget-friendly utility for work and play.
If you want a vehicle that serves as both trusted work companion and recreational hauler, a pickup truck is an obvious choice. Equipped to tow, haul, off-road, and entertain, the latest pickup trucks are some of the handiest vehicles on the road. The conveniences and comforts of a pickup can include cabs with hidden storage, rearview cameras, and even luxury touches like leather upholstery. You'll also be happy to know that there are plenty of budget-friendly models available.
To help on your search for a truck that matches your wish list and budget, we've compiled a list of the eight best used pickup trucks under $25,000 for 2022 shoppers, based on CarMax sales data from April 1, 2021, through September 30, 2021.1 Please be aware that certain model years and select trim configurations could bring the prices of some of these vehicles over the average price.
8.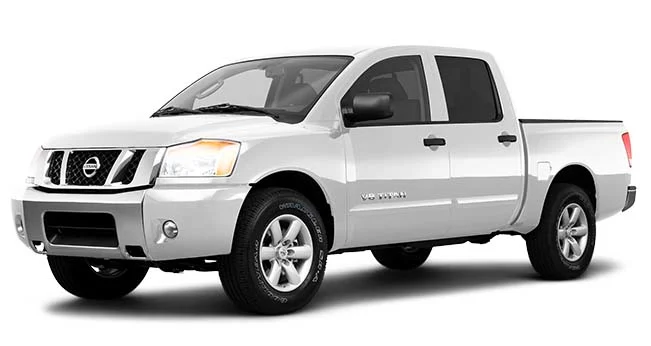 The 2010 Nissan Titan SE trim is a full-size rig with impressive hauling stats and two roomy cab choices. All 2010 Titans have a 5.6L V8 engine paired with a five-speed automatic transmission that delivers 317 horsepower and 385 lb-ft of torque.
The 2010 Titan SE accommodates six passengers as standard across two rows. If your team needs to ride along with you, the Crew Cab's 60/40 split flip-up rear bench has 40.4 inches of legroom. The King Cab's rear bench has 33 inches of legroom, which also flips up for more floor space—great for storing toolboxes and other equipment.
For hauling gear, the 2010 Titan SE has several choices of bed lengths. Look for a 79.1-inch standard bed on the King Cab. Or choose between a 67.3-inch standard bed or an 87-inch long bed in the Crew Cab.
The 2010 Nissan Titan SE includes these standard features:
Rear-wheel drive (four-wheel drive is an available option)

Stability control

Tie-down box cleats

Remote keyless entry

12-volt power outlets
7.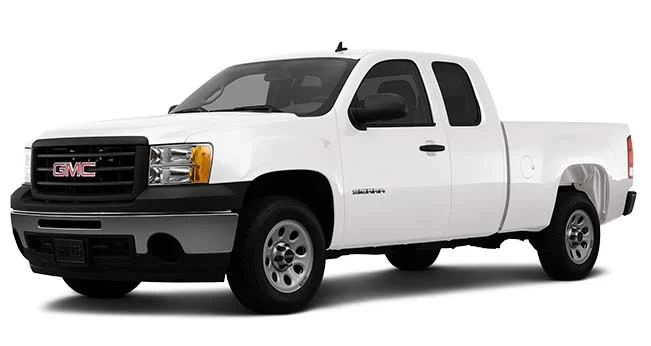 Need something more practical for outdoor work? The 2010-2013 GMC Sierra 1500 Work Truck (WT) trim could be the one for you. With many configurations of its three cab sizes and box lengths, you can find a WT trim that fits your needs.
The 2013 GMC Sierra 1500 WT is available with three engines. The standard powertrain is a 4.3L V6 (195 hp) but look for the optional 4.8L V8 (302 hp) or 5.3L V8 (315 hp) if you need more power.
Towing with the 2013 Sierra WT is simple—the regular cab and long box configuration (with standard engine and 2WD) has a maximum estimated payload of 1,804 lbs and can tow an estimated 9,800 lbs, when properly equipped.2
While the WT trim works well for industrial and outdoor roles, it still has thoughtful touches like vinyl upholstery and handy cup holders to make your day run easier. For later model years, the base trim Sierra 1500 is a good alternative.
Standard features of the 2013 GMC Sierra 1500 WT trim include:
40/20/40 split front bench seat

Tilt steering wheel

Cruise control

Traction control

Hill-start brake assist
6.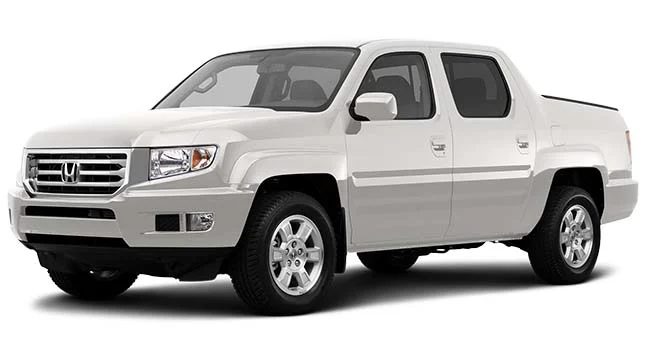 The five-seat, four-door Honda Ridgeline is a comfortable truck that handles like a sedan. Whether you're a first-time truck shopper or a veteran trucker, the Ridgeline is a great choice.
The Honda Ridgeline took a break for 2015 and 2016 before coming back refreshed for 2017. Look for 2013-2014 models to get the most bang for your buck. These models come with a 3.5L V6 engine making 250 hp. It delivers all-wheel-drive power with a five-speed automatic transmission.
The Ridgeline RTS is the mid-range trim that has passenger-friendly features across all model years. It includes a 60/40 lift-up rear row with hidden storage and an upgraded seven-speaker audio system.
Hauling gear is where the 2013-2014 Ridgeline RTS shows its versatility. With the 3.5L engine, the payload tops out at an estimated 1,537 lbs, and when properly equipped, it can tow an estimated 5,000 lbs.2 With driver aids that include Vehicle Stability Assist™ and traction control as standard, you can stay true to your path, no matter the road conditions.
The 2013-2014 Honda Ridgeline RTS trim features as standard:
Dual-action tailgate

Lockable in-bed trunk

Three sets of LATCH fixtures

Privacy glass

Rearview camera
5.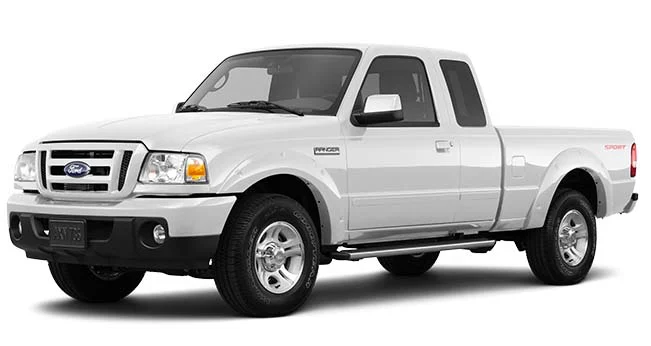 The Ford Ranger pickup is a powerhouse option for contractors, ranchers, and outdoor enthusiasts. Thanks to its go-anywhere size and athletic capability, there's something for everyone. Available as part of the third generation, the 2009-2011 Ford Ranger Sport is the top trim with a 4.0L V6 engine that produces 207 hp via standard rear-wheel drive. Four-wheel drive and an automatic transmission are available.
The 2011 Sport seats four across two rows. The four-door SuperCab® model is a great option for adult passengers in the back, with easier access and 39.1 inches of legroom. The two-door SuperCab Sport works best for cargo and tool storage. Shorter journeys become easier by using the foldaway seats. The 2011 Sport trim has a 72-inch box with a quick-release tailgate. When properly equipped, the 2011 Sport with RWD can tow an estimated 5,800 lbs with the 4.0L engine.2
Standard features of the 2011 Ford Ranger Sport include:
Cloth bucket seats

Stability control

Three skid plates (4WD models)

Safety belt usage sensors

Power mirrors
4.
If you want more from your work truck, the Chevrolet Colorado is a great choice. The 2017-2019 Colorado offers flexibility and finesse. Cabin configurations for five passengers and two cargo bed lengths make moving materials—and people—a breeze.
2017-2019 models have a standard 2.5L four-cylinder engine delivering 200 hp via a six-speed manual transmission. From the WT trim and up, you can shop for a 3.6L V6 (308 hp) or a 2.8L turbocharged four-cylinder diesel (181 hp) if you want a truck with a little more power.
The Colorado is easy to drive on city streets and dirt trails. This makes it easy to go from your home or office to the outdoors with ease. The mid-level LT trim also has pleasing upgrades like an eight-inch touchscreen and satellite radio.
The 2017-2019 base trim Chevrolet Colorado includes these standard features:
Front-row bucket seats

Six-speaker sound system

Chrome cornerstep rear bumper

Rear vision camera

Teen driver technology
3.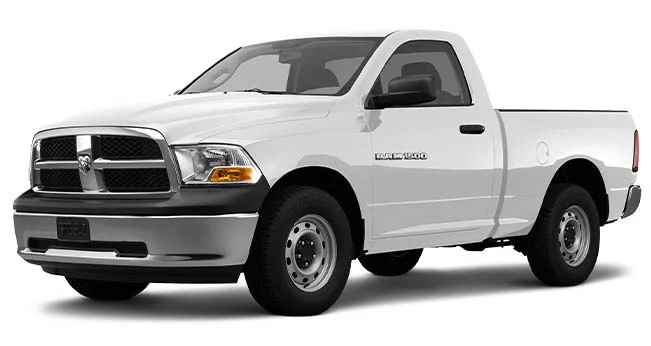 The athletic RAM 1500 is a modern truck classic, and it's the early fourth-generation base model—the 2012 RAM 1500 ST—that claims third place on our list. While the 1500 is a light-duty truck, you'll be impressed with what it can do for your needs.
The 2012 Ram 1500 ST trim is available in three cab configurations. The Regular Cab seats three across a 40/20/40 split front bench seat, while the Quad and Crew Cabs can seat up to six across two rows. The Quad Cab's rear bench seat can fold up when cargo or valuables need to be locked away. With three bed length options (67, 76, or 96 inches) and a locking tailgate, the 1500 ST is a natural fit if you regularly transport hardware and equipment.
For maximum towing capability, choose the 2012 Ram 1500 ST with RWD and the standard 3.7L V6 engine. When properly equipped, it can tow an estimated 10,450 lbs and haul an estimated 1,909 lbs.2
The 2012 Ram 1500 ST includes these standard features:
17-inch steel wheels

Hill-start assist

Six-speaker sound system

Trailer-sway control

Coil-spring rear suspension
2.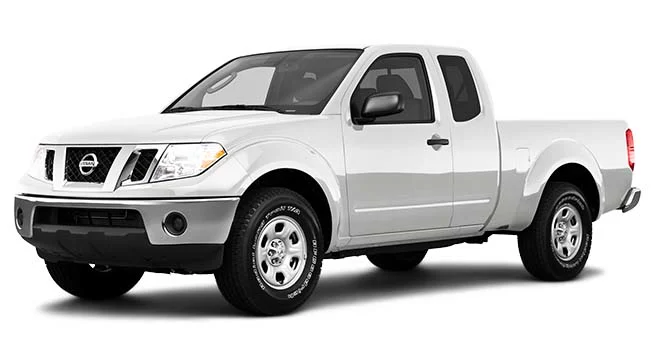 The 2010 Nissan Frontier SE is a nimble mid-range truck that can double down on work and family duties with style.
The 2010 Frontier SE comes in two sizes: King Cab and Crew Cab. The four-seater King Cab comes standard with a 73-inch box and 2.5L engine. The King Cab has two flip-back rear seats, so you can secure tools and equipment inside the cab if one or both rear seats are empty.
The Crew Cab has a roomier interior with seating for five, a comfortable 60/40 split bench rear row with LATCH fixtures, and a shorter 60-inch box bed. Options for the 2010 SE Crew Cab configuration include a more powerful 4.0L V6 engine, and an available 73-inch bed if needed.
The 2010 Nissan Frontier SE in the Crew Cab, short-bed configuration includes these features as standard:
Chrome front bumper

Sliding rear window

Locking tailgate and cargo bed light

Eight beverage holders

Tire pressure monitoring system
1.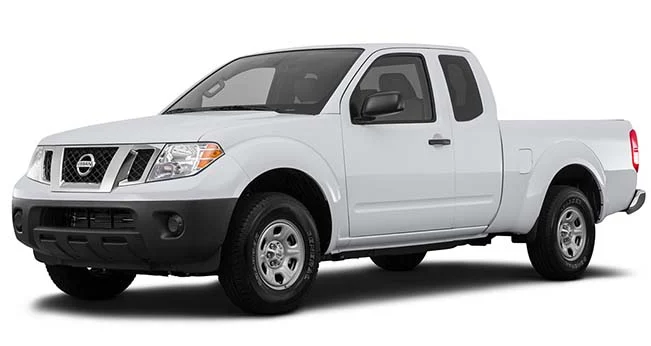 Taking the top spot on our list is the Nissan Frontier S, a good choice for work and leisure activities. Choose the 2017-2019 Frontier S four-seater King Cab with the 2.5L engine, manual transmission, and 2WD for a towing capacity of an estimated 3,760 lbs, when properly equipped.2 You'll also get flexible rear seating that can adapt to varying cargo and passenger needs. The automatic transmission option has more driver conveniences, including cruise control and Bluetooth® connectivity.
If crew and cargo are both important to you, you'll love the 2017-2019 S trim Crew Cab. It has seating for five with 33.6 inches of rear legroom. Four full-size doors make entry and exit easy for that second row, too. AWD is also available with this cab configuration. Finally, the 4.0L V6 engine (261 hp) and 60-inch box bed make sure you've got everything you need for a productive day on the job.
Standard features of the 2017-2019 Nissan Frontier S include:
Rear privacy glass

Front bucket seats

Cargo tie-downs

Front and rear cup holders

Five-inch color display screen
Choose one of these budget-friendly trucks and you'll see why the pickup has such timeless appeal. Capable, clever, and ready for action, a used pickup truck could be your next driveway pride and joy.
Got the taste for trucking? Check out these related articles:
1
Based on prices on CarMax.com from April 1, 2021, through September 30, 2021. Actual estimates may vary based on your selected model year, features, and trim packages. Prices do not include taxes, tags, titles, and any applicable fees.
2
Various factors may impact towing capacity, including weight of passengers, cargo, and options/accessories.