1. A good selection of engines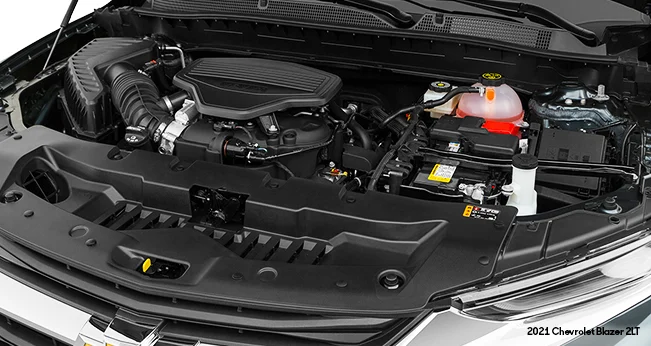 Having a choice is a good thing, and the 2021 Chevrolet Blazer gives you several options for engines. Available standard on the L and LT trim, a 2.5L four-cylinder engine offers good all-around performance. At 188 hp, this four-cylinder isn't a slouch. If you're looking for an SUV that will pull your camper or boat, the available 3.6L V6 engine is what you need. For daily drivers who like a little zip, there's also a turbocharged 2.0L four-cylinder engine that makes 227 hp. All engines in the 2021 Chevrolet Blazer lineup get paired with a nine-speed automatic transmission.
2. Wire-free technology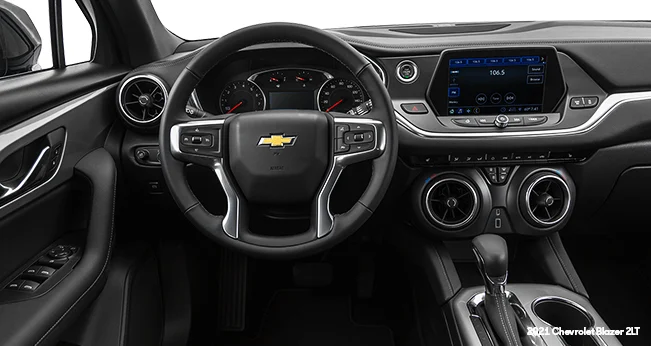 Do you want to get rid of the bird's nest of cables in your center console? The 2021 Chevrolet Blazer features some of the latest wireless technology that should cut down on clutter. Wireless Android Auto and Apple CarPlay connectivity are standard on all 2021 Chevrolet Blazer trims. Wireless charging is available as part of a package. An optional 4G LTE Wi-Fi hotspot is standard on all trims.
3. A minivan alternative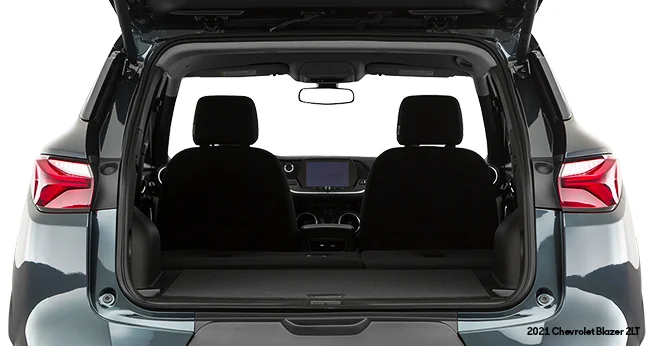 The crossover SUV has long been an excellent alternative to the minivan, and the 2021 Chevrolet Blazer does everything you expect a family hauler to do. At 30.5 cu-ft, the rear cargo area holds an impressive amount of stuff. If you need more space or something for occasional big moves, the second-row seats fold flat. With the second-row seats out of the way, the 2021 Chevrolet Blazer has 64.2 cu-ft of cargo volume. If space is on your must-have list, the 2021 Chevrolet Blazer should deliver.
4. Longer trips, less time at the pumps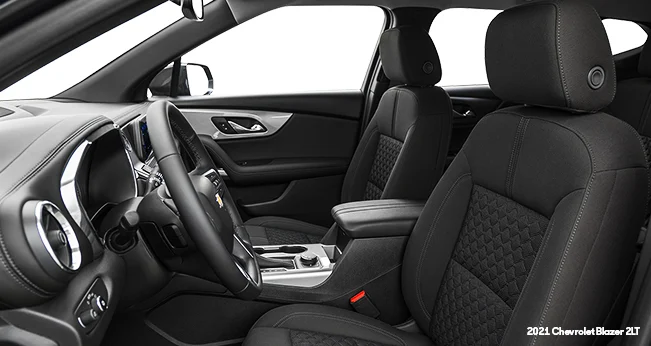 Thanks to a wide selection of engines, the 2021 Chevrolet Blazer has a road-trip-friendly EPA-estimated fuel economy. Pick the turbocharged 2.0L four-cylinder engine, which gets paired with a smooth-shifting nine-speed automatic transmission, and you'll get an EPA-estimated 25 mpg combined mileage.
 This makes the Chevrolet Blazer particularly suited to vacations and those long drives out into the country.
5. Sporty look and feel
If a crossover SUV that breaks the styling mold is essential to you, the 2021 Chevrolet Blazer does just that. All 2021 trims feature aggressive, angular styling, but look for the RS trim if you want to turn it up to 11. The RS trim adds a custom blacked-out grille and painted alloy wheels, a red-accented interior, and dual square-tipped exhaust pipes. The result is a sporty-looking crossover SUV with the power under the hood to match.