Ask the Expert: Everything You Want to Know About the 2019 Chevrolet Silverado 1500
---
PUBLISHED MONDAY, FEBRUARY 1, 2021
Hard work with a soft side.
With thousands of vehicles in our inventory, we're here to help make car research easier for you. We've partnered with car-review experts from Edmunds to weigh in on what matters most when you're looking to buy a car.
***
The Chevrolet Silverado 1500 is an American icon. While its name has only been around since 1999, the Silverado traces its roots back more than a century, when pickup trucks were little more than cars with flat, wooden planks mounted over the rear wheels. Today, modern full-size trucks like the Silverado are akin to rolling workshops — with roomy cabins, advanced technology, and abundant storage space. It's part of what has made pickups the best-selling vehicles in the U.S. for decades.
Whether your focus is work or play, the Silverado offers a wide variety of engines, cabin sizes, and bed lengths to suit your needs. Which one best fits your lifestyle? Edmunds' Elana Scherr breaks down the options to give you some guidance.
What do I need to know about the Chevrolet Silverado 1500?
The latest Silverado 1500, the fourth generation of the truck, made its debut for the 2019 model year. For a similar truck with fewer features but more attractive pricing, check out the third-generation Silverado that debuted in 2014. Here's a guide to the Silverados that are typically available on CarMax lots:
2009-2013 Silverado 1500: This generation (launched for 2007) features V6 or V8 engines, paired with four-speed or six-speed automatic transmissions. Higher trims of these trucks you come across may have Bluetooth® and rearview cameras. Trailer sway control, which can help limit trailer swaying while towing, became standard in 2012.

2014-2018 Silverado 1500: This model features more powerful engines and improved towing and hauling capability compared to the earlier trucks. The biggest change is technology such as a new multimedia interface and OnStar emergency services, which is standard on all but the most basic trims.

2019-2021 Silverado 1500: The fourth-generation Silverado benefits from a sweeping redesign that results in a more aerodynamic style. It also has an available turbocharged four-cylinder engine and, starting in 2020, a turbodiesel engine option.
This article highlights the fourth-generation Silverado 1500, the most recent version. You'll find many styles to choose from. In total, the 2019-2021 models offer your pick of three different cabin sizes, five different engines, and three bed lengths. As of this writing, in early 2021, majority at CarMax, were four-door crew cabs with the short pickup bed.
What's under the 2019 Silverado 1500's hood?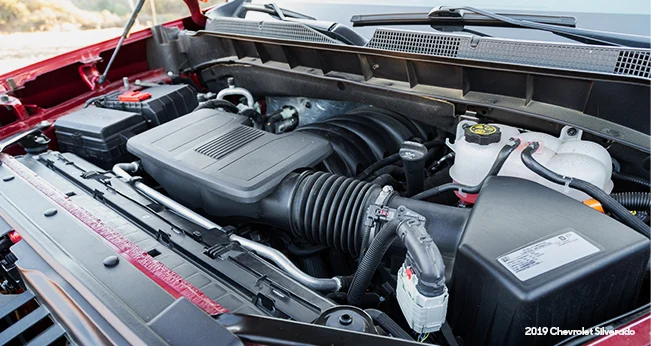 The base engine in 2019-2021 Silverado 1500s is a 4.3-liter V6 that produces 285 horsepower. There is also an available turbocharged 2.7L four-cylinder that produces 310 horsepower. All trims either offer a 5.3L V8 with 355 horsepower as an option or come with it standard. The top LTZ and High Country models can include a mighty 6.2L V8 with 420 horsepower. Some models from 2020 and later can offer a turbocharged 3.0L diesel with 277 horsepower as well.
Rear-wheel drive is standard on all Silverado 1500s except the Custom Trail Boss and LT Trail Boss trims, which come with four-wheel drive as standard equipment. Four-wheel drive is optional on all six other trims, as well. Depending on the engine and trim you desire, it comes with one of three automatic transmissions: a six-speed, an eight-speed, or a 10-speed.
As the 5.3L V8 is the commonly available engine on the Silverado, it's the one you'll most likely come across. It's pleasingly powerful and helps the Silverado 1500 make the most of its maximum towing and payload capacities. When paired to the eight-speed transmission, this V8 includes a fuel-saving technology called dynamic fuel management, or DFM, to reduce consumption when the truck is cruising along. The 6.2L V8 also comes with DFM.
If saving at the pump is your goal, take a look at the turbocharged 2.7L four-cylinder. Rear-wheel-drive 2019 trucks with this engine are EPA-rated at 20 mpg city, 23 mpg highway, and 21 mpg combined. However, for the best possible ratings, get a truck with the 3.0L turbodiesel and rear-wheel drive. This combo is EPA-estimated to get 23 mpg city, 33 mpg highway, and 27 mpg combined on a 2020 Silverado, for instance.
Elana's take:
Skip the V6 and jump straight ahead to one of the V8 engines. Because the 5.3L V8 is so widely available, you should be able to find many trim levels that include it under the hood. This engine is powerful from behind the wheel, and it brings the truck up to highway speeds easily, whether it's pulling a trailer or not. By contrast, the larger 6.2L V8 feels quicker, but it will be less common since it's only available on upper-crust trims. Some competing trucks with V8 engines might feel faster, but the Silverado V8s have plenty of muscle for almost any job.
How is the 2019 Silverado 1500's storage?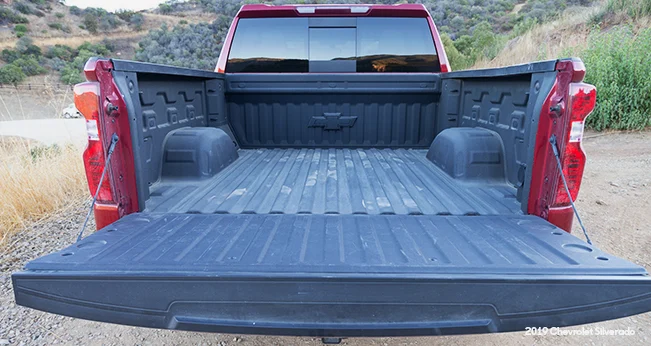 If you find yourself using the pickup bed often, you're in luck. The Silverado 1500 has a very useful bed, with 12 fixed tie-downs. Some models have additional adjustable tie-downs, as well. The Silverado's bed is also the widest in the class with the most overall depth. You can step up into the bed using built-in steps on the rear bumper — on competing trucks you have to fold down retractable steps that are less convenient.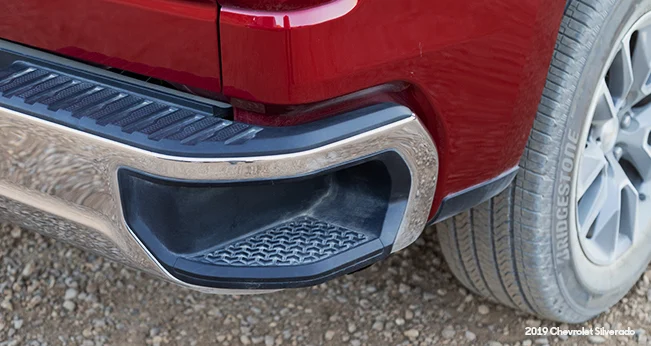 The Silverado earns its tough reputation when it comes to towing capability too. All of its trims and engine choices are rated comparably with its Ford and Ram rivals. Chevrolet says the maximum towing capacity for a 2019 Silverado 1500 is 12,200 pounds.
But maximum towing capacity varies widely depending on the truck's configuration as well as the ways you're using it in the real world. As a rule of thumb, however, you'll want to look for a Silverado with the 6.2-liter V8 and the Max Trailering Package to get the best maximum towing capacity.
Elana's take:
If you spend a lot of time transporting tied-down equipment, the Silverado 1500 is a no-brainer. The bed is enormous, easily accessible, and tough as nails. This is a truck that excels at the basics. It feels confident when you're towing a heavy load too. Chevrolet offers plenty of clever available towing technologies, such as a multiview camera system that can help ease the task of backing up to a trailer as well as provide enhanced visibility once you're driving. But you'll have to look around because many of these features are only available in pricey packages or high-end trim levels.
What's the 2019 Silverado 1500's interior like?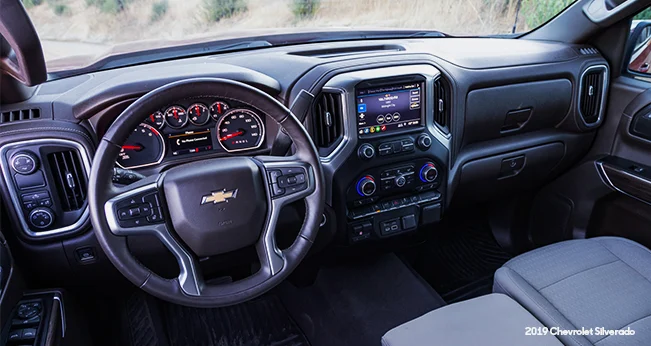 Chevrolet improved the interior design and comfort in the 2019 Silverado 1500 over the previous generation. But it pales in comparison to the friendly, accessible, and — in some cases — opulent interiors in the Ford F-150 and Ram 1500. There is a preponderance of hard plastic panels inside the Silverado 1500. Also, the button layout and multimedia design are very similar to those in the previous generation. As such, the Silverado's interior can seem outdated and uninspired.
On the plus side, the cab is roomy, especially in the crew-cab configuration with a full four-door setup. There is plenty of space for four or even five passengers. In the fourth-generation Silverado 1500, there is more rear legroom than in the second- and third-generation models that came before it, so the back is suitable for transporting work crews or taking family vacations.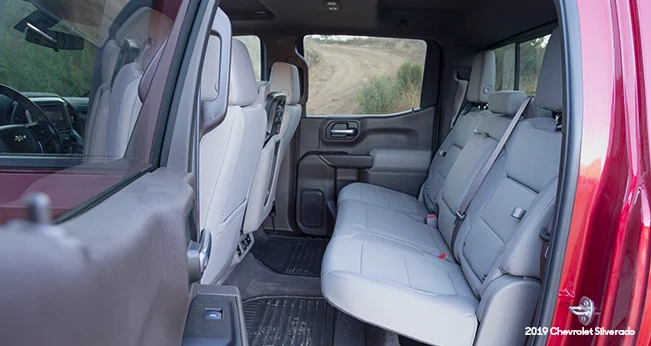 The front seats are comfortable and supportive. If the seats are power-operated, there is a wide range of adjustability to accommodate shorter and taller passengers alike, and the available tilt-and-telescoping steering wheel can be moved in a wide variety of directions to find the right driving position. The available heated front seats have handy independent controls to heat the seat bottom, the seatback, or both.
Elana's take:
There's no two ways about it: The Silverado 1500 interior is a disappointment. If you liked the design of previous versions, you may find the new one familiar and easy to use. But if you're cross-shopping the Silverado, then it just doesn't hold a candle to competitors. There's nothing that feels special or innovative. Buying a full-size truck is a big commitment, and the cabins from Ford and Ram appear to take that responsibility seriously. The one inside the Chevrolet feels like an afterthought.
How is the 2019 Silverado 1500's tech?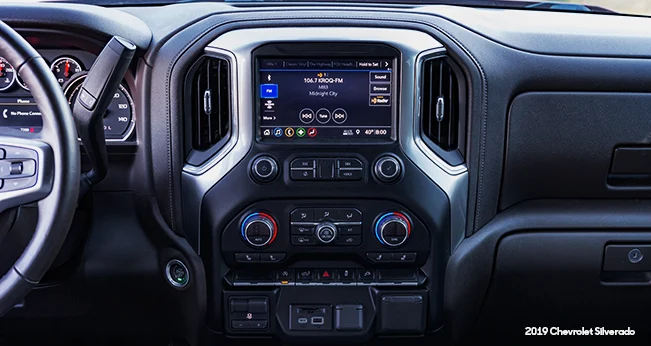 The Silverado 1500 does not come standard with very many advanced driving aid features. Automatic emergency braking (can warn you of an impending collision and apply the brakes in certain scenarios), lane keeping assist (can make minor steering corrections to help keep the vehicle centered in its lane) and other driving aids have to be added separately ― even on expensive trim levels.
Look for a truck with the Safety Package included to get rear cross-traffic alert (warns you if a vehicle behind you is about to cross your vehicle's path while you're in reverse), lane change alert with side blind zone alert (alerts you if a vehicle in the next lane over is in your blind spot) and more. Adaptive cruise control (can maintain a driver-set distance between the Silverado and the car in front) is not available at all until 2020 LTZ and High Country models.
An easy-to-use 7-inch touchscreen comes standard, as does Bluetooth® connectivity that allows you to play music and make phone calls through the stereo system. Integration with both Apple CarPlay® and Android Auto™, which will project certain apps and functions from your phone to the touchscreen, is also standard. The LT, RST, and LT Trail Boss trims get a larger 8-inch screen, while the top High Country comes standard with an 8-inch HD screen with navigation and voice activation controls.
Elana's take:
The displays and driver alerts in the Silverado 1500 work perfectly fine. But, much like the rest of the truck, if you expect anything more than "perfectly fine" you will likely be disappointed. There are no groundbreaking innovations or eye-catching animations. It's also disheartening that many of these in-demand features are rarely included as standard equipment, or they are lumped into pricey packages, or they are not available on some trims at all.
What's the 2019 Silverado 1500 like to drive?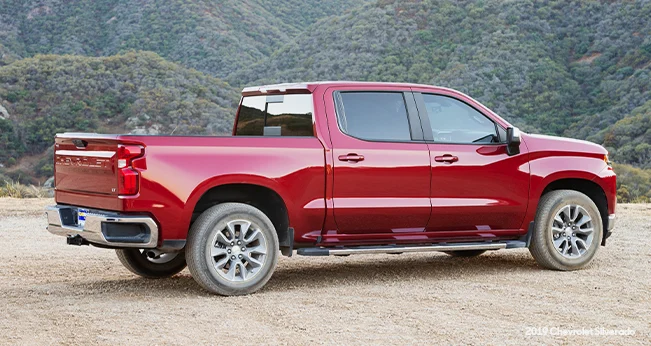 All of the engines available in the Silverado 1500 provide acceptable power and performance. We suggest the crisp 2.7L turbo or the burly 3.0L turbodiesel over the 4.3L V6. Jump ahead to the 5.3L V8 if it's towing muscle you desire. This engine's commonly associated eight-speed transmission shifts smoothly and makes good use of available low-end torque. It can also make the hefty Silverado accelerate in a hurry, matching up well against competitors.
On the road, you can tell the Silverado is designed for pulling heavy loads. If you're not towing or hauling anything, its driving style can feel a little loose compared with competitors. The steering is light, and while the ride comfort is pleasant, it's easily unsettled by bumps and ruts in the road. Positives include a chassis that does not lean or sway much during turns and a brake pedal that responds well even to minor inputs. These make the Silverado 1500 a pleasant truck to drive, especially if you're upgrading from an older pickup.
Elana's take:
The Silverado 1500 strikes a nice balance on the road. I've found it more responsive than the Ford F-150 and more agile than the Ram 1500. You should know that the Silverado is also nowhere near as smooth as the Ram, so if comfort is a priority, you should start there. The biggest problem with the Silverado is its outward visibility. The pillars are large and the hood is wide compared to other trucks, which becomes an issue in tight parking lots.
What else should I consider?
Without question, the chief rival of the Silverado is the Ford F-150. What sets the F-150 apart is its aluminum body construction, which allows for higher maximum towing capacities in some models and higher EPA-estimated fuel economy in others. If it's comfort you seek, the Ram 1500 is simply a no-brainer. Its driving dynamics and towing figures are comparable to the Silverado, but the ride comfort and upscale materials are in another league. On the budget-friendly side, the Toyota Tundra and both feel behind the times but are able to provide space and toughness when you need it.
Elana's take:
Upon the debut of the current Ram 1500 in 2019, it took residence at the top of our testing scores due to its all-around excellence and plush ride. And brand-new versions of the Ford F-150 have recently eclipsed it with a bigger variety of configurations plus a new hybrid powertrain. By contrast, the Silverado fails to push the envelope in any significant way. It gets the job done, if that's what you need from a truck. But if you want more, Ford and Ram are the way to go.
If I decide on a Silverado 1500, which one should I buy?
As we've covered, there are a ton of combinations from which to choose. But the midlevel Silverado 1500 LT is the one that will suit the most drivers on an everyday basis. From there, take your pick of the engine that works for you. Here's a pro tip: The 5.3L V8 engine comes with the fuel-saving dynamic fuel management on LT trims and up. The LT also includes an automatic engine stop-start system, LED daytime running lights, and an upgraded multimedia display.
Elana's take:
Normally, this is where I'd sing the praises of an off-road variant like the LT Trail Boss and daydream about heading off into the mountains. But in my opinion, Ford and Ram make trucks that are better suited for the outdoors, while the Silverado 1500 works best as a gutsy workhorse that you don't mind beating up. The LT trim with the 5.3L V8 would be my choice for its combination of muscle, features, and value.
Elana Scherr has written automotive features and reviews for nearly a decade. As an editor-at-large for Edmunds, Scherr examines trends in both the new and used markets with a focus on family cars, trucks, and SUVs.