Ask the Experts: Should You Buy a Honda Odyssey?
---
PUBLISHED MONDAY, NOVEMBER 8, 2021
Everything you should know about this ultra-handy minivan.
With thousands of vehicles in our inventory, we're here to help make car research easier for you. We've partnered with car-review experts from Edmunds to weigh in on what matters most when you're looking to buy a car.
***
Vehicle Reviewed:
2019 Honda Odyssey EX-L
The Honda Odyssey is one of the best minivans on the market. As you'd expect from a modern minivan, it has three rows of roomy seating, lots of cargo space, and many optional convenience features. Then Honda further ups the Odyssey's game by making it enjoyable to drive, which isn't something you can say about a lot of rival vans.
The latest fifth-generation Odyssey debuted for the 2018 model year and is an ideal pick for minivan shoppers. But which trim level is the right fit for you? And what should you look for during your search? Edmunds' Ryan ZumMallen breaks down the pros and cons of the Honda Odyssey and offers his advice for shopping for one at CarMax.
What do I need to know about the Honda Odyssey?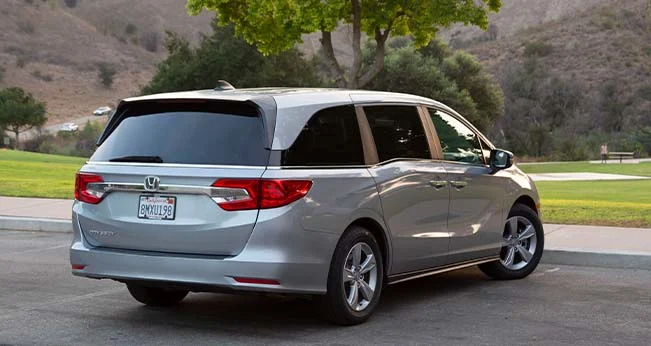 This article focuses on the 2018-2022 Odyssey, which is the fifth-generation version of the minivan. There are six trim levels to choose from:
LX

EX

EX-L

EX-L with Navigation and Rear Entertainment System (2018 and 2019 only)

Touring

Elite
The Odyssey doesn't come with any optional packages, so picking one is a pretty straightforward process of figuring out which features you want within your budget. Each trim comes with successively more features. The base LX is decently equipped, but it's the EX and above that really start to pack on the good stuff.
The Odyssey has two conventional front doors and two sliding rear doors for improved access when loading people or cargo in the back two rows. There's seating for seven passengers in the LX and eight passengers in everything else. As you'll see below, what sets the Odyssey apart from its competitors is clever interior design—the seats have a fantastic sliding function, and some Odysseys even have a built-in vacuum cleaner.
What engines does the Odyssey come with?
Every fifth-generation Odyssey has a 3.5-liter V6 engine with 280 horsepower and 262 lb-ft of torque. These are strong numbers for the minivan class. The Odyssey puts it to good use, too, with the help of a nine-speed automatic transmission in most models and a 10-speed automatic in Touring and Elite trims.
When it comes to fuel economy, the 2018-2021 Odyssey gets an EPA-estimated 22 mpg combined whether you opt for the nine-speed or 10-speed transmission. This figure is right in line with other V6-powered minivans in the class.
Unlike some rivals that offer all-wheel drive as an option, the Odyssey only comes in front-wheel drive.
Ryan's take: Say what you want about minivans, but the Odyssey's V6 engine is strong. Of course, its purpose is primarily to haul around your brood, not launch into street races. But it's typical of Honda to put a strong engine into a vehicle like the Odyssey.
What's the Odyssey like to drive?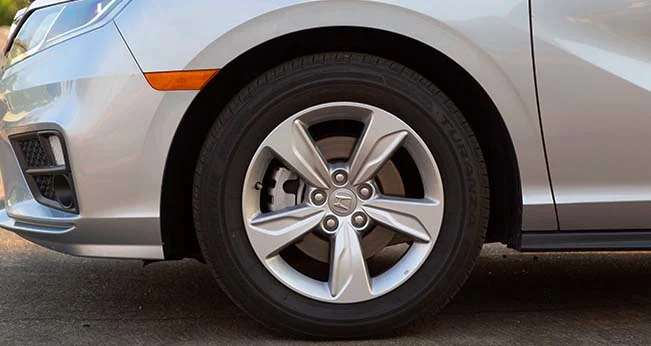 The Odyssey is satisfying to drive. It's legitimately quick in a straight line, and its precise steering easily inspires confidence. It can feel like you're driving an Accord sedan instead of a seven-passenger family hauler.
When it comes to comfort, however, the Odyssey is a step or two behind others in the class. This minivan is so adept in the curves due in part to its sporty suspension. But that same suspension can feel stiff when you drive over cracks and bumps in the pavement. It's not uncomfortable, but the Toyota Sienna and Chrysler Pacifica are better tuned to smooth out rough roads.
Ryan's take: To be completely honest, the driving experience is not at the top of my priority list when considering a minivan. Even though I like the sharp and snappy response I get behind the wheel of the Odyssey, it's still only the third or fourth most important attribute. Then again, it isn't a deal breaker either that it feels bumpier over cracks. The Odyssey has a unique style that is noticeable if you drive different minivans back to back. But the qualities listed below are ultimately much more important to me in this equation.
How is the Odyssey's storage?
There's plenty of space to store your cargo even if you have all three rows of seating up. It has up to 38.6 cubic feet of space behind the third row of seats, which is very good among minivans. The large rear cargo space—the third-row seats can fold down when not in use—is perfect for securing a week's worth of groceries.
You also have a lot of options if you want to make the absolute most of the Odyssey's capabilities. Fold down those third-row seats and the Odyssey has up to 92.3 cubic feet of space available. That's more than what you get total from a Honda CR-V or Passport with their second rows folded. Need maximum space for cargo instead of people? The second row of seats can be removed to create an even larger space from front to back. If you do that, the Odyssey offers up to 158 cubic feet that can hold big electronics, sports equipment like bikes, or even furniture.
Ryan's take: There's no shortage of jokes about minivans being the ultimate signifier of family life, but their hidden secret is that they're often just as practical for heavy work—in some cases, even more so—than pickup trucks. After all, you can lock your bicycles or drum sets inside and know they're safe and secure. So sure, the Odyssey makes an excellent people hauler for your kids and their many, many friends. But the ease with which you can create a ton of space for your passions and projects makes it a lot more fun than it appears at first glance.
What's the Odyssey's interior like?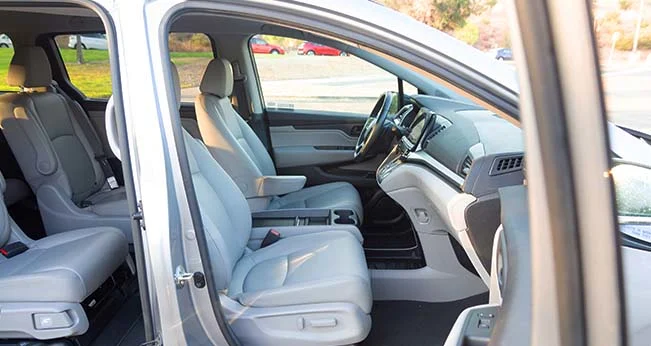 The Odyssey has a pretty fashion-forward interior. It may not be swathed in exotic or luxurious materials, but there's a chic element to the design that works.
If you're interested in cool features, look for the EX-L trim. It comes with a sunroof, a power liftgate, and two second-row USB ports. If you want the built-in vacuum cleaner, as well as an in-cabin camera that displays a view of the rear seating area on the touchscreen, try the Touring trim. And finally, the Elite adds ventilated front seats, a wireless smartphone charger, and a premium stereo system.
But the real value in the Odyssey is in the second row. Back here, the seats in every Odyssey except the base LX will slide laterally. This allows you to move them from side to side, creating easier access to the third row. We've found this feature very helpful when loading different kinds of cargo, and overall it's nice to have the versatility on display.
Ryan's take: There's a nice mix of fancy and functional inside the Odyssey on most trim levels. The vibe is soft and welcoming, and everything feels solid and well-built even after extended periods of typical family abuse. It's also nice that there are plenty of places to store your small items, and for larger ones the sliding second-row seats really do make a world of difference. At 6 feet tall, I found they help me climb into the third row much easier than in a typical minivan.
How's the Odyssey's tech?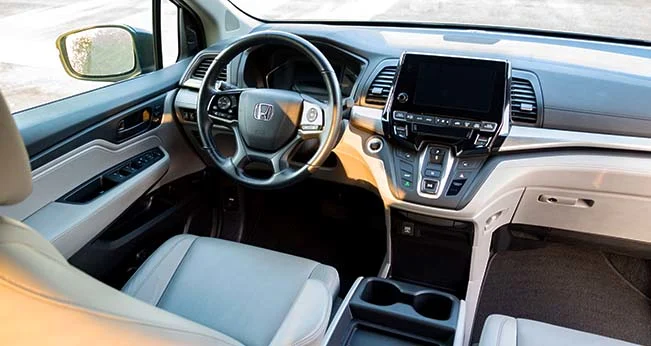 Front and center is a 5-inch screen on the base LX model, but every other version of the Odyssey has an 8-inch screen with Apple CarPlay® and Android Auto™ smartphone integration included as standard. The touchscreen is responsive to the touch, and one helpful feature is the ability to move icons around to customize the look of your menus. Honda offers an on-board navigation system for the Odyssey, but the maps and graphics look pretty outdated.
There are lots of driver assistance aids available on the Odyssey. Look for the EX trim on all model years to score adaptive cruise control, which sets your desired following distance and can automatically slow or accelerate to maintain it. It also comes with forward collision warning and mitigation, blind-spot monitoring, and lane departure warning. This is an impressive list. However, we've found that the Odyssey, like many Hondas, has overly sensitive aids that activate more than is really necessary.
Ryan's take: Technology is the one area that the Odyssey falls flat in my opinion. From time to time the touchscreen presents you with confusing menus, and I've tested other Honda products that use the same system and will cease functioning or "black out" without warning. Honda has since issued a fix for the problem, but it's something to keep in mind. I would also caution you about the driving aids—they often feel overeager, jerky, or simply less refined than what I'm used to in vehicles of this type.
What else should I consider?
These days you'll find many good options for a minivan. The main rival to the Odyssey is the Toyota Sienna, which is also spacious and generously equipped on most trim levels. The biggest differences between the two: The Sienna offers a softer ride and optional all-wheel drive. The Odyssey, however, is more enjoyable to drive.
There's also the Chrysler Pacifica. It's also spacious and offers all-wheel drive starting for the 2020 model year. The big draw with the Pacifica is its optional second-row seats that easily fold into the floor to create a flat loading space. There is also a plug-in hybrid version of the Pacifica available.
Finally, there is the Kia Sedona. The Sedona has a more SUV-like design than other minivans, which some people might appreciate. It offers slightly less maximum cargo space, however, and it has a slightly stiffer ride than the Sienna or Pacifica, without the fun driving experience and deft handling of the Odyssey. The Sedona had its final model year in 2021. It was replaced by the Kia Carnival, which debuted as a 2022 model.
Ryan's take: Personally the Sienna is much too soft for my taste. Inside and out, it feels cushy and floaty in all the ways that scream "stereotypical minivan" to my brain. However, I can't fault anyone who's a Sienna person at heart. You do you. But I consider the Pacifica a much more compelling minivan due to its excellent infotainment system and easy-to-configure seating. I still lean toward the Odyssey, but the Pacifica makes an excellent case and looks good doing it.
If I decide on an Odyssey, which one should I buy?
We advise skipping the base Odyssey LX and going straight to the EX model for a modern minivan experience. But the best value in the group is the EX-L with its many advanced features and comfortable seats.
If they fit your budget, the two highest trims are also worth your attention. The Odyssey Touring comes with helpful parking sensors, an available Wi-Fi hotspot (you need a data plan to activate it), and that ever-enticing vacuum cleaner. At the top of the lineup, the Elite model has a quieter interior and improved tech for the most luxurious Odyssey experience you can get.
With so many ways to Odyssey, it's easy to see why this is a popular pick for a wide range of drivers on the road.
Ryan's take: It's the EX-L for me. Minivans bring back childhood memories of sensible family fun, like that time I spilled a full can of root beer on the carpet or tossed the wet dog inside without wiping its muddy paws first. Now that I know what disasters lie in wait over the life of a minivan, it makes more sense to aim for a midlevel trim that is going to deliver a lot of equipment at an attractive price yet can still take an inevitable beating. In the EX-L, you get creature comforts without fretting over damage too much. Besides, the root beer stain eventually came out. I think.
Ryan ZumMallen has written automotive news and buying advice for nearly a decade. As an automotive reviews editor for Edmunds, ZumMallen examines trends in both the new and used markets with a focus on sporty, affordable cars, off-road trucks, and SUVs.