RepairPal gave the Chevrolet Corvette an overall reliability rating of 4 out of 5 stars, which RepairPal describes as Above Average. This rating ranks Chevrolet Corvette 29th out of 30 among Midsize Cars.
Color options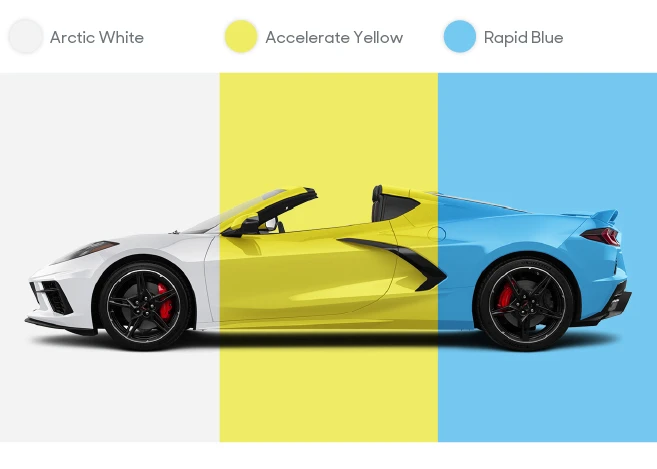 Exterior colors:
Accelerate Yellow

Arctic White

Black

Blade Silver

Ceramic Matrix Gray

Elkhart Lake Blue

Long Beach Red

Rapid Blue

Sebring Orange

Shadow Gray

Torch Red

Zeus Bronze
Interior colors:
Interior details
The 2020 Chevrolet Corvette has a driver-focused design, which is instantly clear when you slide into the driver's seat. The bucket seats have massive lumbar support, but are still comfortable enough for road trips. A 12-inch reconfigurable display sits behind the meaty squared-off steering wheel, while the center infotainment angles toward the driver and the center stack of controls have been replaced by a large angular row of buttons that bisects the cabin.
There are three seat choices, six interior colors, and even several stitching colors that line the center console, dash, and headliner. Materials lean heavily toward the high-end, with Nappa leather, authentic carbon fiber, and real metal trims.
Child seat details
The 2020 Chevrolet Corvette coupe and convertible models are not designed for most car seats. Since there are no rear seats, the 2020 Corvette front passenger seat should be treated like any other front seat—off-limits to children under a certain age. There are no LATCH points for the front seats, and booster car seats are for children who are too young to sit up front. Children age 13 and up are approved for the front seat, as they are the appropriate weight for the airbags and safety systems.
Performance
The 2020 Chevrolet Corvette has a 6.2L V8 engine making 490 hp and 465 lb-ft of torque. This mid-mounted engine connects to an eight-speed dual-clutch automatic transmission for lightning-fast shifts, and it sends power to the rear wheels. The Z51 performance package adds 5 hp and 5 lb-ft to any trim level. This combo is good for a zero to 60 mph sprint in just 2.8 seconds, and a quarter-mile time of 11.2 seconds (according to the manufacturer, when new).
The top speed for a base Corvette is estimated at 194 mph when new. Equally impressive is the handling, hitting 1.04g on the skid pad—an unheard-of figure for a streetcar 20 years ago. If you want to drive a little more economically, the 2020 Chevrolet Corvette with the V8 engine gets an EPA-estimated 19 mpg combined.
Year comparison
2014-2019 Chevrolet Corvette (Seventh Generation)
The 2014 Chevrolet Corvette launched the seventh generation with bold and sharpened styling and exciting performance trims. The 2014-2019 Corvette is the traditional design, with the 6.2L V8 engine up front, under the long and low hood. This engine makes 455 hp and 460 lb-ft of torque, sending power to the rear wheels via a seven-speed manual or six-speed automatic transmission.
2015 swapped the six-speed transmission for an eight-speed, and introduced the high-performance Z06 package with a supercharger, 650 hp and 650 lb-ft of torque, numerous suspension improvements, huge wheels, and massive brakes. 2017 introduced the Grand Sport trim, which is essentially a Z06 body and suspension upgrades with the base drivetrain.
The last major update for the C7 was the 2019 ZR1. The same 6.2L V8 engine got a truckload of upgrades, including a bigger supercharger to wallop out 755 hp and 715 lb-ft. You'll know the ZR1 by its wild aerodynamic body modifications and massive intakes.
2020-Present Chevrolet Corvette (Eighth Generation)
The biggest change for the 2020 model year was the mid-engine configuration, with the engine placed behind the driver instead of in front. Changes were minor in 2021, mainly limited to color, gaining Red Mist and Silver Flare options on the outside and Sky Cool Gray and Strike Yellow options on the inside. 2022 changed colors again, adding Amplify Orange, Caffeine Metallic, and Hypersonic Gray, and an optional race-inspired appearance package.
The big news for 2023 is the return of the Z06 trim. This time the Z06 gets a specially hand-built engine featuring a 5.5L V8 that can rev to 8,500 rpm. The new engine does not need a supercharger to reach 670 hp and 460 lb-ft.